Abstract
A novel technique of cultivating autologous blood with gold particles; then separating the gold particles and cells from the serum and injecting the conditioned serum into affected plantar fascia. A first-time report of the safety and efficacy in treatment of recalcitrant plantar fasciosis in an Olympic equestrian. A single patient with clinical signs, symptoms and ultrasound evidence of plantar fasciosis was treated with four intra-ligamentous GOLDIC® injection therapy. The Olympic jumper was evaluated by Visual Analog Scale (VAS), Foot and Ankle Disability Index (FADI), and Global Rating of Change (GRoC) score(s) before injection and at 6-month follow-up. VAS, FADI, and GRoC scores showed substantial and marked improvement clinically. The subject was able to return to sport without limitations after 8 weeks. The initial result demonstrates that the treatment regimen is safe, and efficacious. The subject demonstrated reduction of pain, and improved function that allowed return to high level competition.
Access options
Buy single article
Instant access to the full article PDF.
US$ 39.95
Tax calculation will be finalised during checkout.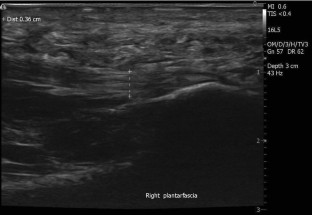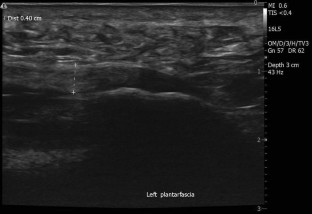 References
1.

Singh, D., Angel, J., Bentley, G., & Trevino, S. G. (1997). Fortnightly review: plantar fasciitis. BMJ,19(315), 172–175.

2.

Lemont, H., Ammirati, K. M., & Usen, N. (2003). Plantar fasciitis: a degenerative process (Fasciosis) without inflammation. Journal of the American Podiatric Medical Association,93, 234–237.

3.

DeMaio, M., Paine, R., Mangine, R. E., & Drez, D. (1993). Plantar fasciitis. Orthopedics,16, 1153–1163.

4.

Young, J. D., Gelbs, J. C., Zhu, D. S., Gallacher, S. E., Sutton, K. M., & Blaine, T. A. (2015). Orthopaedic injuries in equestrian sports: a current concepts review. Orthopaedic Journal of Sports Medicine,3, 1–7.

5.

McCrory, P., & Turner, M. (2005). Equestrian injuries, in epidemiology of pediatric sports injuries Individual Sports. In D. J. Caine & N. Maffulli (Eds.), Med Sport Sci (Vol. 48, pp. 8–17). Basel: Karger.

6.

Wearing, S. C., Smeathers, J. E., Urry, S. R., Hennig, E. M., & Hills, A. P. (2006). The pathomechanics of plantar fasciitis. Sport Medicine,36, 585–611.

7.

Rome, K. (1997). Anthropometric and biomechanical risk factors in the development of plantar heel pain—a review of the literature. Physical Therapy Reviews,2, 123–134.

8.

Irving, D. B., Cook, J. L., Young, M. A., & Menz, H. B. (2007). Obesity and pronated foot type may increase the risk of chronic plantar heel pain: a matched case-control study. BMC Musculoskeletal Disorders,17(8), 41.

9.

Schepsis, A. A., Leach, R. E., & Gorzyca, J. (1991). Plantar fasciitis: etiology, treatment, surgical results, and review of the literature. Clinical Orthopaedics and Related Research,266, 185–196.

10.

Gill, L. H. (1997). Plantar fasciitis: diagnosis and conservative management. Journal of American Academy of Orthopaedic Surgeons,5, 109–117.

11.

Pugh, T. J., & Bolin, D. (2004). Overuse injuries in equestrian athletes. Current Sports Medicine Reports,3, 297–303.

12.

Atkins, D., Crawford, F., Edwards, J., & Lambert, M. (1999). A systematic review of treatments for the painful heel. Rheumatology,38, 968–973.

13.

Rompe, J. D., Furia, J., Weil, L., & Maffulli, N. (2007). Shock wave therapy for chronic plantar fasciopathy. British Medical Bulletin,81–82, 183–208.

14.

Hsiao, M. Y., Hung, C. Y., Chang, K. V., Chien, K. L., Tu, Y. K., & Wang, T. G. (2015). Comparative effectiveness of autologous blood-derived products, shock-wave therapy and corticosteroids for treatment of plantar fasciitis: a network meta-analysis. Rheumatology,54, 1735–1743.

15.

Schneider, U., Wallich, R., Felmet, G., & Murrell, W.D. (2017). Gold-induced autologous cytokine treatment in Achilles tendinopathy. In: G. Canata, P. d'Hooghe, & K. Hunt (Eds.), Muscle and Tendon Injuries. Berlin, Heidelberg: Springer.
Acknowledgements
Pam Jackson, Ph.D., for manuscript review.
Ethics declarations
Conflict of interest
The authors declare that they have no conflict of interest.
Ethical standard statement
This article does not contain any studies with human or animal subjects performed by the any of the authors.
Informed consent
For this type of study informed consent is not required.
Additional information
Publisher's Note
Springer Nature remains neutral with regard to jurisdictional claims in published maps and institutional affiliations.
About this article
Cite this article
Melo, S.N.S., Ezekwesili, A., Yurdi, N.A. et al. Gold-Induced Cytokine (GOLDIC®) Injection Therapy in Patient with Plantar Fasciosis: A Case Report. JOIO 54, 348–351 (2020). https://doi.org/10.1007/s43465-020-00089-4
Received:

Accepted:

Published:

Issue Date:
Keywords
Plantar fasciitis

Goldic

Intra-ligamentous injection

Pain Relief

Functional Score

PRP

ACS

Regenokine

Orthokine

ACP

Injections

Regenerative medicine

Pain management

Translational medical research

Humans

Fascia pathology

Fascia injuries

Fasciitis. Plantar/etiology

Fasciitis. Plantar/physiopathology