Abstract
The wound healing potential of a topical herbal formulation containing "buriti" oil (Mauritia flexuosa L.f., Arecaceae) in a liquid crystalline phase consisting of "murumuru" (Astrocaryum murumuru Mart., Arecaceae) butter was evaluated. The fatty acid composition of "buriti" oil and murumuru butter was determined by gas chromatography coupled with flame ionization detection, which revealed that the major component of Mauritia flexuosa oil was oleic acid (70.4%), followed by palmitic acid (17.4%), whereas Astrocaryum murumuru butter contained lauric acid (40%) and myristic acid (29.3%). The ternary phase diagram was constructed from the mixture of the components (murumuru butter/Procetyl®/water) in order to obtain the Astrocaryum murumuru butter–based liquid crystal phase and two new herbal formulations containing 1% and 15% of Mauritia flexuosa oil. The phase behaviors were characterized by polarized light microscopy which showed that the analyzed formulations exhibited a hexagonal liquid crystalline phase. The designed formulations were subjected to physicochemical analysis and showed appropriate pH ranging from 5.90 to 6.45 and desirable rheological properties for skin application, such as pseudoplasticity. The wound healing potential of the topical herbal formulation was evaluated in Wistar rats over a period of 21 days. The formulations containing 15% of Mauritia flexuosa oil showed a significant effect (p < 0.05) on the epithelial regeneration process, causing early re-epithelialization of the injured tissue. The in silico prediction of skin sensitization showed that none of the identified compounds had any potential skin toxicity for humans.
Graphical abstract

Access options
Buy single article
Instant access to the full article PDF.
USD 39.95
Price excludes VAT (USA)
Tax calculation will be finalised during checkout.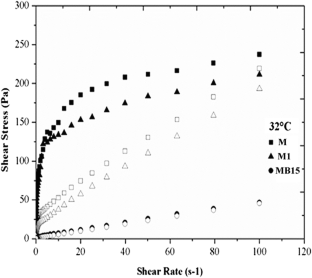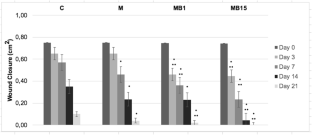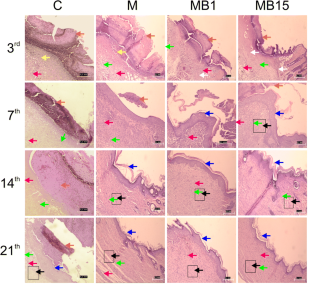 Acknowledgements
Animals were kindly supplied by Instituto Esperança de Ensino Superior (Santarém, Brazil).
Funding
Financial support was provided by Coordenação de Aperfeiçoamento de Pessoal de Nível Superior, Instituto Fundação Esperança de Ensino Superior, and Pró-reitoria de Pesquisa, Pós-graduação e Inovação Tecnológica da Universidade Federal do Oeste do Pará.
Ethics declarations
Ethics Approval
The experiments with rats were approved by the Ethics and Animal Experimentation Committee of Universidade Federal do Oeste do Pará, protocol no. 03006/2016.
Conflict of Interest
The authors declare no competing interests.
Supplementary Information
About this article
Cite this article
da Silva, C.S.M., de Araújo, J.A., Silveira, T.S. et al. Wound Healing Activity of Topical Formulations Containing Mauritia flexuosa Oil. Rev. Bras. Farmacogn. 31, 225–231 (2021). https://doi.org/10.1007/s43450-021-00149-2
Received:

Accepted:

Published:

Issue Date:

DOI: https://doi.org/10.1007/s43450-021-00149-2
Keywords