Abstract
Cinnamic alcohol, cinnamic aldehyde, and cinnamic acid are compounds commonly found in the volatile oil of barks of species in the genus Cinnamomum spp. Schaeff., Lauraceae, popularly known as cinnamon. Cinnamon has been used for millennia for both food and medicinal purposes. The present study reviews the main pharmacological studies on cinnamic alcohol and its derivatives, in order to stress out that cinnamon is a natural product, enriched with compounds endowed of important pharmacological effects that can be benefic to the human health. As a literature review using a qualitative approach, covering articles published between 1970 and 2020, the databases consulted were Pubmed, Web of Science, Science Direct, and Scopus. The following descriptors were searched: "cinnamon," "cinnamic alcohol," "cinnamyl alcohol," "cinnamaldehyde," "cinnamic aldehyde," "cinnamic acid," and "benzoate." We selected 32 articles studying non-clinical pharmacological aspects of cinnamic alcohol and its derivatives, with emphasis on their central nervous system activities and anti-inflammatory, antioxidant, and antimicrobial potential. In conclusion, the present review demonstrates non-clinical evidence for cinnamic alcohol and its derivatives as bioactive compounds with pharmacological importance, yet we note the lack of clinical studies.
Graphical abstract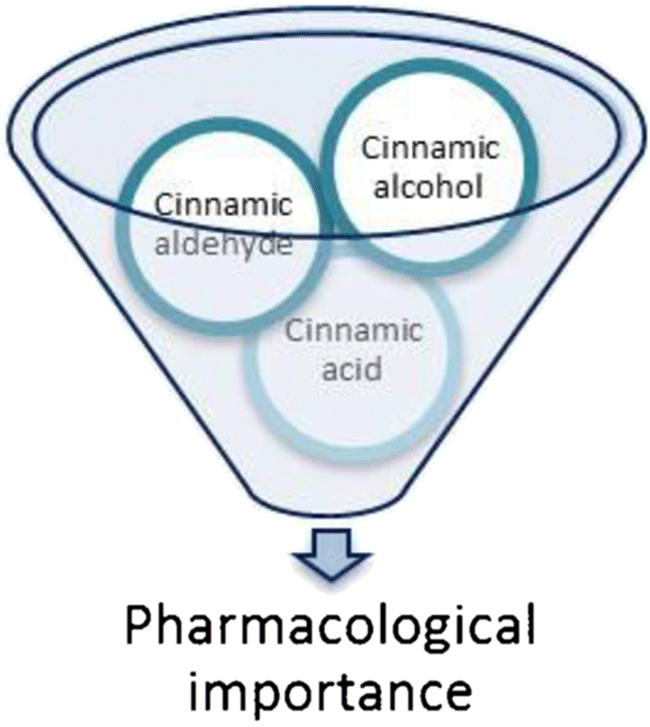 Access options
Buy single article
Instant access to the full article PDF.
US$ 39.95
Tax calculation will be finalised during checkout.
Subscribe to journal
Immediate online access to all issues from 2019. Subscription will auto renew annually.
US$ 79
Tax calculation will be finalised during checkout.
References
Ali B, Al-Wabel NA, Shams S, Ahamad A, Khan SA, Anwar F (2015) Essential oils used in aromatherapy: a systemic review. Asian Pac J Trop Biomed 5:601–611. https://doi.org/10.1016/j.apjtb.2015.05.007

Aravind R, Aneesh TP, Bindu AR, Bindu K (2012) Estimation of phenolics and evaluation of antioxidant activity of Cinnamomum malabatrum (Burm. F). Blume. Asian J Chem 5:628–632

Archer AW (1988) Determination of cinnamaldehyde, coumarin and cinnamyl alcohol in cinnamon and cassia by high-performance liquid chromatography. J Chromatogr A 447:272–276. https://doi.org/10.1016/0021-9673(88)90035-0

Babu PS, Prabuseenivasan S, Ignacimuthu S (2007) Cinnamaldehyde—a potential antidiabetic agent. Phytomedicine 14:15–22. https://doi.org/10.1016/j.phymed.2006.11.005

Bae WY, Choi JS, Jeong JW (2018) The neuroprotective effects of cinnamic aldehyde in an MPTP mouse model of Parkinson's disease. Int J Mol Sci 19:551. https://doi.org/10.3390/ijms19020551

Balsamo A, Barili PL, Crotti P, Macchia B, Macchia F, Pecchia A, Passerini N (1975) Structure-activity relations in cinnamamides. 1. Synthesis and pharmacological evaluation of some (E)-and (Z)-N-alkyl-alpha,beta-dimethylcinnamamides. J Med Chem 18:842–846. https://doi.org/10.1021/jm00242a018

Blevins SM, Leyva MJ, Brown J, Wright J, Scofield RH, Aston CE (2007) Effect of cinnamon on glucose and lipid levels in Non–insulin-dependent type 2 diabetes. Diabetes Care 30:2236–2237. https://doi.org/10.2337/dc07-0098

Brahmachari S, Jana A, Pahan K (2009) Sodium benzoate, a metabolite of cinnamon and a food additive, reduces microglial and astroglial inflammatory responses. J Immunol 183:5917–5927. https://doi.org/10.4049/jimmunol.0803336

Brinkhaus B, Lindner M, Schuppan D, Hahn EG (2000) Chemical, pharmacological and clinical profile of the East Asian medical plant Centella aslatica. Phytomedicine 7:427–448. https://doi.org/10.1016/S0944-7113(00)80065-3

De Andrade HHN, Monteiro ÁB, Braga RM, Da Cruz RMD, Salvadori MGDSS, Scotti MT, De Almeida RN (2020) Anxiolytic and antinociceptive-like effects of cinnamic alcohol by possible GABAergic pathway modulation: in vivo and in silico studies. Braz J Dev 6:51372–51389. https://doi.org/10.34117/bjdv6n7-690

Edris AE (2007) Pharmaceutical and therapeutic potentials of essential oils and their individual volatile constituents: a review. Phytother Res 21:308–323. https://doi.org/10.1002/ptr.2072

Essa MM, Vijayan RK, Castellano-Gonzalez G, Memon MA, Braidy N, Guillemin GJ (2012) Neuroprotective effect of natural products against Alzheimer's disease. Neurochem Res 37:1829–1842. https://doi.org/10.1007/s11064-012-0799-9

Etaee F, Komaki A, Faraji N, Rezvani-Kamran A, Komaki S, Hasanein P, Omidi G (2019) The effects of cinnamaldehyde on acute or chronic stress-induced anxiety-related behavior and locomotion in male mice. Stress 22:358–365. https://doi.org/10.1080/10253890.2019.1567710

Frydman-Marom A, Levin A, Farfara D, Benromano T, Scherzer-Attali R, Peled S, Ovadia M (2011) Orally administrated cinnamon extract reduces β-amyloid oligomerization and corrects cognitive impairment in Alzheimer's disease animal models. PLoS One 6:e16564. https://doi.org/10.1371/journal.pone.0016564

Gross GG, Bolkart KH, Zenk MH (1968) Reduction of cinnamic acid to cinnamaldehyde and alcohol. Biochem Biophys Res Commun 32:173–178. https://doi.org/10.1016/0006-291X(68)90365-3

Gruenwald J, Freder J, Armbruester N (2010) Cinnamon and health. Crit Rev Food Sci Nutr 50:822–834. https://doi.org/10.1080/10408390902773052

Gunawardena D, Karunaweera N, Lee S, van Der Kooy F, Harman DG, Raju R, Münch G (2015) Anti-inflammatory activity of cinnamon (C. zeylanicum and C. cassia) extracts–identification of E-cinnamaldehyde and o-methoxy cinnamaldehyde as the most potent bioactive compounds. Food Funct 6:910–919. https://doi.org/10.1039/c4fo00680a

Gunia A, Waszkielewicz AM, Cegla M, Marona H (2012) Preliminary evaluation of anticonvulsant activity of some aminoalkanol and amino acid cinnamic acid derivatives. Lett Drug Des Discov 9:37–43. https://doi.org/10.2174/157018012798192982

Guo JY, Huo HR, Zhao BS, Liu HB, Li LF, Ma YY, Jiang TL (2006a) Cinnamaldehyde reduces IL-1β-induced cyclooxygenase-2 activity in rat cerebral microvascular endothelial cells. Eur J Pharmacol 537:174–180. https://doi.org/10.1016/j.ejphar.2006.03.002

Guo JY, Huo HR, Zhao BS, Liu HB, Li LF, Guo SY, Jiang TL (2006b) Effect of 3-phenyl-2-propene-1-ol on PGE2 release from rat cerebral microvascular endothelial cells stimulated by IL-1β. Am J Chin Med 34:685–693. https://doi.org/10.1142/S0192415X0600420X

Gurbuz I, Yesilada E, Demirci B, Sezik E, Demirci F, Baser KH (2013) Characterization of volatiles and anti-ulcerogenic effect of Turkish sweetgum balsam (Styrax liquidus). J Ethnopharmacol 148:332–336. https://doi.org/10.1016/j.jep.2013.03.071

Haeggström JZ, Funk CD (2011) Lipoxygenase and leukotriene pathways: biochemistry, biology, and roles in disease. Chem Rev 111:5866–5898. https://doi.org/10.1021/cr200246d

Hardy K (2021) Paleomedicine and the evolutionary context of medicinal plant use. Rev Bras Farmacogn. https://doi.org/10.1007/s43450-020-00107-4

Ho SC, Chang KS, Chang PW (2013) Inhibition of neuroinflammation by cinnamon and its main components. Food Chem 138:2275–2282. https://doi.org/10.1016/j.foodchem.2012.12.020

Hwang DI, Won KJ, Kim DY, Kim B, Lee HM (2017) Cinnamyl Alcohol, the bioactive component of chestnut flower absolute, inhibits adipocyte differentiation in 3T3-L1 cells by downregulating adipogenic transcription factors. Am J Chin Med 45:833–846. https://doi.org/10.1142/S0192415X17500446

Jana A, Modi KK, Roy A, Anderson JA, van Breemen RB, Pahan K (2013) Up-regulation of neurotrophic factors by cinnamon and its metabolite sodium benzoate: therapeutic implications for neurodegenerative disorders. J NeuroImmune Pharmacol 8:739–755. https://doi.org/10.1007/s11481-013-9447-7

Kang YH, Yang IJ, Morgan KG, Shin HM (2012) Cinnamyl alcohol attenuates vasoconstriction by activation of K+ channels via NO-cGMP-protein kinase G pathway and inhibition of Rho-kinase. Exp Mol Med 44:749–755. https://doi.org/10.3858/emm.2012.44.12.083

Khan A, Safdar M, Khan MMA, Khattak KN, Anderson RA (2003) Cinnamon improves glucose and lipids of people with type 2 diabetes. Diabetes Care 26:3215–3218. https://doi.org/10.2337/diacare.26.12.3215

Khasnavis S, Pahan K (2012) Sodium benzoate, a metabolite of cinnamon and a food additive, upregulates neuroprotective Parkinson disease protein DJ-1 in astrocytes and neurons. J NeuroImmune Pharmacol 7:424–435. https://doi.org/10.1007/s11481-011-9286-3

Khasnavis S, Pahan K (2014) Cinnamon treatment upregulates neuroprotective proteins Parkin and DJ-1 and protects dopaminergic neurons in a mouse model of Parkinson's disease. J NeuroImmune Pharmacol 9:569–581. https://doi.org/10.1007/s11481-014-9552-2

Klionsky DJ, Abdelmohsen K, Abe A, Abedin MJ, Abeliovich H, Acevedo Arozena A, Adhihetty PJ (2016) Guidelines for the use and interpretation of assays for monitoring autophagy. Autophagy 12:1–222. https://doi.org/10.1080/15548627.2015.1100356

Koketsu M, Gonçalves SL, Godoy RLDO, Lopes D, Morsbach N (1997) The bark and leaf essential oils of cinnamon (Cinnamomum verum Presl) grown at Parana, Brazil. Food Sci Technol 17:281–285. https://doi.org/10.1590/S0101-20611997000300017

Kowiański P, Lietzau G, Czuba E, Waśkow M, Steliga A, Moryś J (2018) BDNF: a key factor with multipotent impact on brain signaling and synaptic plasticity. Cell Mol Neurobiol 38:579–593. https://doi.org/10.1007/s10571-017-0510-4

Leach MJ, Kumar S (2012) Cinnamon for diabetes mellitus. Cochrane Database Syst Rev. https://doi.org/10.1002/14651858.CD007170.pub2

Lee HS (2009) Chemical composition of Cinnamomum cassia leaf oils and suppression effect of cinnamyl alcohol on nitric oxide synthase. J Korean Soc Appl Biol Chem 52:480–485. https://doi.org/10.3839/jksabc.2009.082

Lee R, Balick MJ (2005) Sweet wood cinnamon and its importance as a spice and medicine. Explore 1:61–64. https://doi.org/10.1016/j.explore.2004.10.011

Liao JC, Deng JS, Chiu CS, Hou WC, Huang SS, Shie PH, Huang GJ (2012) Anti-inflammatory activities of Cinnamomum cassia constituents in vitro and in vivo. Evid Based Complement Alternat Med 2012. https://doi.org/10.1155/2012/429320

Mang B, Wolters M, Schmitt B, Kelb K, Lichtinghagen R, Stichtenoth DO, Hahn A (2006) Effects of a cinnamon extract on plasma glucose, HbA1c, and serum lipids in diabetes mellitus type 2. Eur J Clin Investig 36:340–344. https://doi.org/10.1111/j.1365-2362.2006.01629.x

Marmorstein R, Roth SY (2001) Histone acetyltransferases: function, structure, and catalysis. Curr Opin Genet Dev 11:155–161. https://doi.org/10.1016/S0959-437X(00)00173-8

Mirmazloum I, Kiss A, Ladányi M, György Z (2019) Production of cinnamyl alcohol glycosides by biotransformation in roseroot callus cells. Plant Cell Tissue Organ Cult 139:29–37. https://doi.org/10.1007/s11240-019-01659-7

Modi KK, Roy A, Brahmachari S, Rangasamy SB, Pahan K (2015) Cinnamon and its metabolite sodium benzoate attenuate the activation of p21rac and protect memory and learning in an animal model of Alzheimer's disease. PLoS One 10:e0130398. https://doi.org/10.1371/journal.pone.0130398

Muhammad DRA, Dewettinck K (2017) Cinnamon and its derivatives as potential ingredient in functional food—a review. Int J Food Prop 20:2237–2263. https://doi.org/10.1080/10942912.2017.1369102

Ooi LS, Li Y, Kam SL, Wang H, Wong EY, Ooi VE (2006) Antimicrobial activities of cinnamon oil and cinnamaldehyde from the Chinese medicinal herb Cinnamomum cassia Blume. Am J Chin Med 34:511–522. https://doi.org/10.1142/S0192415X06004041

Parthasarathy VA, Chempakam B, Zachariah TJ (eds) (2008) Chemistry of spices. Wallingford, UK, Cabi. https://doi.org/10.1079/9781845934057.0000

Patil M, Choudhari AS, Pandita S, Islam MA, Raina P, Kaul-Ghanekar R (2017) Cinnamaldehyde, cinnamic acid, and cinnamyl alcohol, the bioactives of Cinnamomum cassia exhibit HDAC8 inhibitory activity: An In vitro and In silico study. Pharmacogn Mag 13:S645. https://doi.org/10.4103/pm.pm_389_16

Poh Loh K, Hong Huang S, De Silva R, Tan BKH, Zhun Zhu Y (2006) Oxidative stress: apoptosis in neuronal injury. Curr Alzheimer Res 3:327–337. https://doi.org/10.2174/156720506778249515

Rao PV, Gan SH (2014) Cinnamon: a multifaceted medicinal plant. Evid Based Complement Alternat Med 2014. https://doi.org/10.1155/2014/642942

Ravindran PN, Nirmal-Babu K, Shylaja M (eds) (2003) Cinnamon and cassia: the genus Cinnamomum. CRC Press, Kerala, India

Ribeiro-Santos R, Andrade M, Madella D, Martinazzo AP, Moura LDAG, de Melo NR, Sanches-Silva A (2017) Revisiting an ancient spice with medicinal purposes: Cinnamon. Trends Food Sci Technol 62:154–169. https://doi.org/10.1016/j.tifs.2017.02.011

Ropero S, Esteller M (2007) The role of histone deacetylases (HDACs) in human cancer. Mol Oncol 1:19–25. https://doi.org/10.1016/j.molonc.2007.01.001

Sakina MR, Dandiya PC (1990) A psycho-neuropharmacological profile of Centella asiatica extract. Fitoterapia 61:291–296

Saleem M, Bhatti HN, Jilani MI, Hanif MA (2015) Bioanalytical evaluation of Cinnamomum zeylanicum essential oil. Nat Prod Res 29:1857–1859. https://doi.org/10.1080/14786419.2014.1002088

Sangwan NS, Farooqi AHA, Shabih F, Sangwan RS (2001) Regulation of essential oil production in plants. Plant Growth Regul 34:3–21. https://doi.org/10.1023/A:1013386921596

Schreiner M, Mewis I, Huyskens-Keil S, Jansen MAK, Zrenner R, Winkler JB, Krumbein A (2012) UV-B-induced secondary plant metabolites-potential benefits for plant and human health. Crit Rev Plant Sci 31:229–240. https://doi.org/10.1080/07352689.2012.664979

Sova M (2012) Antioxidant and antimicrobial activities of cinnamic acid derivatives. Mini-Rev Med Chem 12:749–767. https://doi.org/10.2174/138955712801264792

Stavinoha RC, Vattem DA (2015) Potential neuroprotective effects of cinnamon. Int J Appl Res Nat Prod 8:24–46

Suppapitiporn S, Kanpaksi N (2006) The effect of cinnamon cassia powder in type 2 diabetes mellitus. J Med Assoc Thail 89:S200–S205

Suraweera A, O'Byrne KJ, Richard DJ (2018) Combination therapy with histone deacetylase inhibitors (HDACi) for the treatment of cancer: achieving the full therapeutic potential of HDACi. Front Oncol 8:92. https://doi.org/10.3389/fonc.2018.00092

Theodosis-Nobelos P, Kourti M, Tziona P, Kourounakis PN, Rekka EA (2015) Esters of some non-steroidal anti-inflammatory drugs with cinnamyl alcohol are potent lipoxygenase inhibitors with enhanced anti-inflammatory activity. Bioorg Med Chem Lett 25:5028–5031. https://doi.org/10.1016/j.bmcl.2015.10.036

Van Diermen D, Marston A, Bravo J, Reist M, Carrupt PA, Hostettmann K (2009) Monoamine oxidase inhibition by Rhodiola rosea L. roots. J Ethnopharmacol 122:397–401. https://doi.org/10.1016/j.jep.2009.01.007

Vanschoonbeek K, Thomassen BJ, Senden JM, Wodzig WK, van Loon LJ (2006) Cinnamon supplementation does not improve glycemic control in postmenopausal type 2 diabetes patients. J Nutr 136:977–980. https://doi.org/10.1093/jn/136.4.977

Wang JG, Anderson RA, Graham GM III, Chu MC, Sauer MV, Guarnaccia MM, Lobo RA (2007) The effect of cinnamon extract on insulin resistance parameters in polycystic ovary syndrome: a pilot study. Fertil Steril 88:240–243. https://doi.org/10.1016/j.fertnstert.2006.11.082

Witt O, Deubzer HE, Milde T, Oehme I (2009) HDAC family: what are the cancer relevant targets? Cancer Lett 277:8–21. https://doi.org/10.1016/j.canlet.2008.08.016

Zhang YJ, Gan RY, Li S, Zhou Y, Li AN, Xu DP, Li HB (2015) Antioxidant phytochemicals for the prevention and treatment of chronic diseases. Molecules 20:21138–21156. https://doi.org/10.3390/molecules201219753

Zidar N, Odar K, Glavac D, Jerse M, Zupanc T, Stajer D (2009) Cyclooxygenase in normal human tissues–is COX-1 really a constitutive isoform, and COX-2 an inducible isoform? J Cell Mol Med 13:3753–3763. https://doi.org/10.1111/j.1582-4934.2008.00430.x
Acknowledgements
The authors thank Ana Laura de Cabral Sobreira and Hugo Fernandes Oliveira Pires (Universidade Federal da Paraíba) for their technical support for the design of the chemical structures of this paper.
Funding
This work was supported by the National Council for Scientific and Technological Development, Brazil (CNPq grant number 141581/2017-4).
Ethics declarations
Conflict of Interest
The authors declare no competing interests.
Supplementary information
About this article
Cite this article
Monteiro, Á.B., de Andrade, H.H.N., Felipe, C.F.B. et al. Pharmacological Studies on Cinnamic Alcohol and Its Derivatives. Rev. Bras. Farmacogn. 31, 16–23 (2021). https://doi.org/10.1007/s43450-021-00138-5
Received:

Accepted:

Published:

Issue Date:
Keywords
Pharmacology

Phytochemistry

Phenylpropanoids

Cinnamyl derivatives