Abstract
Melanoma is an aggressive tumor with invasive and metastatic potential, frequently exhibiting multidrug resistance mechanisms. In our continuous search for antimelanoma molecules, we have identified some effective marine compounds capable of not only inducing cell death, but also of sensitizing chemoresistant tumor cells to clinically used anticancer drugs. In this report, the cryptophyte Rhodomonas salina (Wislouch) D.R.A.Hill & R.Wetherbee, Pyrenomonadaceae, was chemically investigated in order to identify pigments efficiently inhibiting melanoma cells proliferation. All pharmacological tests were performed on A2058 cells expressing the oncogenic BRAF V600E mutation and resistant to dacarbazine treatment. Flash chromatography of R. salina ethanol extract led to purification of alloxanthin and crocoxanthin, which showed significant antiproliferative activity against A2058 cells, exhibiting IC50 = 29 and 50 μM, respectively. These carotenoids promoted growth inhibition, decreased cell migration, and induced apoptosis and sub-G1 cells accumulation after 72 h of treatment. In addition, alloxanthin potentiated the cytotoxic activity of vemurafenib (a BRAF inhibitor) and restored the sensitivity of A2058 cells to dacarbazine treatment.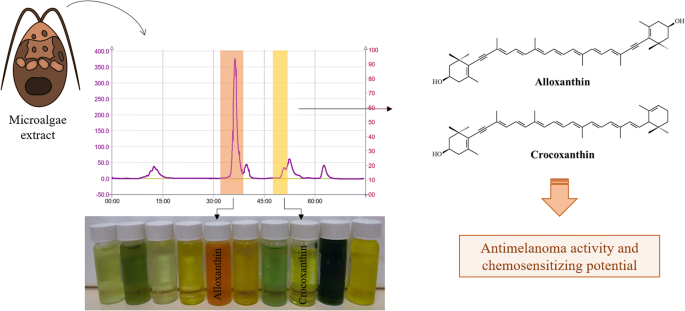 Access options
Buy single article
Instant access to the full article PDF.
US$ 39.95
Tax calculation will be finalised during checkout.
Subscribe to journal
Immediate online access to all issues from 2019. Subscription will auto renew annually.
US$ 79
Tax calculation will be finalised during checkout.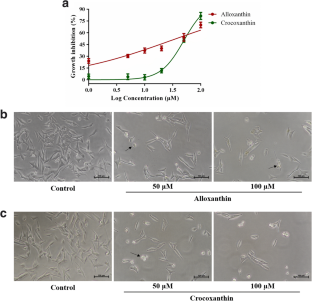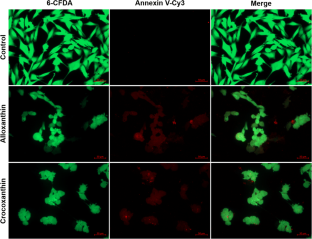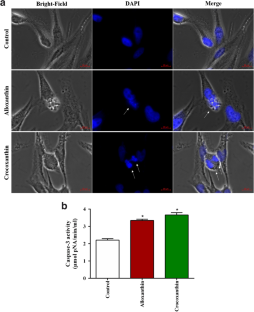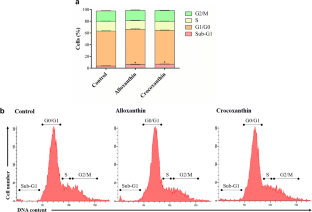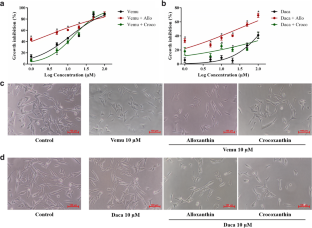 References
Baudelet PH, Gagez AL, Bérard JB, Juin C, Bridiau N, Kaas R, Thiéry V, Cadoret JP, Picot L (2013) Antiproliferative activity of Cyanophora paradoxa pigments in melanoma, breast and lung cancer cells. Mar Drugs 11:4390–4406. https://doi.org/10.3390/md11114390

Casagrande T, Cazarin CBB, Marostica MR Jr, Risso ÉM, Amaya-Farfan J, Grimaldi R, Mercadante AZ, Jacob-Lopes E, Zepka LQ (2019) Microalgae biomass intake positively modulates serum lipid profile and antioxidant status. J Funct Foods 58:11–20. https://doi.org/10.1016/j.jff.2019.04.047

Chakraborty R, Wieland CN, Comfere NI (2013) Molecular targeted therapies in metastatic melanoma. Pharmgenomics Pers Med 6:49–56. https://doi.org/10.2147/PGPM.S44800

Chaloub RM, Motta NMS, de Araujo SP, de Aguiar PF, da Silva AF (2015) Combined effects of irradiance, temperature and nitrate concentration on phycoerythrin content in the microalga Rhodomonas sp. (cryptophyceae). Algal Res 8:89–94. https://doi.org/10.1016/j.algal.2015.01.008

Chapman PB, Hauschild A, Robert C, Haanen JB, Ascierto P, Larkin J, Dummer R (2011) Improved survival with vemurafenic in melanoma with BRAF V600E mutation. N Engl J Med 364:2507–2516. https://doi.org/10.1056/NEJMoa1103782

Chou T, Talalay P (1984) Quantitative dose-effect relationships: the combined effects of multiples drugs or enzyme inhibitors. Adv Enzym Regul 22:27–55. https://doi.org/10.1016/0065-2571(84)90007-4

Cisilotto J, Sandjo LP, Faqueti LG, Fernandes H, Joppi D, Biavatti MW, Creczynski-Pasa TB (2018) Cytotoxicity mechanisms in melanoma cells and UPLC-QTOF/MS2chemical characterization of two Brazilian stingless bee propolis: uncommon presence of piperidinic alkaloids. J Pharm Biomed Anal 149:502–511. https://doi.org/10.1016/j.jpba.2017.11.038

de Oliveira Júnior RG, Bonnet A, Braconnier E, Groult H, Prunier G, Beaugeard L, Grougnet R, da Silva Almeida JRG, Ferraz CAA, Picot L (2019) Bixin, an apocarotenoid isolated from Bixa orellana L, sensitizes human melanoma cells to dacarbazine-induced apoptosis through ROS-mediated cytotoxicity. Food Chem Toxicol 125:549–561. https://doi.org/10.1016/j.fct.2019.02.013

de Oliveira Júnior RG, Christiane Adrielly AF, da Silva Almeida JRG, Grougnet R, Thiéry V, Picot L (2018) Sensitization of tumor cells to chemotherapy by natural products: a systematic review of preclinical data and molecular mechanisms. Fitoterapia 129:383–400. https://doi.org/10.1016/j.fitote.2018.02.025

Flaherty KT, McArthur G (2010) BRAF, a target in melanoma. Cancer 116:4902–4913. https://doi.org/10.1002/cncr.25261

Garbe C, Peris K, Hauschild A, Saiag P, Middleton M, Bastholt L, Grob J, Malvehy J (2016) Diagnosis and treatment of melanoma. European consensus-based interdisciplinary guideline - update 2016. Eur J Cancer 63:201–217. https://doi.org/10.1016/j.ejca.2016.05.005

Gille A, Neumann U, Louis S, Bischo SC, Briviba K (2018) Microalgae as a potential source of carotenoids: comparative results of an in vitro digestion method and a feeding experiment with C57BL/6J mice. J Funct Foods 49:285–294. https://doi.org/10.1016/j.jff.2018.08.039

Habashy NH, Abu MM, Attia WE, Abdelgaleil SAM (2018) Chemical characterization, antioxidant and anti-inflammatory properties of Greek Thymus vulgaris extracts and their possible synergism with Egyptian Chlorella vulgaris. J Funct Foods 40:317–328. https://doi.org/10.1016/j.jff.2017.11.022

Haguet Q, Bonnet A, Bérard JB, Goldberg J, Joguet N, Fleury A, Thiéry V, Picot L (2017) Antimelanoma activity of Heterocapsa triquetra pigments. Algal Res 25:207–215. https://doi.org/10.1016/j.algal.2017.04.034

Housman G, Byler S, Heerboth S, Lapinska K, Longacre M, Snyder N, Sarkar S (2014) Drug resistance in cancer: an overview. Cancers 6:1769–1792. https://doi.org/10.3390/cancers6031769

Hynninen PH (1981) Mechanism of the Allomerization of chlorophyll: inhibition of the allomerization by carotenoid pigments. Z Naturforsch 36b:1010–1016

Jang S, Atkins MB (2014) Treatment of BRAF-mutant melanoma: the role of vemurafenib and other therapies. Clin Pharmacol Ther 95:24–31. https://doi.org/10.1038/clpt.2013.197

Juin C, Bonnet A, Nicolau E, Bérard JB, Devillers R, Thiéry V, Cadoret JP, Picot L (2015) UPLC-MSE profiling of phytoplankton metabolites: application to the identification of pigments and structural analysis of metabolites in Porphyridium purpureum. Mar Drugs 13:2541–2558. https://doi.org/10.3390/md13042541

Juin C, Oliveira Junior RG, Fleury A, Oudinet C, Pytowski L, Bérard JB, Nicolau E, Thiéry V, Lanneluc I, Beaugeard L, Prunier G, Almeida JRGDS, Picot L (2018) Zeaxanthin from Porphyridium purpureum induces apoptosis in human melanoma cells expressing the oncogenic BRAF V600E mutation and sensitizes them to the BRAF inhibitor vemurafenib. Rev Bras 28:457–467. https://doi.org/10.1016/j.bjp.2018.05.009

Kaňa R, Kotabová E, Sobotka R, Prášil O (2012) Non-photochemical quenching in cryptophyte alga Rhodomonas salina is located in chlorophyll a/c antennae. PLoS One 7:e29700. https://doi.org/10.1371/journal.pone.0029700

Kumar SR, Hosokawa M, Miyashita K (2013) Fucoxanthin: a marine carotenoid exerting anti-cancer effects by affecting multiple mechanisms. Mar Drugs 11:5130–5147. https://doi.org/10.3390/md11125130

Lopatka J, Malon K, Kryk M (2018) Hybrid model of radio channels occupancy prediction for dynamic spectrum access. URSI 2018 - Balt URSI Symp 2015:238–241. https://doi.org/10.23919/URSI.2018.8406694

Matthews NH, Li W-Q, Qureshi AA, Weinstock MA, Cho E (2017) Epidemiology of melanoma. In: Ward WH, Farma JM (eds) Cutaneous melanoma: etiology and therapy. Codon Publications, Brisbane (AU), pp 3–22. https://doi.org/10.15586/codon.cutaneousmelanoma.2017.ch1

Mosmann T (1983) Rapid colorimetric assay for cellular growth and survival: application to proliferation and cytotoxicity assays. J Immunol Methods 65:55–63. https://doi.org/10.1016/0022-1759(83)90303-4

Napolitano S, Brancaccio G, Argenziano G, Martinelli E, Morgillo F, Ciardiello F (2018) It is finally time for adjuvant therapy in melanoma. Cancer Treat Rev 69:101–111. https://doi.org/10.1016/j.ctrv.2018.06.003

Pasquet V, Morisset P, Ihammouine S, Chepied A, Aumailley L, Berard JB, Serive B, Kaas R, Lanneluc I, Thiery V, Lafferriere M, Piot JM, Patrice T, Cadoret JP, Picot L (2011) Antiproliferative activity of violaxanthin isolated from bioguided fractionation of Dunaliella tertiolecta extracts. Mar Drugs 9:819–831. https://doi.org/10.3390/md9050819

Porter AG, Ja RU (1999) Emerging roles of caspase-3 in apoptosis. Cell Death Differ 6:99–104

Prado G, Svoboda RM, Rigel DS (2019) What's new in melanoma. Dermatol Clin 37:159–168. https://doi.org/10.1016/j.det.2018.12.005

Ronca R, Di Salle E, Giacomini A, Leali D, Alessi P, Coltrini D, Ravelli C, Matarazzo S, Ribatti D, Vermi W, Presta M (2013) Long pentraxin-3 inhibits epithelial-mesenchymal transition in melanoma cells. Mol Cancer Ther 12:2760–2771. https://doi.org/10.1158/1535-7163.MCT-13-0487

Roos WP, Quiros S, Krumm A, Merz S, Switzeny OJ, Christmann M, Loquai C, Kaina B (2014) B-Raf inhibitor vemurafenib in combination with temozolomide and fotemustine in the killing response of malignant melanoma cells. Oncotarget 5:12607–12620. https://doi.org/10.18632/oncotarget.2610

Sanz N, García-Blanco A, Gavalás-Olea A, Loures P, Garrido JL (2015) Phytoplankton pigment biomarkers: HPLC separation using a pentafluorophenyloctadecyl silica column. Methods Ecol Evol 6:1199–1209. https://doi.org/10.1111/2041-210X.12406

Sathasivam R, Ki JS (2018) A review of the biological activities of microalgal carotenoids and their potential use in healthcare and cosmetic industries. Mar Drugs 16:1–31. https://doi.org/10.3390/md16010026

Schadendorf D, van Akkooi ACJ, Berking C, Griewank KG, Gutzmer R, Hauschild A, Stang A, Roesch A (2018) Melanoma. Lancet 392:971–984. https://doi.org/10.1016/S0140-6736(18)31559-9

Sengupta S, Koley H, Dutta S, Bhowal J (2018) Hypocholesterolemic effect of Spirulina platensis (SP) fortified functional soy yogurts on diet-induced hypercholesterolemia. J Funct Foods 48:54–64. https://doi.org/10.1016/j.jff.2018.07.007

Serive B, Nicolau E, Bérard JB, Kaas R, Pasquet V, Picot L, Cadoret JP (2017) Community analysis of pigment patterns from 37 microalgae strains reveals new carotenoids and porphyrins characteristic of distinct strains and taxonomic groups. PLoS One 12:e0171872. https://doi.org/10.1371/journal.pone.0171872

Spagnolo F, Ghiorzo P, Orgiano L, Pastorino L, Picasso V, Tornari E, Ottaviano V, Queirolo P (2015) BRAF-mutant melanoma: treatment approaches, resistance mechanisms, and diagnostic strategies. Onco Targets Ther 8:157–168. https://doi.org/10.2147/OTT.S39096

Spagnolo F, Ghiorzo P, Queirolo P (2014) Overcoming resistance to BRAF inhibition in BRAF-mutated metastatic melanoma. Oncotarget 5:10206–10221. https://doi.org/10.18632/oncotarget.2602

Sugawara T, Ganesan P, Li Z, Manabe Y, Hirata T (2014) Siphonaxanthin, a green algal carotenoid, as a novel functional compound. Mar Drugs 12:3660–3668. https://doi.org/10.3390/md12063660

Tentori L, Lacal PM, Graziani G (2013) Challenging resistance mechanisms to therapies for metastatic melanoma. Trends Pharmacol Sci 34:656–666. https://doi.org/10.1016/j.tips.2013.10.003

Teubner K, Tolotti M, Greisberger S, Heike M, Dokulil MT, Morscheid H (2003) Steady state phytoplankton in a deep pre-alpine lake: species and pigments of epilimnetic versus metalimnetic assemblages. Hydrobiologia 502:49–64. https://doi.org/10.1023/B:HYDR.0000004269.54705.cb

Tracey EH, Vij A (2019) Updates in melanoma. Dermatol Clin 37:73–82. https://doi.org/10.1016/j.det.2018.08.003

Tremblay R, Cartier S, Miner P, Pernet F, Quéré C, Moal J, Muzellec ML, Mazuret M, Samain JF (2007) Effect of Rhodomonas salina addition to a standard hatchery diet during the early ontogeny of the scallop Pecten maximus. Aquaculture 262:410–418. https://doi.org/10.1016/j.aquaculture.2006.10.009

van Houcke J, Medina I, Maehre HK, Cornet J, Cardinal M, Linssen J, Luten J (2017) The effect of algae diets (Skeletonema costatum and Rhodomonas baltica) on the biochemical composition and sensory characteristics of Pacific cupped oysters (Crassostrea gigas) during land-based refinement. Food Res Int 100:151–160. https://doi.org/10.1016/j.foodres.2017.06.041

Vinod BS, Maliekal TT, Anto RJ (2013) Phytochemicals as chemosensitizers: from molecular mechanism to clinical significance. Antioxid Redox Signal 18:1307–1348. https://doi.org/10.1089/ars.2012.4573

Voskoboynik M, Arkenau HT (2014) Combination therapies for the treatment of advanced melanoma: a review of current evidence. Biochem Res Int 2014:307059. https://doi.org/10.1155/2014/307059

Vu MTT, Douëtte C, Rayner TA, Thoisen C, Nielsen SL, Hansen BW (2016) Optimization of photosynthesis, growth, and biochemical composition of the microalga Rhodomonas salina—an established diet for live feed copepods in aquaculture. J Appl Phycol 28:1485–1500. https://doi.org/10.1007/s10811-015-0722-2

Walne PR (1970) Studies on food value of nineteen genera of algae to juvenile bivalves of the genera Ostrea, Crassostrea, Mercenaria and Mytilus. Fish Invest L Ser 26:1–62

Wang C, Kim J, Kim S (2014) Carotenoids: new opportunities and future prospects. Mar Drugs 12:4810–4832. https://doi.org/10.3390/md12094810

Zapata M, Rodriguez F, Garrido JL (2000) Separation of chlorophylls and carotenoids from marine phytoplankton: a new HPLC method using a reversed phase C8 column and pyridine-containing mobile phases. MEPS 195:29–45. https://doi.org/10.3354/meps195029
Acknowledgments
We thank Thierry Beignon from Synoxis Algae Company (Le Cellier, France) for the loan of LUCY photobioreactor.
Funding
This research was financially supported by the INTERREG Atlantic Area European program (Interreg EnhanceMicroAlgae project, EAPA_338/2016), and the French cancer league (Comité 17 de la Ligue Nationale contre le Cancer).
Ethics declarations
Conflict of Interest
The authors declare that they have no conflict of interest.
Protection of Human and Animal Subjects
The authors declare that no experiments were performed on humans or animals for this study.
Confidentiality of Data
The authors declare that no patient data appear in this article.
Right to Privacy and Informed Consent
The authors declare that no patient data appear in this article.
Electronic Supplementary Material
About this article
Cite this article
de Oliveira-Júnior, R.G., Nicolau, E., Bonnet, A. et al. Carotenoids from Rhodomonas salina Induce Apoptosis and Sensitize A2058 Melanoma Cells to Chemotherapy. Rev. Bras. Farmacogn. 30, 155–168 (2020). https://doi.org/10.1007/s43450-020-00036-2
Received:

Accepted:

Published:

Issue Date:
Keywords
Alloxanthin

Chemosensitivity

Crocoxanthin

Cutaneous melanoma

Drug resistance

Microalgae