Abstract
The purpose of this study was to determine if any correlations could be identified from the form 483 observations issued by the US FDA during routine GMP inspections of drug substance and drug product manufacturing sites. The data analysed encompassed inspection observations from 2014 through 2018. The intent of the study is to provide unbiased insight to regulatory trends and to understand any underlying factors that may contribute to a sites non-compliance status. The data sets utilized in this study was derived from the US FDA public information database: Inspection Classification Database which was part of a 2009 open government initiative. The inspection observation data sets are ones that has been classified. The study results provide insights into domestic and foreign inspection trends. The assessment of 2014–2018 form 483 observations from FDA database revealed that the number of 483 forms issued has been on the increase however the number of observations has declined.
Access options
Buy single article
Instant access to the full article PDF.
US$ 39.95
Tax calculation will be finalised during checkout.
Subscribe to journal
Immediate online access to all issues from 2019. Subscription will auto renew annually.
US$ 119
Tax calculation will be finalised during checkout.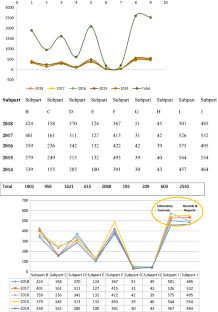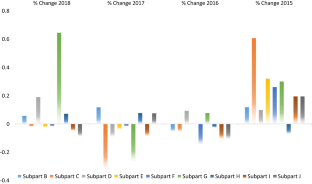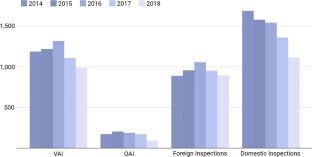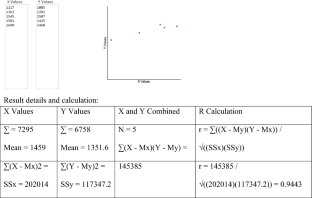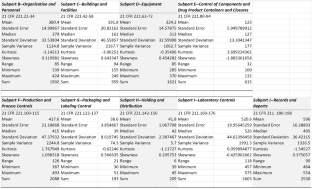 References
1.

Hamburg MA. Justification of estimates for appropriations committees fiscal year 2016. Rockville: Department of Health and Human Sciences, FDA; 2016.

2.

FDA. Integration of FDA facility evaluation and inspection program for human drugs: A concept of operations. Rockville: Center for Drug Evaluation and Research; 2017.

3.

FDA. Transparency initiative: draft proposals for public comment to increase transparency by promoting greater access to the agency's compliance and enforcement. Washington: Data Transparency Task Force, US Department of Health and Human Services; 2011.

4.

Federal Register. Title 21: Part 210, 211: current good manufacturing practice. Washington: Code of Federal Regulations; 2011.

5.

Lawton G. Choosing the best visualization tools for big data analytics. Newton: TechTarget; 2018.

6.

Hodgson D, Maini F, Greenrose W, Christiani S, Chan S, Hargitai B. Under the spotlight: Data integrity in life sciences. London: Deloitte; 2017.

7.

Higgins BK. Inspection trends. Richmond: American Society for Quality; 2016.

8.

Unger, B. (2018). FY2017 FDA drug inspection observations and trends, Life Science Connect.
Ethics declarations
Conflict of interest
All authors declare that they have no conflict of interest.
Additional information
Publisher's Note
Springer Nature remains neutral with regard to jurisdictional claims in published maps and institutional affiliations.
About this article
Cite this article
Pazhayattil, A.B., Ingram, M. & Sayeed, N. A Quantitative Study of US FDA Inspection Data for Drug Manufacturing Sites. Ther Innov Regul Sci 54, 725–730 (2020). https://doi.org/10.1007/s43441-019-00015-3
Received:

Accepted:

Published:

Issue Date:
Keywords
FDA 483

Inspection trend

Establishment inspection report

Official Action Indicated

GMP