Abstract
Purpose
Spinal deformities in patients with Spondyloepiphyseal Dysplasia congenita are particularly challenging to treat. Addressing these deformities requires a holistic surgical strategy.
The aim of this case report is to highlight an original preoperative protocol combining atlantoaxial instability stabilization by halo jacket with progressive correction of a thoracic kyphoscoliosis using continuous elongation by tension plaster cast as described by Stagnara.
Method
A 16-year-old patient with spondyloepiphyseal dysplasia congenita presenting a severe thoracic kyphoscoliosis associated with atlantoaxial instability causing cervical myelopathy was managed through a preoperative protocol combining a halo jacket with a Stagnara elongation cast allowing progressive correction of the kyphoscoliosis while stabilizing the cervical instability.
Results
The preoperative protocol allowed a safer and a more effective surgical spine fusion, reducing neurological risks, improving the final correction, and offering better postoperative recovery. Clinical and radiological solid fusion was observed at 3-year-follow-up with significant improvement of the patient's quality of life.
Conclusion
This case report highlights the effectiveness of the preoperative preparation combining a halo jacket with a Stagnara elongation cast to safely stabilize the cervical spine while correcting the thoracic kyphoscoliosis. This strategy can serve as a valuable tool for spine teams when addressing complex spinal deformities particularly in this patient with SEDc.
Level of evidence
Level IV.
This is a preview of subscription content,
to check access.
Access this article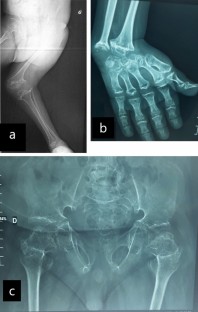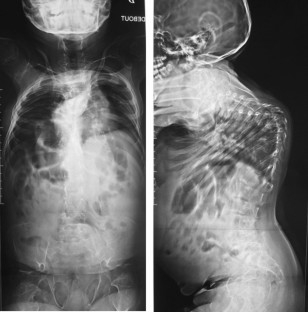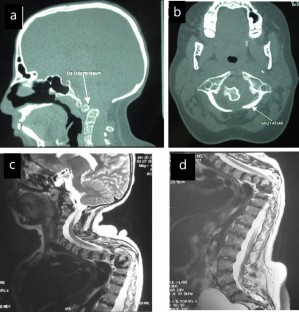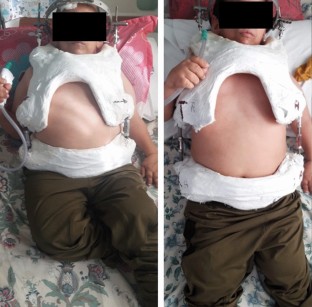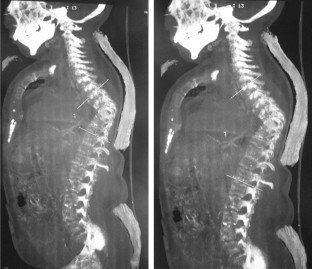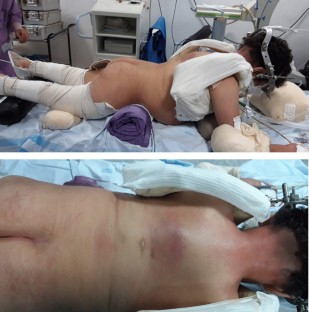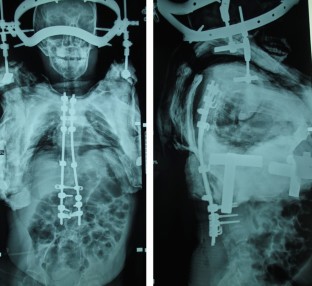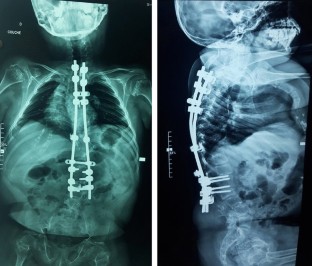 Data availability
The data that support the findings of this study are available from the corresponding author, Toumia M.L, upon reasonable request.
References
Song D, Maher CO (2007) Spinal disorders associated with skeletal dysplasias and syndromes. Neurosurg Clin N Am 18(3):499–514. https://doi.org/10.1016/j.nec.2007.05.004

Panda A, Gamanagatti S, Jana M, Gupta AK (2014) Skeletal dysplasias: a radiographic approach and review of common non-lethal skeletal dysplasias. World J Radiol 6(10):808–825. https://doi.org/10.4329/wjr.v6.i10.808

Shafi K, Lovecchio F, Sava M et al (2023) Complications and revisions after spine surgery in patients with skeletal dysplasia: have we improved? Glob Spine J 13(2):268–275. https://doi.org/10.1177/2192568221994786

Stagnara P, Perdriolle R (1958) Continuous elongation of the spine by tension plaster casts; therapeutic possibilities. Rev Chir Orthop Reparatrice Appar Mot 44(1):57–74

Al Kaissi A, Ryabykh S, Pavlova OM et al (2019) The Managment of cervical spine abnormalities in children with spondyloepiphyseal dysplasia congenita. Medicine (Baltimore) 98(1):e13780. https://doi.org/10.1097/MD.0000000000013780

Falls CJ, Page PS, Greeneway GP, Stadler JA (2022) Management of craniocervical instability in spondyloepiphyseal dysplasia congenita: assessment of literature and presentation of two cases. Cureus. 14(7):e27020. https://doi.org/10.7759/cureus.27020

Mogera C, Muralidhar V (1996) Spondyloepiphyseal dysplasia congenita syndrome: anesthetic implications. Anesth Analg 83(2):433
Funding
This study received no specific grant from any funding agency in the public, commercial, or not-for-profit sectors.
Ethics declarations
Conflict of interest
The authors declare no competing interest.
Ethical approval
All procedures performed in this study involving human participants were in accordance with the ethical standards of the institutional and national research committees.
Informed consent
Informed consent was obtained from the patients involved in the study and his parents.
Additional information
Publisher's Note
Springer Nature remains neutral with regard to jurisdictional claims in published maps and institutional affiliations.
About this article
Cite this article
Toumia, M.L., Msakni, A., Mohseni, A.A. et al. An original preoperative orthopaedic management of a complex spinal deformity in a 16-year-old patient with spondyloepiphyseal dysplasia congenita. Spine Deform (2023). https://doi.org/10.1007/s43390-023-00781-z
Received:

Accepted:

Published:

DOI: https://doi.org/10.1007/s43390-023-00781-z
Keywords