Abstract
Purpose
The importance of coronal alignment is unclear, while the importance of sagittal alignment in the treatment of adult patients with spinal deformities is well described. This study sought to elucidate the impact of global coronal malalignment (GCMA) in surgically treated adult symptomatic lumbar deformity (ASLD) patients.
Methods
A multicentre retrospective analysis of a prospective ASD database. GCMA was defined as GCA (C7PL-CSVL) ≥ 3 cm. GCMA is categorized based on the Obeid-Coronal Malalignment Classification (O-CM). Demographic, surgical, radiographic, HRQOL, and complication data were analysed. The risk for postoperative GCMA was analysed by univariate and multivariate analyses.
Results
Of 230 surgically treated ASLD patients, 96 patients showed GCMA preoperatively and baseline GCA was correlated with the baseline SRS-22 pain domain score (r = − 30). Postoperatively, 62 patients (27%, O-CM type 1: 41[18%], type 2: 21[9%]) developed GCMA. The multivariate risk analysis indicated dementia (OR 20.1[1.2–304.4]), diabetes (OR 5.9[1.3–27.3]), and baseline O-CM type 2 (OR 2.1[1.3–3.4]) as independent risk factors for postoperative GCMA. The 2-year SRS-22 score was not different between the 2 groups, while 4 GCMA patients required revision surgery within 1 year after surgery due to coronal decompensation (GCMA+ vs. GCMA- function: 3.6 ± 0.6 vs. 3.7 ± 0.7, pain: 3.7 ± 0.8 vs. 3.8 ± 0.8, self-image: 3.6 ± 0.8 vs. 3.6 ± 0.8, mental health: 3.7 ± 0.8 vs. 3.8 ± 0.9, satisfaction: 3.9 ± 0.9 vs. 3.9 ± 0.8, total: 3.7 ± 0.7 vs. 3.7 ± 0.7). Additionally, the comparisons of 2-yr SRS-22 between GCMA ± showed no difference in any UIV and LIV level or O-CM type.
Conclusions
In ASLD patients with corrective spine surgery, GCMA at 2 years did not affect HRQOL or major complications at any spinal fusion extent or O-CM type of malalignment, whereas GCA correlated with pain intensity before surgery. These findings may warrant further study of the impact of GCMA on HRQOL in the surgical treatment of ASLD patients.
This is a preview of subscription content,
to check access.
Access this article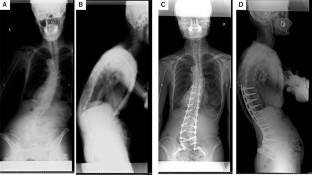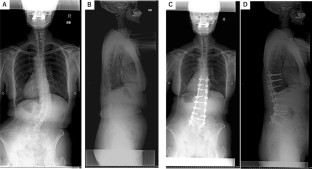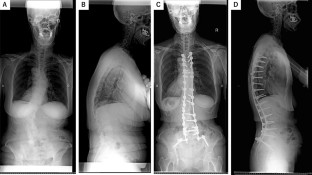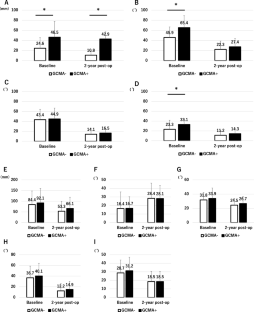 Similar content being viewed by others
Data availability
All data is not available in public but is able to provide if necesarry.
References
Diebo BG, Shah NV, Boachie-Adjei O et al (2019) Adult spinal deformity. Lancet 394(10193):160–172

Terran J, Schwab F, Shaffrey CI et al (2013) The SRS-Schwab adult spinal deformity classification: assessment and clinical correlations based on a prospective operative and nonoperative cohort. Neurosurgery 73(4):559–568

Kelly MP, Lurie JD, Yanik EL et al (2019) Operative versus nonoperative treatment for adult symptomatic lumbar scoliosis. J Bone Joint Surg Am 101(4):338–352

Hayashi K, Boissière L, Cawley DT et al (2020) A new classification for coronal malalignment in adult spinal deformity: a validation and the role of lateral bending radiographs. Eur Spine J 29(9):2287–2294

Bridwell KH, Glassman S, Horton W et al (2009) Does treatment (nonoperative and operative) improve the two-year quality of life in patients with adult symptomatic lumbar scoliosis: a prospective multicenter evidence-based medicine study. Spine 34(20):2171–2178

Pellisé F, Vila-Casademunt A, Ferrer MD et al (2015) Impact on health related quality of life of adult spinal deformity (ASD) compared with other chronic conditions. Eur Spine J. 24(1):3–11

Glassman SD, Carreon LY, Shaffrey CI et al (2020) Cost-effectiveness of adult lumbar scoliosis surgery: an as-treated analysis from the adult symptomatic scoliosis surgery trial with 5-year follow-up. Spine Deform 8(6):1333–1339

Smith JS, Kelly MP, Yanik EL et al (2021) Operative versus nonoperative treatment for adult symptomatic lumbar scoliosis at 5-year follow-up: durability of outcomes and impact of treatment-related serious adverse events. J Neurosurg Spine 35(1):67–79

Yagi M, Michikawa T, Suzuki S et al (2021) Characterization of patients with poor risk for clinical outcomes in adult symptomatic lumbar deformity surgery. Spine 46(12):813–821

Glassman SD, Berven S, Bridwell K et al (2005) Correlation of radiographic parameters and clinical symptoms in adult scoliosis. Spine 30(6):682–688

Obeid I, Berjano P, Lamartina C et al (2019) Classification of coronal imbalance in adult scoliosis and spine deformity: a treatment-oriented guideline. Eur Spine J 28(1):94–113

Bao H, Yan P, Qiu Y et al (2016) Coronal imbalance in degenerative lumbar scoliosis: Prevalence and influence on surgical decision-making for spinal osteotomy. Bone Joint J 98(9):1227–33

Karam J, Tsiouris A, Shepard A et al (2013) Simplified frailty index to predict adverse outcomes and mortality in vascular surgery patients. Ann Vasc Surg 27(7):904–908

Yagi M, Fujita N, Okada E et al (2018) Impact of frailty and comorbidities on surgical outcomes and complications in adult spinal disorders. Spine 43(18):1259–1267

Yagi M, Rahm M, Gaines R et al (2014) Characterization and surgical outcomes of proximal junctional failure (pjf) in surgically treated adult spine deformity patients. Spine 39:E607–E614

Abbott D (2014) Applied predictive analytics: principles and techniques for the professional data analyst, 1st edn. Wiley, Indianapolis

Clavien PA, Barkun J, de Oliveira ML et al (2009) The Clavien–Dindo classification of surgical complications: five-year experience. Ann Surg 250(2):187–196

Zhang Z, Liu T, Wang Y et al (2022) Factors related to preoperative coronal malalignment in degenerative lumbar scoliosis: an analysis on coronal parameters. Orthop Surg 14(8):1846–1852

Plais N, Bao H, Lafage R et al (2020) The clinical impact of global coronal malalignment is underestimated in adult patients with thoracolumbar scoliosis. Spine Deform 8(1):105–113

Jackson RP, Simmons EH, Stripinis D (1989) Coronal and sagittal plane spinal deformities correlating with back pain and pulmonary function in adult idiopathic scoliosis. Spine 14(12):1391–1397

Zuckerman SL, Chanbour H, Hassan FM et al (2023) Patients with coronal malalignment undergoing adult spinal deformity surgery: does coronal alignment change from immediately postoperative to 2-years? Clin Spine Surg 36(1):E14–E21

Zhang J, Yu Y, Gao S et al (2022) The classification of coronal deformity based on preoperative global coronal malalignment for adult spinal deformity is questionable. BMC Musculoskelet Disord 23(1):300

Walley M, Anderson E, Pippen MW et al (2014) Dizziness and loss of balance in individuals with diabetes: relative contribution of vestibular versus somatosensory dysfunction. Clin Diabetes 32(2):76–77

Khan KS, Andersen H (2022) The impact of diabetic neuropathy on activities of daily living, postural balance and risk of falls - a systematic review. J Diabetes Sci Technol 16(2):289–294

Harun A, Oh ES, Bigelow RT et al (2016) Vestibular impairment in dementia. Otol Neurotol 37(8):1137–1142

Yagi M, Kaneko S, Yato Y et al (2017) Standing balance and compensatory mechanisms in patients with adult spinal deformity. Spine 42(10):E584–E591

Yagi M, Ohne H, Kaneko S, Machida M et al (2018) Does corrective spine surgery improve the standing balance in patients with adult spinal deformity? Spine J 18(1):36–43

Daubs MD, Lenke LG, Bridwell KH et al (2013) Does correction of preoperative coronal imbalance make a difference in outcomes of adult patients with deformity? Spine 38(6):476–483

Buell TJ, Smith JS, Shaffrey CI et al (2020) Multicenter assessment of surgical outcomes in adult spinal deformity patients with severe global coronal malalignment: determination of target coronal realignment threshold. J Neurosurg Spine 34(3):399–412
Funding
No funding was received for this study.
Ethics declarations
Conflict of interest
Tomohisa Tabata, Satoshi Suzuki, Yohei Takahashi, Masahiro Ozaki, Osahiko Tsuji, Narihito Nagoshi, Masaya Nakamura, and Kowa Watanabe have no conflicts of interest. Mitsuru Yagi reports receiving grants from Medtronic and DePuy Synthes that are outside the scope of the submitted work. Morio Matsumoto reports receiving grants from Medtronic and NuVasive that are outside the scope of the submitted work.
Ethical approval
This study was approved by the appropriate institutional review board. The study approval was obtained from the ethics committee of Keio University School of Medicine. The procedures used in this study adhere to the tenets of the Declaration of Helsinki.
Informed consent
Informed consent was obtained from all individual participants included in this study.
Additional information
Publisher's Note
Springer Nature remains neutral with regard to jurisdictional claims in published maps and institutional affiliations.
Rights and permissions
Springer Nature or its licensor (e.g. a society or other partner) holds exclusive rights to this article under a publishing agreement with the author(s) or other rightsholder(s); author self-archiving of the accepted manuscript version of this article is solely governed by the terms of such publishing agreement and applicable law.
About this article
Cite this article
Shimizu, T., Yagi, M., Suzuki, S. et al. How coronal malalignment affects the surgical outcome in corrective spine surgery for adult symptomatic lumbar deformity. Spine Deform (2023). https://doi.org/10.1007/s43390-023-00780-0
Received:

Accepted:

Published:

DOI: https://doi.org/10.1007/s43390-023-00780-0
Keywords