Abstract
Purpose
Adolescent idiopathic scoliosis (AIS) is a deformity of the spine that results in external asymmetry of the torso in the shoulder, waist, and rib hump. Several patient reported outcome measures (PROMS) including the Trunk Appearance Perception Scale (TAPS) and SRS-22r self-image domain are used to measure the patient's self-perception. The purpose of this study is to investigate the relationship between objective surface topographic measurements of the torso to subjective patient self-perception.
Methods
131 AIS subjects and 37 controls participated in this study. All subjects completed TAPS and SRS-22r PROMS followed by whole body 3d surface topographic scanning. An automated analysis pipeline was used to compute 57 measurements. Multivariate linear models were developed to predict TAPS and SRS-22r self-image using each unique combination of 3 parameters and leave one out validation where the best combinations were selected.
Results
Back surface rotation, waist crease vertical asymmetry and rib prominence volume were most predictive of TAPS. The final predicted TAPS values from leave one out cross validation was correlated to ground truth TAPS scores with an R value of 0.65. Back surface rotation, silhouette centroid deviation, and shoulder normal asymmetry were most predictive of SRS-22r self-image with a correlation of R = 0.48.
Conclusion
Surface topographic measurements of the torso are correlated to TAPS and SRS-22r self-image scores in AIS patients and controls, with TAPS exhibiting a stronger relationship, better reflecting the patient's external asymmetries.
Access options
Buy single article
Instant access to the full article PDF.
USD 39.95
Price excludes VAT (USA)
Tax calculation will be finalised during checkout.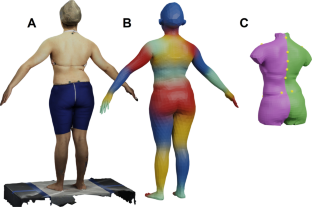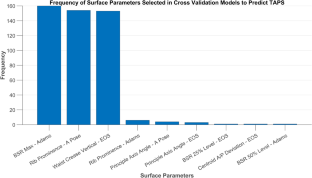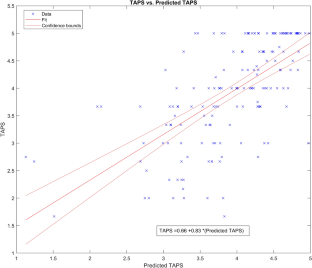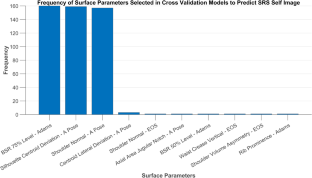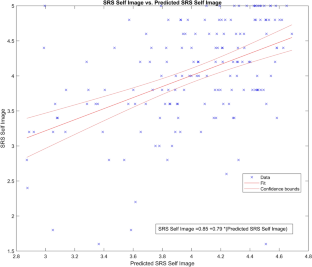 Data availability
The datasets generated during and/or analyzed by the current study are available from the corresponding author on reasonable request.
References
Bago J, Sanchez-Raya J, Perez-Grueso FJS, Climent JM (2010) The trunk appearance perception scale (TAPS): a new tool to evaluate subjective impression of trunk deformity in patients with idiopathic scoliosis. Scoliosis 5:6

Oetgen ME, Heyer JH, Kelly SM (2021) Scoliosis screening. J Am Acad Orthop Surg 29(9):370–379

Asher M, Min Lai S, Burton D et al (2003) The reliability and concurrent validity of the scoliosis research society-22 patient questionnaire for idiopathic scoliosis. Spine (Phila Pa 1976) 28:63–69

Asher M, Lai SM, Burton D et al (2003) Scoliosis research society-22 patient questionnaire responsiveness to change associated with surgical treatment: preliminary results. Spine (Phila Pa 1976) 28:70–73

Sanders JO, Polly DW Jr, Cats-Baril W et al (2003) Analysis of patient and parent assessment of deforming in idiopathic scoliosis using the Walter reed visual assessment scale. Spine (Phila Pa 1976) 28(18):2158–2163

Sanders JO, Harrast JJ, Kuklo TR et al (2007) The spinal appearance questionnaire Results of reliability, validity, and responsiveness testing in patients with idiopathic scoliosis. Spine 32(24):2719–2722

Groisser BN, Hillstrom HJ, Thakur A et al (2022) Reliability of automated topographic measurements for spine deformity. Spine Deform. 10:1035

Goodvin C, Park EJ, Huang K, Sakaki K (2006) Development of a real-time three-dimensional spinal motion measurement system for clinical practice. Med Biol Eng Comput 44(12):1061–1075

Diers H, Gerlach K, Keitmann KR, Kleist M (2014) Correlation of lateral deviation and rotation of the spine in static and dynamic surface topography. Scoliosis 9:O7

Knott P, Sturm P, Lonner B et al (2016) Multicenter comparision of 3D spinal measuements using surface topography with those from conventional radiography. Spine Deform 4(2):98–103

Fortin C, Feldman DE, Cheriet F, Labelle H (2010) Validity of a quantitative clinical measurement tool of trunk posture in idiopathic scoliosis. Spine 35(19):988–994

Rigo M, D'Agata E (2013) Comparison between subjective perception of trunk deformity (TAPS) and objective assessment of back asymmetry (surface topography). Scoliosis 8(1):O9

Parent EC, Hill D, Mahood J, Moreau M, Lou E, Raso J (2006) Associations between quality-of-life and internal or external spinal deformity measurements in adolescent with idiopathic scoliosis (AIS). Stud Health Technol Inform 123:357–363

Parent EC, Hill D, Mahood J, Moreau M, Raso J, Lou E (2009) Discriminative and predictive validity of the scoliosis research society-22 questionnaire in management of curve-severity subgroups of adolescents with idiopathic scoliosis. Spine (Phila Pa 1976) 34(22):2450–2457

Brewer P, Berryman F, Baker D, Pynsent P, Gardner A (2013) Influence of cobb angle and ISIS2 surface topography volumetric asymmetry on scoliosis research society-22 outcome scores in scoliosis. Spine Deformity 1:452–457

Cheshire J, Gardner A, Berryman F, Pynsent P (2017) Do the SRS-22 self-image and mental health domain scores reflect the degree of asymmetry of the back in adolescent idiopathic scoliosis? Scoliosis Spinal Disord 12:37

Terheyden JH, Wetterkamp M, Gosheger G, Lange T, Bovingloh AS, Schulte TL (2018) Rastersterography versus radiography for assessing shoulder balance in idiopathic scoliosis: a validation study relative to patients' self-image. J Back Musculokelet Rehabil 31(6):1049–1057

Asher M, Lai SM, Durton D, Manna B (2004) The influence of spine and trunk deformity on preoperative idiopathic scoliosis patients'' health-related quality of life questionnaire responses. Spine (Phila Pa 1976) 29(8):861–868

Goldberg CJ, Kaliszer M, Moore DP, Fogarty EE, Dowling FE (2001) Surface topography, cobb angles, and cosmetic change in scoliosis. Spine (Phila Pa 1976) 26(4):e55–e63

Matamalas A, Bago J, D'Agata E, Pellise F (2014) Body image in idiopathic scoliosis: a comparison study of psychometric properties between four patient-reported outcome instruments. Health Qual Life Outcomes 12:81

Thielsch MT, Wetterkamp M, Boertz P, Gosherger G, Schulte TL (2018) Reliability of validity of the spinal appearance questionnaire (SAQ) and the trunk appearance perception scale (TAPS). J Orthop Surg Res 13(1):274

Li J, Tseng C, Yuan Y et al (2021) Determining the association between the radiographic parameters and the SRS-22 scores in Chinese female patients with adolescent idiopathic scoliosis: does curve pattern matter? Br J Neurosurg 1:7

Wang L, Wang YP, Yu B et al (2014) relation between self-image scores of SRS-22 with deformity measures in female adolescent idiopathic scoliosis patients. Orthop Traumatol Surg Res 100(7):797–801

Wilson PL, Newton PO, Wenger DR et al (2002) A multicenter study analyzing the relationship of a standard radiographic scoring system of adolescent idiopathic scoliosis and the scoliosis research society outcomes instrument. Spine (Phila Pa 1976) 27(18):2036–2040

Watanabe K, Hasegawa K, Hirano T, Uchiyama S, Endo N (2005) Use of the scoliosis research society outcomes instrument to evaluate patient outcome in untreated idiopathic scoliosis patients in Japan Part I: Comparison with nonscoliosis group: preliminary/limited review in a Japanese population. Spine (Phila Pa 1976) 30(10):1197–1201

Yau A, Heath MR, Nguyen JT, Fabricant PD (2021) Legacy patient-reported outcome measures can be reliable translated to PROMIS domains for use on adolescent spinal deformity. Spine (Phila Pa 1976) 46(23):e1254–e1261

Bernstein DN, Papuga O, Sanders JO, Rubery PT, Menga CN, Mesfin A (2019) Evaluating the correlation and performance of PROMIS to SRS questionnaires in adult and pediatric spinal deformity patients. Spine Deformity 7:118–124
Funding
Funding support for this project was provided by the Leon Root Chair in Pediatric Orthopaedic Surgery at the Hospital for Special Surgery (HSS), the Hospital for Special Surgery Lerner's Children's Pavilion Research Fund, the Foundation Yves Cotrel Basic Science Research Grant, the Neumann Family Fund Foundation, and the Professor Rahamimoff Travel Grant for Young Scientists of the US-Israel Binational Science Foundation. Physical space was provided by the HSS Department of Radiology, and construction costs were supported by HSS.
Ethics declarations
Conflict Of Interest
The authors have no conflicts of interest to declare that are relevant to the content of this article.
Ethical approvals
The study was conducted according to the guidelines of the Declaration of Helsinki, and approved by the Institutional Review Board at the Hospital for Special Surgery.
Consent to participate
Informed consent was obtained from all patients (or their legal guardians) at each participating institution at the onset of the study.
Consent for publication
Patients (or their legal guardians) were individually consented at each participating institution for inclusion of their data in published studies. There is no identifiable data or imaging included in this study. 3D Surface Topographic Measurements for Idiopathic Scoliosis are Highly Correlative to Patient Self-Image Questionnaires.
Additional information
Publisher's Note
Springer Nature remains neutral with regard to jurisdictional claims in published maps and institutional affiliations.
Supplementary Information
Below is the link to the electronic supplementary material.
Rights and permissions
Springer Nature or its licensor (e.g. a society or other partner) holds exclusive rights to this article under a publishing agreement with the author(s) or other rightsholder(s); author self-archiving of the accepted manuscript version of this article is solely governed by the terms of such publishing agreement and applicable law.
About this article
Cite this article
Thakur, A., Groisser, B., Hillstrom, H.J. et al. 3D surface topographic measurements for idiopathic scoliosis are highly correlative to patient self-image questionnaires. Spine Deform (2023). https://doi.org/10.1007/s43390-023-00672-3
Received:

Accepted:

Published:

DOI: https://doi.org/10.1007/s43390-023-00672-3
Keywords
Adolescent idiopathic scoliosis

Surface topography

Patient reported outcome measures

Self-image