Abstract
Purpose
We implemented an EMR-based "Spine at Risk" (SAR) alert program in 2011 to identify pediatric patients at risk for intraoperative spinal cord injury (SCI) and prompt an evaluation for peri-operative recommendations prior to anesthetic. SAR alerts were activated upon documentation of a qualifying ICD-9/10 diagnosis or manually entered by providers. We aimed to determine the frequency of recommended precautions for those auto-flagged by diagnosis versus by provider, the frequency of precautions, and whether the program prevented SCIs during non-spinal surgery.
Methods
We performed a retrospective chart review of patients from 2011 to 19 with an SAR alert. We recorded how the chart was flagged, recommended precautions, and reviewed data for SCIs at our institution during non-spinal operations.
Results
Of the 3453 patients with an SAR alert over the 9-year study period, 1963 were auto-flagged by diagnosis and 1490 by manual entry. Only 38.7% and 24.3% of the patients in these respective groups were assigned precaution recommendations, making the auto-flag 62.8% better than providers at identifying patients needing precautions. Cervical spine positioning precautions were needed most frequently (86.7% of diagnosis-flagged; 30.0% of provider-flagged), followed by intraoperative neuromonitoring (IONM) (25.2%; 6.1%), thoracolumbar positioning restrictions (16.1%; 7.9%), and fiberoptic intubation (13.9%; 5.7%). There were no SCIs in non-spinal procedures during the study.
Conclusion
EMR-based alerts requiring evaluation by a Neurosurgeon or Orthopaedic surgeon prior to anesthesia can prevent SCIs during non-spinal procedures. The majority of identified patients are not found to be at risk, and will not require special precautions.
Level of evidence
III.
Access options
Buy single article
Instant access to the full article PDF.
USD 39.95
Price includes VAT (USA)
Tax calculation will be finalised during checkout.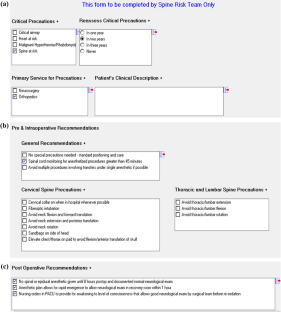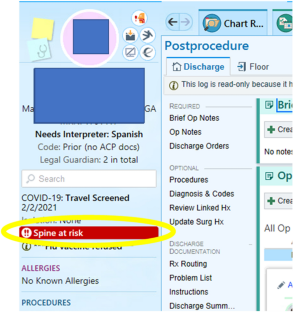 Data availability
Data are available without HPI.
References
1.

Bodensteiner JB (2019) Neurological manifestations of achondroplasia. Curr Neurol Neurosci Rep 19(12):105

2.

Solanki GA, Sun PP, Martin KW et al (2016) Cervical cord compression in mucopolysaccharidosis VI (MPS VI): Findings from the MPS VI Clinical Surveillance Program (CSP). Mol Genet Metab 118(4):310–318

3.

Savarirayan R, Rimoin DL (2004) Skeletal dysplasias. Adv Pediatr 51:209–229

4.

Pruszczynski B, Mackenzie WG, Rogers K et al (2015) Spinal cord injury after extremity surgery in children with thoracic kyphosis. Clin Orthop Relat Res 473(10):3315–3320

5.

Drummond JC, Krane EJ, Tomatsu S et al (2015) Paraplegia after epidural-general anesthesia in a Morquio patient with moderate thoracic spinal stenosis. Can J Anaesth 62(1):45–49

6.

White KK, Bompadre V, Goldberg MJ et al (2017) Best practices in peri-operative management of patients with skeletal dysplasias. Am J Med Genet A 173(10):2584–2595

7.

Kandil AI, Pettit CS, Berry LN et al (2020) Tertiary pediatric academic institution's experience with intraoperative neuromonitoring for nonspinal surgery in children with mucopolysaccharidosis, based on a novel evidence-based care algorithm. Anesth Analg 130(6):1678–1684
Funding
No funding was received for this work.
Ethics declarations
Conflict of interest
None pertinent to this study; see declaration form.
Ethical approval
This study is covered under approved IRB permission; exemption for consent.
Additional information
Publisher's Note
Springer Nature remains neutral with regard to jurisdictional claims in published maps and institutional affiliations.
About this article
Cite this article
Galambas, A.K., Krengel, W.F., Parker, C.E. et al. The pediatric "Spine at Risk" program: 9-year review of a novel safety screening tool. Spine Deform (2021). https://doi.org/10.1007/s43390-021-00430-3
Received:

Accepted:

Published:
Keywords
Cervical spine

Pediatric spine

Cervical instability

Cervical stenosis

Neuromonitoring

Spine at risk