Abstract
Purpose
The management of scoliosis and kyphoscoliosis in patients with Type 1 Neurofibromatosis (NF-1) among spinal surgeons is still challenging due to the severity of the deformity especially in dystrophic deformity types. This rapid and progressive condition is likely to be associated with dislocated rib heads into the spinal canal, hence representing a real dilemma on the decision making between its resection versus not resection during the corrective surgery, especially in patients with normal neurological status. The objective of this publication is to discuss the management options in this patient population through a literature review.
Methods
A comprehensive systematic literature search was performed for relevant studies using PubMed, Web of Science, and Scopus databases. Previous publications depicting neurologically intact patients with NF-1 and rib dislocation into the canal were reviewed. Articles reporting individual cases or case series/cohorts with patient-discriminated findings were included.
Results
The data collection retrieved a total of 55 neurologically intact patients with NF-1 dystrophic scoliosis and rib penetration into the canal who underwent spinal surgery. Among them, 37 patients underwent surgery without head rib resection and 18 patients with rib excision. No patient presented postoperative neurological deficit except for one case of late postoperative neurological deterioration reported in a patient within situ fusion in which the surgeons ignored the presence of previous spinal cord compression.
Conclusion
Corrective surgery for patients with NF-1 and rib penetration into the canal in neurologically intact patients can be safely performed without the resection of the dislocated rib heads without a higher risk of neurological compromise.
Access options
Buy single article
Instant access to the full article PDF.
USD 39.95
Price includes VAT (USA)
Tax calculation will be finalised during checkout.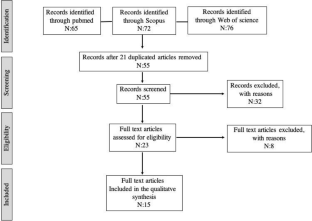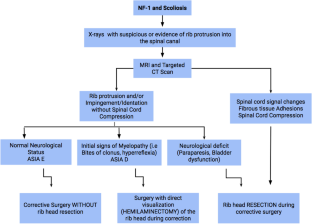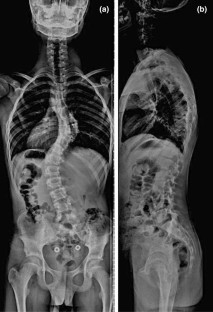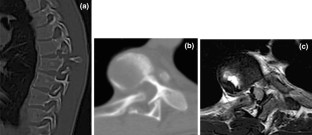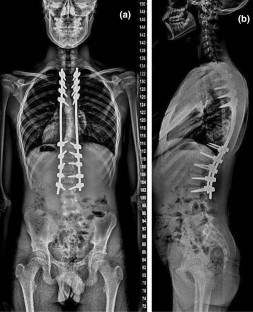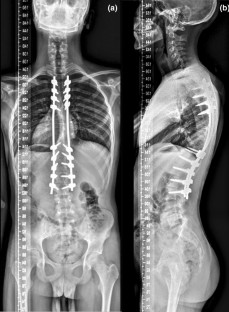 References
1.

Friedman JM (1993) Neurofibromatosis 1. In: Pagon RA, Adam MP, Ardinger HH et al (eds) GeneReviews(®). University of Washington, Seattle

2.

Crawford AH, Schorry EK (2006) Neurofibromatosis update. J Pediatr Orthop 26(3):413–423. https://doi.org/10.1097/01.bpo.0000217719.10728.39

3.

Vitale MG, Guha A, Skaggs DL (2002) Orthopaedic manifestations of neurofibromatosis in children: an update. Clin Orthop Relat Res 401:107–118. https://doi.org/10.1097/00003086-200208000-00013

4.

Hirbe AC, Gutmann DH (2014) Neurofibromatosis type 1: a multidisciplinary approach to care. Lancet Neurol 13(8):834–843. https://doi.org/10.1016/S1474-4422(14)70063-8

5.

Winter RB, Moe JH, Bradford DS et al (1979) Spine deformity in neurofibromatosis. A review of one hundred and two patients. J Bone Joint Surg Am 61(5):677–694

6.

Akbarnia BA, Gabriel KR, Beckman E et al (1992) Prevalence of scoliosis in neurofibromatosis. Spine 17(8 Suppl):S244–S248. https://doi.org/10.1097/00007632-199208001-00005

7.

Alwan S, Tredwell SJ, Friedman JM (2005) Is osseous dysplasia a primary feature of neurofibromatosis 1 (NF1)? Clin Genet 67(5):378–390. https://doi.org/10.1111/j.1399-0004.2005.00410.x

8.

Larson AN, Ledonio CGT, Brearley AM et al (2018) Predictive value and interrater reliability of radiographic factors in neurofibromatosis patients with dystrophic scoliosis. Spine Deform 6(5):560–567. https://doi.org/10.1016/j.jspd.2018.02.011

9.

Khoshhal KI, Ellis RD (2000) Paraparesis after posterior spinal fusion in neurofibromatosis secondary to rib displacement: case report and literature review. J Pediatr Orthop 20(6):799–801. https://doi.org/10.1097/00004694-200011000-00020

10.

Major MR, Huizenga BA (1988) Spinal cord compression by displaced ribs in neurofibromatosis. A report of three cases. J Bone Joint Surg Am 70(7):1100–1102

11.

Legrand B, Filipe G, Blamoutier A et al (2003) Intraspinal rib penetration in four patients in neurofibromatosis vertebral deformities. Rev Chir Orthop Reparatrice Appar Mot 89(1):57–61

12.

Ton J, Stein-Wexler R, Yen P et al (2010) Rib head protrusion into the central canal in type 1 neurofibromatosis. Pediatr Radiol 40(12):1902–1909. https://doi.org/10.1007/s00247-010-1789-1

13.

Gkiokas A, Hadzimichalis S, Vasiliadis E et al (2006) Painful rib hump: a new clinical sign for detecting intraspinal rib displacement in scoliosis due to neurofibromatosis. Scoliosis 1:10. https://doi.org/10.1186/1748-7161-1-10

14.

Cappella M, Bettini N, Dema E et al (2008) Late post-operative paraparesis after rib penetration of the spinal canal in a patient with neurofibromatous scoliosis. J Orthop Traumatol 9(3):163–166. https://doi.org/10.1007/s10195-008-0010-x

15.

Kamath SV, Kleinman PK, Ragland RL et al (1995) Intraspinaldislocation of the rib in neuroibromatosis: a case report. Pediatr Radiol 25(7):538–539. https://doi.org/10.1007/BF02015788

16.

Yalcin N, Bar-on E, Yazici M (2008) Impingement of spinal cord by dislocated rib in dystrophic scoliosis secondary to neuroibromatosis type 1: radiological signs and management strategies. Spine 33(23):E881–E886. https://doi.org/10.1097/BRS.0b013e318184efad

17.

Abdulian MH, Liu RW, Son-Hing JP et al (2011) Double rib penetration of the spinal canal in a patient with neurofibromatosis. J Pediatr Orthop 31(1):6–10. https://doi.org/10.1097/BPO.0b013e3182032029

18.

Krishnakumar R, Renjitkumar J (2012) Teaching neuroimages: rib penciling and intraspinal dislocation of rib heads in type 1 neurofibromatosis. Neurology 78(13):e85. https://doi.org/10.1212/WNL.0b013e31824d590d

19.

Sun D, Dai F, Liu YY et al (2013) Posterior-only spinal fusion without rib head resection for treating type I neurofibromatosis with intra-canal rib head dislocation. Clinics (Sao Paulo) 68(12):1521–1527. https://doi.org/10.6061/clinics/2013(12)08

20.

Mao S, Shi B, Wang S et al (2015) Migration of the penetrated rib head following deformity correction surgery without rib head excision in dystrophic scoliosis secondary to type 1 Neurofibromatosis. Eur Spine J 24(7):1502–1509. https://doi.org/10.1007/s00586-014-3741-9

21.

Mataliotakis GI, Bounakis N, Garrido-Stratenwerth E (2016) Surgical management of intracanal rib head dislocation in neurofibromatosis type 1 dystrophic kyphoscoliosis: report of two cases and literature review. Case Rep Orthop 2016:2908915. https://doi.org/10.1155/2016/2908915

22.

Cai S, Zhang J, Shen J et al (2017) Posterior correction without rib-head resection for patients with neurofibromatosis type 1, dystrophic scoliosis, and rib-head protrusion into the spinal canal. Clin Spine Surg 30(1):32–37. https://doi.org/10.1097/BSD.0000000000000240

23.

Zhao X, Li J, Shi L et al (2016) Surgical treatment of dystrophic spinal curves caused by neurofibromatosis type 1: a retrospective study of 26 patients. Medicine (Baltimore) 95(14):e3292. https://doi.org/10.1097/MD.0000000000003292

24.

Chen AM, Neustadt JB, Kucera JN (2017) Rib head dislocation causing spinal canal stenosis in a child with neurofibromatosis, type 1. J Radiol Case Rep 11(8):8–15. https://doi.org/10.3941/jrcr.v11i8.3113

25.

Cinnella P, Amico S, Rava A et al (2020) Surgical treatment of scoliosis in neurofibromatosis type I: a retrospective study on posterior-only correction with third-generation instrumentation. J Craniovert Jun Spine 11(2):104–110. https://doi.org/10.4103/jcvjs.JCVJS_50_20

26.

Aaro S, Dahlborn M, Svensson L (1978) Estimation of vertebral rotation in structural scoliosis by computer tomography. Acta Radiol Diagn (Stockh) 19(6):990–992. https://doi.org/10.1177/028418517801900614

27.

Tsirikos AI, Ramachandran M, Lee J et al (2004) Assessment of vertebral scalloping in neurofibromatosis type 1 with plain radiography and MRI. Clin Radiol 59(11):1009–1017. https://doi.org/10.1016/j.crad.2004.04.006

28.

Asazuma T, Hashimoto T, Masuoka K et al (2003) Acute thoracic myelopathy after a traumatic episode in a patient with neurofibromatosis associated with sharply angular scoliosis: a case report. J Orthop Sci 8(5):721–724. https://doi.org/10.1007/s00776-003-0690-2

29.

Mukhtar IA, Letts M, Kontio K (2005) Spinal cord impingement by a displaced rib in scoliosis due to neurofibromatosis. Can J Surg 48(5):414–415

30.

Deng A, Zhang H-Q, Tang M-X et al (2017) Posterior-only surgical correction of dystrophic scoliosis in 31 patients with neurofibromatosis Type 1 using the multiple anchor point method. J Neurosurg Pediatr 19(1):96–101. https://doi.org/10.3171/2016.7.PEDS16125

31.

Wang Z, Fu C, Leng J et al (2015) Treatment of dystrophic scoliosis in neurofibromatosis Type 1 with one-stage posterior pedicle screw technique. Spine J 15(4):587–595. https://doi.org/10.1016/j.spinee.2014.10.014

32.

Park B-J, Hyun S-J, Wui S-H et al (2020) Surgical outcomes and complications following all posterior approach for spinal deformity associated with neurofibromatosis type-1. J Korean Neurosurg Soc 63(6):738–746. https://doi.org/10.3340/jkns.2019.0218

33.

Jia F, Wang G, Sun J et al (2020) Combined anterior-posterior versus posterior-only spinal fusion in treating dystrophic neurofibromatosis scoliosis with modern instrumentation: a systematic review and meta-analysis. Clin Spine Surg. https://doi.org/10.1097/BSD.0000000000001069

34.

Moher D, Liberati A, Tetzlaff J et al (2009) Preferred reporting items for systematic reviews and metaanalyses: the PRISMA statement. PLoS Med. https://doi.org/10.1371/journal.pmed.1000097
Funding
The investigators in charge have collected all relevant information from the electronic medical record. No extra studies have been carried out and have not caused additional expenses for the patient and/or his medical coverage.
Ethics declarations
Conflict of interest
All the investigators of this manuscript have no conflict of interest.
Ethical considerations
The conduct of this research will be carried out in compliance with the ethical principles in accordance with the regulatory standards at the national and international level, in accordance with the Resolution of the Ministry of the Nation, the Declaration of Helsinki of the World Medical Association and all its amendments, and respecting the Good Clinical Practice Standards. The institutional electronic medical record of Hospital Italiano de Buenos Aires was used as a secondary basis. All study data has been treated with the utmost confidentiality anonymously, with restricted access only for personnel authorized for the purposes of the study in accordance with current legal regulations National Personal Data Protection Law 25.326 / 00 (Habeas data Law) and Law 26. 529/09. The identity of the personal data will be kept under absolute confidentiality and anonymity, only the researchers involved and the evaluating Ethics Committee have access to them.
Informed consent
The patient has consented in a separate document to the public publication of his personal data.
About this article
Cite this article
Estefan, M.M., Camino-Willhuber, G., Bosio, S.T. et al. Management of NF-1 dystrophic scoliosis associated with rib heads dislocation into the spinal canal in neurological intact patients: a systematic literature review. Spine Deform (2021). https://doi.org/10.1007/s43390-021-00422-3
Received:

Accepted:

Published: