Abstract
Purpose
Physician review websites have significant influence on a patient's selection of a provider, but written reviews are subjective. Sentiment analysis of writing through artificial intelligence can quantify surgeon reviews to provide actionable feedback. The objective of this study is to quantitatively analyze the written reviews of members of the Scoliosis Research Society (SRS) through sentiment analysis.
Methods
Online written reviews and star-rating reviews of SRS surgeons were obtained from healthgrades.com, and a sentiment analysis package was used to obtain compound scores of each physician's reviews. A t test and ANOVA was performed to determine the relationship between demographic variables and average sentiment score of written reviews. Positive and negative word and word-pair frequency analysis was performed to provide context to words used to describe surgeons.
Results
Seven hundred and twenty-one SRS surgeon's reviews were analyzed. Analysis showed a positive correlation between the sentiment scores and overall average star-rated reviews (r2 = 0.5, p < 0.01). There was no difference in review sentiment by provider gender. However, the age of surgeons showed a significant difference as younger surgeons, on average, had more positive reviews (p < 0.01).
Conclusion
The most frequently used word pairs used to describe top-rated surgeons describe compassionate providers and efficiency in pain management. Conversely, those with the worst reviews are characterized as unable to relieve pain. Through quantitative analysis of physician reviews, pain is a clear factor contributing to both positive and negative reviews of surgeons, reinforcing the need to properly manage pain expectations.
Level of evidence
IV.
Access options
Buy single article
Instant access to the full article PDF.
US$ 39.95
Tax calculation will be finalised during checkout.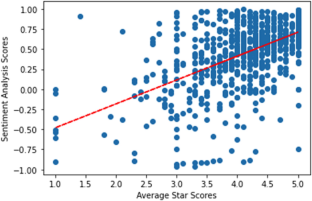 Availability of data and material
All data are publicly available online review data.
Code availability
Publicly available python packages and third-party web scrapers were used. Custom code was also used.
References
1.

Theologis AA, Sing DC, Chekeni F et al (2017) National trends in the surgical management of adolescent idiopathic scoliosis: analysis of a national estimate of 60,108 children from the national inpatient sample over a 13-year time period in the United States. Spine Deform 5(1):56–65

2.

von Heideken J, Iversen MD, Gerdhem P (2018) Rapidly increasing incidence in scoliosis surgery over 14 years in a nationwide sample. Eur Spine J 27(2):286–292. https://doi.org/10.1007/s00586-017-5346-6

3.

Fraval A, Chong YM, Holcdorf D et al (2012) Internet use by orthopaedic outpatients—current trends and practices. Aust Med J 5(12):633–638

4.

Burrus MT, Werner BC, Starman JS et al (2017) Patient perceptions and current trends in internet use by orthopedic outpatients. HSS J 13(3):271–275

5.

Emmert M, Meier F, Pisch F et al (2013) Physician choice making and characteristics associated with using physician-rating websites: cross-sectional study. J Med Internet Res 15(8):e187

6.

Li S, Lee-Won RJ, McKnight J (2019) Effects of online physician reviews and physician gender on perceptions of physician skills and primary care physician (PCP) selection. Health Commun 34(11):1250–1258

7.

Yu J, Samuel LT, Yalçin S et al (2020) Patient-recorded physician ratings: what can we learn from 11,527 online reviews of orthopedic surgeons? J Arthroplast 35(6S):S364–S367

8.

Donnally CJ, McCormick JR, Li DJ et al (2018) How do physician demographics, training, social media usage, online presence, and wait times influence online physician review scores for spine surgeons? J Neurosurg Spine 30(2):279–288

9.

Frost C, Mesfin A (2015) Online reviews of orthopedic surgeons: an emerging trend. Orthopedics 38(4):e257–e262

10.

Bernstein DN, Mesfin A (2020) Physician-review websites in orthopaedic surgery. JBJS Rev 8(3):e0158

11.

Kalagara S, Eltorai AEM, DePasse JM et al (2019) Predictive factors of positive online patient ratings of spine surgeons. Spine J 19(1):182–185

12.

Melone G, Brodell Jr J, Hernandez C et al (2020) Online ratings of spinal deformity surgeons: analysis of 634 surgeons. Spine Deform 8(1):17–24

13.

Donnally CJ 3rd, McCormick JR, Pastore MA et al (2020) Social media presence correlated with improved online review scores for spine surgeons. World Neurosurg 141(September):e18-25

14.

Hutto CJ, Gilbert E (2014) VADER: a parsimonious rule-based model for sentiment analysis of social media text. In: ICWSM

15.

Gao GG, McCullough JS, Agarwal R et al (2012) A changing landscape of physician quality reporting: analysis of patients' online ratings of their physicians over a 5-year period. J Med Internet Res. https://doi.org/10.2196/jmir.2003

16.

Bakhsh W, Mesfin A (2014) Online ratings of orthopedic surgeons: analysis of 2185 reviews. Am J Orthop 43(8):359–363

17.

Donnally CJ 3rd, Roth ES, Li DJ et al (2018) Analysis of internet review site comments for spine surgeons: how office staff, physician likeability, and patient outcome are associated with online evaluations. Spine (Phila Pa 1976) 43(24):1725–1730

18.

Patel S, Pelletier-Bui A, Smith S et al (2019) Curricula for empathy and compassion training in medical education: a systematic review. PLoS ONE 14(8):e0221412. https://doi.org/10.1371/journal.pone.0221412

19.

Li S, Feng Bo, Chen M et al (2015) Physician review websites: effects of the proportion and position of negative reviews on readers' willingness to choose the doctor. J Health Commun 20(4):453–461

20.

Leong VSNK, Kästner A, Petzke F et al (2020) The influence of pain expectation on pain experience after orthopedic surgery: an observational cohort study. Minerva Anestesiol 86(10):1019–1030. https://doi.org/10.23736/S0375-9393.20.14084-7
Funding
No funds, grants, or other support was received.
Ethics declarations
Conflict of interest
The authors have no relevant financial or non-financial interests to disclose.
Ethical approval
N/A.
Consent to participate
N/A.
Consent for publication
N/A.
About this article
Cite this article
Tang, J.E., Arvind, V., White, C.A. et al. What are patients saying about you online? A sentiment analysis of online written reviews on Scoliosis Research Society surgeons. Spine Deform (2021). https://doi.org/10.1007/s43390-021-00419-y
Received:

Accepted:

Published:
Keywords
Natural language processing

Online reviews

Patient satisfaction

Machine learning