Abstract
Purpose
This retrospective study aimed to present the clinical and radiological features of functional scoliosis due to LLD and LLD concurrent with AIS; it also aimed to define their relationships for differentiating functional scoliosis due to LLD and LLD concurrent with AIS.
Methods
This study was conducted as a single-center retrospective comparative study on 47 scoliosis patients with diagnosed LLD, aged 10–18 years. Cases with a diagnosis of structural LLD were divided into two groups according to the presence or absence of concurrent AIS. Data on demographics and the angle of trunk rotation on a sacral basis (ATRsacrum) were recorded. Limb length was clinically measured with a tape measure and clinical LLD (C-LLD) scoliometer test. Cobb angle, axial rotation, pelvic obliquity, and radiological LLD (R-LLD) were obtained from standing spine radiographs and measured by two blinded orthopedic spine surgeons.
Results
The prevalence of LLD was 6.7% in scoliosis patients in our study population. Cobb angle and apical rotation were higher in the LLD concurrent with AIS group than in the LLD group (p ≤ 0.05). The C-LLDscoliometer test results were strongly correlated with both C-LLDtape measure (r = 0.651; p = 0.000) and ATRsacrum (r = 0.688; p = 0.000).
Conclusion
LLD may develop as a result of adaptive changes due to scoliosis, or a concurrent condition to scoliosis. Cobb angle and apical rotation are the features that differentiate AIS from functional scoliosis in patients with LLD. The C-LLD scoliometer test can be an effective, practical, and useful method for measuring C-LLD, but its validity and reliability should be determined.
Trial registration
This study was retrospectively registered at ClinicalTrials.gov (number: NCT04713397, date of registration: 01/14/2021).
Level of evidence
III.
Access options
Buy single article
Instant access to the full article PDF.
USD 39.95
Price includes VAT (USA)
Tax calculation will be finalised during checkout.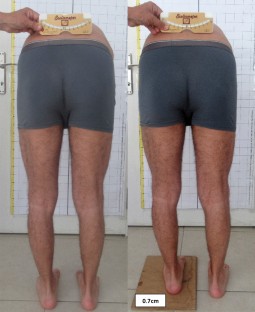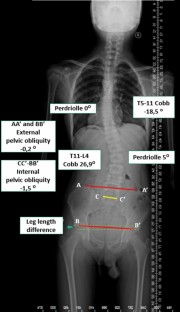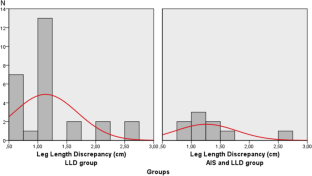 References
1.

Knutson GA (2005) Anatomic and functional leg-length inequality: a review and recommendation for clinical decision-making. Part I, anatomic leg-length inequality: prevalence, magnitude, effects and clinical significance. Chiropr Osteopat 13:1–10. https://doi.org/10.1186/1746-1340-13-11

2.

Guichet JM, Spivak JM, Trouilloud P, Grammont PM (1991) Lower limb-length discrepancy: an epidemiologic study. Clin Orthop Relat Res 272:235–241

3.

Walsh M, Connoly P, Jenkinson ATO (2000) Leg length discrepancy—an experimental study of compensatory.pdf. Gait Posture 12:156–161

4.

Gurney B (2002) Leg length discrepancy. Gait Posture 15:195–206. https://doi.org/10.1016/S0966-6362(01)00148-5

5.

Pinto EM, Alves J, De Castro AM et al (2019) Leg length discrepancy in adolescent idiopathic scoliosis. Coluna/Columna 18:192–195. https://doi.org/10.1590/S1808-185120191803208752

6.

Grivas TB, Angouris K, Chandrinos M, Kechagias V (2018) Truncal changes in children with mild limb length inequality: a surface topography study. Scoliosis Spinal Disord 13:1–6. https://doi.org/10.1186/s13013-018-0173-z

7.

Papaioannou T, Stokes I, Kenwright J (1982) Scoliosis associated with limb-length inequality. J Bone Jt Surg Ser A 64:59–62. https://doi.org/10.2106/00004623-198264010-00009

8.

Soukka A, Alaranta H, Tallroth KHM (1991) Leg-length inequality in people of working age. The association between mild inequality and low- back pain is questionable. Spine (Phila Pa 1976) 16:429–431

9.

Kakushima M, Miyamoto K, Shimizu K (2003) The effect of leg length discrepancy on spinal motion during gait. Spine (Phila Pa 1976) 28:2472–2476. https://doi.org/10.1097/01.brs.0000090829.82231.4a

10.

Brady RJ, Dean JB, Marc Skinner T, Gross MT (2003) Limb length ınequality: clinical ımplications for assessment and ıntervention. J Orthop Sports Phys Ther 33:221–234

11.

Sabharwal S, Kumar A (2008) Methods for assessing leg length discrepancy. Clin Orthop Relat Res 466:2910–2922. https://doi.org/10.1007/s11999-008-0524-9

12.

Winter RB, Bredford DS, Lonstein JEOJ (1995) Patient evaluation. MOE'S textbook of scoliosis and other spinal deformities, 3rd edn. W.B Saunders Company, Philadelphia, pp 45–85

13.

Perdriolle R, Vidal J (1985) Thoracic idiopathic scoliosis curve evolution and prognosis. Spine 10:785–791

14.

Lafage R, Ferrero E, Henry JK et al (2015) Validation of a new computer-assisted tool to measure spino-pelvic parameters. Spine J 15:2493–2502. https://doi.org/10.1016/j.spinee.2015.08.067

15.

Chad W. Farley CK (2004) Spinal deformity: measuring, defining, and classifying. In: Benzel EC (ed) Spine surgery: techniques, complication avoidance, and management, second. Elsevier Health Sciences, p 885

16.

Dayer R, Ouellet JA, Saran N (2012) Pelvic fixation for neuromuscular scoliosis deformity correction. Curr Rev Musculoskelet Med 5:91–101. https://doi.org/10.1007/s12178-012-9122-2

17.

Hägglund G, Goldring M, Hermanson M, Rodby-Bousquet E (2018) Pelvic obliquity and measurement of hip displacement in children with cerebral palsy. Acta Orthop 89:652–655. https://doi.org/10.1080/17453674.2018.1519104

18.

Gravesande J, Richardson J, Griffith L, Scott F (2019) Test-retest reliability, internal consistency, construct validity and factor structure of a falls risk perception questionnaire in older adults with type 2 diabetes mellitus: a prospective cohort study. Arch Physiother 9:1–11. https://doi.org/10.1186/s40945-019-0065-4

19.

Landauer F (2013) Diagnosis and treatment of leg-length discrepancy in scoliosis. Scoliolisis 8:7161. https://doi.org/10.1186/1748-7161-8-S2-O41

20.

Ashour R, Abdelraouf O, Abdallah A, Sweif R (2019) Effect of footwear modification on postural symmetry and body balance in leg length discrepancy: a randomized controlled study. Int J Osteopath Med 32:13–20. https://doi.org/10.1016/j.ijosm.2019.02.001

21.

Jarvis HL, Nester CJ, Jones RK et al (2012) Inter-assessor reliability of practice based biomechanical assessment of the foot and ankle. J Foot Ankle Res 5:1–10. https://doi.org/10.1186/1757-1146-5-14

22.

Golightly YM, Tate JJ, Burns CB, Gross MT (2007) Changes in pain and disability secondary to shoe lift intervention in subjects with limb length inequality and chronic low back pain: a preliminary report. J Orthop Sports Phys Ther 37:380–388. https://doi.org/10.2519/jospt.2007.2429

23.

Mannello DM (1992) Leg length inequality. J Manipulative Physiol Ther 15:576–590. https://doi.org/10.3109/03009738809178550

24.

Giles LGF, Taylor JR (1982) Lumbar spine structural changes associated with leg length inequality. Spine (Phila Pa 1976) 7:159–162

25.

Golightly YM, Allen KD, Helmick CG et al (2010) Hazard of incident and progressive knee and hip radiographic osteoarthritis and chronic joint symptoms in individuals with and without limb length inequality. J Rheumatol 37:2133–2140. https://doi.org/10.3899/jrheum.091410

26.

Khamis S, Carmeli E (2017) A new concept for measuring leg length discrepancy. J Orthop 14:276–280. https://doi.org/10.1016/j.jor.2017.03.008

27.

Neelly K, Wallmann HW, Backus CJ (2013) Validity of measuring leg length with a tape measure compared to a computed tomography scan. Physiother Theory Pract 29:487–492. https://doi.org/10.3109/09593985.2012.755589

28.

Khamis S, Carmeli E (2017) Relationship and significance of gait deviations associated with limb length discrepancy: a systematic review. Gait Posture 57:115–123. https://doi.org/10.1016/j.gaitpost.2017.05.028

29.

Nguyen HT, Resnick DN, Caldwell SG et al (1999) Interexaminer reliability of activator methods' relative leg-length evaluation in the prone extended position. J Manipulative Physiol Ther 22:565–569. https://doi.org/10.1016/S0161-4754(99)70015-1

30.

Rothenberg RJ (1988) Rheumatic disease aspects of leg length inequality. Semin Arthritis Rheum 17:196–205. https://doi.org/10.1016/0049-0172(88)90020-0

31.

Gomez-Aguilar E, Reina-Bueno M, Lafuente-Sotillos G et al (2021) Validity of clinical methods in the detection of leg-length discrepancies. HIP Int 31:186–190. https://doi.org/10.1177/1120700020910108
Funding
No funding was received for this study.
Ethics declarations
Conflict of interest
The authors declare no conflict of interest.
Ethics approval
The study was approved by the Ethical Committee of Halic University, Istanbul (date: 28.12.2018, issue no: 171-30 number).
Additional information
The original online version of this article was revised: In Fig. 2 of this article, there was a label reading "0.7 mm" instead of "0.7 cm".
About this article
Cite this article
Buyukaslan, A., Abul, K., Berk, H. et al. Leg length discrepancy and adolescent idiopathic scoliosis: clinical and radiological characteristics. Spine Deform (2021). https://doi.org/10.1007/s43390-021-00417-0
Received:

Accepted:

Published:
Keywords
Leg length discrepancy

Scoliosis

Pelvic obliquity

Leg length discrepancy scoliometer test