Abstract
Purpose
To report a rare ureteral injury following anterior spinal fusion for adolescent idiopathic scoliosis (AIS) that resulted in complete nephrectomy and to delineate the anatomical relationship between the proximal ureter and the anterior lumbar spine based on CT angiography (CTA).
Methods
Thoracolumbar spine CTAs of children with AIS were reviewed. We measured the following relationships to the ureters: lateral-most aspect of vertebral body, anterior psoas at intervertebral disc/vertebral body levels, and lateral psoas at vertebral body level. Spine level at which the renal arteries originated from the aorta was identified. Distance from origin to corresponding vertebral body/intervertebral disc also was measured.
Results
Forty-one girls and seven boys (mean age 12 years, range 7–18) were analyzed. Scoliosis lumbar convexity was left 94% and right 6%. From L1 to L4, ureter was identified within 1–2 cm of vertebral body. Distance between ureter and vertebral body and ureter and anterior psoas at intervertebral disc/vertebral body levels was less on left vs. right from L1 to L4 (p < 0.0001). Distance between ureter and lateral psoas was less on left vs. right from L1 to L2 (p = 0.0205; p = 0.0132) and greater on left vs. right from L3 to L4 (p = 0.0022; p = 0.0076). Renal artery originated at L1/L2 in > 50%. There was no difference in distance from renal artery origin to vertebral body/intervertebral disc (p = 0.4764).
Conclusion
Ureteral injury is a potentially morbid complication of anterior spine surgery. Injury can occur secondary to disrupted blood supply and mechanical tissue damage. Surgeons must clearly understand the juxta-spinal anatomy to limit dissection and modify retraction to reduce risk.
Level of evidence
Level IV.
Access options
Buy single article
Instant access to the full article PDF.
US$ 39.95
Tax calculation will be finalised during checkout.
Subscribe to journal
Immediate online access to all issues from 2019. Subscription will auto renew annually.
US$ 399
Tax calculation will be finalised during checkout.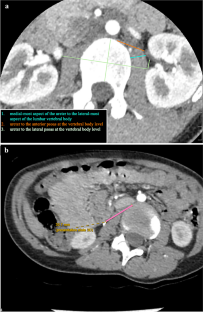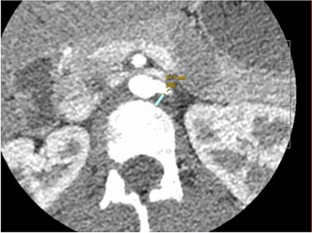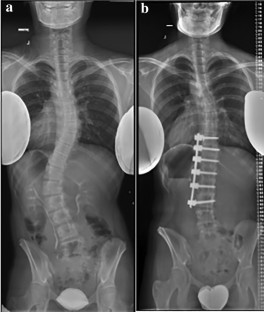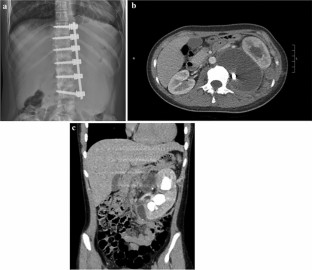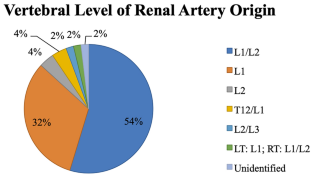 References
1.

Fantini GA, Pappou IP, Girardi FP et al (2007) Major vascular injury during anterior lumbar spinal surgery: incidence, risk factors, and management. Spine (Phila Pa 1976) 32:2751–2758

2.

Brau SA, Delamarter RB, Schiffman ML et al (2004) Vascular injury during anterior lumbar surgery. Spine J 4:409–412

3.

Jackson LA, Ramirez DO, Carrick KS et al (2019) Gross and histologic anatomy of the pelvic ureter: clinical applications to pelvic surgery. Obstet Gynecol 133:896–904

4.

Jha S, Coomarasamy A, Chan KK (2004) Ureteric injury in obstetric and gynaecological surgery. Obstet Gynaecol 6:203–208

5.

Dietz DW, Remzi FH (2019) Reoperative pelvic surgery. Shackelford's Surg Aliment Tract 2:1

6.

Lee H, Kim J, Ryu K et al (2017) Ureter injury as a complication of oblique lumbar interbody fusion. World Neurosurg 102(693):e7-693

7.

Isiklar ZU, Lindsey RW, Coburn M (1996) Ureteral injury after anterior lumbar interbody fusion: a case report. Spine (Phila Pa 1976) 21(20):2379–2382

8.

Morey AF, Brandes S, Dugi DD 3rd et al (2014) Urotrauma: AUA guideline. J Urol 192(2):327–335. https://doi.org/10.1016/j.juro.2014.05.004

9.

Theologis AA, Ramirez J, Diab M (2020) Preoperative CT angiography informs instrumentation in anterior spine surgery for idiopathic scoliosis. J Am Acad Orthop Surg Glob Res Rev 4(4):e1900123

10.

Meng MV, Freise CE, Stoller ML (2003) Expanded experience with laparoscopic nephrectomy and autotransplantation for severe ureteral injury. J Urol 169:1363–1367

11.

Turgut M, Turgut AT, Dogra VS (2020) Iatrogenic ureteral injury as a complication of posterior or lateral lumbar spine surgery: a systematic review of the literature. World Neurosurg 1:280–296

12.

Frober R (2007) Surgical anatomy of the ureter. BJU Int 100:949–965

13.

Daniel O, Shackman R (1952) The blood supply of the human ureter in relation to ureterocolic anastomosis. Br J Urol 24(4):334–343

14.

Moore KL, Dalley AF, Agur AM (2010) Clinically oriented anatomy, 6th edn. Lippincott Williams & Wilkins, Philadelphia, pp 292–365

15.

Netter FH (1973) Kidneys, Ureter, and Urinary Bladder. The CIBA Collection of Medical Illustrations. Vol VI.

16.

Liu L, Wang H, Zhou Q, Guo D et al (2014) Large blood vessel stretch in lumbar spine through anterior surgical approach: an experimental study in adult goat. Indian J Orthop 48(2):178–183

17.

Shilo Y, Pichamuthu JE, Averch TD et al (2014) Evaluation of the tensile strength of the human ureter—preliminary results. J Endourol 28(12):1470–1473

18.

Anderson JK, Cadeddu JA (2011) Chapter 1 surgical anatomy of the retroperitoneum, adrenals, kidneys, and ureters. Campbell-Walsh urology, Eleventh Edition

19.

Sampson JA (1904) The efficiency of the peri-ureteral arterial plexus and the importance of its preservation in the more radical operations for carcinoma cervicis uteri. Johns Hopkins Hosp 15:39–46

20.

Wein AJ, Kavoussi LR, Partin AW et al. (2011) Chapter 42: surgical, radiologic, and endoscopic anatomy of the kidney and ureter. Campbell-Walsh Urology, Eleventh Edition

21.

Kuno K, Menzin A, Kauder HH, Sison C, Gal D (1998) Prophylactic ureteral catheterization in gynecologic surgery. Urology 52(6):1004–1008

22.

Sukumar CD, Janamala RP, Mahalakshmamma V (2015) An anatomical study on blood supply of the ureter. Int J Anat Res 3(1):970–975
Funding
No funding was received for conducting this study.
Ethics declarations
Conflict of interest
All authors declare they have no relevant financial or non-financial interests to disclose.
Ethical approval
All procedures performed in studies involving human participants were in accordance with the ethical standards of the institutional and/or national research committee and with the 1964 Helsinki declaration and its later amendments or comparable ethical standards. The Institutional Review Board at UCSF approved this study (19-29527).
Informed consent
Signed informed parental consent for participation and publication was obtained.
About this article
Cite this article
Hung, N.J., Theologis, A.A., Courtier, J.L. et al. Ureteral injury following anterior thoracolumbar spinal instrumented fusion for adolescent idiopathic scoliosis: a case report with CT angiography analysis of surgically relevant anatomy. Spine Deform (2021). https://doi.org/10.1007/s43390-021-00363-x
Received:

Accepted:

Published:
Keywords
Deformity

Adolescent idiopathic scoliosis

Ureter

Anterior spine instrumentation