Abstract
Purpose
Analyzing and comparing past Scoliosis Research Society (SRS) poster and podium presentations would allow members to see trends in areas of interest and help authors guide future research efforts.
Methods
Abstract books from 2011 to 2017 were retrieved and titles were extracted. From each title and abstract body, keywords were identified and collected. Keywords were categorized into several groups: subjects of study, topics not related to treatment, conservative treatment, surgery, treatment result, complications, revision, long-term follow-up, cost, and questionnaire. Each category was subcategorized based on specific topics. Assignments of keywords were manually checked against their abstracts. The frequency of each keyword was ranked to represent areas of interest and trended according to year. The results were compared to trends in podium presentations.
Results
The most popular keywords in each group were similar to those of the podium presentations. There has been an increasing trend for: Early Onset Scoliosis, Radiographic Diagnosis, and Sagittal Alignment. There has been a decreasing trend for: Neuromuscular, X-ray, Posterior Surgery, Osteotomy, Pedicle Screws, Mental Failure/Misplaced Screw, Revision, and Hospital Stay. The distribution of topics of the poster presentation was not significantly different from those of podium presentation, but podium has more long-term follow-up studies.
Conclusion
We report trends in SRS poster presentations. We found no significant difference between the topics of poster and those of podium presentations. We hope this data could help members better prepare for future meetings.
Access options
Buy single article
Instant access to the full article PDF.
US$ 39.95
Tax calculation will be finalised during checkout.
Subscribe to journal
Immediate online access to all issues from 2019. Subscription will auto renew annually.
US$ 399
Tax calculation will be finalised during checkout.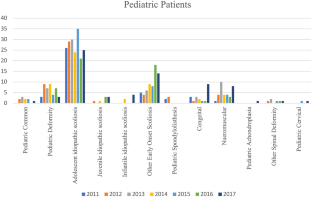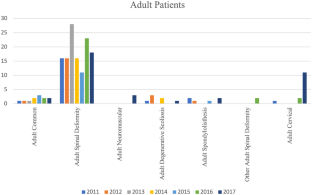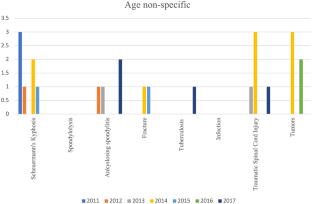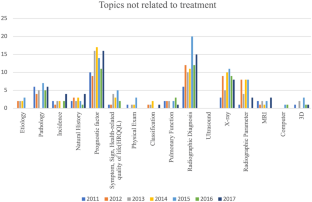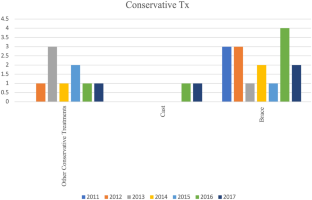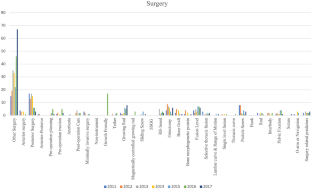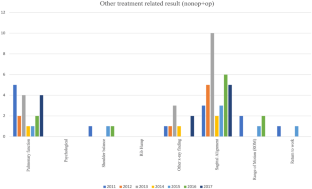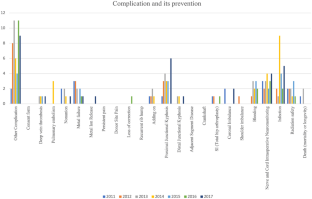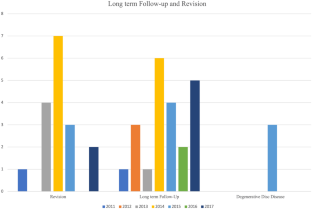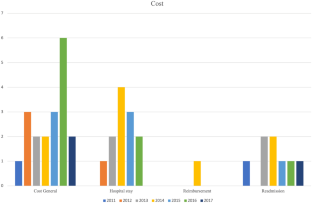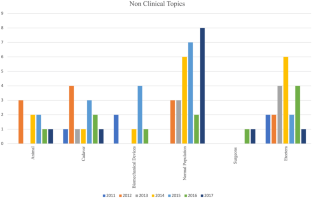 References
1.

Donegan DJ, Kim TW, Lee GC (2010) Publication rates of presentations at an annual meeting of the American Academy of Orthopaedic Surgeons. Clin Orthop Relat Res 468:1428–1435

2.

Cho W, Kim D, Chen F, Moon S, Chang DG (2019) Analysis of Scoliosis Research Society (SRS) podium presentations for the last seven years: implications of an SRS annual meeting abstract registry. Spine deformity 7(6):845–856

3.

Preston CF, Bhandari M, Fulkerson E et al (2005) Podium versus poster publication rates at the Orthopaedic Trauma Association. Clin Orthop Relat Res 437:260–264

4.

Kinsella SD, Menge TJ, Anderson AF et al (2015) Publication rates of podium versus poster presentations at the American Orthopaedic Society for Sports Medicine meetings: 2006–2010. Am J Sports Med 43:1255–1259

5.

Abicht BP, Donnenwerth MP, Borkosky SL et al (2012) Publication rates of poster presentations at the American College of Foot and Ankle Surgeons Annual Scientific Conference between 1999 and 2008. J Foot Ankle Surg 51:45–49

6.

Sprague S, Bhandari M, Devereaux PJ et al (2003) Barriers to full-text publication following presentation of abstracts at annual orthopaedic meetings. J Bone Joint Surg Am 85:158–163
Funding
No funding was received for this work.
Ethics declarations
Conflicts of interest
The authors have no conflicts of interest to report.
IRB approval
Institutional review board approval was exempt as the research only involved deidentified data.
Informed consent
No copyrighted material was used. No consent form was needed for the study.
Additional information
Publisher's Note
Springer Nature remains neutral with regard to jurisdictional claims in published maps and institutional affiliations.
About this article
Cite this article
Cho, W., Patel, B., Kim, D. et al. Trends in topics presented as posters at the Scoliosis Research Society (SRS) annual meetings for the last 7 years: implications of an SRS annual meeting abstract registry (Part II). Spine Deform (2021). https://doi.org/10.1007/s43390-021-00342-2
Received:

Accepted:

Published:
Keywords
Trends

Poster Presentations

Scoliosis Research Society

Abstract Registry