Abstract
Purpose
Traditionally, spinal surgery for Adolescent Idiopathic Scoliosis (AIS) has seen long hospital length of stay (LOS) and slow mobility progression. Postoperative enhanced recovery pathways (ERP) for this population in North America and Asia have successfully reduced LOS and hospital costs without increasing complications. This study assessed if ERP introduced in an Australian center achieves similar results.
Methods
A pre–post intervention study compared a historical AIS cohort having a posterior spinal fusion (PSF) who received conventional care (CC) (2013–2014) with prospectively assessed ERP recipients (2016–2018) separated by 1-year implementation period. Patient characteristics, surgical details, postoperative analgesia, mobilization, LOS and complication outcomes were collected.
Results
The 32 CC and 61 ERP recipients had similar demographics. ERP recipients had 44% decreased LOS (mean LOS 3.5 ± 0.9 days vs. CC 6.3 ± 0.9 days, p < 0.001) as all ERP milestones were achieved sooner including transition to oral analgesia (MD − 2 days, 95% CI 1.8–2.3), oral intake (MD − 2.3 days, 95% CI 2.0–2.6) and mobilization, with fewer physiotherapy sessions (5.2 vs 8, p < 0.001). Postoperative in-hospital costs were 50.2% less for ERP vs CC (AUD $8234 vs $16,545). Due to small sample size, no differences between the groups were detectable for complications (4.9% vs 6.3%) or readmission (1.6% vs 3.1%).
Conclusion
An ERP for AIS after PSF in this Australian center improved functional recovery reducing LOS and by associated postoperative inpatient costs. Other Australian hospitals should consider an ERP for this population with larger-scale audit to assess impact upon complications.
Level of evidence
III.
Access options
Buy single article
Instant access to the full article PDF.
US$ 39.95
Tax calculation will be finalised during checkout.
Subscribe to journal
Immediate online access to all issues from 2019. Subscription will auto renew annually.
US$ 399
Tax calculation will be finalised during checkout.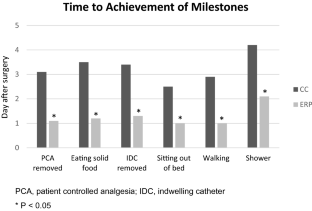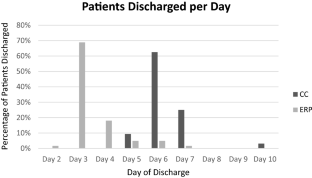 Availability of data and material
The datasets generated during and/or analyzed during the current study are available from the corresponding author on reasonable request.
References
1.

Patil CG, Santarelli J, Lad SP, Ho C, Tian W, Boakye M (2008) Inpatient complications, mortality, and discharge disposition after surgical correction of idiopathic scoliosis: a national perspective. Spine J 8(6):904–910. https://doi.org/10.1016/j.spinee.2008.02.002

2.

Raudenbush BL, Gurd DP, Goodwin RC, Kuivila TE, Ballock RT (2017) Cost analysis of adolescent idiopathic scoliosis surgery: early discharge decreases hospital costs much less than intraoperative variables under the control of the surgeon. J Spine Surg 3(1):50–57. https://doi.org/10.21037/jss.2017.03.11

3.

Pesenti S, Jouve JL, Morin C, Wolff S, de Gauzy JS, Chalopin A, Ibnoulkhatib A, Polirsztok E, Walter A, Schuller S, Abelin-Genevois K, Leroux J, Lechevallier J, Kabaj R, Mary P, Fuentes S, Parent H, Garin C, Bin K, Peltier E, Blondel B, Chopin D, Sofcot (2015) Evolution of adolescent idiopathic scoliosis: results of a multicenter study at 20 years' follow-up. Orthop Traumatol Surg 101(5):619–622. https://doi.org/10.1016/j.otsr.2015.05.004

4.

Yoshihara H, Yoneoka D (2014) National trends in spinal fusion for pediatric patients with idiopathic scoliosis: demographics, blood transfusions, and in-hospital outcomes. Spine (Phila Pa 1976) 39(14):1144–1150. https://doi.org/10.1097/BRS.0000000000000354

5.

Erickson MA, Morrato EH, Campagna EJ, Elise B, Miller NH, Kempe A (2013) Variability in spinal surgery outcomes among children's hospitals in the United States. J Pediatr Orthop 33(1):80–90. https://doi.org/10.1097/BPO.0b013e318269c537

6.

Dietz N, Sharma M, Adams S, Alhourani A, Ugiliweneza B, Wang D, Nuno M, Drazin D, Boakye M (2019) Enhanced recovery after surgery (ERAS) for spine surgery: a systematic review. World Neurosurg 130:415–426. https://doi.org/10.1016/j.wneu.2019.06.181

7.

Fletcher ND, Shourbaji N, Mitchell PM, Oswald TS, Devito DP, Bruce RW (2014) Clinical and economic implications of early discharge following posterior spinal fusion for adolescent idiopathic scoliosis. J Child Orthop 8(3):257–263. https://doi.org/10.1007/s11832-014-0587-y

8.

Muhly WT, Sankar WN, Ryan K, Norton A, Maxwell LG, DiMaggio T, Farrell S, Hughes R, Gornitzky A, Keren R, McCloskey JJ, Flynn JM (2016) Rapid recovery pathway after spinal fusion for idiopathic scoliosis. Pediatrics. https://doi.org/10.1542/peds.2015-1568

9.

Gornitzky AL, Flynn JM, Muhly WT, Sankar WN (2016) A rapid recovery pathway for adolescent idiopathic scoliosis that improves pain control and reduces time to inpatient recovery after posterior spinal fusion. Spine Deform 4(4):288–295. https://doi.org/10.1016/j.jspd.2016.01.001

10.

Rao RR, Hayes M, Lewis C, Hensinger RN, Farley FA, Li Y, Caird MS (2017) Mapping the road to recovery: shorter stays and satisfied patients in posterior spinal fusion. J Pediatr Orthop 37(8):e536–e542. https://doi.org/10.1097/BPO.0000000000000773

11.

Sanders AE, Andras LM, Sousa T, Kissinger C, Cucchiaro G, Skaggs DL (2017) Accelerated discharge protocol for posterior spinal fusion patients with adolescent idiopathic scoliosis decreases hospital postoperative charges 22. Spine (Phila Pa 1976) 42(2):92–97. https://doi.org/10.1097/BRS.0000000000001666

12.

Yang J, Skaggs DL, Chan P, Villamor GA, Choi PD, Tolo VT, Kissinger C, Lehman A, Andras LM (2020) High satisfaction in adolescent idiopathic scoliosis patients on enhanced discharge pathway. J Pediatr Orthop 40(3):e166–e170. https://doi.org/10.1097/BPO.0000000000001436

13.

Chan CYW, Loo SF, Ong JY, Lisitha KA, Hasan MS, Lee CK, Chiu CK, Kwan MK (2017) Feasibility and outcome of an accelerated recovery protocol in asian adolescent idiopathic scoliosis patients. Spine (Phila Pa 1976) 42(24):E1415–E1422. https://doi.org/10.1097/BRS.0000000000002206

14.

Fletcher ND, Andras LM, Lazarus DE, Owen RJ, Geddes BJ, Cao J, Skaggs DL, Oswald TS, Bruce RW (2017) Use of a novel pathway for early discharge was associated with a 48% shorter length of stay after posterior spinal fusion for adolescent idiopathic scoliosis. J Pediatr Orthop 37(2):92–97

15.

Malik AT, Yu E, Kim J, Khan SN (2019) Understanding costs in a 90-day episode of care following posterior spinal fusions for adolescent idiopathic scoliosis. World Neurosurg 130:e535–e541. https://doi.org/10.1016/j.wneu.2019.06.149

16.

Borgeat A, Blumenthal S (2008) Postoperative pain management following scoliosis surgery. Curr Opin Anesthesiol 21(3):313–316. https://doi.org/10.1097/ACO.0b013e3282f82baa

17.

Oetgen ME, Martin BD, Gordish-Dressman H, Cronin J, Pestieau SR (2018) Effectiveness and sustainability of a standardized care pathway developed with use of lean process mapping for the treatment of patients undergoing posterior spinal fusion for adolescent idiopathic scoliosis. J Bone Jt Surg Am 100(21):1864–1870. https://doi.org/10.2106/JBJS.18.00079
Acknowledgements
We thank those involved with formulating the enhanced recovery pathway at our institution including the orthopedic surgeons, surgical ward, Occupational Therapy and Physiotherapy Departments.
Funding
No funds, grants, or other support was received.
Ethics declarations
Conflict of interest
The authors have no conflicts of interest to declare that are relevant to the content of this article.
Ethical approval
This study was performed in line with the principles of the Declaration of Helsinki. Approval was granted by the Human Research Ethics Committee of The Royal Children's Hospital, Melbourne (Ethics approval number: HREC 36015).
Consent to participate
Not applicable.
Consent to publication
Not applicable.
Additional information
Publisher's Note
Springer Nature remains neutral with regard to jurisdictional claims in published maps and institutional affiliations.
Supplementary Information
Below is the link to the electronic supplementary material.
About this article
Cite this article
Temby, S.E., Palmer, G.M., Penrose, S.P. et al. Implementation of an enhanced recovery pathway in Australia after posterior spinal fusion for adolescent idiopathic scoliosis delivers improved outcomes. Spine Deform (2021). https://doi.org/10.1007/s43390-021-00340-4
Received:

Accepted:

Published:
Keywords
Scoliosis

Posterior spinal fusion

Accelerated discharge

Hospital stay

Financial impact

Postoperative