Abstract
Purpose
Revision surgery in an irreducible atlantoaxial dislocation (IAAD) previously operated with a posterior approach is challenging. Multiple modalities using anterior, posterior, and dual approaches have been described. We report a so far unreported technique of revision surgery by posterior implant removal and decompression with anterior transoral release followed by posterior instrumentation.
Methods
14-year male with basilar invagination (BI) with IAAD, previously operated with posterior decompression and instrumented occipitocervical fusion presented three months later with post-traumatic recurrence of myelopathy with quadriparesis with Di Lorenzo grade 4 and loss of reduction. He was operated with a posterior implant and early fusion mass removal with extended foramen magnum decompression (FMD), followed by anterior transoral release with a satisfactory reduction on traction, and finally, a posterior revision instrumented occipitocervical fusion.
Results
At 2-year follow-up, the patient was symptom-free with Di Lorenzo grade 1 and cervicomedullary angle improvement from 97.4° to 141.2°; achieving bony fusion.
Conclusion
Single-stage posterior-anterior transoral-posterior approach can be used to achieve satisfactory reduction for a revision BI with IAAD with prior posterior instrumentation.
Access options
Buy single article
Instant access to the full article PDF.
US$ 39.95
Tax calculation will be finalised during checkout.
Subscribe to journal
Immediate online access to all issues from 2019. Subscription will auto renew annually.
US$ 399
Tax calculation will be finalised during checkout.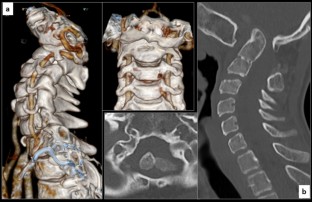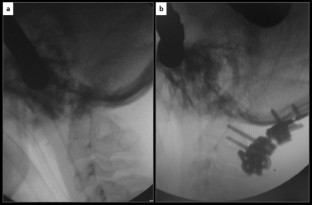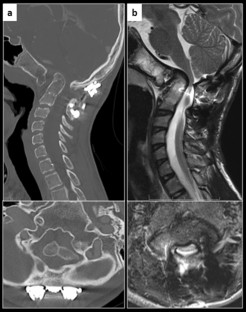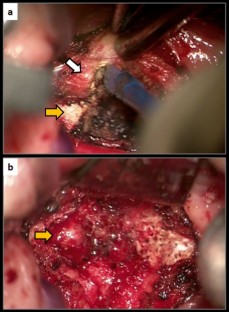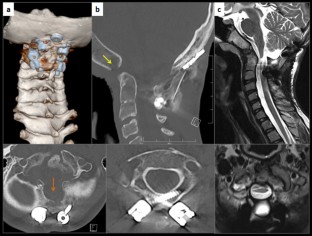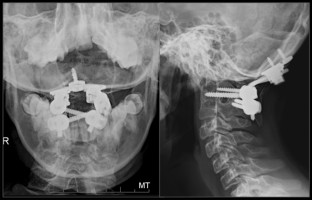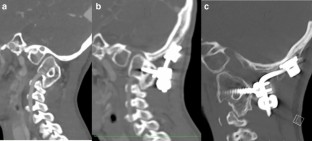 References
1.

Goel A (2004) Treatment of basilar invagination by atlantoaxialjoint distraction and direct lateral mass fixation. J Neurosurg Spine 1:281–286. https://doi.org/10.3171/spi.2004.1.3.0281

2.

Srivastava SK, Aggarwal RA, Nemade PS et al (2016) Single-stage anterior release and posterior instrumented fusion for irreducible atlantoaxial dislocation with basilar invagination. Spine J 16(1):1–9

3.

Tan M, Jiang X, Yi P et al (2011) Revision surgery of irreducible atlantoaxial dislocation: a retrospective study of 16 cases. Eur Spine J 20(12):2187–2194. https://doi.org/10.1007/s00586-011-1865-8

4.

Hedequist D, Bekelis K, Emans J, Proctor MR (2010) Single stage reduction and stabilization of basilar invagination after failed prior fusion surgery in children with Down's syndrome. Spine 35(4):E128–E133. https://doi.org/10.1097/brs.0b013e3181bad0c2

5.

Yang J, Ma X, Xia H, Wu Z, Ai F, Yin Q (2014) Transoral anterior revision surgeries for basilar invagination with irreducible atlantoaxial dislocation after posterior decompression: a retrospective study of 30 cases. Eur Spine J 23(5):1099–1108. https://doi.org/10.1007/s00586-014-3169-2

6.

Ma X, Yin Q, Xia H et al (2015) The application of atlantoaxial screw and rod fixation in revision operations for postoperative re-dislocation in children. Arch Orthop Trauma Surg 135(3):313–319. https://doi.org/10.1007/s00402-014-2150-1

7.

Tang C, Li GZ, Kang M et al (2018) Revision surgery after rod breakage in a patient with occipitocervical fusion: a case report. Medicine 97(15):e0441. https://doi.org/10.1097/md.0000000000010441

8.

Wang Q, Wu X, Tan M et al (2018) Is anatomic reduction better than partial reduction in patients with vertical atlantoaxial dislocation? World Neurosurgery 114:e301–e305. https://doi.org/10.1016/j.wneu.2018.02.176

9.

Duan W, Chou D, Jiang B, Liu Z, Zhao X, Xia Z, Jian F, Chen Z (2019) Posterior revision surgery using an intra-articular distraction technique with cage grafting to treat atlantoaxial dislocation associated with basilar invagination. J Neurosurg Spine SPI 31(4):525–533

10.

Goel A, Dhar A, Shah A, Rai S, Bakale N, Vaja T (2019) Revision for failed craniovertebral junction stabilization: a report of 30 treated cases. World Neurosurg 127:e856–e863. https://doi.org/10.1016/j.wneu.2019.03.286

11.

Du Y-Q, Qiao G-Y, Yin Y-H, Li T, Yu X-G (2020) Posterior atlantoaxial facet joint reduction, fixation and fusion as revision surgery for failed suboccipital decompression in patients with basilar invagination and atlantoaxial dislocation: operative nuances, challenges and outcomes. ClinNeurolNeurosurg 194:105793. https://doi.org/10.1016/j.clineuro.2020.105793

12.

Wang C, Yan M, Zhou HT et al (2006) Open reduction of irreducible atlantoaxial dislocation by transoral anterior atlantoaxial release and posterior internal fixation. Spine 31:E306–E313. https://doi.org/10.1097/01.brs.0000217686.80327.e4

13.

Laheri V, Chaudhary K, Rathod A, Bapat M (2015) (2015) Anterior transoral atlantoaxial release and posterior instrumented fusion for irreducible congenital basilar invagination. Eur Spine J 24(12):2977–2985. https://doi.org/10.1007/s00586-015-3836-y

14.

Smith JS, Shaffrey C, Abel MF, Menezes AH (2010) Basilar invagination. Neurosurgery 66:39–47. https://doi.org/10.1227/01.NEU.0000365770.10690.6F

15.

Perrini P, Benedetto N, Guidi E (2009) Di Lorenzo N (2009) Transoral approach and its superior extensions to the craniovertebral junction malformations: surgical strategies and results. Neurosurgery 64(2):331–342 (discussion 342)

16.

Garg M, Sridhar MS, Verma S, Bhadoria J (2018) Unprecedented complication of odontoid regeneration after transoral odontoidectomy. J CraniovertebrJunct Spine 9(4):280–282. https://doi.org/10.4103/jcvjs.JCVJS_98_18
Acknowledgements
Dr Milind Bhise, Department of Anaesthesiology and Dr Kiran Sathe, Department of Pediatrics, Sir H.N. Reliance Foundation Hospital, Mumbai.
Funding
There was no financial support or sources of funding for this study.
Ethics declarations
Conflict of interest
There are no conflicts of interest and none of the authors have any disclosures.
Ethical approval
Ethics approval was waived by the Institutional Research Ethics Committee of Sir H.N. Reliance Hospital in view of the retrospective nature of the study and all the procedures being performed were part of the routine care.
Informed consent
Written informed consent was obtained from the patient.
Research involving human and animal rights
There is no identifying information in the material presented.
Additional information
Publisher's Note
Springer Nature remains neutral with regard to jurisdictional claims in published maps and institutional affiliations.
Supplementary Information
Below is the link to the electronic supplementary material.
Video depicting surgical steps during anterior transoral release
About this article
Cite this article
Achalare, A., Chaudhary, K., Dhawale, A. et al. Transoral release to realign postoperative loss of reduction following occipitocervical fixation for congenital basilar invagination. Spine Deform (2021). https://doi.org/10.1007/s43390-021-00303-9
Received:

Accepted:

Published:
Keywords
Irreducible

Atlantoaxial

Dislocation

Instability

IAAD

Revision