Abstract
Purpose
Many patients with presumed idiopathic scoliosis are found to have Chiari I malformation (CM-I) on MRI. The objective of this study is to report on scoliosis progression in CM-I with no syringomyelia.
Methods
A retrospective review of patients with scoliosis and CM-I was conducted from 1997 to 2015. Patients with syringomyelia and/or non-idiopathic scoliosis were excluded. Clinical and radiographic characteristics were recorded at presentation and latest follow-up. CM-I was defined as the cerebellar tonsil extending 5 mm or more below the foramen magnum on MRI.
Results
Thirty-two patients (72% female) with a mean age of 11 years (range 1–16) at scoliosis diagnosis were included. The average initial curve was 30.3° ± SD 16.3. The mean initial Chiari size was 9.6 mm SD ± 4.0. Fifteen (46.9%) experienced Chiari-related symptoms, and three (9%) patients underwent Posterior Fossa Decompression (PFD) to treat these symptoms. 10 (31%) patients went on to fusion, progressing on average 13.6° (95% CI 1.6–25.6°). No association was detected between decompression and either curve progression or fusion (p = 0.46, 0.60). For those who did not undergo fusion, curve magnitude progressed on average 1.0° (95% CI − 4.0 to 5.9°). There was no association between age, Chiari size, presence of symptoms, initial curve shape, or bracing treatment and fusion.
Conclusion
Patients with CM-I and scoliosis may not require surgical treatment, including PFD and fusion. Scoliosis curvature stabilized in the non-surgical population at an average progression of 1.0°. These results suggest that CM-I with no syringomyelia has minimal effect on scoliosis progression.
Access options
Buy single article
Instant access to the full article PDF.
US$ 39.95
Tax calculation will be finalised during checkout.
Subscribe to journal
Immediate online access to all issues from 2019. Subscription will auto renew annually.
US$ 399
Tax calculation will be finalised during checkout.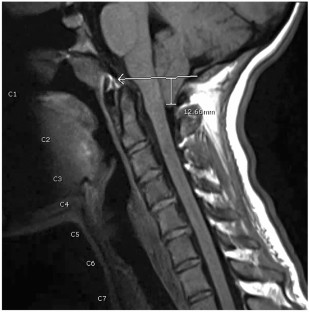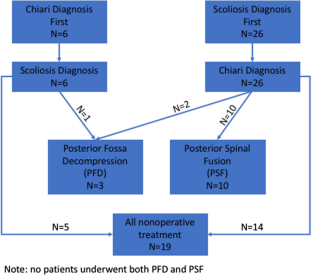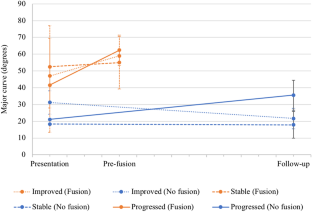 References
1.

Nagib MG (1994) An approach to symptomatic children (ages 4–14 years) with Chiari type I malformation. Pediatr Neurosurg 21(1):31–35

2.

Strahle J, Smith BW, Martinez M, Bapuraj JR, Muraszko KM, Garton HJ et al (2015) The association between Chiari malformation Type I, spinal syrinx, and scoliosis. J Neurosurg Pediatr 15(6):607–611

3.

Smith BW, Strahle J, Bapuraj JR, Muraszko KM, Garton HJ, Maher CO (2013) Distribution of cerebellar tonsil position: implications for understanding Chiari malformation. J Neurosurg 119(3):812–819

4.

Bradford DS, Heithoff KB, Cohen M (1991) Intraspinal abnormalities and congenital spine deformities: a radiographic and MRI study. J Pediatr Orthop 11(1):36–41

5.

Nakahara D, Yonezawa I, Kobanawa K, Sakoda J, Nojiri H, Kamano S et al (2011) Magnetic resonance imaging evaluation of patients with idiopathic scoliosis: a prospective study of four hundred seventy-two outpatients. Spine 36(7):E482–E485

6.

Cheng JC, Chau WW, Guo X, Chan YL (2003) Redefining the magnetic resonance imaging reference level for the cerebellar tonsil: a study of 170 adolescents with normal versus idiopathic scoliosis. Spine 28(8):815–818

7.

Tully PA, Edwards BA, Mograby O, Davis HSM, Arieskola O, Magdum S et al (2018) Should all paediatric patients with presumed idiopathic scoliosis undergo MRI screening for neuro-axial disease? Child's Nervous Syst ChNS Off J Int Soc Pediatr Neurosurg 34(11):2173–2178

8.

Kelly MP, Guillaume TJ, Lenke LG (2015) Spinal deformity associated with Chiari malformation. Neurosurg Clin N Am 26(4):579–585

9.

Faloon M, Sahai N, Pierce TP, Dunn CJ, Sinha K, Hwang KS et al (2018) Incidence of neuraxial abnormalities is approximately 8% among patients with adolescent idiopathic scoliosis: a meta-analysis. Clin Orthop Relat Res 476(7):1506–1513

10.

Krieger MD, Falkinstein Y, Bowen IE, Tolo VT, McComb JG (2011) Scoliosis and Chiari malformation Type I in children. J Neurosurg Pediatr 7(1):25–29

11.

Zhu Z, Qiu Y, Wang B, Yu Y, Qian B, Zhu F (2007) Abnormal spreading and subunit expression of junctional acetylcholine receptors of paraspinal muscles in scoliosis associated with syringomyelia. Spine 32(22):2449–2454

12.

Abu-Rajab RB, Bennet GC (2007) Proximal femoral resection-interposition arthroplasty in cerebral palsy. J Pediatr Orthop B 16(3):181–184

13.

Huebert HT, MacKinnon WB (1969) Syringomyelia and scoliosis. J Bone Joint Surg Br Vol 51(2):338–343

14.

Sha S, Li Y, Qiu Y, Liu Z, Sun X, Zhu W et al (2017) Posterior fossa decompression in Chiari I improves denervation of the paraspinal muscles. J Neurol Neurosurg Psychiatry 88(5):438–444

15.

Muhonen MG, Menezes AH, Sawin PD, Weinstein SL (1992) Scoliosis in pediatric Chiari malformations without myelodysplasia. J Neurosurg 77(1):69–77

16.

Park JK, Gleason PL, Madsen JR, Goumnerova LC, Scott RM (1997) Presentation and management of Chiari I malformation in children. Pediatr Neurosurg 26(4):190–196

17.

Farley FA, Puryear A, Hall JM, Muraszko K (2002) Curve progression in scoliosis associated with Chiari I malformation following suboccipital decompression. J Spinal Disord Tech 15(5):410–414

18.

Zhu Z, Yan H, Han X, Jin M, Xie D, Sha S et al (2016) Radiological features of scoliosis in Chiari I malformation without syringomyelia. Spine 41(5):E276–E281

19.

Sun X, Qiu Y, Zhu Z, Zhu F, Wang B, Yu Y et al (2007) Variations of the position of the cerebellar tonsil in idiopathic scoliotic adolescents with a cobb angle > 40°: a magnetic resonance imaging study. Spine 32(15):1680–1686

20.

Cheng JC, Guo X, Sher AH, Chan YL, Metreweli C (1999) Correlation between curve severity, somatosensory evoked potentials, and magnetic resonance imaging in adolescent idiopathic scoliosis. Spine 24(16):1679–1684

21.

Inoue M, Minami S, Nakata Y, Otsuka Y, Takaso M, Kitahara H et al (2005) Preoperative MRI analysis of patients with idiopathic scoliosis: a prospective study. Spine 30(1):108–114

22.

Abul-Kasim K, Overgaard A, Karlsson MK, Ohlin A (2009) Tonsillar ectopia in idiopathic scoliosis: does it play a role in the pathogenesis and prognosis or is it only an incidental finding? Scoliosis 4:25

23.

Tubbs RS, Wellons JC 3rd, Oakes WJ (2002) Asymmetry of tonsillar ectopia in Chiari I malformation. Pediatr Neurosurg 37(4):199–202

24.

Zhu Z, Wu T, Sha S, Sun X, Zhu F, Qian B et al (2013) Is curve direction correlated with the dominant side of tonsillar ectopia and side of syrinx deviation in patients with single thoracic scoliosis secondary to Chiari malformation and syringomyelia? Spine 38(8):671–677

25.

Schijman E, Steinbok P (2004) International survey on the management of Chiari I malformation and syringomyelia. Child's Nervous Syst ChNS Off J Int Soc Pediatr Neurosurg 20(5):341–348

26.

Jankowski PP, Bastrom T, Ciacci JD, Yaszay B, Levy ML, Newton PO (2016) Intraspinal pathology associated with pediatric scoliosis: a ten-year review analyzing the effect of neurosurgery on scoliosis curve progression. Spine 41(20):1600–1605

27.

Ravindra VM, Onwuzulike K, Heller RS, Quigley R, Smith J, Dailey AT et al (2018) Chiari-related scoliosis: a single-center experience with long-term radiographic follow-up and relationship to deformity correction. J Neurosurg Pediatr 21(2):185–189

28.

Verhofste BP, Davis EA, Miller PE, Hresko MT, Emans JB, Karlin LI et al (2020) Chiari I malformations with syringomyelia: long-term results of neurosurgical decompression. Spine Deform. https://doi.org/10.1007/s43390-019-00009-z

29.

Hwang S, Samdani A, Jea A, Raval A, Gaughan J, Betz R et al (2012) Outcomes of Chiari I-associated scoliosis after intervention: a meta-analysis of the pediatric literature. Child's Nervous Syst 28(8):1213–1219

30.

Dyste GN, Menezes AH (1988) Presentation and management of pediatric Chiari malformations without myelodysplasia. Neurosurgery 23(5):589–597

31.

Wu T, Zhu Z, Jiang J, Zheng X, Sun X, Qian B et al (2012) Syrinx resolution after posterior fossa decompression in patients with scoliosis secondary to Chiari malformation type I. Eur Spine J 21(6):1143–1150

32.

Dyste GN, Menezes AH, Vangilder JC (1989) Symptomatic Chiari malformations. An analysis of presentation, management, and long-term outcome. J Neurosurg. 71(2):159

33.

Greenberg JK, Yarbrough CK, Radmanesh A, Godzik J, Yu M, Jeffe DB et al (2015) The Chiari Severity Index: a preoperative grading system for Chiari malformation type 1. Neurosurgery 76(3):279

34.

Spiegel DA, Flynn JM, Stasikelis PJ, Dormans JP, Drummond DS, Gabriel KR et al (2003) Scoliotic curve patterns in patients with Chiari I malformation and/or syringomyelia. Spine 28(18):2139–2146

35.

R Core Team (2018) R: a language and environment for statistical computing. R Foundation for Statistical Computing, Vienna, Austria. https://www.R-project.org/

36.

Tubbs RS, Beckman J, Naftel RP, Chern JJ, Wellons JC 3rd, Rozzelle CJ et al (2011) Institutional experience with 500 cases of surgically treated pediatric Chiari malformation Type I. J Neurosurg Pediatr 7(3):248–256

37.

Bezuidenhout AF, Chang Y-M, Heilman CB, Bhadelia RA (2019) Headache in Chiari malformation. Neuroimaging Clin N Am 29(2):243–253

38.

Olszewski AM, Proctor MR (2018) Headache, Chiari I malformation and foramen magnum decompression. Curr Opin Pediatr 30(6):786–790

39.

Danielsson A (2013) Natural history of adolescent idiopathic scoliosis: a tool for guidance in decision of surgery of curves above 50°. J Child Orthop 7(1):37–41

40.

Vijvermans V, Fabry G, Nijs J (2004) Factors determining the final outcome of treatment of idiopathic scoliosis with the Boston brace: a longitudinal study. J Pediatr Orthopaedics B 13(3):143–149

41.

Aulisa AG, Guzzanti V, Falciglia F, Giordano M, Galli M, Aulisa L (2019) Brace treatment of Idiopathic Scoliosis is effective for a curve over 40 degrees, but is the evaluation of Cobb angle the only parameter for the indication of treatment? Eur J Phys Rehabil Med 55(2):231–240

42.

Leon TJ, Kuhn EN, Arynchyna AA, Smith BP, Tubbs RS, Johnston JM et al (2019) Patients with "benign" Chiari I malformations require surgical decompression at a low rate. J Neurosurg Pediatr 23(4):498–506

43.

Yang S, Andras LM, Redding GJ, Skaggs DL (2016) Early-Onset Scoliosis: A Review of History, Current Treatment, and Future Directions. Pediatrics 137(1)
Funding
No funding was received for this study.
Ethics declarations
Conflict of interest
Dr. Hresko reports other from Pediatric Orthopedics Society of NA, other from Medtronics, other from Nuvasive, other from Apifix, outside the submitted work. Dr. Emans reports other from Synthes/ DePuy/Johnson and Johnson, other from Zimmer/Biomet, outside the submitted work. Dr. Snyder reports other from AAOS, other from Orthopaedic Research Society, non-financial support from Orthopediatrics, other from Pediatric Orthopedic Society of North America, other from Scoliosis Research Society, outside the submitted work. Dr. Glotzbecker reports personal fees and other from nuvasive, other from medtronic, other from Depuy/synthes, other from Zimmer Biomet, other from orthobullets, other from PSSG, HSG, outside the submitted work. All other authors declare that they have no conflict of interest.
Informed consent
This study was deemed a retrospective study by the IRB, and thus, informed consent was waived.
Ethical approval
IRB Approval: IRB-P00023640.
Additional information
Publisher's Note
Springer Nature remains neutral with regard to jurisdictional claims in published maps and institutional affiliations.
About this article
Cite this article
O'Neill, N.P., Miller, P.E., Hresko, M.T. et al. Scoliosis with Chiari I malformation without associated syringomyelia. Spine Deform (2021). https://doi.org/10.1007/s43390-021-00286-7
Received:

Accepted:

Published:
Keywords
Idiopathic Scoliosis

Chiari I Malformation

Posterior Spinal Fusion

Posterior Fossa Decompression