Abstract
Objectives
To study factors causing postoperative change of PI after surgical correction of ASD and to assess the effect of this variability on postoperative PI-LL mismatch.
Background
PI is used as an individual constant to define lumbar lordosis (LL) correction goal (PI-LL < 10). Postoperative changes of PI were shown but with opposite vectors. The impact of the PI variability on the postoperative PI–LL has not been studied.
Methods
The medical and radiographic data analyzed for patients who underwent long posterior instrumented spinal fusion. Inclusion criteria are age, ≥ 20 years old; ASD due to degenerative disk disease (DDD) or scoliosis (DS); ≥ 3 levels fused; and 2-year follow-up or revision. Studied parameters are LL (L1–S1), PI, sacral slope (SS), pelvic tilt (PT), and PI-LL. Measurement error and postoperative changes were defined. Statistical analysis includes ANOVA, correlation, regression, and risk assessment by odds ratio; P ≤ 0.05 considered statistically significant.
Results
Eighty patients were included: mean age, 62.4 years-old (SD, 11.1); female, 63.7%; mean body mass index (BMI), 27.1 (SD, 5.6). Distribution of patients by follow-ups includes preoperative 100%; postoperative (1–3 weeks), 100%; 11–13 months. 90%; 22–26 months, 58%; and revision: 24%.
Pre- versus postoperative PI (∆PI) changed both positively and negatively and the absolute value of change|∆PI| exceeded measurement error (P ≤ 0.05) reaching as high as 31°, and progressed with time; R2 dropped from 0.73 to 0.45 (P < 0.001); ∆PI depended on disproportional changes of SS and PT, preoperative PI, and change of LL. Obesity, DS, and absence of sacroiliac fixation increased |∆PI|. The risk of LL insufficient correction (PI–LL > 10°) associated with a |∆PI|> 6°, P = 0.05. Sacroiliac fixation diminished PI variability only during the first postoperative year.
Conclusion
Preoperative variability and postoperative instability of PI diminish the applicability of the PI–LL < 10° goal to plan correction of LL. An alternative method is offered.
Level of evidence
IV.
Access options
Buy single article
Instant access to the full article PDF.
US$ 39.95
Tax calculation will be finalised during checkout.
Subscribe to journal
Immediate online access to all issues from 2019. Subscription will auto renew annually.
US$ 399
Tax calculation will be finalised during checkout.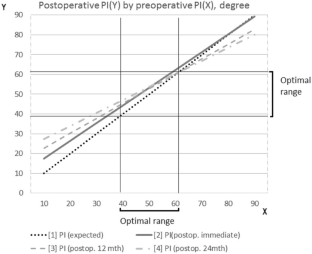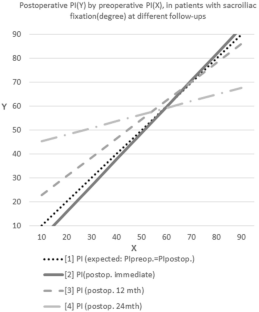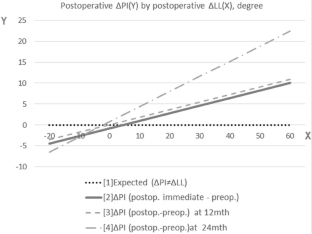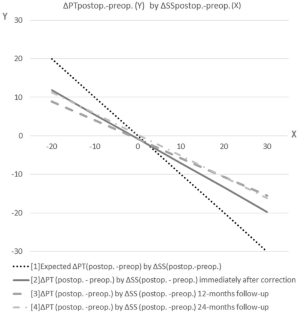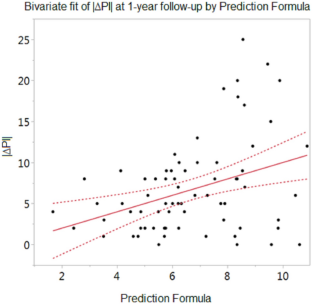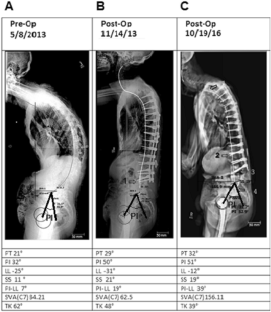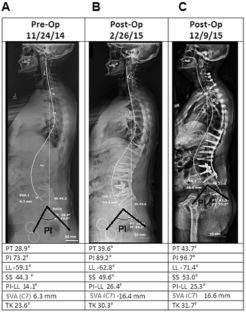 Material and/or Code availability
Only routine medical records that have limited availability were used.
References
1.

Legaye J, Duval-Beaupere G, Hecquet J et al (1998) Pelvic incidence: a fundamental pelvic parameter for three-dimensional regulation of spinal sagittal curves. Eur Spine J 7:99–103

2.

Schwab F, Patel A, Ungar B, Farcy JP et al (2010) Adult spinal deformity-postoperative standing imbalance: how much can you tolerate? An overview of key parameters in assessing alignment and planning corrective surgery. Spine 35:2224–2231

3.

Schwab F, Ungar B, Blondel B et al (2012) Scoliosis Research Society-Schwab adult spinal deformity classification: a validation study. Spine 37:1077–1082

4.

Moal B, Schwab F, Ames CP et al (2014) Radiographic outcomes of adult spinal deformity correction: a critical analysis of variability and failures across deformity patterns. Spine Deform 2:219–225

5.

Cecchinato R, Redaelli A, Martini C et al (2017) Long fusions to S1 with or without pelvic fixation can induce relevant acute variations in pelvic incidence: a retrospective cohort study of adult spine deformity surgery. Eur Spine J 26:436–441

6.

Lee JH, Na KH, Kim JH et al (2016) Is pelvic incidence a constant, as everyone knows? Changes of pelvic incidence in surgically corrected adult sagittal deformity. Eur Spine J 25:3707–3714

7.

Oba H, Ebata S, Takahashi J et al (2019) Loss of pelvic incidence correction after long fusion using iliac screws for adult spinal deformity: cause and effect on clinical outcome. Spine 44:195–202

8.

Noshchenko A, Hoffecker L, Cain CM et al (2017) Spinopelvic parameters in asymptomatic subjects without spine disease and deformity: a systematic review with meta-analysis. Clin Spine Surg. 30:392–403

9.

Schroeder N, Noschenko A, Burger E et al (2018) Pelvic incidence changes between flexion and extension. Spine Deform 6(6):753–761. https://doi.org/10.1016/j.jspd.2018.03.008

10.

Kleck CJ, Calabrese D, Reeves BJ et al (2020) Long-term treatment effect and predictability of spinopelvic alignment after surgical correction of adult spine deformity with patient-specific spine rods. Spine 7:E387–E396

11.

Glantz SA (2005) Primer of biostatistics, 6th edn. McGraw-Hill Medical Pub. Division, New York

12.

Barton C, Noshchenko A, Patel VV et al (2017) Different types of mechanical complications after surgical correction of adult spine deformity with osteotomy. World J Meta-Anal 5:132–149
Acknowledgments
The authors acknowledge David Calabrese, Francisco Rodriguez Fontan and Bradley J Reeves for their contribution into the collection of primary data for the current study in particular, demographic, clinical and radiographic data, and their preparation for statistical analysis.
Funding
The authors did not receive support from any organization for the submitted work.
Ethics declarations
Conflict of interest
The authors have no conflict of interest (financial or non-financial) to declare that are relevant to the content of this article.
Ethics approval
The presented study was performed in accordance with the ethical standards of the 1964 Helsinki Declaration and its later amendments. Ethical approval was waived by the local Ethics. Committee, the Colorado Multiple Institutional Review Board (COMIRB), approval #14–1258).
Informed consent
Informed consent for participation and publication of the results were nor required due to retrospective design of the study which used just results of routine medical care investigations.
Data transparency
All authors confirm that all data and materials as well as software application support their published claims and comply with field standards.
Additional information
Publisher's note
Springer Nature remains neutral with regard to jurisdictional claims in published maps and institutional affiliations.
About this article
Cite this article
Kleck, C.J., Noshchenko, A., Burger, E.L. et al. Postoperative pelvic incidence (PI) change may impact sagittal spinopelvic alignment (SSA) after instrumented surgical correction of adult spine deformity (ASD). Spine Deform 9, 1093–1104 (2021). https://doi.org/10.1007/s43390-020-00283-2
Received:

Accepted:

Published:

Issue Date:
Keywords
Spinal deformity correction

Sagittal spinopelvic alignment

Postoperative pelvic incidence instability