Abstract
Purpose
Skeletal dysplasia (SKD) have predictably abnormal occipitocervical skeletal anatomy, but a similar understanding of their vertebral artery anatomy is not known. Knowledge and classification of vertebral artery anatomy in SKD patients is important for safe surgical planning. We aimed to determine if predictably abnormal vertebral artery anatomy exists in pediatric SKD.
Methods
We performed a retrospective review of CTAs of the neck for pediatric patients at a single institution from 2006 to 2018. CTAs in SKD and controls were reviewed independently in blinded fashion by two radiologists who classified dominance, vessel curvature at C2, direction at C3, and presence of fenestration and intersegmental artery.
Results
14 skeletal dysplasia patients were compared to 32 controls. The path of the vertebral artery at C2 foramen was no different between the cohorts or by side, right (p = 0.43) or left (p = 0.13), nor for medial or lateral exiting direction from C3 foramen on right (p = 0.82) or left (p = 0.60). Dominance was most commonly neutral in both groups (71% in SKD and 63% in controls). There were no fenestrated nor first intersegmental arteries in our cohort.
Conclusion
No systematic differences were detected between SKD and control patients with respect to vertebral artery anatomy. Nonetheless, surgically relevant variability was observed in both groups. Paying particular attention to the direction of exit at C3 and curvature at C2 with respect to the foramen and vessel dominance are important and easily classifiable abnormalities that both surgeons and radiologists can use to communicate and employ in pre-operative planning.
Level of evidence
III.
This is a preview of subscription content, log in to check access.
Access options
Buy single article
Instant access to the full article PDF.
US$ 39.95
Tax calculation will be finalised during checkout.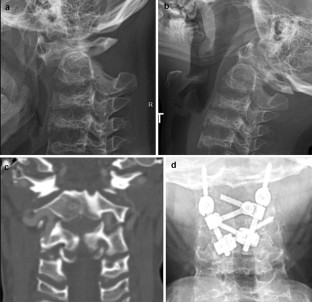 References
1.

Gluf WM, Brockmeyer DL (2005) Atlantoaxial transarticular screw fixation: a review of surgical indications, fusion rate, complications, and lessons learned in 67 pediatric patients. J Neurosurg Spine 2:164–169

2.

Bruneau M, Cornelius JF, Marneffe V et al (2006) Anatomical variations of the V2 segment of the vertebral artery. Neurosurgery 59:ONS20 ((discussion ONS-4))

3.

Cacciola F, Phalke U, Goel A (2004) Vertebral artery in relationship to C1–C2 vertebrae: an anatomical study. Neurol India 52:178–184

4.

Kazan S, Yildirim F, Sindel M et al (2000) Anatomical evaluation of the groove for the vertebral artery in the axis vertebrae for atlanto-axial transarticular screw fixation technique. Clin Anat 13:237–243

5.

Madawi AA, Casey AT, Solanki GA et al (1997) Radiological and anatomical evaluation of the atlantoaxial transarticular screw fixation technique. J Neurosurg 86:961–968

6.

Mandel IM, Kambach BJ, Petersilge CA et al (2000) Morphologic considerations of C2 isthmus dimensions for the placement of transarticular screws. Spine (Phila Pa 1976) 25:1542–1547

7.

Naderi S, Arman C, Guvencer M et al (2004) An anatomical study of the C-2 pedicle. J Neurosurg Spine 1:306–310

8.

Naderi S, Cakmakci H, Acar F et al (2003) Anatomical and computed tomographic analysis of C1 vertebra. Clin Neurol Neurosurg 105:245–248

9.

Paramore CG, Dickman CA, Sonntag VK (1996) The anatomical suitability of the C1–2 complex for transarticular screw fixation. J Neurosurg 85:221–224

10.

Resnick DK, Lapsiwala S, Trost GR (2002) Anatomic suitability of the C1–C2 complex for pedicle screw fixation. Spine (Phila Pa 1976) 27:1494–1498

11.

Rocha R, Safavi-Abbasi S, Reis C et al (2007) Working area, safety zones, and angles of approach for posterior C-1 lateral mass screw placement: a quantitative anatomical and morphometric evaluation. J Neurosurg Spine 6:247–254

12.

Sikka A, Jain A (2012) Bilateral variation in the origin and course of the vertebral artery. Anat Res Int 2012:580765

13.

Vaccaro AR, Ring D, Scuderi G et al (1994) Vertebral artery location in relation to the vertebral body as determined by two-dimensional computed tomography evaluation. Spine (Phila Pa 1976) 19:2637–2641

14.

Wang MY, Samudrala S (2004) Cadaveric morphometric analysis for atlantal lateral mass screw placement. Neurosurgery 54:1436–1439 ((discussion 9–40))

15.

Tokuda K, Miyasaka K, Abe H et al (1985) Anomalous atlantoaxial portions of vertebral and posterior inferior cerebellar arteries. Neuroradiology 27:410–413

16.

Yamazaki M, Okawa A, Furuya T et al (2012) Anomalous vertebral arteries in the extra- and intraosseous regions of the craniovertebral junction visualized by 3-dimensional computed tomographic angiography: analysis of 100 consecutive surgical cases and review of the literature. Spine (Phila Pa 1976) 37:E1389–E1397

17.

Tanyildizi Y, Gokce S, Marini F et al (2017) Vessel shape alterations of the vertebrobasilar arteries in Mucopolysaccharidosis type IVa (Morquio A) patients. Eur J Radiol 93:128–133

18.

McKay SD, Al-Omari A, Tomlinson LA et al (2012) Review of cervical spine anomalies in genetic syndromes. Spine 37(5):E269–E277

19.

Carella A, Lamberti P, Federico F et al (1978) Double fenestration of the extracranial vertebral artery. Neuroradiology 15:193–194

20.

Takahashi M, Kawanami H, Watanabe N et al (1970) Fenestration of the extra-cranial vertebral artery. Radiology 96:359–360

21.

O'Donnell CM, Child ZA, Nguyen Q et al (2014) Vertebral artery anomalies at the craniovertebral junction in the US population. Spine (Phila Pa 1976) 39:E1053–E1057

22.

Landis JR, Koch GG (1977) The measurement of observer agreement for categorical data. Biometrics 33:159–174

23.

Moftakhar P, Gonzalez NR, Khoo LT et al (2008) Osseous and vascular anatomical variations within the C1–C2 complex: a radiographical study using computed tomography angiography. Int J Med Robot 4:158–164

24.

Yang BW, Glotzbecker MP, Troy M et al (2018) C2 translaminar screw fixation in children. J Ped Orthop 38(6):e312–e317

25.

Neo M, Matsushita M, Iwashita Y et al (2003) Atlantoaxial transarticular screw fixation for a high-riding vertebral artery. Spine (Phila Pa 1976) 28:666–670
Funding
No funding was received for this work.
Ethics declarations
Conflict of interest
None pertinent to this anatomic/radiographic study.
Ethics
This study is covered under approved IRB permission; exemption for consent.
Additional information
Publisher's Note
Springer Nature remains neutral with regard to jurisdictional claims in published maps and institutional affiliations.
About this article
Cite this article
Bauer, J.M., Dhillon, E.S., Kamps, S.E. et al. Classifying vertebral artery anatomy abnormality in children with skeletal dysplasia. Spine Deform (2021). https://doi.org/10.1007/s43390-020-00264-5
Received:

Accepted:

Published:
Keywords
Pediatric cervical spine

Skeletal dysplasia

Vertebral artery anatomy

Cervical spine fusion

Cervical instability