Abstract
Study design
Descriptive survey.
Objectives
Compare radiographic parameters measured using surface topography (ST) with those obtained radiographically to determine the validity of ST for scoliotic assessment.
Methods
While anterior–posterior radiography is the gold standard for diagnosing scoliosis, repeated radiographic use is associated with increased carcinogenicity. Studies have thus focused on radiation-free systems, including ST, to calculate the scoliotic angle. Seventeen patients ages 25–76 were included. Each patient received one AP radiograph and three repeated ST measurements over two months. Values were analyzed by two raters to determine comparability between ST and radiographic measurements. Interobserver reliability (ICC) was calculated and statistical significance was determined by the p-value of a paired two-tailed t-test.
Results
ICC showed excellent reliability (> 0.90). There was no significant difference (p > 0.40) in apical vertebral deviation/translation between conventional radiography (0.9 ± 0.8) and ST (1.2 ± 1.0). There was no significant difference (p > 0.30) in sagittal balance radiographic (4.0 ± 3.1) and ST (4.4 ± 3.3), and coronal balance radiographic (1.4 ± 1.3) and ST (1.1 ± 1.1) measurements. Significant difference (p < .001) was found between lumbar lordosis radiographic (52.6 ± 18.4) and ST (37.9 ± 16.6), kyphotic angle radiographic (35.1 ± 16.0) and ST (50.0 ± 11.9), and scoliotic angle radiographic (11.3 ± 12.4) and ST (17.7 ± 10.2) measurements.
Conclusions
No significant difference was observed between various ST and radiographic measurements, including apical vertebral deviation, sagittal balance, and coronal balance. While a larger prospective study is needed to further assess the validity of ST, these initial measurements suggest the possibility of an effective and radiation-free adjunctive method of assessing balance in the coronal plane.
This is a preview of subscription content, log in to check access.
Access options
Buy single article
Instant access to the full article PDF.
US$ 39.95
Tax calculation will be finalised during checkout.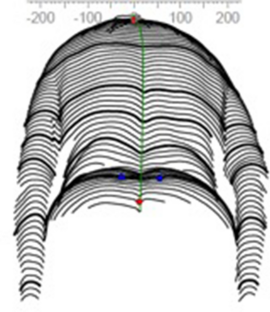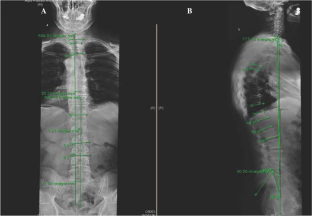 References
1.

Diebo BG, Shah NV, Boachie-Adjei O et al (2019) Adult Spinal Deformity. Lancet 394(10193):160–172

2.

Drerup B (2014) Rasterstereographic measurement of scoliotic deformity. Scoliosis 9:22

3.

Kotwicki T, Chowanska J, Kinel E, Czaprowski D, Tomaszewski M, Janusz P (2013) Optimal management of idiopathic scoliosis in adolescence. Adolescent Health, Medicine and Therapeutics 4:59–73

4.

Warnicki J (2004) Corneal topography using computer analyzed rasterstereographic images. Appl Opt 1988–2003(27):1135–1140

5.

Law M, Ma WK, Lau D, Chan E, Yip L, Lam W (2016) Cumulative radiation exposure and associated cancer risk estimates for scoliosis patients: Impact of repetitive full spine radiography. Eur J Radiol 85(3):625–628

6.

Mohokum M, Schülein S, Skwara A (2015) The Validity of Rasterstereography: A Systematic Review. Orthopaedic Reviews 7(3):68

7.

Oxborrow NJ (2000) Assessing the child with scoliosis: the role of surface topography. Arch Dis Child 83:453–455

8.

O'Brien, M.F, Kuklo, T.R., Blanke, K.M., et al. Spinal Deformity Study Group Radiographic Measurement Manual. Medtronic Sofamor Danek USA, Inc. 2008.

9.

Koo TK, Li MY (2016) A guideline of selecting and reporting intraclass correlation coefficients for reliability research. Journal of chiropractic medicine 15(2):155–163

10.

Knott P, Sturm P, Lonner B et al (2016) Multicenter Comparison of 3D Spinal Measurements Using Surface Topography with Those from Conventional Radiography. Spine Deformity 4(2):98–103

11.

Younes M, Aubin CE, Robitaille M, Sarwark JF, Labelle H (2007) Scoliosis Correction Objectives in Adolescent Idiopathic Scoliosis. Journal of Pediatric Orthopaedics 27(7):775–781

12.

Karami M, Maleki A, Mazda K (2016) Assessment of Coronal Radiographic Parameters of the Spine in the Treatment of Adolescent Idiopathic Scoliosis. Arch Bone Jt Surg 4(4):376–380

13.

Ploumis A, Liu H, Mehbod AA, Transfeldt EE, Winter RB (2009) A Correlation of Radiographic and Functional Measurements in Adult Degenerative Scoliosis. Spine 34(15):1581–1584
Funding
No funding was received for this work.
Additional information
Publisher's Note
Springer Nature remains neutral with regard to jurisdictional claims in published maps and institutional affiliations.
About this article
Cite this article
Applebaum, A., Cho, W., Nessim, A. et al. Establishing the validity of surface topography for assessment of scoliosis: a prospective study. Spine Deform (2021). https://doi.org/10.1007/s43390-020-00260-9
Received:

Accepted:

Published:
Keywords
Spinal deformity

Scoliosis

Surface topography

Radiography