Abstract
Study design
Case report.
Introduction
Instrumented posterior fusion using pedicle screws has been the mainstay of the surgical correction of adolescent idiopathic scoliosis since it was popularised by Roy-Camille in the 1970s. The aim of this case report is to describe the occurrence and salvage of an L1 chance fracture occurring through the lower instrumented vertebra following pedicle screw placement for posterior spinal instrumented fusion in the treatment of adolescent idiopathic scoliosis (AIS).
Case report
A 15-year-old female patient underwent T2–L1 posterior instrumented fusion for a Lenke 1b deformity. The selection of fusion levels was made based upon standing and bending radiographs which showed a non-structural lumbar curve. Early recovery was uneventful. At 6 months post-operatively, the patient reported new deformity and pain. A chance fracture at L1 was diagnosed and subsequent extension of instrumentation to L3 was carried out. Final post-operative recovery was uneventful and the patient returned to an active lifestyle.
Conclusion
Several factors can contribute to the occurrence of a fracture through an instrumented pedicle. This case shows that there must be due consideration of the small pedicle at L1 when it is chosen as the LIV.
This is a preview of subscription content, log in to check access.
Access options
Buy single article
Instant access to the full article PDF.
US$ 39.95
Tax calculation will be finalised during checkout.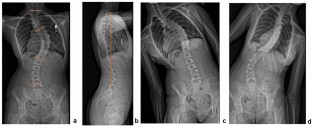 References
1.

Harrington P (1962) Treatment of scoliosis. Correction and internal fixation by spine instrumentation. J Bone Joint Surg Am 44:591–634

2.

Kuklo TR, Potter BK, Lenke LG et al (2007) Surgical revision rates of hooks versus hybrid versus screws versus combined anteroposterior spinal fusion for adolescent idiopathic scoliosis. Spine 32:2258–2264

3.

Mac-Thiong JM, Remondino R, Joncas J et al (2019) Long-term follow-up after surgical treatment of adolescent idiopathic scoliosis using high-density pedicle screw constructs: Is 5-year routine visit required? Eur Spine J 28:1296–1300

4.

Yilmaz G, Borkhuu B, Dhawale AA et al (2012) Comparative analysis of hook, hybrid, and pedicle screw instrumentation in the posterior treatment of adolescent idiopathic scoliosis. J Pediatr Orthop 32:490–499

5.

de Kleuver M, Lewis SJ, Germscheid NM et al (2014) Optimal surgical care for adolescent idiopathic scoliosis: an international consensus. Eur Spine J 23:2603–2618

6.

Kim YJ, Lenke LG, Kim J et al (2006) Comparative analysis of pedicle screw versus hybrid instrumentation in posterior spinal fusion of adolescent idiopathic scoliosis. Spine 31:291–298

7.

Roy-Camille R, Saillant G, Mazel C (1986) Internal fixation of the lumbar spine with pedicle screw plating. Clin Orthop Relat Res 203:7–17

8.

Trobisch PD, Ducoffe AR, Lonner BS et al (2013) Choosing fusion levels in adolescent idiopathic scoliosis. J Am Acad Orthop Surg 21:519–528

9.

Sanchez-Raya J, Bago J, Pellise F et al (2012) Does the lower instrumented vertebra have an effect on lumbar mobility, subjective perception of trunk flexibility, and quality of life in patients with idiopathic scoliosis treated by spinal fusion? J Spinal Disord Tech 25:437–442

10.

Kepler CK, Meredith DS, Green DW et al (2012) Long-term outcomes after posterior spine fusion for adolescent idiopathic scoliosis. Curr Opin Pediatr 24:68–75

11.

Lee CS, Hwang CJ, Lee DH et al (2017) Five major controversial issues about fusion level selection in corrective surgery for adolescent idiopathic scoliosis: a narrative review. Spine J 17:1033–1044

12.

Fischer CR, Kim Y (2011) Selective fusion for adolescent idiopathic scoliosis: a review of current operative strategy. Eur Spine J 20:1048–1057

13.

Lien S-B, Liou N-H, Wu S-S (2007) Analysis of anatomic morphometry of the pedicles and the safe zone for through-pedicle procedures in the thoracic and lumbar spine. Eur Spine J 16:1215–1222

14.

Hicks JM, Singla A, Shen FH et al (2010) Complications of pedicle screw fixation in scoliosis surgery: a systematic review. Spine 35:E465–E470

15.

Suk SI, Kim WJ, Lee SM et al (2001) Thoracic pedicle screw fixation in spinal deformities: are they really safe? Spine 26:2049–2057

16.

Di Silvestre M, Bakaloudis G, Lolli F et al (2008) Posterior fusion only for thoracic adolescent idiopathic scoliosis of more than 80 degrees: pedicle screws versus hybrid instrumentation. Eur Spine J 17:1336–1349

17.

Kato S, Lewis SJ (2017) Temporary iliac fixation to salvage an acute L4 Chance fracture: following pedicle screw fixation for adolescent idiopathic scoliosis. Spine 42:E313–E316

18.

Lattig F, Fekete TF, Jeszenszky D (2010) Management of fractures of the pedicle after instrumentation with transpedicular screws: a report of three patients. J Bone Jt Surg Br 92:98–102

19.

Levine DS, Dugas JR, Tarantino SJ et al (1998) Chance fracture after pedicle screw fixation. A case report. Spine 23:382–385

20.

Fujii T, Daimon K, Fujita N et al (2020) Risk factors for postoperative distal adding-on in lenke type 1B and 1C and its influence on residual lumbar curve. J Pediatr Orthop 40:e77–e93

21.

Lonstein JE (2018) Selective thoracic fusion for adolescent idiopathic scoliosis: long-term radiographic and functional outcomes. Spine Deform 6:669–675

22.

Lowe TG, Lenke LG, Betz R et al (2006) Distal junctional kyphosis of adolescent idiopathic thoracic curves following anterior or posterior instrumented fusion: incidence, risk factors, and prevention. Spine 31:299–302

23.

Tanabe H, Aota Y, Nakamura N, Saito T (2017) A histomorphometric study of the cancellous spinal process bone in adolescent idiopathic scoliosis. Eur Spine J 26(6):1600–1609

24.

Cheung CS, Lee WT, Tse YK et al (2006) Generalized osteopenia in adolescent idiopathic scoliosis–association with abnormal pubertal growth, bone turnover, and calcium intake? Spine 31(3):330–338
Funding
No funding was received from any source for this work.
Ethics declarations
Conflict of interest
BR: none, SK: none, DL: none, and SL: none.
Ethical approval (IRB)
No copyrighted material was included in this study. Patient's identity has not been revealed. Being a single-case study, it is exempt from institutional review board approval.
Informed consent
All identifiable details have been removed from the report. Informed consent is, therefore, not required.
Additional information
Publisher's Note
Springer Nature remains neutral with regard to jurisdictional claims in published maps and institutional affiliations
About this article
Cite this article
Rocos, B., Kato, S., Lebel, D. et al. A bony Chance fracture through L1 following posterior spinal fusion for adolescent idiopathic scoliosis: a case report. Spine Deform (2021). https://doi.org/10.1007/s43390-020-00257-4
Received:

Accepted:

Published:
Keywords
Scoliosis

Deformity

Correction

Adolescent idiopathic scoliosis