Abstract
Purpose
The objective of this case report is to highlight occipital bone erosion as an unusual late complication of C1-C2 instrumented fixation.
Case presentation
A 60-year-old man of a displaced Anderson type II odontoid fracture was surgically treated by C1-C2 pedicle screw fixation. Occipital bone erosions, caused by a repeat irritation of the end of rod to the occipital bone, were detected on multiplane reconstructed computed tomography at 3 months after surgery. The lesion progressed over time with increasing the C2 anteversion on radiological evaluations. Eventually, the bony shell had been reactively formed around the protruded screw-rod construct and the Oc-C1 segment had been spontaneously stabilized. Fortunately, he had experienced no symptoms caused by the lesion at 5-year follow-up.
Conclusion
The occipital bone erosion is an unusual late complication in C1-C2 posterior fixation using C1 pedicle screw. The increasing occipital-C1 lordosis compensating for the great C2 anteversion (high C2 slope) was related to the progression of the lesion. In C1-C2 pedicle screw fixation, surgeons should recognize a possibility of this complication and realize a relation between the occurrence of the lesion and the sagittal alignment of the cervical spine to take measures to avoid the complication.
This is a preview of subscription content, log in to check access.
Access options
Buy single article
Instant access to the full article PDF.
US$ 39.95
Tax calculation will be finalised during checkout.
Subscribe to journal
Immediate online access to all issues from 2019. Subscription will auto renew annually.
US$ 119
Tax calculation will be finalised during checkout.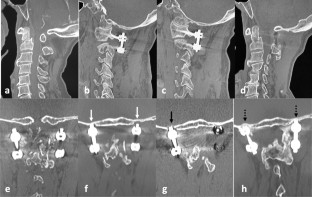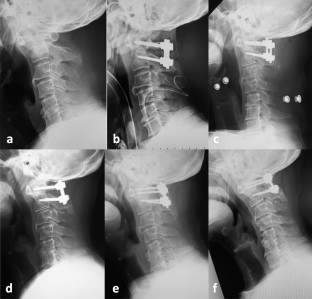 References
1.

Alshafai NS, Kramarz A, Behboudi M (2019) Insights into the past and future of atlantoaxial stabilization techniques. Acta Neurochir Suppl 125:265–271

2.

Kobets AJ, Nakhla J, Geland Y, Tabaddor K, Houten JK (2019) Occipital erosion and pain from excess superior rods as a complication of atlantoaxial fusion. Open Sci Publ J Radiol 1:1–3 (1000101)

3.

Arizumi F, Moriyama T, Tachibana T, Maruo K, Inoue S, Manabe T, Yoshiya S (2015) Erosion in the occipital bone caused by the fixation instrument used for posterior atlantoaxial fusion -report of 4 cases-. Springer Plus 4:137

4.

Fung M, Frydenberg E, Barnsley L, Chaganti J, Steel T (2018) Clinical and radiological outcomes of image guided posterior C1–C2 fixation for atlantoaxial osteoarthritis (AAOA). J Spine Surg 4:725–735

5.

Harms J, Melcher RP (2001) Posterior C1–C2 fusion with polyaxial screw and rod fixation. Spine 26:2461–2471

6.

Huang DG, Hao DJ, He BR, Wu QN, Liu TJ, Wang XD, Guo H, Fang XY (2015) Posterior atlantoaxial fixation: a review of all techniques. Spine J 15:2271–2281

7.

Lee SH, Kim ES, Eoh W (2013) Modified C1 lateral mass screw insertion using a high entry point to avoid postoperative occipital neuralgia. J Clin Neurosci 20:162–167

8.

Nakao Y, Shimokawa N, Morisako H, Tsukazaki Y, Terada A, Nakajo K, Fu Y (2014) Late complication of surgically treated atlantoaxial instability: Occipital bone erosion induced by protruded fixed titanium rod: a case report. J Chiroprac Med 13:278–281

9.

Oh CH, Ji GY, Seo HS, Yoon SH, Hyun D, Park HC (2014) Repeated complication following atlantoaxial fusion: a case report. Korean J Spine 11:7–11

10.

Resnick DK, Laspsiwala S, Trost GR (2002) Anatomic suitability of the C1–C2 complex for pedicle screw fixation. Spine 27:1494–1498

11.

Tan M, Wang H, Wang Y, Zhang G, Yi P, Li Z, Wei H, Yang F (2003) Morphometric evaluation of screw fixation in atlas via posterior arch and lateral mass. Spine 28:888–895

12.

Yeom JS, Kafle D, Nguyen NQ, Noh W, Park KW, Chang BS, Lee CK, Riew KD (2012) Routine insertion of the lateral mass screw via the posterior arch for C1 fixation: feasibility and related complications. Spine J 12:476–483 (11)
Funding
No funding was received for this case report.
Ethics declarations
Conflict of interest
The authors declare that they have no conflict of interest.
IRB approval
N/A.
Informed consent
The next of kin has consented to the submission of the case report for submission to the journal.
Additional information
Publisher's Note
Springer Nature remains neutral with regard to jurisdictional claims in published maps and institutional affiliations.
About this article
Cite this article
Ikuta, K., Sakamoto, K., Hotta, K. et al. Occipital bone erosion induced by C1 pedicle screw as a late complication of atlantoaxial fixation: a case report and literature review. Spine Deform (2020). https://doi.org/10.1007/s43390-020-00222-1
Received:

Accepted:

Published:
Keywords
Atlantoaxial fixation

C1 pedicle screw

Case report

Occipital bone erosion

Surgical complication

Cervical alignment