Abstract
Introduction
Surgical treatment of Adolescent Idiopathic Scoliosis (AIS) involves healthy individuals with spinal deformity. Parents are responsible for surgical consent on behalf of their children, a burden which causes trepidation and concern. Therefore, explanation of operative risk is a critical component of informed consent and parent decision-making. We set out to quantify parental risk aversion (RA).
Methods
RA questionnaires were administered preoperatively to parents of 58 AIS patients undergoing spinal fusion (SF). RA is the likelihood of a parent to consent to their child's SF (1- least likely, 10- most) with increasing allotments of data about potential complications at each stage (S1-complication named, S2-explained, S3-incidence given, S4-all information). A statistically significant mean difference in answers for each stage was assessed using paired sample t test or Wilcoxon rank t test. Normality was assessed by performing Shapiro–Wilk test.
Results
AIS patients (age 14.2 years, 85% female, major curve 61°) were included. Mean scores for each of the stages were 4.4 ± 3.1, 4.9 ± 3.1, 6.5 ± 3.0, 6.6 ± 3.0, respectively. Highest and lowest RA were reported for death and infection, respectively. The greatest increase in likelihood to proceed with surgery was seen after education on malposition of implants and on death, 2.6 and 2.5, respectively (p < 0.001). The lowest increase in likelihood to proceed with surgery was seen after education on infection, 1.5 (p < 0.001). For all complications, there was an increase in parent willingness to proceed after providing descriptions and occurrence rate with a mean increase from S1 to S4 of 2.1 (95% CI 1.4–2.4), p < 0.001.
Conclusion
As more detailed information was made available regarding potential complications with SF for AIS, parental RA toward surgery decreased and their willingness to proceed with surgery for their child improved.
This is a preview of subscription content, log in to check access.
Access options
Buy single article
Instant access to the full article PDF.
US$ 39.95
Tax calculation will be finalised during checkout.
Subscribe to journal
Immediate online access to all issues from 2019. Subscription will auto renew annually.
US$ 119
Tax calculation will be finalised during checkout.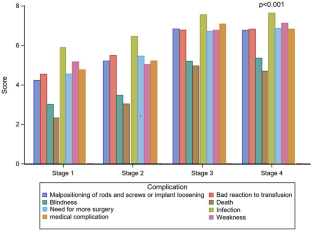 References
1.

Wajchenberg M, Astur N, Kanas M, Martins DE (2016) Adolescent idiopathic scoliosis: current concepts on neurological and muscular etiologies. Scoliosis Spinal Disord 11:4

2.

Aldebeyan S, Sinno H, Makhdom A, Ouellet J, Saran N (2017) Impact of living with scoliosis: a utility outcome score assessment. Spine 42(2):E93–E97

3.

Lonner BS, Yoo A, Terran JS, Sponseller P, Samdani A, Betz R, Shuffelbarger H, Shah S, Newton P (2013) Effect of spinal deformity on adolescent quality of life: comparison of operative scheuermann kyphosis, adolescent idiopathic scoliosis, and normal controls. Spine 38(12):1049–1055

4.

Souder C, Newton PO, Shah SA, Lonner BS, Bastrom TP, Yaszay B (2017) Factors in surgical decision making for thoracolumbar/lumbar AIS: it's about more than just the curve magnitude. J Pediat Orthop 37(8):e530–e535

5.

Majdouline Y, Aubin CE, Robitaille M, Sarwark JF, Labelle H (2007) Scoliosis correction objectives in adolescent idiopathic scoliosis. J Pediat Orthop 27(7):775–781

6.

Nadeau DP, Rich JN, Brietzke SE (2010) Informed consent in pediatric surgery do parents understand the risks? Arch Otolaryngol Head Neck Surg 136(3):265–269

7.

MacCulloch R, Donaldson S, Nicholas D, Nyhof-Young J, Hetherington R, Lupea D, Wright JG (2009) Towards an understanding of the information and support needs of surgical adolescent idiopathic scoliosis patients: a qualitative analysis. Scoliosis 4(12):12

8.

Donnelly MJ, Dolan LA, Grande L, Weinstein SL (2004) Patient and parent perspectives on treatment for adolescent idiopathic scoliosis. Iowa Orthop J 2:76–83

9.

Mulsow JJW, Feeley TM, Tierney S (2012) Beyond consent-improving understanding in surgical patients. Am J Surg 203(1):112–120

10.

Langdon IJ, Hardin R, Learmonth ID (2002) Informed consent for total hip arthroplasty: does a written information sheet improve recall by patients? Ann Royal Coll Surg Engl 84(6):404–408

11.

Rossi MJ, Guttmann D, MacLennan MJ, Lubowitz JH (2005) Video informed consent improves knee arthroscopy patient comprehension. Arthroscopy 21(6):739–743

12.

Perez MM, Menear M, Brehaut JC, Legare F (2016) Extent and predictors of decision regret about health care decisions: a systematic review. Soc Med Decis Making 36(6):777–790

13.

Brehaut JC, O'Connor AM, Wood TJ, Hack TF, Siminoff L, Gordon E, Feldman-Stewart D (2003) Validation of a decision regret scale. Med Decis Making 23(4):281–292

14.

Clark JA, Wray NP, Ashton CM (2001) Living with treatment decisions: regrets and quality of life among men treated for metastatic prostate cancer. J Clin Oncol 19(1):72–80

15.

Bridwell KH, Shufflebarger HL, Lenke LG, Lowe TG, Betz RR, Bassett GS (2000) Parents' and patients' preferences and concerns in idiopathic adolescent scoliosis: a cross-sectional preoperative analysis. Spine 25(18):2392–2399

16.

Weis JC, Betz RR, Clements DH 3rd, Balsara RK (1997) Prevalence of perioperative complications after anterior spinal fusion for patients with idiopathic scoliosis. J Spinal Disord 10(5):371–375

17.

Brown CA, Lenke LG, Bridwell KH, Geidman WM, Hasan SA, Blanke K (1998) Complications of pediatric thoracolumbar and lumbar pedicle screws. Spine (Phila Pa 1976) 23(14):1566–1574

18.

O'Brien MF, Newton PO, Betz R, Marks M, the Harms Study Group (2007) Complications in the surgical treatment of adolescent idiopathic scoliosis (AIS): a ten year review of a prospective database with 1292 patients. International meeting on advanced spine techniques. In: International meeting on advanced spine techniques, July 11–14. Nassau, Bahamas

19.

Lecleroq WKG, Keulers BJ, Scheltinga MRM, Spauwen PHM, Gert-Jan W (2010) A review of surgical informed consent: past, present, and future. A quest to help patients make better decisions. World J Surg 34(7):1406–1415

20.

Bernet JL, Peterson LM (2006) Patient- centered informed consent in surgical practice. Arch Surg 141:86–92

21.

Hall DE, Prochazka AV, Fink AS (2012) Informed consent for clinical treatment. Can Med Assoc J 184(5):533–540

22.

McManus PL, Wheatley KE (2003) Consent and complications: risk disclosure varies widely between individual surgeons. Ann Royal Coll Surg Engl 85:79–82

23.

Klifto K, Klifto C, Slover J (2017) Current concepts of shared decision making in orthopedic surgery. Curr Rev Musculoskelet Med 10:253–257

24.

Sepucha KR et al (2018) Informed, patient-centered decisions associated with better health outcomes in orthopedics: prospective cohort study. Med Decis Making 38(8):1018–1026

25.

Sahin N, Ozturk A, Ozkan Y et al (2010) What do patients recall from informed consent given before orthopedic surgery? Acta Orthop Traumatol Turcica 44(6):469–475

26.

Saigal R, Clark AJ, Scheer JK et al (2015) Adult spinal deformity patients recall fewer than 50% of the risks discussed in the informed consent process preoperatively and the recall rate worsens significantly in the postoperative period. Spine Deformity 40(14):1079–1085

27.

Crepeau AE, McKinney BI, Fox-Ryvicker M, Castelli J, Penna J, Wang E (2011) Prospective evaluation of patient comprehension of informed consent. J Bone Jt Surg 93(19):e114

28.

Ng CY, Gibson JNA (2011) An aid to the explanation of surgical risks and complications. Spine 36(26):2333–2345

29.

Kondziolka DS, Pirris SM, Lunsford LD (2006) Improving the informed consent process for surgery. Neurosurgery 58(6):1184–1189

30.

Johnson MR, Singh JA, Stewart T, Gioe TJ (2011) Patient understanding and satisfaction in informed consent for total knee arthroplasty: a randomized study. Arthr Care Res 63(7):1048–1054

31.

Lloyd A, Hayes P, Bell PRF, Naylor AR (2001) The role of risk and benefit perception in informed consent for surgery. Med Decis Making 21:141–149
Acknowledgements
This study was supported in part by grants to the Setting Scoliosis Straight Foundation in support of Harms Study Group research from DePuy Synthes Spine, EOS imaging, K2M, Medtronic, NuVasive and Zimmer Biomet. Harms Study Group Investigators are, Aaron Buckland, MD; New York University. Amer Samdani, MD; Shriners Hospitals for Children—Philadelphia. Amit Jain, MD; Johns Hopkins Hospital. Baron Lonner, MD; Mount Sinai Hospital. Benjamin Roye, MD; Columbia University. Burt Yaszay, MD; Rady Children's Hospital. Chris Reilly, MD; BC Children's Hospital. Daniel Hedequist, MD; Boston Children's Hospital. Daniel Sucato, MD; Texas Scottish Rite Hospital. David Clements, MD; Cooper Bone and Joint Institute New Jersey. Firoz Miyanji, MD; BC Children's Hospital. Harry Shufflebarger, MD; Nicklaus Children's Hospital. Jack Flynn, MD; Children's Hospital of Philadelphia. Jahangir Asghar, MD; Cantor Spine Institute. Jean Marc Mac Thiong, MD; CHU Sainte-Justine. Joshua Pahys, MD; Shriners Hospitals for Children—Philadelphia. Juergen Harms, MD; Klinikum Karlsbad-Langensteinbach, Karlsbad. Keith Bachmann, MD; University of Virginia. Larry Lenke, MD; Columbia University. Mark Abel, MD; University of Virginia. Michael Glotzbecker, MD; Boston Children's Hospital. Michael Kelly, MD; Washington University. Michael Vitale, MD; Columbia University. Michelle Marks, PT, MA; Setting Scoliosis Straight Foundation. Munish Gupta, MD; Washington University. Nicholas Fletcher, MD; Emory University. Patrick Cahill, MD; Children's Hospital of Philadelphia. Paul Sponseller, MD; Johns Hopkins Hospital. Peter Gabos, MD: Nemours/Alfred I. duPont Hospital for Children. Peter Newton, MD; Rady Children's Hospital. Peter Sturm, MD; Cincinnati Children's Hospital. Randal Betz, MD; Institute for Spine and Scoliosis. Ron Lehman, MD; Columbia University. Stefan Parent, MD: CHU Sainte-Justine. Stephen George, MD; Nicklaus Children's Hospital. Steven Hwang, MD; Shriners Hospitals for Children—Philadelphia. Suken Shah, MD; Nemours/Alfred I. duPont Hospital for Children. Tom Errico, MD; Nicklaus Children's Hospital. Vidyadhar Upasani, MD; Rady Children's Hospital.
Funding
Grant funding from SRS, AAOS, and the Harms Study Group.
Ethics declarations
IRB approval
Institutional Review Board Approval was obtained for this study from the Icahn School of Medicine IRB.
Additional information
Publisher's Note
Springer Nature remains neutral with regard to jurisdictional claims in published maps and institutional affiliations.
The members of the Harms Study Group Investigators are listed in acknowledgements.
About this article
Cite this article
Lonner, B., Jain, A., Sponseller, P. et al. What are parents willing to accept? A prospective study of risk tolerance in AIS surgery. Spine Deform (2020). https://doi.org/10.1007/s43390-020-00216-z
Received:

Accepted:

Published:
Keywords
Risk aversion

Adolescent idiopathic scoliosis

Spinal fusion