Abstract
Study design
Retrospective.
Objectives
Evaluate the role and effectiveness of ICS in primary posterior spinal fusion (PSF) for idiopathic scoliosis (IS).
Summary of background data
Intraoperative cell salvage (ICS) minimizes blood loss and need for allogeneic transfusions. However, it adds substantial charges ($800–1200 US) and may be of less clinical benefit in some PSF for IS.
Materials and methods
This was a single-hospital, retrospective analysis of 178 consecutive IS cases (10–18 years of age) who underwent primary PSF by a single pediatric spine surgeon.
Results
Overall, 41% of cases received a mean 167 cc of ICS blood, after a mean EBL of 528 mL (range 200–1800 mL). No blood was returned in 59% of cases, with a mean EBL of 293 mL (range 75–700 mL). Only 6.5% of the entire cohort received > / = 250 cc via ICS, after a mean EBL of 773 mL. A positive correlation exists between EBL and vertebral levels fused, preoperative major Cobb angle, and length of anesthesia (p < 0.001). ICS may be more efficacious at an inflection point of 12 vertebral fusion levels, preoperative major Cobb angles > / = 55°, anesthesia exposure > / = 6 h, and with use of posterior column osteotomies (PCOs) (p < 0.05). In addition, lack of tranexamic acid use lead to greater EBL (p < 0.0001) and ICS volumes (p = 0.008).
Conclusion
The use of ICS in IS patients undergoing PSF resulted in the return of > / = 250 cc of ICS blood (similar volume to one allogeneic unit) in only 6.5% of cases. Charges for ICS set-up and processing of one bowl of ICS is much higher than for one allogeneic unit ($1200 vs. $462 US), hence transfusing lower volumes of autologous ICS blood is not cost-effective for all PSF for IS.
Level of evidence
IV; Therapeutic studies.
This is a preview of subscription content, log in to check access.
Access options
Buy single article
Instant access to the full article PDF.
US$ 39.95
Tax calculation will be finalised during checkout.
Subscribe to journal
Immediate online access to all issues from 2019. Subscription will auto renew annually.
US$ 119
Tax calculation will be finalised during checkout.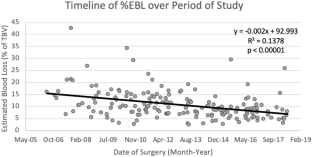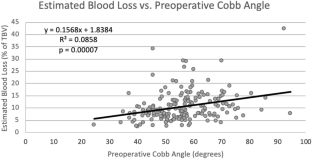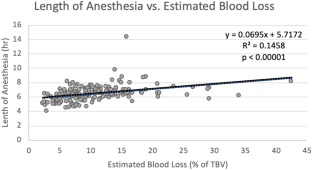 References
1.

Kling TF Jr, Fergusson NV, Leach AB et al (1985) The influence of induced hypotension and spine distraction on canine spinal cord blood flow. Spine 10(10):878–883

2.

Fox HJ, Thomas CH, Thompson AG (1997) Spinal instrumentation for Duchenne's muscular dystrophy: experience of hypotensive anesthesia to minimize blood loss. J Pediatr Orthop 17:750–753

3.

McLeod LM, French B, Flynn JM et al (2015) Antifibrinolytic use and blood transfusions in pediatric scoliosis surgeries performed at US children's hospitals. J Spinal Disord Tech 28(8):E460–E466. https://doi.org/10.1097/BSD.0b013e3182a22a54

4.

Wong J, El Beheiry H, Rampersaud YR et al (2008) Tranexamic acid reduces perioperative blood loss in adult patients having spinal fusion surgery. Anesth Analg 107:1479–1486

5.

Verma K, Errico TJ, Vaz KM et al (2010) A prospective, randomized, double-blinded single-site control study comparing blood loss prevention of tranexamic acid (TXA) to epsilon-aminocaproic acid (EACA) for corrective spinal surgery. BMC Surg 10:13

6.

Endres S, Heinz M, Wilke A (2011) Efficacy of tranexamic acid in reducing blood loss in posterior lumbar spine surgery for degenerative spinal stenosis with instability: a retrospective case control study. BMC Surg 11:29

7.

Yagi M, Hasegawa J, Nagoshi N et al (2012) Does the intraoperative tranexamic acid decrease operative blood loss during posterior spinal fusion for treatment of adolescent idiopathic scoliosis? Spine 37:1336–1342

8.

Koerner JD, Patel A, Zhao C et al (2014) Blood loss during posterior spinal fusion for adolescent idiopathic scoliosis. Spine 39(18):1479–1487

9.

Ho WK, Baccala M, Thom J, Eikelboom JW (2005) High prevalence of abnormal preoperative coagulation tests in patients with adolescent idiopathic scoliosis. J Thromb Haemost 3:1094–1095

10.

Bolger WE, Parsons DS, Potempa L (1990) Preoperative hemostatic assessment of the adenotonsillectomy patient. Otolaryngol Head Neck Surg 103:396–405

11.

Minhas SV, Chow I, Bosco J et al (2015) Assessing the rates, predictors, and complications of blood transfusion volume in posterior arthrodesis for adolescent idiopathic scoliosis. Spine 40(18):1422–1430

12.

Cha CW, Deible C, Muzzonigro T et al (2002) Allogeneic transfusion requirements after autologous donations in posterior lumber surgeries. Spine 27:99–104

13.

Popta D, Stephenson J, Patel D et al (2014) The pattern of blood loss in adolescent idiopathic scoliosis. Spine J 14:2938–2945

14.

Hassan N, Halanski M, Wincek J et al (2011) Blood management in pediatric spinal deformity surgery: review of a 2-year experience. Transfusion 51:2133–2141

15.

Long TR, Stans AA, Shaughnessy WJ et al (2012) Changes in red blood cell transfusion practice during the past quarter century: a retrospective snaylis of pediatric patients undergoing elective scoliosis surgery using the Mayo database. Spine 12:455–462

16.

Verma RR, Williamson JB, Dashti H et al (2006) Homologous blood transfusion is not required in surgery for adolescent idiopathic scoliosis. J Bone Joint Surg 88:1187–1191

17.

Ponnusamy KE, Kim TJ, Khanuja HS (2014) Review: perioperative blood transfusions in orthopaedic surgery. J Bone Joint Surg 96:1836–1844

18.

Bowen RE, Gardner S, Scaduto AA et al (2010) Efficacy of intraoperative cell salvage systems in pediatric idiopathic scoliosis patients undergoing posterior spinal fusion with segmental spinal instrumentation. Spine 35:246–251

19.

Ersen O, Ekinei S, Bilgic S et al (2012) Posterior spinal fusion in adolescent idiopathic scoliosis with or without intraoperative cell salvage system, a retrospective comparison. Muskuloskeletal Surg 96:107–110

20.

Miao YL, Ma HS, Guo WZ et al (2014) The efficacy and cost-effectiveness of cell saver use in instrumented posterior correction and fusion surgery for scoliosis in school-aged children and adolescents. PLoS ONE 9(4):e92997

21.

Li C, Yang M, Wang C et al (2015) Preoperative factors predicting intraoperative blood loss in female patients with adolescent idiopathic scoliosis. Medicine 94(1):e359. https://doi.org/10.1097/MD.0000000000000359

22.

Tse EY, Cheung WY, Ng KF, Luk KD (2011) Reducing perioperative blood loss and allogeneic blood transfusion in patients undergoing major spine surgery. J Bone Joint Surg 93:1268–1277

23.

Thompson ME, Kohring JM, McFann K et al (2014) Predicting excessive hemorrhage in adolescent idiopathic scoliosis patients undergoing posterior spinal instrumentation and fusion. Spine J 14:1392–1398

24.

Sethna NF, Zurakowski D, Brustowicz RM et al (2005) Tranexamic acid reduces intraoperative blood loss in pediatric patients undergoing scoliosis surgery. Anesthesiology 102:727–732
Funding
No funding was received for this work
Ethics declarations
IRB approval
IRB approval was obtained (IRB# 201702003).
Additional information
Publisher's Note
Springer Nature remains neutral with regard to jurisdictional claims in published maps and institutional affiliations.
About this article
Cite this article
Wahl, G.E., Luhmann, S.J. Intraoperative red blood cell salvage in posterior spinal fusions for idiopathic scoliosis: identifying potential criteria for selective use. Spine Deform (2020). https://doi.org/10.1007/s43390-020-00207-0
Received:

Accepted:

Published:
Keywords
Posterior spinal fusion

Idiopathic scoliosis

Red blood cell salvage

Cell-saver

Estimated blood loss

Blood transfusions