Abstract
Introduction
Early hemivertebra (HV) excision and posterior spinal fusion (PSF) is advocated as the treatment of choice in congenital kyphoscoliosis. We assessed global spinal balance and spinal deformity status once the pubertal peak has taken place, in children with a history of HV excision and PSF at age younger than 5 years.
Methods
Twenty-seven children with congenital kyphoscoliosis without co-existing proximal/distal congenital spinal abnormalities who underwent HV excision and PSF of ≤ 5 levels at age younger than 5 years and who had reached the peak of puberty at the last follow-up visit were evaluated.
Results
Twenty-seven HV excision were performed. Mean age at surgery was 3 years and 2 months. A mean of 3.2 segments were fused. Imbalance of the trunk was observed in 80% of thoracic and 75% of thoracolumbar HV excision. No arthrodesis technique (4 cases) presented 100% of spine decompensation. All children younger than 2 years at the time of surgery developed spinal imbalance. Eighteen patients (67%) had global spine imbalance; 81% male population and 63% of the female population. Mean age at surgery was 3 years + 2 months. Mean age of the patients at the time of the study was 15 years + 5 months. Mean follow-up was 12 years + 3 months.
Conclusion
Many of these patients developed spinal imbalance and scoliosis worsened at the final follow-up. Early age at surgery, preoperative scoliosis severity, HV location, no arthrodesis technique, and the adding-on phenomenon may be involved.
This is a preview of subscription content, log in to check access.
Access options
Buy single article
Instant access to the full article PDF.
US$ 39.95
Price includes VAT for USA
Subscribe to journal
Immediate online access to all issues from 2019. Subscription will auto renew annually.
US$ 119
This is the net price. Taxes to be calculated in checkout.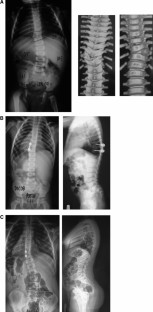 References
1.

Sánchez-Márquez JM, Pizones J, Martín-Buitrago MP et al (2019) Midterm results of hemivertebrae resection and transpedicular short fusion in patients younger than 5 Years: How do thoracolumbar and lumbosacral curves compare? Spine Deform Jorunal 7(2):267–274. https://doi.org/10.1016/j.jspd.2018.07.008

2.

Piantoni L, Francheri Wilson IA, Tello CA et al (2015) Hemivertebra resection with instrumented fusion by posterior approach in children. Spine Deformity Journal 3(6):541–548

3.

Pahys JM, Guille JT (2018) What's new in congenital scoliosis? J Pediatr Orthop 38(3):e172–e179. https://doi.org/10.1097/BPO.0000000000000922

4.

Dimeglio A, Canavese F, Charles YP. Growth and Adolescent Idiopathic Scoliosis: When and How Much? J Pediatric Ortopaedics, Vol 31, Number 1 Supplement, January/February 2011.

5.

Guo J, Zhang J, Wang S et al (2016) Surgical outcomes and complications of posterior hemivertebra resection in children younger than 5 years old. J Orthop Surg Res 11(1):48. https://doi.org/10.1186/s13018-016-0381-2

6.

Chang DG, Suk SI, Kim JH et al (2015) Surgical outcomes by age at the time of surgery in the treatment of congenital scoliosis in children under age 10 years. Spine J 15(8):1783–1795. https://doi.org/10.1016/j.spinee.2015.04.009

7.

Mooney JF, Glazier SS, Barfield WR (2012) Concurrent orthopedic and neurosurgical procedures in pediatric patients with spinal deformity. J Pediatr Orthop B 21(6):602–605. https://doi.org/10.1097/BPB.0b013e328357ea38

8.

Li XF, Liu ZD, Hu GY et al (2011) Posterior unilateral pedicle subtraction osteotomy of hemivertebra for correction of the adolescent congenital spinal deformity. Spine J 11(2):111–118. https://doi.org/10.1016/j.spinee.2010.08.028

9.

Louis ML, Gennari JM, Loundou AD et al (2010) Congenital scoliosis: a frontal plane evaluation of 251 operated patients 14 years old or older at follow-up. Orthop Traumatol Surg Res 96(7):741–747. https://doi.org/10.1016/j.otsr.2010.06.002

10.

Hedequist DJ, Hall JE, Emans JB (2004) The safety and efficacy of spinal instrumentation in children with congenital spine deformities. Spine (Phila Pa 1976) 29(18):2081–2086 discussion 2087

11.

Roussouly P, Gollogly S, Berthonnaud E et al (2005) Classification of the Normal Variation in the Sagittal Alignment of the Human Lumbar Spine and Pelvis in the Standing Position. Spine (Phila Pa 1976) 30(3):346–353

12.

Ruf M, Harms J (2003) Posterior hemivertebra resection with transpedicular instrumentation: early correction in children aged 1–6 years. Spine (Phila Pa 1976) 28(18):2132–2138

13.

Kesling KL, Lonstein JE, Winter RB et al (2003) The crankshaft phenomenon after posterior spinal arthrodesis for congenital scoliosis: a review of 54 patients. Spine (Phila Pa 1976) 28(3):267–271
Funding
The authors declare that they have no competing interests. No conflicts of interest or funding received during the conduct of this study. Funding: Not applicable.
Ethics declarations
Conflict of interest
None.
IRB
The study was approved by the hospital Institutional Review Board (IRB); because of the retrospective observational nature of the study, IRB waived the informed consent.
Additional information
Publisher's Note
Springer Nature remains neutral with regard to jurisdictional claims in published maps and institutional affiliations.
Electronic supplementary material
Below is the link to the electronic supplementary material.
About this article
Cite this article
Lucas, P., Tello, C.A., Remondino, R.G. et al. Long-term results of hemivertebra excision: How does the spine behave after the peak of puberty?. Spine Deform (2020). https://doi.org/10.1007/s43390-020-00198-y
Received:

Accepted:

Published:
Keywords
Hemivertebra excision

Congenital scoliosis

Pediatric spine

Spine surgery