Abstract
Introduction
Investigations in associations between subjective health-related quality of life (HRQoL) measures and objective clinical assessments in patients with early-onset scoliosis (EOS) are limited. The purpose of this study is to investigate the association between pulmonary function rated by parents and pulmonary function testing (PFT) in patients with EOS.
Materials/methods
In this cross-sectional study, patients with EOS at any stage of treatment from 2011 to 2018 were identified in 2 registries including 33 centers. Parents' perception of pulmonary function was evaluated using pulmonary function (PF) domain in the Early-Onset Scoliosis 24 item Questionnaire (EOSQ-24). PFT measures included FVC% predicted, FEV1/FVC, and TLC% predicted. All PFT predicted values utilized arm span. PFT and EOSQ-24 questionnaire were completed within 180 days of each other with an average day difference of 26 days.
Results
176 patients (mean age: 10.4 years old, female: 56%) were identified. 33% of patients were of congenital/structural etiology, 27% neuromuscular, 26% syndromic, and 14% idiopathic. Wide variance and lower scores of PF domain were reported by parents at lower FVC% predicted values (< 50%). As FVC% predicted values increased, PFD scores increased with simultaneous decreases in variance with few exceptions.
Conclusion
More variability and frequent lower pulmonary function values are reported by parents when percent forced vital capacity (FVC%) is < 50%. This likely reflects the degree to which children adapt to restrictive lung disease and the limits on adaptation that occur increasingly as lung function falls below 50% predicted. As a direct linear association with high correlation was expected, more research into the character of what the PF domain is measuring is necessary.
Level of evidence
IV.
Access options
Buy single article
Instant access to the full article PDF.
US$ 39.95
Tax calculation will be finalised during checkout.
Subscribe to journal
Immediate online access to all issues from 2019. Subscription will auto renew annually.
US$ 399
Tax calculation will be finalised during checkout.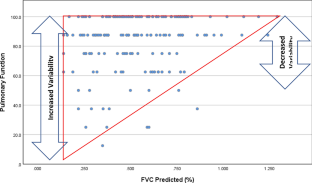 References
1.

Redding G, Mayer OH, White K et al (2017) Maximal respiratory muscle strength and vital capacity in children with early onset scoliosis. Spine (Phila Pa 1976) 42(23):1799–1804. https://doi.org/10.1097/brs.0000000000002351

2.

Fernandes P, Weinstein SL (2007) Natural history of early onset scoliosis. J Bone Jt Surg Am 89(Suppl 1):21–33. https://doi.org/10.2106/JBJS.F.00754

3.

Redding G, Song K, Inscore S, Effmann E, Campbell R (2008) Lung function asymmetry in children with congenital and infantile scoliosis. Spine J 8(4):639–644. https://doi.org/10.1016/j.spinee.2007.04.020

4.

Mayer OH, Redding G (2009) Early changes in pulmonary function after vertical expandable prosthetic titanium rib insertion in children with thoracic insufficiency syndrome. J Pediatr Orthop 29(1):35–38. https://doi.org/10.1097/BPO.0b013e3181929c8b

5.

Redding GJ, Mayer OH (2011) Structure-respiration function relationships before and after surgical treatment of early-onset scoliosis. Clin Orthop Relat Res 469(5):1330–1334. https://doi.org/10.1007/s11999-010-1621-0

6.

Matsumoto H, Williams B, Park HY et al (2016) The final 24-Item early onset scoliosis questionnaires (EOSQ-24). J Pediatr Orthop 38(3):144–151. https://doi.org/10.1097/bpo.0000000000000799

7.

Corona J, Matsumoto H, Roye DP, Vitale MG (2011) Measuring quality of life in children with early onset scoliosis: development and initial validation of the early onset scoliosis questionnaire. J Pediatr Orthop 31(2):180–185. https://doi.org/10.1097/BPO.0b013e3182093f9f

8.

China N, Vaz D, Martins C et al (2019) Obtaining spirometric reference values when height is not available—comparison of alternative anthropometric measures. Pulmonology 2019:6–11. https://doi.org/10.1016/j.pulmoe.2019.09.002

9.

Quanjer PH, Capderou A, Mazicioglu MM et al (2014) All-age relationship between arm span and height in different ethnic groups. Eur Respir J 44(4):905–912. https://doi.org/10.1183/09031936.00054014

10.

Williams BA, Matsumoto H, McCalla DJ et al (2014) Development and initial validation of the Classification of Early-Onset Scoliosis (C-EOS). J Bone Joint Surg Am 96(16):1359–1367. https://doi.org/10.2106/JBJS.M.00253

11

Barrios C, Pérez-Encinas C, Maruenda JI, Laguía M (2005) Significant ventilatory functional restriction in adolescents with mild or moderate scoliosis during maximal exercise tolerance test. Spine (Phila Pa 1976) 30(14):1610–1615. https://doi.org/10.1097/01.brs.0000169447.55556.01

12.

Santuz P, Baraldi E, Filippone M, Zacchello F (1997) Exercise performance in children with asthma: is it different from that of healthy controls? Eur Respir J 10(6):1254–1260. https://doi.org/10.1183/09031936.97.10061254

13.

Golshan M, Amra B, Hoghoghi MA (2003) Is arm span an accurate measure of height to predict pulmonary function parameters? Monaldi Arch Chest Dis 59(3):189–192
Acknowledgements
Pediatric Spine Study Group: Children's Spine Foundation, Valley Forge, PA, USA.
Funding
This work was conducted without the support of additional funding.
Ethics declarations
Informed consent
No copyrighted materials or patient information is included in this manuscript submission.
IRB Approval/Research Ethics Committee
This work is approved by the Institutional Review Boards at all sites, including Columbia University (Protocol AAA9019).
Additional information
Publisher's Note
Springer Nature remains neutral with regard to jurisdictional claims in published maps and institutional affiliations.
About this article
Cite this article
Matsumoto, H., Marciano, G., Redding, G. et al. Association between health-related quality of life outcomes and pulmonary function testing. Spine Deform 9, 99–104 (2021). https://doi.org/10.1007/s43390-020-00190-6
Received:

Accepted:

Published:

Issue Date:
keywords
Early-onset scoliosis (EOS)

Pulmonary function

Early-onset scoliosis 24 item questionnaire (EOSQ-24)

Health related quality of life (HRQoL)

Forced vitale capacity (FVC)

Pulmonary function testing (PFT)