Abstract
We describe nests, eggs, and nestlings of Spix's Warbling-Antbird (Hypocnemis striata) from terra firme dense forest in the municipality of Anapu, state of Pará. We found two nests in April 2016 with a basket-shaped structure, attached to the horizontal fork by thin branches, made with a mixture of vines and dry leaves. Nests and eggs follow the same pattern observed for other species in the genus Hypocnemis. Nests' dimensions were as follows: external height 112.5 mm (nest 1) and 95.4 mm (nest 2); outside diameter 79 mm (1) and 61.4 mm (2); internal diameter 42.4 mm (1) and 32.7 mm (2); internal depth 70 mm (1) and 62 mm (2); and height in relation to the ground 60 cm (1) and 145 cm (2). The eggs are rosy with reddish-brown spots scattered all over it, with greater concentration in the terminal portion of the wider pole. During field observations and recording hours (196 min) in one nest, only the male was observed taking care of the nestlings. Although we only performed these observations for a short period, this behavior apparently differs from the pattern usually observed for other Thamnophilidae, in which both sexes engage in parental care; nevertheless, this preliminary result is not conclusive. Some aspects of the reproductive biology of the species, such as incubation period and nestling development, could not be obtained and should be subject of further investigation.
Access options
Buy single article
Instant access to the full article PDF.
US$ 39.95
Tax calculation will be finalised during checkout.
Subscribe to journal
Immediate online access to all issues from 2019. Subscription will auto renew annually.
US$ 79
Tax calculation will be finalised during checkout.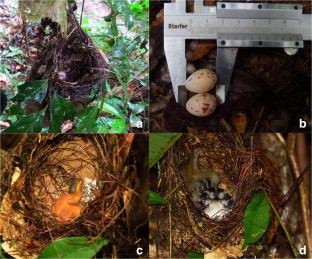 References
Brooks DM, Aibar P, Bucur P, Rossi R, Greeney HF (2016) Breeding biology of Yellow-Browed-Antbird Hypocnemis hypoxantha. Bull Br Ornithol Club 136:156–161

Cadena CD, Londoño GA, Parra JL (2000) Nesting records of five antbird species from the Colombian Amazon. Wilson Bull 112:313–317. https://doi.org/10.1676/0043-564

Collias NE (1997) On the origin and evolution of nest building by passerine birds. Condor 99:253–270. https://doi.org/10.2307/1369932

David S, Londoño GA (2013) Nesting of the Yellow-Breasted Warbling-Antbird (Hypocnemis subflava) with notes on the nesting biology of the Hypocnemis cantator complex. Wilson J Ornithol 125:268–274. https://doi.org/10.1676/12-117.1

de la Peña MR (1987) Nidos y huevos de aves argentinas. Edition Notes. 229p

del Hoyo J, Collar N, Kirwan GM (2020) Spix's Antwarbler (Hypocnemis striata). In: del Hoyo J, Elliott A, Christie DA (eds). Birds of the world. Cornell Lab of Ornithology, Ithaca, NY, USA. https://doi.org/10.2173/bow.spiwaa1.01

Isler ML, Isler PR, Whitney BM (2007) Species limits in antbirds (Thamnophilidae): the Warbling Antbird (Hypocnemis cantator) complex. Auk 124:11–28. https://doi.org/10.1642/0004-8038(2007)124[11:SLIATT]2.0CO;2

IUCN (2020) IUCN red list of threatened species. Version 20137.3. Available in: www.iucnredlist.org. Accessed in: 28 May 2020

MMA (Ministério do Meio Ambiente) (2014) Lista das espécies da fauna brasileira ameaçadas de extinção. Ministério do Meio Ambiente, Brasília. Portarias MMA N°. 444/2014 & N°. 445/2014

Oniki Y, Willis EO (1982) Breeding records of birds from Manaus, Brazil: Formicariidae to Pipridae. Rev Bras Biol 42:563–569

Piacentini VQ, Aleixo A, Agne CE, Maurício GN, Pacheco JF, Bravo GA, Brito GRR, Naka LN, Olmos F, Posso S, Silveira LF, Betini GS, Carrano E, Franz I, Lees AC, Lima LM, Pioli D, Schunck F, Amaral FR, Bencke GA, Cohn-Haft M, Figueiredo LFA, Straube FC, Cesari E (2015) Annotated checklist of the birds of Brazil by the Brazilian Ornithological Records Committee. Rev Bras Ornitol 23:91–298. https://doi.org/10.1007/BF03544294

Pinho JB, Lopes LE, Morais DH, Fernandes AM (2006) Life history of the Mato Grosso Antbird Cercomacra melanaria in the Brazilian Pantanal. Ibis 148:321–329. https://doi.org/10.1111/j.1474-919X.2006.00542.x

Pinho JB, Lopes LE, Maldonado-Coelho M, Rubio TV, Bernardon B (2009) Habitat associations and nests of Band-tailed Antbirds (Hypocnemoides maculicauda) in the Brazilian Pantanal. Wilson J Ornithol 121:153–159. https://doi.org/10.1676/08-003.1

Sheldon KS, Greeney HF (2008) A comparison of parental care of the Great Antshrike (Taraba major) in Costa Rica and Ecuador. Ornitol Neotrop 19:293–297

Sick H (2001) Ornitologia brasileira. Nova Fronteira, Rio de Janeiro

Simon JE, Pacheco S (2005) On the standardization of nest descriptions of Neotropical birds. Rev Bras Ornitol 13:143–154

Skutch A (1976) Parent birds and their young. University of Texas Press, Austin

Winkler DW, Bilerman SM, Lovette IJ (2020). Typical Antbirds (Thamnophilidae). In: Bilerman SM, Keeney BK, Rodewald PG (eds). Birds of the world, Cornell Lab of Ornithology, Ithaca, NY, USA. https://doi.org/10.2173/bow.thamno3.01

Zimmer KJ, Isler ML (2003) Family Thamnophilidae (typical antbirds) (broadbills to tapaculos). In: Elliott A, Christie DA del Hoyo J (eds). Handbook of the birds of the world, Barcelona, pp 448–681
Acknowledgments
We thank Anderson Rodrigues Tomás for discovering one of the nests. We also thank Biota Projetos e Consultoria Ambiental LTDA and Norte Energia S/A for financial resources and logistical support for this research.
Code availability
Not applicable.
Funding
Funding was provided by Biota Projetos e Consultoria Ambiental LTDA and Norte Energia S.A. during environmental monitoring in UHE Belo Monte, Vitória do Xingu, Pará, Brazil.
Ethics declarations
Conflict of interest
The authors declare that they no conflict of interest.
Research involving human participants and/or animals
IBAMA ACCTMB 251/2013
Informed consent
None.
Additional information
Communicated by Alexandre Aleixo
About this article
Cite this article
Lara, K.M., Junqueira, T.G., Aragona, M. et al. Nests, eggs, and nestlings of Spix's Warbling-Antbird (Hypocnemis striata) in Anapu, Pará, Brazil. Ornithol. Res. 28, 229–232 (2020). https://doi.org/10.1007/s43388-021-00032-7
Received:

Revised:

Accepted:

Published:

Issue Date:
Keywords
Amazon forest

Behavior

Reproduction

Thamnophilidae

Xingu River