Abstract
For ages, the wide variety of colors, shapes, and behaviors of birds have attracted the attention of nature observers and professional ornithologists. Birdwatching represents an important source of data on many aspects of bird biology worldwide, particularly in Brazil, a highly biodiverse country. We reviewed the current state of citizen science with regard to Brazilian birdwatching by evaluating (a) where, (b) how much, and (c) what kind of data are collected by birdwatchers. To highlight the potential contribution of such data, we used citizen science data to evaluate the migration timing and habitat occupancy of four migratory bird species whose movements are still understudied. In addition, based on our assessment, we suggest new avenues for citizen science-based research on migratory bird ecology in Brazil. Finally, given that the urban ecology of numerous Brazilian birds is still poorly understood, we highlight how this can be remediated through the efforts of birdwatchers, given that 73% of the data is concentrated within or nearby large urban centers in southern and southeastern Brazil. We show that data generated by citizen scientists can be useful for a suite of studies, such as on habitat use and migration patterns of Brazilian birds. Therefore, citizen science is an important way to improve our knowledge about Brazilian birds and promote their conservation in an era of rapid change. Nevertheless, its impact in the long term will depend on improving the quality of the data and involvement of more birdwatchers.
Graphical abstract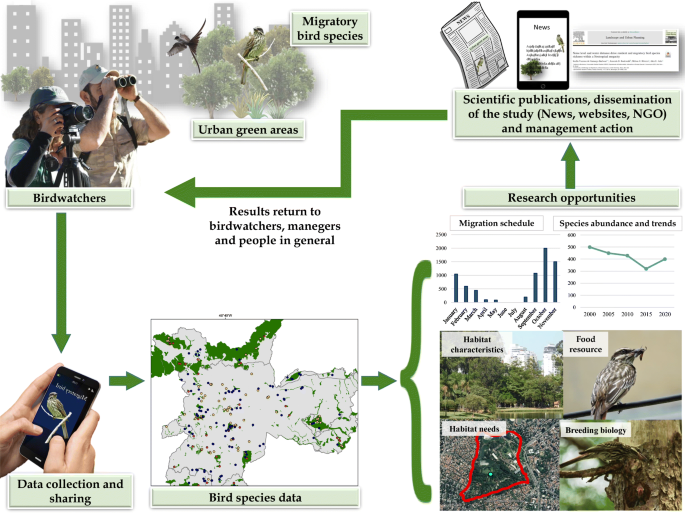 Access options
Buy single article
Instant access to the full article PDF.
US$ 39.95
Tax calculation will be finalised during checkout.
Subscribe to journal
Immediate online access to all issues from 2019. Subscription will auto renew annually.
US$ 79
Tax calculation will be finalised during checkout.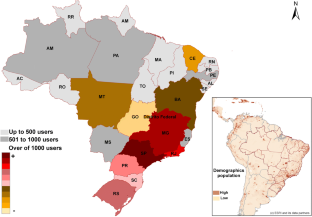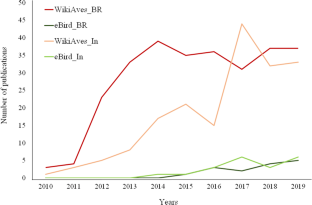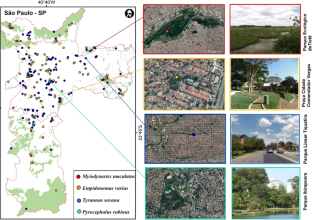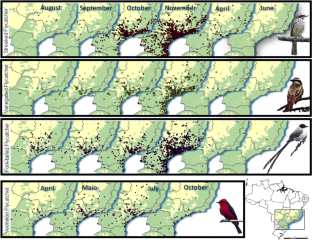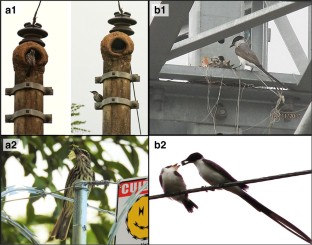 References
Alexandrino ER, Navarro AB, Paulete VF, Camolesi M, Lima VGR, Green A, Conto T, Ferraz KMPMB, Şekercioğlu CH, Couto HTZ (2019a) Challenges in engaging birdwatchers in bird monitoring in a forest patch: lessons for future citizen science projects in agricultural landscapes. Citizen Sci Theory Pract 4:art.4. https://doi.org/10.5334/cstp.198

Alexandrino ER, Bogoni JA, Navarro AB, Bovo AAA, Gonçalves RM, Charters JD, Domini JA, Ferraz KMPMB (2019b) Large terrestrial bird adapting behavior in an urbanized zone. Animals 9:351. https://doi.org/10.3390/ani9060351

Amaya-Espinel JD, Hostetler ME (2019) The value of small forest fragments and urban tree canopy for Neotropical migrant birds during winter and migration seasons in Latin American countries: a systematic review. Landsc Urban Plann 190:103592. https://doi.org/10.1016/j.landurbplan.2019.103592

Barbosa KVC, Rodewald AD, Ribeiro MC, Jahn AE (2020) Noise level and water distance drive resident and migratory bird species richness within a Neotropical megacity. Landsc Urban Plann 197:103769. https://doi.org/10.1016/j.landurbplan.2020.103769

Bhattacharjee Y (2005) Citizen scientists supplement work of Cornell researchers. Science 308:1402–1403. https://doi.org/10.1126/science.308.5727.1402

Callaghan CT, Lyons MB, Martin JM, Major RE, Kingsford RT (2017) Assessing the reliability of avian biodiversity measures of urban greenspaces using eBird citizen science data. Avian Conserv Ecol 12:12. https://doi.org/10.5751/ACE-01104-120212

Chace JF, Walsh JJ (2006) Urban effects on native avifauna: a review. Landsc Urban Plann 74:46–69. https://doi.org/10.1016/j.landurbplan.2004.08.007

Coxen CL, Frey JK, Carleton SZ, Collins DP (2017) Species distribution models for a migratory bird based on citizen science and satellite tracking data. Global Ecol Conserv 11:298–311. https://doi.org/10.1016/j.gecco.2017.08.001

Cueto VR, Jahn AE (2008) Sobre la necesidad de tener un nombre estandarizado para las aves que migran dentro de América del Sur. Hornero 23:1–4

del Hoyo J, Elliott A, Christie DA (2004) Handbook of the birds of the world, vol. 9 (cotingas to pipits and wagtails). Lynx Editions, Barcelona

eBird (2019) eBird basic dataset. Cornell Lab of Ornithology, Ithaca Accessed in January 2020

Evans BS, Reitsma R, Hurlbert AH, Marra PP (2018) Environmental filtering of avian communities along a rural-to-urban gradient in Greater Washington, DC, USA. Ecosphere 9:e02402. https://doi.org/10.1002/ecs2.2402

Ferreira DF, Aquino MM, Heming NM, Marini MA, Leite FSF, Lopes LE (2019) Breeding in the Gray-headed Tody-flycatcher (Aves: Tyrannidae) with comments on geographical variation in reproductive traits within the genus Todirostrum. J Nat Hist 53:595–610. https://doi.org/10.1080/00222933.2019.1599458

Fontana CS, Burger MI, Magnusson WE (2011) Bird diversity in a subtropical South-American city: effects of noise levels, arborisation and human population density. Urban Ecosyst 14:341–360. https://doi.org/10.1007/s11252-011-0156-9

Gillings S, Balmer DE, Caffrey BJ, Downie IS, Gibbons DW, Lack PC, Reid JB, Sharrock JTR, Swann RL, Fuller RJ (2019) Breeding and wintering bird distributions in Britain and Ireland from citizen science bird atlases. Glob Ecol Biogeogr 28:866–874. https://doi.org/10.1111/geb.12906

Gussoni CO, Guaraldo A (2009) Observações sobre a biologia reprodutiva (Myiodynastes maculatus) (Statius Muller, 1776) e alimentação do Bem-te-vi-rajado no município de Rio Claro e arredores, SP. Atual Ornitol 148:12–13

Hochachka WM, Wells JV, Rosenberg KV, Tessaglia-Hymes DL, Dhondt AA (1999) Irruptive migration of Common Redpolls. Condor 101:195–204. https://doi.org/10.2307/1369983

Hurlbert AH, Liang Z (2012) Spatiotemporal variation in avian migration phenology: citizen science reveals effects of climate change. PLoS One 7:e31662. https://doi.org/10.1371/journal.pone.0031662

Husté A, Boulinier T (2011) Determinants of bird community composition on patches in the suburbs of Paris, France. Biol Conserv 144:243–252. https://doi.org/10.1016/j.biocon.2010.08.022

IBGE - Instituto Brasileiro de Geografia e Estatística (2019) Available in https://www.ibge.gov.br/. Accessed in December of 2019

Jahn AE, Cereghetti J, Cueto VR, Hallworth MT, Levey DJ, Marini MÂ, Masson D, Pizo MA, Sarasola JH, Tuero DT (2019) Breeding latitude predicts timing but not rate of spring migration in a widespread migratory bird in South America. Ecol Evol 9:5752–5765. https://doi.org/10.1002/ece3.5159

Klemann-Junior L, Vallejos MAV, Scherer-Neto P, Vitule JRS (2017) Traditional scientific data vs. uncoordinated citizen science effort: a review of the current status and comparison of data on avifauna in southern Brazil. PLoS One 12:e0188819. https://doi.org/10.1371/journal.pone.0188819

La Sorte FA, Fink D, Blancher PJ, Rodewald AD, Ruiz-Gutierrez V, Rosenberg KV, Hochachka WM, Verburg PH, Kelling S (2017) Global change and the distributional dynamics of migratory bird populations wintering in Central America. Global Chang Biol 23:5284–5296. https://doi.org/10.1111/gcb.13794

Laboratório de Silvicultura Urbana (2010) Centro de métodos quantitativos. Available in http://cmq.esalq.usp.br/wiki/lib/exe/fetch.php?media=publico:mapeamento_tematico_sp_2010.pdf

Lees AC (2016) Evidence for longitudinal migration by a "sedentary" Brazilian flycatcher, the ash-throated casiornis. J Field Ornithol 87:251–259. https://doi.org/10.1111/jofo.12159

Lees AC, Martin RW (2014) Exposing hidden endemism in a Neotropical forest raptor using citizen science. Ibis 157:103–114. https://doi.org/10.1111/ibi.12207

Loss SR, Ruiz MO, Brawn JD (2009) Relationships between avian diversity, neighborhood age, income, and environmental characteristics of an urban landscape. Biol Conserv 142:2578–2585. https://doi.org/10.1016/j.biocon.2009.06.004

MacGregor-Fors I (2008) Relation between habitat attributes and bird richness in a western Mexico suburb. Landsc Urban Plann 84:92–98. https://doi.org/10.1016/j.landurbplan.2007.06.010

McCaffrey RE (2005) Using citizen science in urban bird studies. Urban Habitats 3:1541–7115

McKinley DC, Miller-Rushing AJ, Ballard HL, Bonney R, Brown H, Cook-Patton SC et al (2017) Citizen science can improve conservation science, natural resource management, and environmental protection. Biol Conserv 208:15–28. https://doi.org/10.1016/j.biocon.2016.05.015

Miranda EBP, Menezes JFS, Farias CCL, Munn C, Peres CA (2019) Species distribution modeling reveals strongholds and potential reintroduction areas for the world's largest eagle. PLoS One 14:e0216323. https://doi.org/10.1371/journal.pone.0216323

Møller AP, Díaz M, Grim T, Dvorská A, Flensted-Jensen E, Ibáñez-Álamo JD, Jokimäki J, Mänd R, Markó G, Szymański P, Tryjanowski P (2015) Effects of urbanization on bird phenology: a continental study of paired urban and rural populations. Clim Res 66:185–199. https://doi.org/10.3354/cr01344

Norris RD, Marra PP, Kyser TK, Sherry TW, Ratcliffe LM (2004) Tropical winter habitat limits reproductive success on the temperate breeding grounds in a migratory bird. Proc Biol Sci 271:59–64. https://doi.org/10.1098/rspb.2003.2569

Pena JCC, Martello F, Ribeiro MC, Armitage RA, Young RJ, Rodrigues M (2017) Street trees reduce the negative effects of urbanization on birds. PLoS One 12:e0174484. https://doi.org/10.1371/journal.pone

Reis JGA, Barros RP (1991) Wage inequality and the distribution of education. J Dev Econ 36:117–143. https://doi.org/10.1016/0304-3878(91)90007-I

Rodewald AD, Kearns L, Shustack DP (2013) Consequences of urbanizing landscapes to reproductive performance of birds in remnant forests. Biol Conserv 160:32–39. https://doi.org/10.1016/j.biocon.2012.12.034

Ryder TB, Reitsma R, Marra PR (2010) Quantifying avian nest survival along an urbanization gradient using citizen- and scientist-generated data. Ecol Appl 20:419–426. https://doi.org/10.1890/09-0040.1

Schubert SC, Manica LT, Guaraldo AG (2019) Revealing the potential of a huge citizen-science platform to study bird migration. Emu 119:364–373. https://doi.org/10.1080/01584197.2019.1609340

Silveira LF, Tomotani BM, Cestari C, Straube FC, Piacentini VQ (2017) Ortalis remota: a forgotten and critically endangered species of chachalaca (Galliformes: Cracidae) from eastern Brazil. Zootaxa 4306:524–536. https://doi.org/10.11646/zootaxa.4306.4.4

Smith RJ, Moore FR (2005) Arrival timing and seasonal reproductive performance in a long-distance migratory landbird. Behav Ecol Sociobiol 57:231–239. https://doi.org/10.1007/s00265-004-0855-9

Somenzari M, Amaral PP, Cueto VR, Guaraldo AC, Jahn AE, Lima DM et al. (2018) A review of Brazilian migratory birds. Pap Avulsos Zool 58:1–66. https://doi.org/10.11606/1807-0205/2018.58.03

Souza FS, Valente-Neto F, Severo-Neto F, Bueno B, Ochoa-Quintero JM, Laps RR, Bolzan F, Roque FO (2019) Impervious surface and heterogeneity are opposite drivers to maintain bird richness in a Cerrado city. Landsc Urban Plann 192:103643. https://doi.org/10.1016/j.landurbplan.2019.103643

Sullivan BL, Phillips T, Dayer AA, Wood CL, Farnsworth A, Iliff MJ, Davies IJ, Wiggins A, Fink D, Hochachka WM, Rodewald AD, Rosenberg KV, Bonney R, Kelling S (2017) Using open access observational data for conservation action: a case study for birds. Biol Conserv 208:5–14. https://doi.org/10.1016/j.biocon.2016.04.031

Tejeda I, Medrano F (2018) El potencial de la ciencia ciudadana para el estúdio de las aves urbanas en Chile. Rev Diseño Urbano Paisaje 33:59–66

Tryjanowski P, Sparks TH, Kuzniak S, Czechowski P, Jerzak L (2013) Bird migration advances more strongly in urban environments. PLoS One 8:e63482. https://doi.org/10.1371/journal.pone.0063482

Tulloch A, Szabo JK (2012) A behavioural ecology approach to understand volunteer surveying for citizen science datasets. Emu 112:313–325. https://doi.org/10.1071/MU12009

Tulloch AIT, Possingham HP, Joseph LN, Szabo JK, Martin TG (2013) Realising the full potential of citizen science monitoring programs. Biol Conserv 165:128–138. https://doi.org/10.1016/j.biocon.2013.05.025

Ubaid FK, Silveira LF, Medolago CAB, Costa TVV, Francisco MR, Barbosa KVC, Silva-Júnior AD (2018) Taxonomy, natural history, and conservation of the Great-billed Seed-finch Sporophila maximiliani (Cabanis, 1851) (Thraupidae, Sporophilinae). Zootaxa 4442:551–571. https://doi.org/10.11646/zootaxa.4442.4.4

Vitorio JG, Frenedozo RC, Barbosa KVC (2019) Habitat use and home range of a migratory bird, Myiodynastes maculatus solitarius, in an urban park in the Atlantic Forest, Brazil. Rev Bras Ornitol 27:115–121. https://doi.org/10.1007/BF03544455

WikiAves (2019) Birdwatching and citizen science. Available in https://www.wikiaves.com.br/ Accessed in December of 2019
Acknowledgments
We would like to thank our collaborators at the Laboratório de Ecologia Espacial e Conservação (LEEC), SAVE Brasil, and the Cornell Lab of Ornithology. KVCB is grateful to Thiago VV Costa for help with the revision of the manuscript and Judith Szabo for the kindly revision and English improvement.
Funding
KVCB received financial support from Coordenação de Aperfeiçoamento de Pessoal de Nível Superior - Brasil (CAPES) - Finance Code 001. AEJ received a fellowship from the Prepared for Environmental Change Grand Challenges Initiative at Indiana University. MCR received financial support from FAPESP (processes #2013/50421-2; #2020/01779-5), CNPq (processes # 312045/2013-1; #312292/2016-3; #442147/2020-1), and PROCAD/CAPES (project # 88881.068425/2014-01).
Additional information
Publisher's note
Springer Nature remains neutral with regard to jurisdictional claims in published maps and institutional affiliations.
Communicated by Gustavo Cabanne
About this article
Cite this article
de Camargo Barbosa, K.V., Develey, P.F., Ribeiro, M.C. et al. The contribution of citizen science to research on migratory and urban birds in Brazil. Ornithol. Res. 29, 1–11 (2021). https://doi.org/10.1007/s43388-020-00031-0
Received:

Revised:

Accepted:

Published:

Issue Date:
Keywords
Birdwatching

Empidonomus
Myiodynastes
Pyrocephalus

Tyrannidae

Tyrannus