Abstract
Here, I present the first quantitative data on parental behavior in a nest of the Southern Beardless Tyrannulet Camptostoma obsoletum (Temminck, 1824) in southeast Brazil. The nest was in a bromeliad (Tillandsia tricholepis) 1.93 m above ground. Eggs were laid in alternate days, measured 1.71 × 1.18 mm and 1.60 × 1.16 mm, and weighed 1.2 and 1.0 g, respectively. Eggshell had a whitish background and small light brown blotches near the blunt pole. Mean nest attentiveness was 87.5% and decreased across the incubation period. The eggs hatched with 16 and 17 days of incubation. In the nestling period, parents made 8.89 ± 3.52 provisioning trips/h (range: 5–17), which lasted on average 7.5 ± 5.69 s (range: 1–30 s). Provisioning trip rate increased with nestling age, whereas visit duration decreased. Nestlings fledged asynchronously, 16 days after hatching, relatively well feathered. Although based on a single nest, the data suggest that C. obsoletum presents an uncommonly high nest attentiveness compared to closely related species and Neotropical birds in general.
Access options
Buy single article
Instant access to the full article PDF.
US$ 39.95
Tax calculation will be finalised during checkout.
Subscribe to journal
Immediate online access to all issues from 2019. Subscription will auto renew annually.
US$ 79
Tax calculation will be finalised during checkout.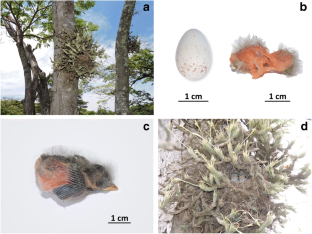 Data availability
Data supporting this study was available upon request from author.
References
Auer SK, Bassar RD, Fontaine JJ, Martin TE (2007) Breeding biology of passerines in a subtropical montane forest in northwestern Argentina. Condor 109:321–333. https://doi.org/10.1650/0010-5422(2007)109[321:BBOPIA]2.0.CO;2

Batisteli AF, de Souza LB, Santieff IZ, Gomes G, Soares TP, Pini M, Guillermo-Ferreira R, Pizo MA, Sarmento H (2021) Buildings promote higher incubation temperatures and reduce nest attentiveness in a Neotropical thrush. Ibis 163:79–89. https://doi.org/10.1111/ibi.12863

Boulton RL, Richard Y, Armstrong DP (2010) The effect of male incubation feeding, food and temperature on the incubation behaviour of New Zealand Robins. Ethology 116:490–497. https://doi.org/10.1111/j.1439-0310.2010.01759.x

Chalfoun AD, Martin TE (2007) Latitudinal variation in avian incubation attentiveness and a test of the food limitation hypothesis. Anim Behav 73:579–585. https://doi.org/10.1016/j.anbehav.2006.09.010

Chiarani E, Fontana CS (2015) Breeding biology of the Lesser Grass-finch (Emberizoides ypiranganus) in southern Brazilian upland grasslands. Wilson J Ornithol 127:441–456. https://doi.org/10.1676/14-137.1

Conway CJ, Martin TE (2000) Effects of ambient temperature on avian incubation behavior. Behav Ecol 11:178–188. https://doi.org/10.1093/beheco/11.2.178

Cooper CB, Voss MA (2013) Avian incubation patterns reflect temporal changes in developing clutches. PLoS One 8:e65521. https://doi.org/10.1371/journal.pone.0065521

Di Giácomo AG (2005) Aves de la Reserva el Bagual. Temas Nat Conserv 4:201–465

Fitzpatrick J (2020) Tyrant-flycatchers (Tyrannidae). In: del Hoyo J, Elliott A, Sargatal J, Christie DA, de Juana E (eds) Handbook of the birds of the world alive. Lynx Editions, Barcelona. https://www.hbw.com/node/52297. Accessed 27 February 2020

Fontaine JJ, Martin TE (2006) Parent birds assess nest predation risk and adjust their reproductive strategies. Ecol Lett 9:428–434. https://doi.org/10.1111/j.1461-0248.2006.00892.x

García-Navas V, Ferrer ES, Sanz JJ (2012) Prey selectivity and parental feeding rates of Blue Tits Cyanistes caeruleus in relation to nestling age. Bird Study 59:236–242. https://doi.org/10.1080/00063657.2012.662939

Goulding W, Martin TE (2010) Breeding biology of the Golden-faced Tyrannulet (Zimmerius chrysops) in Venezuela. Wilson J Ornithol 122:689–698. https://doi.org/10.1676/09-196.1

Grundel R (1987) Determinants of nestling feeding rates and parental investment in the Mountain Chickadee. Condor 89:319–328. https://doi.org/10.2307/1368484

Haverschmidt F (1954) The nesting of the Ridgway Tyrannulet in Surinam. Condor 56:139–141. https://doi.org/10.2307/1364780

Hoffmann D, Krügel MM (2007) Biologia reprodutiva de Elaenia spectabilis Pelzeln, 1868 (Aves, Tyrannidae) no município de Santa Maria, Rio Grande do Sul, Brasil. Rev Bras Ornitol 15:453–456

Hoffmann D, Gomes HB, Guerra TT (2009) Biologia reprodutiva de Elaenia cristata Pelzeln, 1868 (Passeriformes: Tyrannidae) em duas áreas de campos rupestres de Minas Gerais, Brasil. Rev Bras Ornitol 17:102–106

Marini MÂ, Sousa NOM, Borges FJA, Silveira MB (2009) Biologia reprodutiva de Elaenia cristata (Aves: Tyrannidae) em cerrado do Brasil central. Neotrop Biol Conserv 4:3–12

Marini MÂ, Borges FJ, Lopes LE, Sousa NO, Gressler DT, Santos LR et al (2012) Breeding biology of birds in the Cerrado of central Brazil. Ornitol Neotrop 23:385–405

Martin TE, Oteyza JC, Boyce AJ, Lloyd P, Ton R (2015) Adult mortality probability and nest predation rates explain parental effort in warming eggs with consequences for embryonic development time. Am Nat 186:223–236. https://doi.org/10.1086/681986

Matysiokova B, Remeš V (2010) Incubation feeding and nest attentiveness in a socially monogamous songbird: role of feather colouration, territory quality and ambient environment. Ethology 116:596–607. https://doi.org/10.1111/j.1439-0310.2010.01776.x

Medeiros RD, Marini MÂ (2007) Biologia reprodutiva de Elaenia chiriquensis (Lawrence)(Aves, Tyrannidae) em Cerrado do Brasil central. Rev Bras Zool 24:12–20. https://doi.org/10.1590/S0101-81752007000100002

Ruggera RA, Martin TE (2010) Breeding biology and natural history of the Slate-throated Whitestart in Venezuela. Wilson J Ornithol 122:447–454. https://doi.org/10.1676/09-151.1

Sick H (1997) Ornitologia brasileira, 3rd edn. Editora Nova Fronteira, Rio de Janeiro

Skutch AF (1960) Life histories of Central American birds. Volume 2: families Vireonidae, Sylviidae, Turdidae, Troglodytidae, Paridae, Corvidae, Hirundinidae and Tyrannidae. Cooper Ornithological Society, Berkeley

Snethlage E (1935) Beiträge zur Fortpflanzungsbiologie brasilianischer Vögel. J Ornithol 83:532–562. https://doi.org/10.1007/BF01905800

Sousa NO, Marini MÂ (2013) A negative trade-off between current reproductive effort and reproductive success: an experiment with clutch-size in a tropical bird. Emu 113:8–18. https://doi.org/10.1071/MU11102

Stotz DF, Fitzpatrick JW, Parker TA III, Moskovits DK (1996) Neotropical birds: ecology and conservation. University of Chicago Press, Chicago

Werner SM, Hejl SJ, Brush T (2015) Nesting ecology of the Northern Beardless Tyrannulet (Camptostoma imberbe) in the lower Rio Grande valley of Texas, USA. Ornitol Neotrop 26:89–101

Yzurieta D, Nores M (1983) Nota sobre las características del nido del Piojito Silbador (Camptostoma obsoletum). Hornero 12:132–133
Acknowledgments
I thank Coordenação de Aperfeiçoamento de Pessoal de Nível Superior (CAPES) for a doctoral fellowship and M. A. Pizo and H. Sarmento for their valuable suggestions on the first draft.
Ethics declarations
Conflict of interest
The author declares that there is no conflict of interest.
Additional information
Publisher's note
Springer Nature remains neutral with regard to jurisdictional claims in published maps and institutional affiliations.
Communicated by Eduardo Santos
Supplementary information
About this article
Cite this article
Batisteli, A.F. Parental behavior at a nest of the Southern Beardless Tyrannulet (Camptostoma obsoletum). Ornithol. Res. 28, 216–220 (2020). https://doi.org/10.1007/s43388-020-00028-9
Received:

Revised:

Accepted:

Published:

Issue Date:
Keywords
Breeding biology

Elaeniinae

Incubation

Nest attentiveness

Nesting behavior

Tyrannidae