Abstract
Hybridization is a relatively common phenomenon in birds, but it is probably underestimated due to our poor knowledge on the reproductive biology of several species. Here, we present the second case of intergeneric hybrid in the family Momotidae and the first case between Amazonian Motmot (Momotus momota) and Rufous Motmot (Baryphthengus martii). In addition to the field record documented herein, we searched for possible hybrids among 57 study skins and 175 photographs and videos publicly available in online databases. The overall plumage pattern of the hybrid individual recorded in the field was similar to that of the Rufous Motmot, except for the following features, which appear to have been inherited from the Amazonian Motmot: two narrow blue lines in the facial mask; distinct blue feathers on the pectoral spot; and central rectrices with terminal racquets. Among the database photos examined, we found a second possible hybrid, with the same diagnostic features present in the hybrid recorded in the field. Similarities in behavior and vocalizations, in addition to the scarcity of mates in the limits of the distributions of Amazonian and Rufous Motmots, may explain the occurrence of hybrids between them.
Access options
Buy single article
Instant access to the full article PDF.
USD 39.95
Price excludes VAT (USA)
Tax calculation will be finalised during checkout.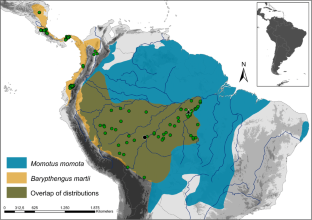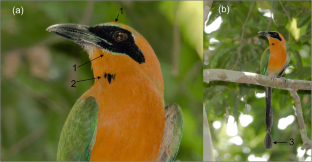 References
Avise JC (2004) Molecular markers, natural history, and evolution. Sinauer Associates, Inc. https://doi.org/10.1007/978-1-4615-2381-9

Barrera-Guzmán A, Aleixo A, Shawkey M, Weir JT (2017) Hybrid speciation leads to novel male secondary sexual ornamentation of an Amazonian bird. Proc Natl Acad Sci U S A 115(115):E218–EE22. https://doi.org/10.1073/pnas.1717319115

Marcondes RS, Silveira LF, Oliveira DFN, Cardoso G (2013) Occurrence of hybrids between Momotus momota and Baryphthengus ruficapillus (Momotidae) in Central Brazil. Wilson J Ornithol 125:674–679. https://doi.org/10.1676/13-024.1

McCarthy EM (2006) Handbook of avian hybrids of the world. Oxford University Press

Monroe BL, Sibley CG (1993) A world checklist of birds. Yale University Press

Ottenburghs J, Ydenberg RC, Hooft PV, Wieren DEV, Prins HHT (2015) The avian hybrids project : gathering the scientific literature on avian hybridization. Ibis 157:892–894. https://doi.org/10.1111/ibi.12285

Sick H (1997) Ornitologia brasileira, 2nd edn. Editora Nova Fronteira, Rio de Janero

Silva GC (2015) [WA1830400, Baryphthengus martii (Spix, 1824)] http://www.wikiaves.com/1830400 (access on 07 February 2019)

Skutch AF (1983) Birds of tropical America. University of Texas Press

Snow DW (2001) Family Momotidae (motmots). In: del Hoyo J, Elliott A, Sargatal J (eds) Handbook of birds of the world, vol 6. Barcelona, Lynx Edicions, pp 264–285

Snow DW, Kirwan GM (2019a) Amazonian Motmot (Momotus momota). In: del Hoyo J, Elliott A, Sargatal J, Christie DA, de Juana E (eds). Handbook of the birds of the world alive. Linx Edicions. https://www.hbw.com/node/55826 (access on 27 October 2019)

Snow DW, Kirwan GM (2019b) Rufous Motmot (Barypthengus martii). In: del Hoyo J, Elliott A, Sargatal J, Christie DA, de Juana E (eds). Handbook of the birds of the world alive. Linx Edicions. https://www.hbw.com/node/55823 (access on 27 October 2019)

Stiles FG, Skutch AR (1989) A guide to the birds of Costa Rica. Cornell University Press

Weir JT, Faccio MS, Pulido-Santacruz P, Barrera-Guzmán AO, Aleixo A (2015) Hybridization in headwater regions, and the role of rivers as drivers of speciation in Amazonian birds. Evolution 69:1823–1834. https://doi.org/10.1111/evo.12696
Acknowledgments
We are thankful to Ester Ramirez and Marcos Holanda for fully supporting the birding expedition to the Amazonia National Park; Gilberto Nascimento conducted us in the Park and ICMBio (Instituto Chico Mendes de Conservação da Biodiversidade) granted the permit necessary to birding activities in the area. We thank Fátima Lima and Luís Fábio Silveira for allowing access and providing information on specimens deposited at Museu Paraense Emílio Goeldi and Museu de Zoologia da Universidade de São Paulo, respectively. We are thankful also to the Editor and an anonymous reviewer that provided valuable improvements in the manuscript. PVC and GRG are supported by Coordenação de Aperfeiçoamento de Pessoal de Nível Superior – Brasil (CAPES) Doctoral's fellowships (no. 1537057 and no. 1537056, respectively). AA is supported by a CNPq research productivity fellowship (no. 306843/2016-1).
Ethics declarations
Conflict of Interest
The authors declare that they have no conflict of interest.
Ethics Approval
Not applicable.
Additional information
Communicated by: Gustavo S. Cabanne
Publisher's Note
Springer Nature remains neutral with regard to jurisdictional claims in published maps and institutional affiliations.
Electronic Supplementary Material
About this article
Cite this article
Cerqueira, P.V., Gonçalves, G.R. & Aleixo, A. Two intergeneric hybrids between motmots from the Amazon forest: Rufous Motmot (Baryphthengus martii) × Amazonian Motmot (Momotus momota). Ornithol. Res. 28, 57–60 (2020). https://doi.org/10.1007/s43388-020-00002-5
Published:

Issue Date:

DOI: https://doi.org/10.1007/s43388-020-00002-5
Keywords
Citizen science

Hybridization

Introgression

Momotidae

Neotropic

Scarcity of mates