Abstract
Integration of core and petrographic thin sections within ca. 84 ft. interval of the Eperon-08 well, onshore Niger Delta, enabled interpretations of depositional environment, age and reservoir quality of the H-4000 reservoir. Sedimentological analysis revealed five lithofacies within the cored section, including cross-bedded fine- to medium-grained sandstone, parallel laminated sandstone, crudely cross-bedded coarse-grained to gravely sandstone, wave-rippled sandy heteroliths and parallel laminated mudstone. Three genetic units were derived by grouping co-occurring lithofacies: coastal plain, fluvial channel, and tidal channel. Occasional Skolithos and Ophiomorpha show mostly rare to moderate bioturbation intensity. Biostratigraphic analysis of 30 core plugs showed the occurrence of sparse planktonic and rich benthic foraminifera such as Catapsydrax dissimilis, Globigerinoides primordius and Hanzawaia strattoni, Nonionella auris and Pseudononion japonicum, respectively. The dominant calcareous nannofossils species were Helicosphaera ampliaperta and Cyclicargolithus floridanus, while the palynoflora is quantitatively dominated by rainforest and brackish swamp species that include Psilatricolporites crassus and Retitricolporites irregularis. An Early Miocene age was inferred using the maker species. Petrographic analysis of 15 thin-section slides showed the samples are poorly consolidated, very fine- to coarse-grained subarkose sandstones, with moderate to good sorting of angular to subrounded grains. Visual estimate of intergranular porosity ranged from ca. 12%–16%, with evident dissolution-induced secondary porosity increasing total porosity to ca. 20%–26%, which generally decreased with increasing matrix content. The preponderance of point and planar grain-to-grain contact types and widespread secondary porosity suggest an eogenetic diagenesis stage for the interval. These results have important implications for reservoir quality and property modelling.
Access options
Buy single article
Instant access to the full article PDF.
US$ 39.95
Tax calculation will be finalised during checkout.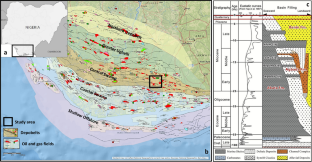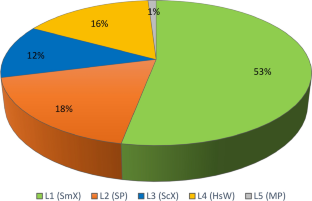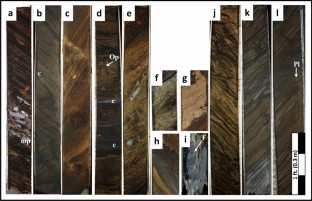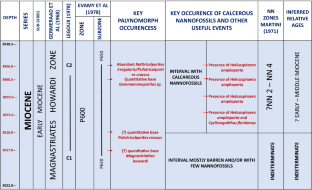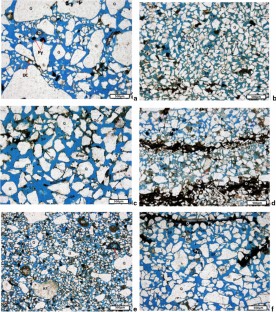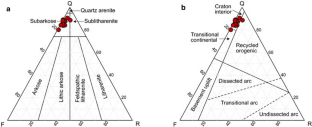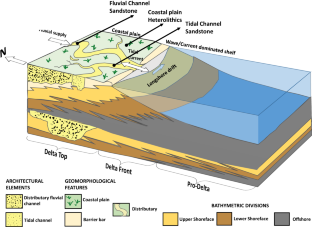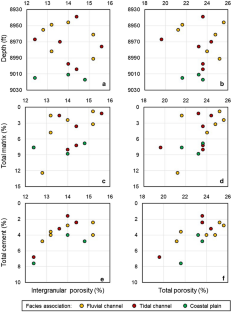 Data availability
The authors do not have permission to share the data used.
References
Adegoke, O. S. (2000). High resolution biostratigraphy, sequence stratigraphy and 3-D modelling: indispensable tools for E & P activities in the new millennium. NAPE Bullin, 16(1), 46–65.

Adegoke, O. S., Omatsola, M. E., & Salami, M. B. (1976). Benthonic foraminiferal biofacies off the Niger Delta. 1st Internship On Benthic Foraminifera of Continental Margin, Part A. Ecology and Biology Maritime Sediments. Spec. Publications, 1, 279–292.

Adegoke, O. S., Oyebamiji, A., Edet, J. J., Osterloff, P., & Ulu, O. K. (2016). Cenozoic foraminifera and calcareous nannofossil biostratigraphy of the Niger delta. Elsevier.

Adeniran, V. B. (1998). Stratigraphic distribution of Globigerinoides ruber in the upper middle Miocene to early Pliocene of western Niger Delta Nigeria. Micropaleontology, 1, 173–186.

Allen, J. R. L. (1965). Late Quaternary Niger Delta, and adjacent areas, sedimentary environments and lithofacies. American Association of Petroleum Geologists Bulletin, 49, 547–600.

Allen, J. R. L. (1970). Sediments of the modern Niger delta: A summary and review. In J. P. Morgan (Ed.), Deltaic sedimentation, modern and ancient (pp. 138–151). SEPM Special Publication.

Anyiam, O. A., Andrew, P. J., & Okwara, I. C. (2017). Assessment of the heterogeneity and petrophysical evaluation of reservoirs in the "Akbar Field", Niger Delta, Nigeria. Journal of Petroleum Exploration and Production Technology, 7(4), 1035–1050.

Anyiam, O. A., Eradiri, J. N., Mode, A. W., Okeugo, C. G., Okwara, I. C., & Ibemesi, P. O. (2019). Sequence stratigraphic analysis and reservoir quality assessment of an onshore field, Central Swamp Depobelt, Niger Delta Basin Nigeria. Arabian Journal of Geosciences, 12(24), 791.

Armentrout, J. M. (1995). High resolution sequence biostratigraphy: examples from the Gulf of Mexico Plio-Pleistocene. In J. A. Howell & J. F. Aitken (Eds.), High resolution sequence stratigraphy: innovations and applications. Geological Society Special Publication.

Bayowa, O. G., Adagunodo, T. A., Oshonaiye, A. O., & Boluwade, B. S. (2021). Mapping of thin sandstone reservoirs in bisol field, Niger Delta, Nigeria using spectral decomposition technique. Geodesy and Geodynamics, 12(1), 54–64.

Berggren, W. A., Kent, D. V., Swisher, C. C. & Aubry, M. (1998). A revised Cenozoic Geochronology and Chronostratigraphy. 128–212.

Bhattacharya, J.P. & Walker, R.G. (1992) Deltas. In: R.G. Walker, & N.P. James (eds) Facies models: response to sea level change. Geological Association of Canada, St Johns, Newfoundland; 157–178

Boggs Jr, S. (2014). Principles of sedimentology and stratigraphy. Pearson Education.

Boyd, R., Darlrymple, R., & Zaitlin, B. A. (1992). Classification of clastic coastal depositional environments. Sedimentary Geology, 80(3–4), 139–150.

Buatois, L. A., & Mangano, M. G. (2011). Ichnology: organism-substrate interactions in space and time. Cambridge University Press.

Bumby, A. J., & Guiraud, R. (2005). The geodynamic setting of the Phanerozoic basins of Africa. Journal of African Earth Sciences, 43(1–3), 1–12.

Corredor, F., Shaw, J. H., & Bilotti, F. (2005). Structural styles in the deep-water fold and thrust belts of the Niger Delta. AAPG Bulletin, 89, 753e780.

Dalrymple, R. W., & Choi, K. (2007). Morphologic and facies trends through the fluvial–marine transition in tide-dominated depositional systems: A schematic framework for environmental and sequence-stratigraphic interpretation. Earth-Science Reviews, 81(3–4), 135–174.

Dickinson, W. R., Beard, L. S., Brakenridge, G. R., Erjavec, J. L., Ferguson, R. C., Inman, K. F., Knepp, R. A., Lindberg, F. A., & Ryberg, P. T. (1983). Provenance of North American Phanerozoic sandstones in relation to tectonic setting. Geological Society of America Bulletin, 94(2), 222–235.

Dim, C. I. P., Onuoha, K. M., Mode, A. W., Okwara, I. C., & Okeugo, C. G. (2018). Characterizing the middle-upper miocene reservoir intervals of a producing field in the Niger Delta Basin: an application of facies. Sequence stratigraphic and petrophysical Analyses. Arabian Journal for Science and Engineering. https://doi.org/10.1007/s13369-018-3502-x

Doust, H. & Omatsola, E. (1990). Niger Delta. In: J.D. Edwards, P.A. Santogrossi (eds) Divergent/passive margin basins: American Association of Petroleum Geologists Bulletin Memoir 48:239–248

Ejedawe, J. E. (1981). Patterns of incidence of oil reserves in Niger Delta Basin. American Association of Petroleum Geologists Bulletin, 65, 1574–1585.

Ekwenye, O. C., Nichols, G., & Mode, A. W. (2015). Sedimentary petrology and provenance interpretation of the sandstone lithofacies of the Paleogene strata, south-eastern Nigeria. Journal of African Earth Sciences, 109, 239–262.

Evamy, D. D., Haremboure, J., Kammerling, P., Knaap, W. A., Molly, F. A., & Rowlands, P. H. (1978). Hydrocarbon habitat of the Tertiary Niger Delta. American Associations Petrol Geology Bulletin, 62(1), 1–39.

Folk, R. L. (1980). Petrology of sedimentary rocks. Hemphill Publishing Company.

Germeraad, J. H., Hopping, C. A., & Muller, J. (1968). Palynology of Tertiary sediments from tropical areas. Review of Palaeobotany and Palynology, 6, 189–348.

Gradstein, F. M., Ogg, J. G., Smith, A. G., et al. (2004). Cenozoic time scale (Mesozoic and Cenozoic sequence stratigraphy of European Basins, SEPM Special Publication 60. Cambridge University.

Hardenbol, J., Thierry, J., Farley, M. B., de Gracuabsjt, J. T. P., & Vail, P. R. (1998). Mesozoic and cenozoic sequence chronostratigraphic framework of European Basins. In P. C. De Graciansky, J. Hardenbol, Th. Jacquin, & P. R. Vail (Eds.), Mesozoic and cenozoic sequence stratigraphy of European Basins. SEPM Special Publication.

Howard, J. D., & Reineck, H. E. (1981). Depositional facies of high-energy beach-to-offshore sequence: comparison with low-energy sequence. AAPG Bulletin, 65(5), 807–830.

Howell, J. A., Skorstad, A., MacDonald, A., Fordham, A., Flint, S., Fjellvoll, B., & Manzocchi, T. (2008). Sedimentological parameterization of shallow-marine reservoirs. Petroleum Geoscience, 14(1), 17–34.

Kassab, MA, Teama MA, Cheadle BA, El-Din ES, Mohamed IF, Mesbah MA. (2015). Reservoir characterization of the Lower Abu Madi Formation using core analysis data: El-Wastani gas field Egypt. Journal of African Earth Sciences, 110, 116–130.

Kulke, H. (1995). Regional petroleum geology of the world Part II: Africa, Africa, America Australia and Antarctica (pp. 143–172). Gebruder Borntraeger.

Lai, J., & Wang, G. (2018). Deep burial diagenesis and reservoir quality evolution of high-temperature. High-Pressure Sandstones.

Legoux, O. (1978). Quelques Especes de Pollen caracteristiques du Neogene du Nigeria. Bull. Cent. Rech. Explor. - Prod. Elf-Aquitane, 2(2): 265–317.

Leila, M., Kora, M. A., Ahmed, M. A., & Ghanem, A. (2016). Sedimentology and reservoir characterization of the Upper Miocene Qawasim Formation, El-Tamad Oil Field onshore Nile Delta Egypt. Arabian Journal of Geosciences, 9(1), 17.

MacEachern, J. A., Gingras, M. K., Bann, K. L. and Pemberton, S. G., (2007). The ichnofacies paradigm: high-resolution palaeoenvironmental interpretation of the rock record. In: MacEachern, J.A., Bann, K.L., Gingras, M.K., Pemberton, S.G. (Eds.), Applied Ichnology. Society of Economic Paleontologists and Minerialogists Short Course Notes 52, pp. 27e64.

MacEachern, J. A., & Pemberton, S. G. (1994). Ichnological aspects of incised valley fill systems from the Viking Formation of the Western Canada Sedimentary Basin, Alberta. Canada. Special Publication-Society Econ. Paleontologists Mineralogists, 51, 129e129.

Madhavaraju, J., Lee, Y. I., Armstrong-Altrin, J. S., & Hussain, S. M. (2006). Microtextures on detrital quartz grains of upper Maastrichtian-Danian rocks of the Cauvery Basin, Southeastern India: Implications for provenance and depositional environments. Geosciences Journal, 10(1), 23–34.

Marchand, A. M., Apps, G., Li, W., & Rotzien, J. R. (2015). Depositional processes and impact on reservoir quality in deepwater Paleogene reservoirs US Gulf of Mexico. AAPG Bulletin, 99(9), 1635–1648.

Martini, E. (1971). Standard tertiary and quaternary calcareous nannoplankton zonation. In: Farinacci, A. (ed.) Proceedings II Planktic Conference, Rome, 2, 739–785.

Martinius, A. W., & Van den Berg, J. H. (2011). Atlas of sedimentary structures in estuarine and tidally-influenced river deposits of the Rhine–Meuse–Scheldt system (p. 298). EAGE.

Miall, A. D. (2000). Facies analysis. In principles of sedimentary basin analysis (pp. 141–248). Springer.

Mitchum, R. M. Sangree, J. B., Vail, P. R. & Wornardt, W. W. (1990). Sequence Stratigraphy in Late Cenozoic Expanded Sections, Gulf of Mexico. Gulf Coast SEPM, Eleventh Annual Research Conference, 237–256.

Mode, A. W., Anyiam, O. A., & Omuije, J. O. (2014). Analysis of sedimentary facies and paleo-depositional environments of the DC70X reservoir in Mbakan field of the central swamp Niger Delta. Arabian Journal of Geosciences. https://doi.org/10.1007/s12517-014-1690-6

Mode, A. W., Anyiam, O. A., & John, S. I. (2017). Depositional environment and reservoir quality assessment of the '"Bruks Field",' Niger Delta. Journal of Petroleum Exploration and Production Technology. https://doi.org/10.1007/s13202-017-0346-y

Momta, P. S., Omoboh, J. O., & Odigi, M. I. (2015). Sedimentology and depositional environment of D2 sand in part of Greater Ughelli Depobelt, Onshore, Niger Delta Nigeria. American Journal of Engineering Application Science, 8(4), 556–566.

Murray, J. W. (2001). The niche of benthic foraminifera, critical thresholds and proxies. Marine Micropaleontology, 41(1–2), 1–7.

Nichols, G. (2009). Sedimentology and stratigraphy. John Wiley & Sons.

Nuţu-Dragomir, M. L. (2016). Diagenetic history of Lower Miocene sandstones within the Subcarpathian nappe, East Carpathians (Romania). In SGEM 2016 Conference Proceedings (pp. 141–152).

Onayemi, J., & Oladele, S. (2014). Analysis of facies and depositional systems of 'Ray' Field, onshore Niger Delta Basin, Nigeria. In SEG Technical Program Expanded Abstracts 2014 (pp. 2724–2728). Society of Exploration Geophysicists.

Ozumba, B. M. (1999). Middle to late miocene sequence stratigraphy of the Western Niger Delta. NAPE Bulletin, 14(2), 176–192.

Quin, J. G. (2011). Is most hummocky cross-stratification formed by large-scale ripples? Sedimentology, 58(6), 1414–1433.

Reijers, T. J. A. (2011). Stratigraphy and sedimentology of the Niger Delta. Geologos, 17(3), 133–162.

Reijers T. J. A. (1996). Selected chapters on geology-sedimentary geology and sequence stratigraphy in Nigeria. Shell Petroleum Development Company of Nigeria Corporate Reprographic services, Warri. 87–90

Rossetti, D. F., & Santos Júnior, A. E. (2004). Facies architecture in a tectonically influenced estuarine incised valley fill of Miocene age, northern Brazil. Journal of South American Earth Sciences, 17(4), 267e284.

Shepherd, M. (2009). Deltaic reservoirs, American Association of Petroleum Geologists Memoir 91. In M. Shepherd (ed), Oil field production geology pp. 279–288.

Siddiqui, N. A., Rahman, A. H. A., Sum, C. W., Yusoff, W. I. W., & Ismail, M. (2017). Shallow-marine sandstone reservoirs, depositional environments, stratigraphic characteristics and facies model: a review. Journal of Applied Sciences, 17(5), 212–237.

Southard, J. B. (1991). Experimental determination of bed-form stability. Annual Review of Earth and Planetary Sciences, 19(1), 423–455.

Stacher, P. (1994). Niger delta hydrocarbon habitat Niger. Association of Petroleum Explorationists Bull, 9(10), 67–75.

Stacher, P. (1995). Present understanding of the Niger Delta hydrocarbon habitat. In M. N. O. G. Postma (Ed.), Geology of deltas (pp. 257–267). AA Balkema Rotterdam.

Weber, K. J.; Daukoru, E. M. (1975). Petroleum geology of the Niger Delta. In: Proceedings of the 9th world petroleum congress, geology. Applied Science Publishers Ltd, London 2, 210–221

Worden, R. H., & Burley, S. D. (2003). Sandstone diagenesis: the evolution of sand to stone. Sandstone Diagenesis: Recent and Ancient, 4, 3–44.
Acknowledgements
We would like to acknowledge the management of the Shell Petroleum Development Company (SPDC) for the provision of the dataset used in this study and the Petroleum Technology Development Fund (PTDF) for providing support. The authors wish to appreciate the Editor-in-chief, Dr Maria Virginia Alves Martins and the two anonymous reviewers for their inputs that greatly improved the paper.
Funding
The authors did not have any funding for this research.
Ethics declarations
Conflict of interest
There are no conflicts of interests.
Additional information
Publisher's Note
Springer Nature remains neutral with regard to jurisdictional claims in published maps and institutional affiliations.
Communicated by S. H. de Mello Sousa
About this article
Cite this article
Eradiri, J.N., Odafen, E.E., Okwara, I.C. et al. Sedimentary facies and petrographic analyses of Miocene nearshore deposits, Central Swamp Depobelt, onshore Niger Delta Basin: implications for reservoir quality. J. Sediment. Environ. (2021). https://doi.org/10.1007/s43217-021-00076-1
Received:

Revised:

Accepted:

Published:
Keywords
Facies analysis

Biostratigraphy

Miocene

Petrography

Reservoir quality