Abstract
This study aims to evaluate the quality of solid waste compounds in the Khenifra region (Morocco) and use them as an organic additive. Composting tests were undertaken at the household waste disposal and recovery site in the Khenifra city. When they enter the site, the waste undergoes a physical treatment which consists of manual sorting to remove the coarse elements, by screening through a sieve with an 80 mm mesh to reduce the waste heterogeneity. The fermentable organic matter resulting from these treatments is put back into windrows. A turnaround every two weeks to gradually homogenize waste and watering helps maintain high humidity. The evaluation criteria on which they were based were: maturity, particle size, organic matter, heavy metals and pathogenic microorganisms. The results revealed that the incorporation of a 25% compost dose into the soil resulted in a 100% germination rate for both crops (corn and sunflower), which shows that the obtained composts were mature and well decomposed. The C/N ratios which varied in the range of 13–15% reinforce the good result. The pH is slightly basic and varies between 7.9 and 8.1. Fine particles represented 61% while particles > 2 mm in size have a proportion of about 40% confirming this result. The average organic matter content in composts is approximately 19–20%, carbon 12%, nitrogen 0.77%, perfectly complying with international standards. The results for heavy metals also show relatively high values but remain within the standards with a predominance of Zn (161 mg.kg-1) and Cu (76 mg.kg-1). Microbiological analyses revealed the presence of fecal coliform bacteria and fungi of the genus Aspergillus. In general, the composts produced by solid waste in developing countries are of good quality and can be used as organic fertilizer for the soil.
Access options
Buy single article
Instant access to the full article PDF.
USD 39.95
Price includes VAT (USA)
Tax calculation will be finalised during checkout.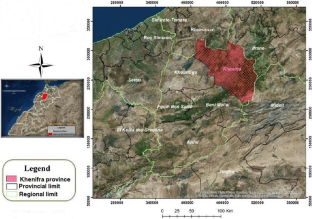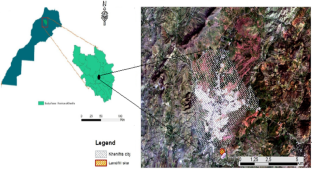 References
AFNOR (1987) Soil quality and methods of analysis. 1st edition, 133 p.

Ben Ammar, S. (2006). Les enjeux de la caractérisation des déchets ménagers pour le choix des traitements adaptés dans les pays en développement: résultats de la caractérisation dans le grand Tunis: mise au point d'un méthode adaptée. Vandoeuvre-les-Nancy, INPL.

Ben ayed, L., Hassen, A., Jedidi, N., Saidi, N. (2005). Caractérisation des paramètres physico-chimiques et microbiologiques au cours d'un cycle de compostage d'ordures ménagères. Revue francophone décol Industrielle - n° 40 - 4e trimestre 2005.

Bernal, M. P., Paredes, C., Sanchez-Monedero, M. A., & Cegarra, J. (1998). Maturity and stability parameters of compost prepared with a wide range of organic waste. Bioresource Technology, 63, 91–99

Boechat, C. L., & Santos, P. S. (2012). Chemical characterization to evaluate the agricultural potential use of organic wastes generated by industrial and urban activity. African J Agric Res, 7(27), 3939–3944

Charnay, F. (2005). Compostage des déchets dans les Pays en Développement: élaboration d'une démarche méthodologique pour une production pérenne de compost. (p. 448p). Université de Limoge

Compaoré, E., & Nanéma, L. S. (2010). Compostage et qualité du compost des déchets urbains solides de la ville de Bobo- Dioulasso Burkina Faso. Tropicultura, 28(4), 232–237

Compaore, E., Nanema, S. L., & Sedogo, M. P. (2010). Évaluation de la qualite des composts des dechets urbains solides de la ville de bobo-dioulasso, burkina faso pour une utilisation efficiente en agriculture. Journal of Applied Biosciences, 33, 2076–2083

Elhamdouni, D., Arioua, A., Aba, B., & Elhmaidi, A. (2017). Geomatics tools and AHP method use for a suitable communal landfill site: Case study of Khenifra region (Morocco). Journal of Materials and Environmental Sciences, 8, 3612–3624

Elhamdouni, D., Arioua, A., Karaoui, I., & Aba, B. (2019). Household Solid Waste sustainable management in the Khenifra region-Morocco. Arabian Journal of Geosciences, 12(23), 744–752

Garcia, A. J., Esteban, M. B., Marquez, M. C., & Ramos, P. (2005). Biodegradable municipal solid waste: characterization and potential use as animal feedstuffs. Waste Management, 25, 780–787

Gariglio, N. F., Buyatti, M. A., Pilatti, R. A., Gonzalez Rossia, D. E., & Acosta, M. R. (2002). Use of a germination bioassay to test compost maturity of willow (Salix sp.) sawdust. New Zealand. Journal of Crop and Horticultural Science, 30, 135–139

Guene, O. (1995). Compostage artisanal intégré à la gestion des ordures ménagères, données de terrain et outils de diffusion. (p. 68). CREPA

Hachicha, R., Hassen, A., Jedidi, N., & Kallali, H. (1992). Optimal conditions for MSW composting. Biocycle J Waste Recyc, 33(6), 76–77

Iglesias-Jimenez, A., & Alvarez, C. E. (1993). Apparent availability of nitrogen in composted municipal refuse. Biology and Fertility of Soils, 16, 313–318

Jedidi, N., Van Cleemput, O., Mhiri, A., & Hachicha, R. (1991). Utilisation du carbone Marqué 14C pour l'Etude de la Mminéralisation de trois types de compost des ordures ménagères. Revue de l'INAT, 6, 63–79

Jones, K. C. (1991). Contaminant trends in soils and crops. Environmental Pollution, 69, 311–325

Khalil, A. (2005). Etude de la biodégradabilité et du compostage des déchets verts de la région méditerranéenne: proposition de paramètres de terrain pour le suivi de l'évolution de la matière organique thèse de doctorat. Université de Provence Aix-Marseille I

Khalil, A., Domeizel, M., & Prudent, P. (2008). Monitoring of green waste composting process based on redox potential. Bioresource Technology, 99(2008), 6037–6045

Mondini, C., & Insam, H. (2003). Community level physiological profiling as a tool to evaluate compost maturity: a kinetic approach. European Journal of Soil Biology, 39, 141–148

Ngnikam, E., & Tanawa, E. (2000). Les villes d'Afrique face à leurs déchets. Université de technologie de Belfort- Montbéliard, (UTBM)

RGPH (2014). Note sur les premiers résultats du Recensement Général de la Population et de l'Habitat, Khenifra

Rodier, J. (1978). L'analyse de l'Eau, Eaux Naturelles. (pp. 709–968). Eaux Résiduelles Eau de Mer. DUNOD

Said-Pullicino, D., Kaiser, K., Guggenberger, G., & Gigliotti, G. (2007). Changes in the chemical composition of water-extractable organic matter during composting: distribution between stable and labile organic matter pools. Chemosphere, 66, 2166–2176

Tahraoui Douma, N., Matejka, G., Chambon, S., & Touil, D. (2012). Composition of municipal solid waste (MSW) generated by the city of Chlef (Algeria). Energy Procedia, 18, 762–771

TemgouaNgnikam, E. (2014). Valorisation des ordures ménagères par compostage dans la ville de Dschang. Cameroun Tropicultura, 32(1), 28–36

Tiquia, S. M., Tam, N. F. Y., & Hodgkiss, I. J. (1997). Effects of turning frequency on composting of spent pigmanure sawdust litter. Bioresource Technology, 62, 37–42

Topanou, N. (2012). Management of solid waste in the city of Abomey-Calavi (Benin): characterization and testing of valuation by composting. University of Aix Marseille and the University of Abomey-Calavi

Waas, E. (1996). Valorisation des déchets organiques dans les quartiers populaires des villes africaines. (p. 143). SKAT centre de coopération suisse pour la technologie et le management

Yang, S., Danrui, S., Jan, A., Gong, Y., Jian, Z., & Jianjun, C. (2017). Effect of land use change on soil carbon storage over the last 40 years in the Shi Yang River Basin China. Springer

Yé, L. (2007). Caractérisation des déchets urbains solides utilisables en agriculture urbaine et périurbaine: cas de Bobo-Dioulasso, mémoire de DEA. (p. 48p). Université Polytechnique de Bobo- Dioulasso

Zaïri, M., Ferchichi, M., Ismaïl, A., Jenayeh, M., & Hammami, H. (2004). Rehabilitation of Yahoudia dumping site Tunisia. Waste Management, 24, 1023–1034
Acknowledgements
The authors are pleased to acknowledge the Khenifra province for providing the facilities for the research. The authors wish to thank the governor of Khenifra province and the president of the Atlas group. They also thank the staff of the company SEMGAT for their help and coordination.
Ethics declarations
Conflict of interest
On behalf of all authors, the corresponding author states that there is no conflict of interest.
Additional information
Publisher's Note
Springer Nature remains neutral with regard to jurisdictional claims in published maps and institutional affiliations.
Communicated by M. V. Alves Martins
About this article
Cite this article
Elhamdouni, D., Arioua, A., Karaoui, I. et al. Waste compost quality assessment for efficient use in agriculture: case of the developing countries. J. Sediment. Environ. 6, 395–401 (2021). https://doi.org/10.1007/s43217-021-00060-9
Received:

Revised:

Accepted:

Published:

Issue Date:
Keywords
Compost of Solid Waste

Compost Maturity

Solid Waste

Developing countries