Abstract
The term 'laterite' and the process 'laterization'—both have raised perpetual scientific debates. The present study reviews the relevant scientific pieces of literature associated with tropical red lateritic and ferralitic soils and tries to justify them with the observations in the Paschim Medinipur Lateritic Upland. This particular area is practically the natural laboratory for observing the laterization process. The area exhibits a distinctive geomorphologic, hydrological, and climatic characteristic over an evolutionary geological setting. The favorable tropical climate, intense weathering, groundwater movement with seasons, and neo-tectonic upliftment exerts complex influences on the pedo-geomorphological distinctiveness of this area. Presence of planation surfaces, typical scarp development along the surface margins and exposure of deep lateritic profiles by basal sapping, accelerated erosion of the margin, and formation of rills and gullies with waxing slope development are worthy of being synced with available scientific understandings. The study is based on extensive field observations, profile studies, and soil sample analysis from different geomorphic units. The study reveals that the role of tectono-climatic evolution has had a massive influence on characteristics and development of the present lateritic formations. Transportation and deposition of Neogene ferruginous sediments over basin shelf region as paradeltaic formation, alternating wet (June–October), and dry (November–May) monsoonal climate with adequate rainfall and iron segregation and relative accumulation along with neo-tectonic modification are the important considerations regarding ferrugination process in the area under study. The justifications of the observed attributes of this particular tropical lateritic landscape may be used as a reference work for future scientific studies and model building processes on the same in this area as well as the other parts of the world.
Access options
Buy single article
Instant access to the full article PDF.
US$ 39.95
Tax calculation will be finalised during checkout.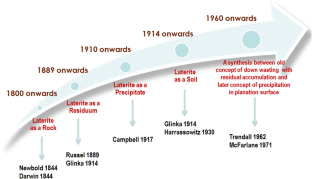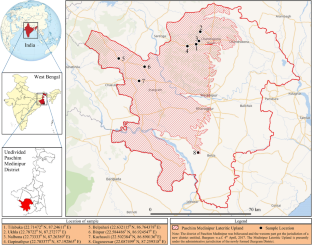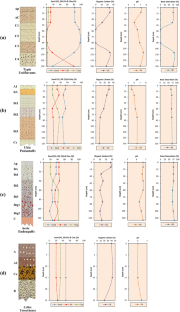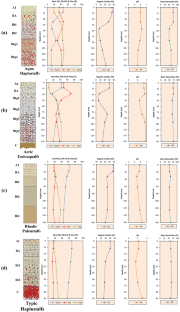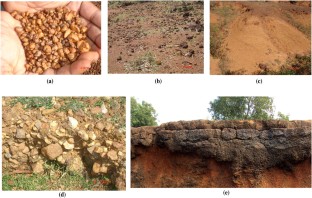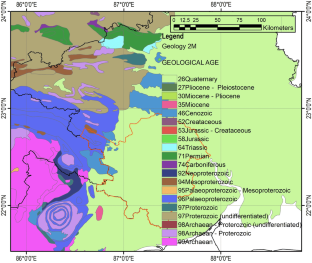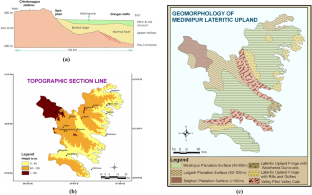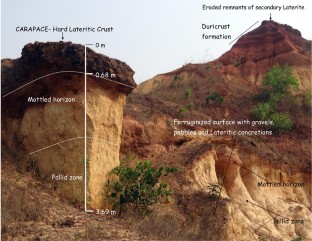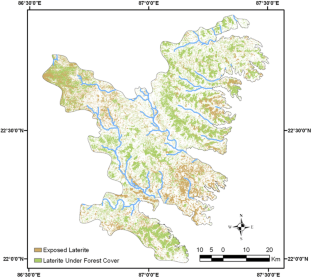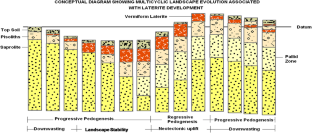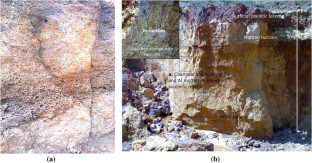 Notes
1.

Malabar A coastal area in southern India with latitudinal extension of 8°0′ N–13°0′ N and longitudinal extension of 74°50′ E to 77°50′ E flanked by the Western Ghats in the East and the Arabian Sea in the West. The westward sloping mountain slope and the presence of sand bars in the western coastal margin with backwaters and lagoons along the shore give the distinctiveness to this region.

2.

Rarh Bengal The word 'Rarh' originated in the ancient Austric language and means 'a land of red soil'. It is a toponym for an area that lies between the Chhotanagpur Plateau on the West and the Ganges Delta on the East over the Indian subcontinent. The rolling transitionary surface with predominance of red and Laterites was believed to be originated from the soil from Deccan plateau.

3.

Chhotanagpur plateau An extensive plateau in eastern India, which covers much of Jharkhand state as well as parts of the neighboring states of Odisha, West Bengal, Bihar and Chhattisgarh. The geographical boundary is delineated by Indo-Gangetic plain at the north and east, and the basin of the River Mahanadi at the south. The total area is approximately 65 K square km.
References
Acharyya, S. K., & Shah, B. A. (2010). Groundwater arsenic pollution affecting deltaic West Bengal, India. Current Science,99(12), 1787–1794.

Adlakha, V., Patel, R. C., Lal, N., Mehta, Y. P., Jain, A. K., & Kumar, A. (2013). Tectonics and climate interplay: Exhumation patterns of the Dhauladhar Range, Northwest Himalaya. Current Science,104(11), 1551–1559.

Ahmed, A.R., & Hoe, T. G. (2002). Laterite revisited: mode of formation. In: Geological Society of Malaysia Annual Geological Conference 2002. May 26–27, Kota Bharu, Kelantan, Malaysia.

Alam, M., Alam, M. M., Curray, J. R., Chowdhury, M. L. R., & Gani, M. R. (2003). An overview of the sedimentary geology of the Bengal Basin in relation to the regional tectonic framework and basin-fill history. Sedimentary Geology,155(3–4), 179–208.

Alley, N. F. (1970). Duricrust - an Australian dilemma. In: Paper presented to 1970 meeting of association of Canadian Geographers.

Aubert, G. (1950). Observations sur la dégradation des sols et la formation de la cuirasse latéritique dans le nord-ouest du Dahomey. In: C.R. 4e Congr. int. Sci. Sol, Amsterdam, vol. 3:123

Bagchi, K., & Mukherjee, K. N. (1983). Diagnostic survey of Rarh Bengal (Part II). Calcutta: University of Calcutta.

Biswas, B. (1959). Subsurface Geology of West Bengal, ECAFE Mineral Resource Development, Serial No. 10

Biswas, B. (1961). Geology of the Bengal Basin with special reference to stratigraphy and micropaleontology. Dissretation, University of Calcutta.

Biswas, A. (1987). Laterites and lateritoids of Rarh Bengal. In V. S. Datye, J. Diddee, S. R. Jog, & C. Patil (Eds.), Exploration in the tropics (pp. 157–167). Pune: Prof. K. R. Dikshit Felicitation Committee.

Biswas, A. (2002). Laterites and lateritoids of Rarh Bengal. In: R. Roy, & C. (Eds.) PratitiArabinda Smaranika (pp. 157–167)

Blanford, W. T. (1859). Note on the laterite of Orissa. Memoirs of Geological Survey of India,1, 280–294.

Black, C. A. (1965). Methods of soil analysis, Part I. American Society of Agronomy, Madison.

Buchanan, F. (1807). A journey from Madras through the countries of Mysore, Canara, and Malabar, etc. London: East India Company.

Campbell, J. M. (1917). Laterite: its origin, structure and minerals. Mining Magazine.,17, 67–77. (120-128, 171-179, 220-229).

Chakraborty, S. C. (1961). Land Utilisation in Western Midnapore. Midnapore: District Census Handbook.

Chakraborty, S. C. (1970). Some consideration on the evolution of physiography of Bengal, West Bengal.

Chaplin, J., & McFarlane, M. J. (1969). The Moniko petroglyphs. Uganda J.,31(2), 207–209.

Chatterjee, N. (2008). Laterite terrains of the Chotanagpur Plateau fringe region- case study of the Mayurakshi Basin, eastern India. Indian Journal of Landscape Systems and Ecological Studies,31(1), 115–130.

Chatterjee, S., Paul, A., & Roy, U. (2004). Some observations on the diverse lateritic landscape of Subarnarekha-Kangsabati-Silabati interfluves of Paschim Medinipur, W.B. Indian Journal of Geography and Environment, 8–9, 82–95.

Chaudhuri, S. (1985). Characteristics of soils and evaluation of land in the Southern Rarh Plain, West Bengal, A Thesis Submitted in Fulfilment of the Requirement for the Degree of Doctor of Philosophy to The University of Edinburgh, 1985.

Chhabra, R., Pleysier, J., & Cremers, A. (1975). The measurement of the cation exchange capacity and exchangeable cations in soils: A new method. In S. W. Bailey (Ed.), Proceedings of the International Clay Conference Mexico, 1975 (pp. 439–449). Wilmette: Applied Publishing Ltd.

Das, D. (2018). Cassytha filiformis in forests of Jhargram district of West Bengal. GSC Biological and Pharmaceutical Sciences, 4(1), 1–7. https://doi.org/10.30574/gscbps.2018.4.1.0023 .

Das, K., & Bandyopadhyay, S. (1995). Badland development over laterite duricrusts. In S. R. Jog (Ed.), Indian Geomorphology (Vol. 1, pp. 31–41)., Erosional landforms and processes New Delhi: Rawat Publication.

Das Gupta, A. B., & Mukherjee, B. (2006). Geology of N.W. Bengal Basin (pp. 1–154). Bangalore: Geological Society of India.

Datta, A. (1982). Palaeolithic man and his culture. Delhi: Agam Kala Prakashn.

Devaraju, T. C., & Khanadali, S. D. (1993). Lateritic bauxite profiles of southwestern and southern India—Characteristics and tectonic significance. Current Science,64(11–12), 919–921.

Duchaufour, P. (1970). Precis de pedologie (3rd ed., p. 346). Paris: Masson.

Fisher, N. H. (1958). Notes on laterisation and mineral deposits, The Australian Institute of Mining and Metallurgy: F L Stillwell Anniversary Volume, pp. 133-142

Gee, G. W., & Bauder, J. W. (1986). Particle-size analysis. In A. Klute (Ed.), Methods of soil analysis, Part 1. Physical and mineralogical methods, agronomy monograph (No 9, 2 ed., pp. 383–411). Madison, WI: American Society of Agronomy/Soil Science Society of America.

Ghosh, S., & Ghosh, S. (2003). Land degradation due to indiscriminate 'Murrum' extraction near Durgapur Town, West Bengal. In V. C. Jha (Ed.), Land degradation and desertification (pp. 255–267). Jaipur: Rawat Publications.

Ghosh, S., & Guchhait, S. K. (2015). Characterization and Evolution of Laterites in West Bengal: Implication on the Geology of Northwest Bengal Basin. Transactions of the Institute of Indian Geographers,37(1), 93–119.

Ghosh, S., & Guchhait, S. K. (2020). Laterites of the Bengal Basin: Characterization, geochronology and evolution. Switzerland: Springer.

Heanes, D. L. (1984). Determination of total organic-C in soils by an improved chromic acid digestion and spectrophotometric procedure. Communications in Soil Science and Plant Analysis, 15(10), 1191–1213.

Holmes, A. (1914). The latérite deposits of Mozambique. Geological Magazine,6(1), 59–69.

Houba, V. J. G., Novozamsky, I., Huybregts, A. W. M., & van der Lee, J. J. (1986). Comparison of soil extractions by 0.01M CaCl2, by EUF and by some conventional extraction procedures. Plant and Soil, 96(3), 433–437.

Humbert, R. P. (1948). The genesis of laterite. Soil Science,65, 281–290.

India Water Portal. Meteorological data products 1901–2001. https://www.indiawaterportal.org/met_data/. Accessed 25 May 2020.

Johnson, R. J. (1954). Prelimunary report on sheet NA36 T IV SE (Kabulosoke Sheet). Unpublished report, Geol. Surv. Uganda, RJJ/7

Johnson, R. J., & Williams, C. E. F. (1961). Explanation of the Geology of sheet 59 (kiboga) (p. 7). Uganda: Rep. geol. Surv.

Kent, D. V., & Muttoni, G. (2008). Equatorial convergence of India and early Cenozoic climate trends. Proceedings of the National Academy of Sciences, 105(42), 16065–16070.

Keys to Soil Taxonomy. (2014). 12th ed. Soil Survey Staff, United States Department of Agriculture Natural Resources Conservation Service.

Krauskopf, K. R. (1956). Dissolution and precipitation of silica at low temperatures. Silica Geochimica et Cosmochimica Acta,10, 1–26.

Lakra, M. N., Nabakumar, K., Saha, D., Hussain, A., Prakash, K., & (2013). Integrated study of gravity and seismic data of Bengal Basin. In: 10th Biennial International Conference and Exposition, Kochi, India (pp. 1–4).

Livens, P. J. (1949). Characteristics of some soils of the Belgian Congo. Commonw. Bur. Soil Sci. Tech. Pub., 46, 29–35.

Mabbutt, J. A. (1961). A stripped land surface in Western Australia. Transactions and Papers (Institute of British Geographers),29, 101–114.

MacLaren, J. M. (1906). On the origin of certain laterites. Geological Magazine, Decade.,5(3), 536–547.

Mahadevan, T. M. (2002). Geology of Bihar and Jharkhand. Bangalore: Geological society of India.

Maignien, R. (1960). Influences anciennes sur la formation, l'évolution et la répartition des sols en Afrique de l'Ouest. In: C.R. 7 e Congr. int. Sci. Sol, Madison.

McFarlane, M. J. (1976). Laterite and Landscape. London: Academic Press.

Mebius, L. J. (1960). A rapid method for the determination of organic carbon in soil. Analytica Chimica Acta, 22, 120–124.

Mukhopadhyay, S., & Pal, S. (2009). Granulometry of soil, climatic panorama and spatio-temporal dynamics of soil erosion of Santiniketan Badland—A parametric statistical approach. Indian Journal of Landscape System and Ecological Studies,31, 185–192.

Mulchy, M. J. (1960). Laterites and lateritic soils in south-western Australia. Journal of Soil Science,11, 206–226.

Niyogi, D., & Mallick, S. (1973). Quaternary laterite of West Bengal: its geomorphology, stratigraphy and genesis. Quarterly Journal of the Geological, Mining and Metallurgical Society of India.,45, 157–174.

Niyogi, D., Mallick, S., & Sarkar, & S. K. (1970). A preliminary study of laterites of West Bengal, India. In: Selected Papers Physical Geography (Vol.1) 21st International Geographical Congress edited by Chatterjee, S.P. and Das Gupta, S.P. (Calcutta: National Committee for Geography), pp 443–449.

Oldham, R. D. (1893). A manual of the geology of India (2nd ed.). Calcutta: Government Press.

Ollier, C. D., & Sheth, H. C. (2008). The high Deccan duricrusts of India and their significance for the 'laterite' issue. Journal of Earth System Science,117(5), 537–551.

Page, A. L., Miller, R., & Keeney, D. R. (1982). Method of soils analysis, Part 2. Chemical and microbiological properties (2nd ed.). Madison: American Society of Agronomy Inc.

Pallister, J. W. (1951). Occurence of Laterite in South Buganda. Unpublished Report, Geological Surv. Uganda, JWP/7.

Pascoe, E. H. (1964). A manual of the geology of India and Burma (3). Delhi: Geological Survey of India.

Pedro, G. (1989). Geochemistry, mineralogy and microfabric of soils. In E. Maltby & Th Wollersen (Eds.), Soils and their management; a sino-European perspective (pp. 59–90).

Peterson, F.F. (1981). Landforms of the Basin and Range Province DEFINED FOR SOIL SURVEY. Nevada Agric. Exp. Stn. Tech. Bull. 28

Raychaudhuri, S. P. (1980). The occurrence, distribution, classification and management of laterite and lateritic soils. Journee Georges Aubet, XVIII (3–4), 249–252.

Robin, L. E., & Bazilevich, N. I. (1967). Production and mineral cycling in terrestrial vegetation. Edinburgh.

Ruhe, R. V. (1969). Quaternary Landscapes in Iowa. Iowa State University Press, Ames, Iowa.

Schaetzl, R. J., & Anderson, S. (2005). Soils: Genesis and Geomorphology (pp. 1–817). Cambridge: Cambridge University Press.

Scrivenor, J. B. (1937). Note on Buchanan's Laterite. Geological Magazine,47, 256–262.

Sengupta, S. (1966). Geological and geophysical studies in western part of Bengal Basin, India. Bulletin of the American Association of Petrolium Geologists.,50, 1001–1017.

Sengupta, S. (1972). Geological framework of the Bhagirathi—Hooghly Basin. In K. G. Bagchi (Ed.), The Bhagirathi-Hooghly (pp. 3–8). Kolkata: University of Calcutta.

Singh, L. P., Parkash, B., & Singhvi, A. K. (1998). Evolution of the Lower Gangetic Plain landforms and soils in West Bengal, India. CATENA, 33(2), 75–104.

Sivarajasingham, S., Alexander, L. T., Cady, J. G., & Cline, M. G. (1962). Latérite. Advances in agronomy (Vol. 14, pp 1–60). New York.

Sombrock, W. G. (1971). Ancient levels of plinthisation in NW, Nigeria. In D. H. Yaalon (Ed.), Paleopedology: Origin, nature and dating of paleosols (pp. 329–336). Jerusalem: International Society of Soil Science and Israel Universities Press.

Spate, O. H. K., & Learnouth, T. A. (1967). India and Pakistan (p. 59). London: Methuen.

Sychanthavong, S. P. H., & Patel, P. K. (1987). Laterites and lignites of northwestern India and their relevance to the drift tectonics of the Indian Plate. Current Science,56(10), 469–475.

Tardy, Y., Kobilsek, B., & Paquet, H. (1991). Mineralogical composition and geographical distribution of African and Brazilian periatlantic laterites: The influence of continental drift and tropical paleoclimates during the past 150 million years and implications for India and Australia. Journal of African Earth Sciences (and the Middle East),12(1–2), 283–295.

Trendall, A. F. (1962). The formation of apparent peneplains by a process of combined laterisation and surface wash. Zeitschrift fur Geomorphologie,6(2), 183–197.

Ushie, F. A., & Ehirim, C. N. (2012). An integrated Geo-physical investigation for the volumetric estimation of lateritic overburden in Obudu area, South-eastern Nigeria. Journal of Basic Physical Research,3, 54–58.

Vaidyanadhan, R. (1962). Laterites of Nellore, Andhra Pradesh. Current Science,6, 231–232.

Vaidyanadhan, R., & Ghosh, R. N. (1993). Quaternary of the east coast of India. Current Science,64, 804–815.

Van der Merwe, C. R., & Heystek, H. (1952). Clay minerals of South-Africa soil groups. Sec. I. Laterite and related soils. Soil Science,74, 383-40TI.

Vepraskas, M. J. (1999). Redoximorphic features for identifying aquic conditions, N. Carolina Agricultural Research Service Technical Bulletin no. 301. Raleigh: North Carolina State University.

Walkley, A. (1947). A critical examination of a rapid method for determination of organic carbon in soils - effect of variations in digestion conditions and of inorganic soil constituents. Soil Science, 63, 251–257.

Walkley, A., & Black, I. A. (1934). An examination of Degtjareff method for determining soil organic matter and a proposed modification of the chromic acid titration method. Soil Science, 37, 29–37.

Wayland, E. J. (1931). Summary of progress of the Geological Survey of Uganda, Summ. In: Prog. Geol. Surv. Uganda. pp. 1919–1929.

Woolnough, W. G. (1918). The physiographic elements of latérite in west Australia. Geological Magazine,5, 385–393.
Ethics declarations
Conflict of interest
On behalf of all authors, the corresponding author states that there is no conflict of interest.
Additional information
Publisher's Note
Springer Nature remains neutral with regard to jurisdictional claims in published maps and institutional affiliations.
Communicated by M. V. Alves Martins.
Appendix
Appendix
See Tables 6, 7, 8, 9, 10, 11, 12 and 13.
About this article
Cite this article
Sarkar, T., Mishra, M. & Chatterjee, S. On detailed field-based observations of laterite and laterization: a study in the Paschim Medinipur lateritic upland of India. J. Sediment. Environ. 5, 219–245 (2020). https://doi.org/10.1007/s43217-020-00017-4
Received:

Revised:

Accepted:

Published:

Issue Date:
Keywords
Laterization

Tropical climate

Neo-tectonic upliftment

Planation surfaces

Pedogenesis