Zusammenfassung
Die Anzahl der Revisionseingriffe in der Kniegelenkendoprothetik nimmt deutlich zu. Damit müssen zunehmend auch komplexe Knochendefekte adäquat versorgt werden. Zur Therapieplanung eignet sich die Anderson-Orthopaedic-Research-Institute(AORI)-Klassifikation. Das zentrale Ziel ist hier die sichere Fixation der Komponenten. Dabei werden sowohl femoral als auch tibial drei Fixationszonen, epi-, meta- und diaphysär, unterschieden. Es sollte immer eine Fixation in zwei dieser Zonen angestrebt werden, um eine vorzeitige aseptische Lockerung zu vermeiden. Neben der Rekonstruktion der Epiphyse sollte daher immer zusätzlich eine Fixation diaphysär oder v. a. metaphysär erfolgen, insbesondere bei höheren Kopplungsgraden. Moderne metaphysäre Verankerungsmöglichkeiten sind Sleeves und Cones. Sleeves sind stufenförmige Titankonstrukte, die sich aufgrund ihrer festen Verbindung mit dem Implantat durch eine sehr gute Kraftübertragung und eine exzellente Rotationsstabilität auszeichnen. Sleeves sind für zentrale Defekte mit weitgehend erhaltener zirkumferenter Kortikalis als zementfreie Verankerungsoption geeignet. Beim Vorliegen eines peripheren kortikalen Defektes stellen Cones eine gute Alternative dar. Cones sind aus Tantalum oder Titan bestehende Rekonstruktionskomponenten, die, im Gegensatz zu Sleeves, keine direkte Verbindung mit dem Implantat aufweisen, sondern eine Augmentation des ossären Lagers ermöglichen. Die Implantation der Prothesenkomponente erfolgt dann zementiert. Für die diaphysäre Verankerung stehen zementierte oder zementfreie Schäfte zur Verfügung. Die Wahl ist hierbei sowohl von der Art der metaphysären Verankerungsoption, Sleeve oder Cone, sowie von weiteren Faktoren wie dem Vorliegen von anatomischen Varianten, Deformation oder Osteoporose abhängig.
Abstract
The number of revision interventions in total knee arthroplasty is clearly increasing. Hence, complex bone defects also increase and must be adequately treated. The Anderson Orthopaedic Research Institute (AORI) classification is suitable for treatment planning. The main target is secure fixation of the implant components. In this context, three femoral and tibial zones for implant fixation are distinguished, epiphysis, metaphysis and diaphysis. Fixation in two of these zones should always be carried out to avoid premature aseptic loosening. Apart from the reconstruction of the epiphysis, additional diaphyseal or metaphyseal fixation should always be performed, particularly with higher grade coupling. Sleeves and cones are modern metaphyseal anchoring options. Sleeves are stepped titanium constructs characterized by good load transmission and excellent axial and rotational stability due to a firm connection with the implant. Sleeves are suitable for central defects with extensively retained cortical bone as a cementless fixation option. In the presence of a peripheral defect, cones can be a good alternative. Cones are reconstruction components made of tantalum or titanium which, in contrast to sleeves, are not directly fixed to the implant but enable augmentation of the bone defect followed by a cemented implantation of the prosthesis. Diaphyseal fixation can be performed with cementless or cemented stems depending on the type of metaphyseal fixation option, sleeve or cone, as well as further factors, such as anatomical variants, deformation or osteoporosis.
Access options
Buy single article
Instant access to the full article PDF.
US$ 39.95
Tax calculation will be finalised during checkout.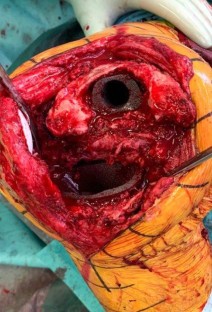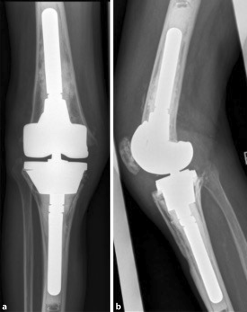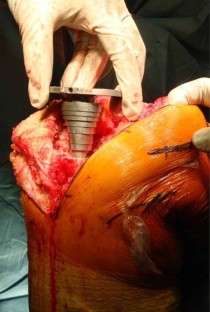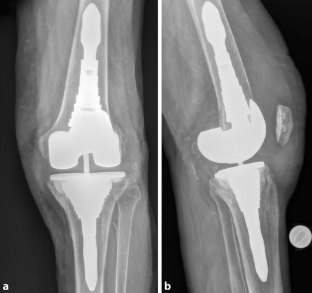 Literatur
1.

Morgan-Jones R, Oussedik SI, Graichen H, Haddad FS (2015) Zonal fixation in revision total knee arthroplasty. Bone Joint J 97-B:147–149

2.

Radnay CS, Scuderi GR (2006) Management of bone loss: augments, cones, offset stems. Clin Orthop Relat Res 446:83–92

3.

Mabry TM, Hanssen AD (2007) The role of stems and augments for bone loss in revision knee arthroplasty. J Arthroplasty 22:56–60

4.

Chon JG, Lombardi AV Jr., Berend KR (2004) Hybrid stem fixation in revision total knee arthroplasty (TKA). Surg Technol Int 12:214–220

5.

Hube R, Pfitzner T, von Roth P, Mayr HO (2015) Defektrekonstruktion in der Knieendoprothetik mit Wedges und Blöcken. Oper Orthop Traumatol 27:6–16

6.

Stockley I, McAuley JP, Gross AE (1992) Allograft reconstruction in total knee arthroplasty. J Bone Joint Surg Br 74:393–397

7.

Haidukewych GJ, Hanssen A, Jones RD (2011) Metaphyseal fixation in revision total knee arthroplasty: indications and techniques. J Am Acad Orthop Surg 19:311–318

8.

Derome P, Sternheim A, Backstein D, Malo M (2014) Treatment of large bone defects with trabecular metal cones in revision total knee arthroplasty: short term clinical and radiographic outcomes. J Arthroplasty 29:122–126

9.

Potter GD 3rd, Abdel MP, Lewallen DG, Hanssen AD (2016) Midterm results of porous tantalum femoral cones in revision total knee arthroplasty. J Bone Joint Surg Am 98:1286–1291

10.

Chalmers BP, Desy NM, Pagnano MW, Trousdale RT, Taunton MJ (2017) Survivorship of metaphyseal sleeves in revision total knee arthroplasty. J Arthroplast 32:1565–1570

11.

Martin-Hernandez C, Floria-Arnal LJ, Muniesa-Herrero MP et al (2017) Mid-term results for metaphyseal sleeves in revision knee surgery. Knee Surg Sports Traumatol Arthrosc 25:3779–3785

12.

Roach RP, Clair AJ, Behery OA, Thakkar SC, Iorio R, Deshmukh AJ (2020) Aseptic loosening of porous metaphyseal sleeves and tantalum cones in revision total knee Arthroplasty: a systematic review. J Knee Surg 34(10):1033–1041. https://doi.org/10.1055/s-0040-1701434
Ethics declarations
Interessenkonflikt
A.T. Haug, I. Lazic, C. Suren, R. von Eisenhart-Rothe und F. Pohlig geben an, dass kein Interessenkonflikt besteht.
Für diesen Beitrag wurden von den Autoren keine Studien an Menschen oder Tieren durchgeführt. Für die aufgeführten Studien gelten die jeweils dort angegebenen ethischen Richtlinien.
Additional information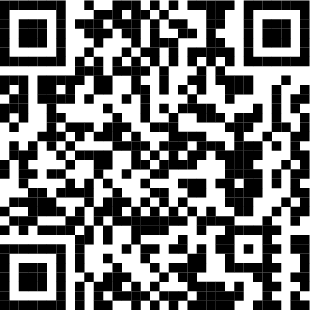 QR-Code scannen & Beitrag online lesen
Redaktion
Robert Hube, München
Georg Matziolis, Eisenberg
About this article
Cite this article
Haug, A.T., Lazic, I., Suren, C. et al. Knochendefektmanagement und Implantatfixation in der Revisionsknieendoprothetik. Knie J. (2021). https://doi.org/10.1007/s43205-021-00128-6
Schlüsselwörter
Kniegelenk

Rekonstruktion

Fixation

Sleeve

Cone
Keywords
Knee joint

Reconstruction

Fixation

Sleeve

Cone