Zusammenfassung
Hintergrund
Allgemeine Anforderung in der Knierevisionsendoprothetik ist, so wenig Kraftkoppelung wie möglich, aber so viel Kraftkoppelung wie nötig. Umso größer die Kraftkoppelung zwischen der tibialen und femoralen Komponente ist, umso größer ist die Belastung des knöchernen Lagers in der Tibia und im Femur. Die Unterschätzung der Komplexität präoperativer Instabilitäten ist ein maßgebliches Problem. Im Zweifelsfall sollte immer die höhere Koppelung verwendet werden.
Knierevisionsendoprothesen
Die Cruciate-retaining(CR)-Prothese in der Revisionschirurgie ist indiziert bei perfekt ausgeglichenem Extensions- und Flexionsspalt, intakten Seitenbändern, Varus-Valgus-Stabilität und Erhalt des hinteren Kreuzbandes. Die Posterior-stabilized(PS)-Prothese kann bei ausreichendem Balancing von Streck- und Beugespalt und ausreichender Varus-Valgus-Stabilität verwendet werden. Eine Balancierung, ggf. unter Verwendung von Augmenten, muss möglich sein. Bedingungen für eine Varus-valgus-constrained(= "condylar constrained")-Prothese sind ein ausreichender Ausgleich von Streck- und Beugespalt und eine Rest-Varus-Valgus-Stabilität. In der Regel sind Augmente, Sleeves oder Cones erforderlich, um diese Voraussetzungen und eine stabile Verankerung zu ermöglichen. Die Scharnierprothese ("rotating hinge", "fixed hinge") ist indiziert, wenn keinerlei Ausgleich von Streck- und Beugespalt möglich ist, falls keinerlei Varus-Valgus-Stabilität besteht und falls der Kapsel-Band-Apparat vollständig unzulänglich ist, ggf. ist sie beim "stiff knee" nach Knieendoprothese angezeigt. Sie ist erforderlich bei erheblich dislozierter "joint line", bei nicht sanierbaren periprothetischen Frakturen und bei distalem Femur- oder proximalem Tibiaersatz.
Diskussion
Insgesamt konnte die Standzeit von Revisionsendoprothesen mit modernen Implantaten verbessert werden.
Abstract
Background
The general requirement in knee revision arthroplasty is as little constraint as possible but as much constraint as necessary. The more the coupling between the tibial and femoral components is, the greater the load on the bony bed in the tibia and in the femur will be. Underestimation of the complexity of preoperative instabilities is a major problem. For this reason, we always use the higher coupling when in doubt.
Knee revision arthroplasty
The cruciate-retaining (CR) prosthesis in revision surgery is indicated for perfectly balanced extension and flexion gaps, intact collateral ligaments, varus–valgus stability, and preservation of the posterior cruciate ligament. The posterior stabilized (PS) prosthesis in revision surgery can be used if the extension–flexion gap is balanced and the varus–valgus stability is sufficient. Balancing, if necessary, using augments, must be possible. Conditions for a varus–valgus constrained = condylar constrained prosthesis are adequate compensation of the extension and flexion gap and residual varus–valgus stability. Mostly augments, sleeves or cones are required to enable these requirements and stable anchoring. The hinge prosthesis (rotating hinge, fixed hinge) is indicated if no compensation of the extension or flexion gap is possible, if there is no varus–valgus stability at all or if the capsular ligament complex is completely destroyed. Occasionally it is indicated for the "stiff knee" after knee replacement. It is required at a significantly dislocated "joint line", in the case of periprosthetic fractures that cannot be treated by osteosynthesis and if distal femoral or proximal tibial replacement is necessary.
Conclusion
Overall, it was possible to improve the survival time of revision joint replacement with modern implants.
Access options
Buy single article
Instant access to the full article PDF.
USD 39.95
Price includes VAT (USA)
Tax calculation will be finalised during checkout.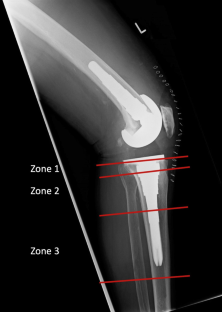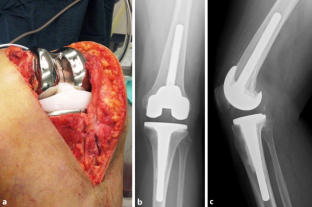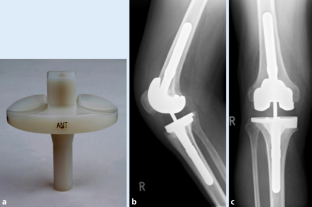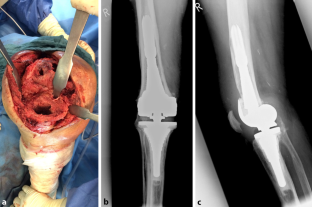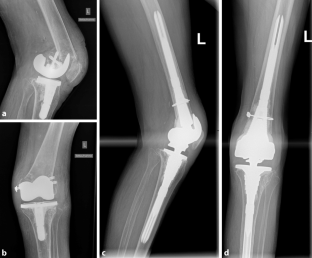 Literatur
1.

Röhner E, Kirschberg J, Matziolis G (2020) Versagensursachen nach primärer Knietotalendoprothese – gibt es einen Wandel? Knie J 2:237–246

2.

Sharkey PF, Lichstein PM, Shen C, Tokarski AT, Parvizi J (2014) Why are total knee arthroplasties failing today—has anything changed after 10 years? J Arthroplasty 29(9):1774–1778

3.

Endoprothesenregister Deutschland (EPRD) (2020) Jahresbericht. EPRD, Berlin https://doi.org/10.36186/reporteprd022020

4.

Sundberg M et al (2020) The Swedish knee arthroplasty register, annual report 2020.

5.

Thiele K, Perka C, Matziolis G, Mayr HO, Sostheim M, Hube R (2015) Current failure mechanisms after knee arthroplasty have changed: polyethylene wear is less common in revision surgery. J Bone Joint Surg Am 97(9):715–720

6.

Morgan-Jones R, Oussedik SI, Graichen H, Haddad FS (2015) Zonal fixation in revision total knee arthroplasty. Bone Joint J 97-B(2):147–149

7.

Pasquier G, Ehlinger M, Mainard D (2019) The role of rotating hinge implants in revision total knee arthroplasty. EFORT Open Rev 4(6):269–278

8.

Athwal KK, Hunt NC, Davies AJ, Deehan DJ, Amis AA (2014) Clinical biomechanics of instability related to total knee arthroplasty. Clin Biomech 29(2):119–128

9.

Di Matteo B, Altomare D, Dorotei A, Raspugli GF, Bonanzinga T, Marcacci M, Kon E, Iacono F (2021) The reliability of adductor tubercle as an anatomical landmark for joint line restoration in revision knee arthroplasty: a systematic review. Ann Transl Med 9(1):71

10.

Clarke HD, Scuderi GR (2003) Flexion instability in primary total knee replacement. J Knee Surg 16(2):123–128 (Review)

11.

Whiteside LA (2004) Ligament balancing in revision total knee arthroplasty. Clin Orthop Relat Res 423:178–185

12.

El-Galaly A, Kappel A, Nielsen PT, Jensen SL (2019) Revision risk for total knee arthroplasty converted from medial Unicompartmental knee arthroplasty: comparison with primary and revision Arthroplasties, based on mid-term results from the Danish knee Arthroplasty registry. J Bone Joint Surg Am 101(22):1999–2006

13.

Marya SKS, Singh C (2020) Options and limitations of implant constraint. J Orthop 23:18–24

14.

Hernandez NM, Hinton ZW, Wu CJ, Wellman SS, Jiranek WA, Seyler TM (2021) Varus-valgus constrained implants in revision total knee arthroplasty: Mean clinical follow-up of six years. J Arthroplasty 36(7S):S303–S307

15.

Batailler C, Foissey C, Fary C, Naaim A, Servien E, Lustig S (2021) Similar kinematic patterns between revision total stabilized (TS) and primary posterior stabilized (PS) knee prostheses: a prospective case-controlled study with gait assessment. Knee Surg Sports Traumatol Arthrosc. https://doi.org/10.1007/s00167-021-06591-y

16.

Bingham JS, Bukowski BR, Wyles CC, Pareek A, Berry DJ, Abdel MP (2019) Rotating-hinge revision total knee arthroplasty for treatment of severe arthrofibrosis. J Arthroplasty 34(7S):S271–S276

17.

Rorabeck CH, Taylor JW (1999) Classification of periprosthetic fractures complicating total knee arthroplasty. Orthop Clin North Am 30:209–214

18.

Cottino U, Abdel MP, Perry KI, Mara KC, Lewallen DG, Hanssen AD (2017) Long-term results after total knee arthroplasty with contemporary rotating-hinge prostheses. J Bone Joint Surg Am 99(4):324–330

19.

von Hintze J, Niemeläinen M, Sintonen H, Nieminen J, Eskelinen A (2021) Outcomes of the rotating hinge knee in revision total knee arthroplasty with a median follow-up of 6.2 years. BMC Musculoskelet Disord 22(1):336
Ethics declarations
Interessenkonflikt
H.O. Mayr gibt an, dass kein Interessenkonflikt besteht.
Für diesen Beitrag wurden von den Autoren keine Studien an Menschen oder Tieren durchgeführt. Für die aufgeführten Studien gelten die jeweils dort angegebenen ethischen Richtlinien.
Additional information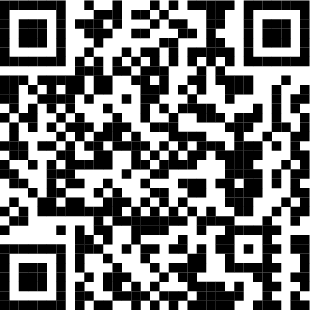 QR-Code scannen & Beitrag online lesen
Redaktion
Robert Hube, München
Georg Matziolis, Eisenberg
About this article
Cite this article
Mayr, H.O. Wahl des korrekten Kopplungsgrades in der Revisionsendoprothetik des Kniegelenkes. Knie J. 3, 236–241 (2021). https://doi.org/10.1007/s43205-021-00124-w
Accepted:

Published:

Issue Date:
Schlüsselwörter
Kraftkoppelung

Cruciate retaining

Posterior stabilized

Varus-valgus constrained

Rotating hinge
Keywords
Force coupling

Cruciate retaining

Posterior stabilized

Varus-valgus constrained

Rotating hinge