Zusammenfassung
Hintergrund und Ziel der Arbeit
Ziel des Endoprothesenregisters Deutschland (EPRD) ist die Dokumentation der überwiegenden Mehrheit der endoprothetischen Eingriffe, die in Deutschland vorgenommen werden. Im Vergleich zu randomisiert kontrollierten Studien bieten Register zum einen den Vorteil, über einen wesentlich längeren Zeitraum mit deutlich höheren Fallzahlen arbeiten zu können, und zum zweiten – unabhängig von der initialen Fragestellung einer statistischen Auswertung – Parameter zu erarbeiten, die beispielsweise einen Einfluss auf die Standzeiten der Endoprothesen haben.
Ergebnisse
Einschließlich des Operationsjahres 2019 konnten im EPRD insgesamt 1,3 Mio. endoprothetische Eingriffe dokumentiert und ausgewertet werden. Zum aktuellen Zeitpunkt liefern ca. 770 Kliniken auf freiwilliger Basis die erforderlichen Datensätze, um eine solide Grundlage für eine versorgungsforschungsrelevante Auswertung zu erhalten. Die zur Verfügung stehenden dokumentierten Daten werden zum einen von den Krankenhäusern selbst, zum anderen von einer Mehrheit der gesetzlichen Krankenkassen und den Implantatherstellern bereitgestellt.
Diskussion
Zum jetzigen Zeitpunkt sind aufgrund des jungen Alters des Registers insbesondere Fragestellungen für primäre endoprothetische Versorgungen detailliert analysierbar. Die Daten zur Versorgung im Revisionsbereich sind noch überschaubar, können aber erste Trends nachweisen, die sich in den nächsten Jahren bei zunehmend dokumentierten Datenvolumina noch erhärten können und damit eine sichere Entscheidung- und Behandlungsgrundlage im Bereich der Endoprothetik liefern.
Abstract
Background and aim
The aim of the German Arthroplasty Registry (Endoprothesenregister Deutschland [EPRD]) is to document the vast majority of endoprosthetic interventions that are carried out in Germany. Compared to randomized controlled studies, registries offer the advantage of being able to work with significantly higher numbers of cases over a significantly longer period of time, and—independent of the initial question of a statistical evaluation—being able to work out parameters that, for example, have a significant influence on the lifetime of the prostheses.
Results
In 2019, a total of 1.3 million endoprosthetic interventions were documented and evaluated in the EPRD. About 770 clinics currently provide data on a voluntary basis. These datasets consist of available documented data by the hospitals themselves, a majority of the statutory health insurance companies, and the implant manufacturers.
Discussion
Currently, due to the young age of the registry, questions relating to primary arthroplasty surgeries in particular can be analyzed in detail. The documented data concerning revision surgeries are still manageable, but they can demonstrate first trends that can be confirmed in the coming years with increasing data volumes. Due to that process the EPRD will be able to provide a reliable basis for decision-making and treatment in the field of endoprosthetics.
Access options
Buy single article
Instant access to the full article PDF.
USD 39.95
Price includes VAT (USA)
Tax calculation will be finalised during checkout.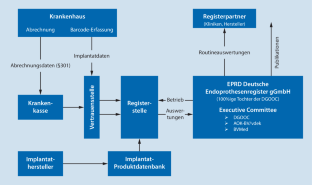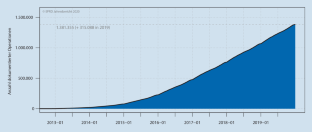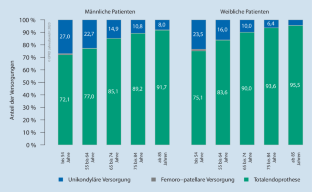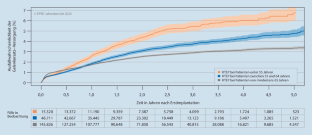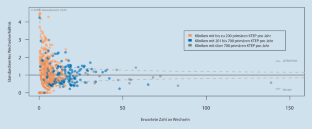 Literatur
1.

Blömer W, Steinbrück A, Schröder C, Grothaus F‑J, Melsheimer O, Mannel H, Forkel G, Eilers T, Liebs TR, Hassenpflug J, Jansson V (2015) A new universal, standardized implant database for product identification: a unique tool for arthroplasty registries. Arch Orthop Trauma Surg 135:919–926

2.

Delaunay C (2015) Registries in orthopaedics. Orthop Traumatol Surg Res 101:S69–75

3.

PAFS consensus group, Eldridge SM, Chan CL, Campbell MJ, Bond CM, Hopewell S, Thabane L, Lancaster GA et al (2016) CONSORT 2010 statement: extension to randomised pilot and feasibility trials. BMJ 355(24):i5239

4.

EFORT-EAR (European Federation of National Associations of Orthopaedics and Traumatology. European Arthroplasty Register) Arthroplasty Registers. http://www.ear.efort.org/registers.aspx. Zugegriffen: 15. Apr. 2012

5.

Gorenoi V, Schönermark MP, Hagen A (2009) Gelenkendoprothesenregister für Deutschland Bd. 81. Deutsches Institut für Medizinische Dokumentation und Inforamtion (DIMDI), Köln, S 1–89

6.

Furnes A, Lie SA, Havelin LI, Engesaeter LB, Vollset SE (1996) The economic impact of failures in total hip replacement surgery: 28,997 cases from the Norwegian Arthroplasty Register, 1987–1993. Acta Orthop Scand 67:115–121

7.

Liebs TR, Hassenpflug J (2016) Einfluss von Endoprothesenregistern auf die Versorgungsrealität. Gesundheitsökon Qual 21:91–95

8.

Pellegrini VD, Marx C, Rankin EA, Batten JC, Frank CB, Atkinson D, van der Jagt DR (2009) Position statement in support of national joint registries. J Bone Joint Surg Am 91:2983

9.

Gillam MH, Ryan P, Graves SE, Miller LN, de Steiger RN, Salter A (2010) Competing risks survival analysis applied to data from the Australian orthopaedic association national joint replacement registry. Acta Orthop 81:548–555

10.

Kurtz S, Ong K, Lau E, Mowat F, Halpern M (2007) Projections of primary and revision hip and knee arthroplasty in the United States from 2005 to 2030. J Bone Joint Surg Am 89:780–785

11.

Hassenpflug J (2012) The German arthroplasty register EPRD. Structure, procedures and organisation. EFORT, Innsbruck

12.

Malchau H, Graves SE, Porter M, Harris WH, Troelsen A (2015) The next critical role of orthopedic registries. Acta Orthop 86:3–4

13.

EPRD Jahresbericht (2020) EPRD Jahresbericht. https://www.eprd.de/fileadmin/user_upload/Dateien/Publikationen/Berichte/Jahresbericht2020-Web_2020-12-11_F.pdf. Zugegriffen: 21. Okt. 2020

14.

Hey A, Grimberg A, Mühlnikel I, Kleinfeld A (2020) Das Endoprothesen-register Deutschland (EPRD) als Prototyp für das neue staatliche Implantateregister. In: Repschläger U, Schulte C, Osterkamp N (Hrsg) Gesundheitswesen aktuell 2020. Beiträge und Analysen. bifg, BARMER Institut für Gesundheitssystemforschung, https://doi.org/10.30433/GWA2020-214

15.

Niinimäki TT (2015) The reasons for knee arthroplasty revisions are incomparable in the different arthroplasty registries. Knee 22:142–144

16.

IQTIQ (2019) Qualitätsberichte. https://iqtig.org/qs-berichte/strukturierterqualitaetsbericht/. Zugegriffen: 14. Dez. 2020

17.

Bless HH, Kip M (2017) Weißbuch Gelenkersatz; Versorgungssituation endoprothetischer Hüft- und Knieoperationen in Deutschland. Springer, Berlin Heidelberg

18.

Nimptsch U, Mansky T (2017) Hospital volume and mortality for 25 types of inpatient treatment in German hospitals: observational study using complete national data from 2009 to 2014. BMJ Open 7(9):e16184
Ethics declarations
Interessenkonflikt
H. Kohlhof, A. Steinbrück und D.C. Wirtz geben an, dass kein Interessenkonflikt besteht.
Für diesen Beitrag wurden von den Autoren keine Studien an Menschen oder Tieren durchgeführt. Für die aufgeführten Studien gelten die jeweils dort angegebenen ethischen Richtlinien.
Additional information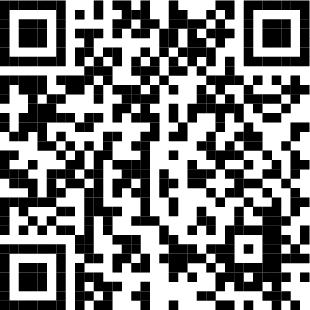 QR-Code scannen & Beitrag online lesen
Redaktion
P. Niemeyer, München
S. Schröter, Siegent
About this article
Cite this article
Kohlhof, H., Steinbrück, A. & Wirtz, D.C. Endoprothesenregister – Bedeutung und Relevanz für die Qualitätssicherung. Knie J. 3, 176–184 (2021). https://doi.org/10.1007/s43205-021-00117-9
Accepted:

Published:

Issue Date:
Schlüsselwörter
Knieendoprothetik

Registerforschung

Erstimplantation

Revision

Standzeiten
Keywords
Knee arthroplasty

Public health

Primary implantation

Revision

Prosthesis survival