Zusammenfassung
Die arthroskopische Reposition und interne Fixation (ARIF) von Tibiaplateaufrakturen spielt im klinischen Alltag zunehmend eine Rolle. Das Ziel dieser Arbeit ist es, technische Aspekte der arthroskopisch gestützten Tibiaplateaufrakturversorgung anhand einer AO-Typ-41B2-Fraktur zu beschreiben. Tibiaplateaufrakturen vom Typ B1 bis B3 nach AO und insbesondere die über den offenen OP-Zugang schwierig zu visualisierenden posterolateralen Segmente lassen sich in der Regel bei noch geringer Impression ohne Abkippung des Fragmentes nach dorsal mittels ARIF adäquat adressieren. Hierbei können auch weitere Portale, wie das posteromediale, posterolaterale oder das transseptale Portal angelegt werden. Unter arthroskopischer Sicht werden die Fragmente reponiert, hochgestößelt und subchondral mittels Schrauben- oder eingeschobener Plattenosteosynthese fixiert.
Abstract
Arthroscopic reduction and internal fixation (ARIF) of tibial plateau fractures is playing an increasing role in clinical practice. The aim of this technical note is to describe the individual steps of arthroscopically assisted treatment of tibial plateau fractures in an AO type 41B2 fracture. Usually, in tibial plateau fractures of AO type B1–B3, it is difficult to visualize posterolateral segments, but they can normally be adequately addressed using ARIF if the fragments are not tilted. Additional arthroscopic portals like the posteromedial, posterolateral or transseptal portal can be established to improve visualization. Via the arthroscopic view, the fragments can be reduced and fixed subchondrally by osteosynthesis screws or plates.
Access options
Buy single article
Instant access to the full article PDF.
US$ 39.95
Tax calculation will be finalised during checkout.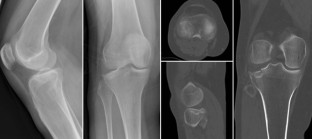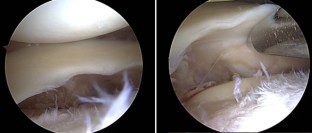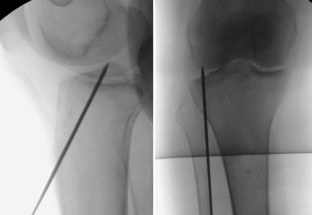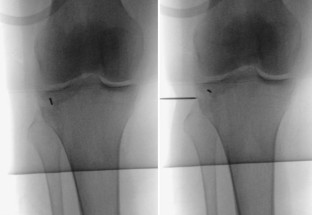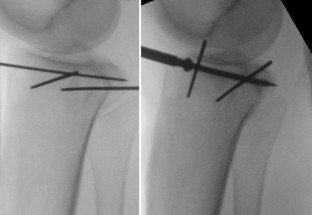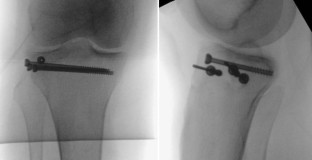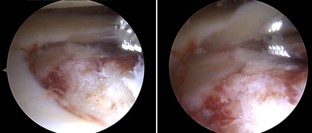 Literatur
1.

Prasad GT, Kumar TS, Kumar RK, Murthy GK, Sundaram N (2013) Functional outcome of Schatzker type V and VI tibial plateau fractures treated with dual plates. Indian J Orthop 47:188–194

2.

Jansen H, Frey SP, Doht S, Fehske K, Meffert RH (2013) Medium-term results after complex intra-articular fractures of the tibial plateau. J Orthop Sci 18:569–577

3.

Giannoudis PV, Tzioupis C, Papathanassopoulos A, Obakponovwe O, Roberts C (2010) Articular step-off and risk of post-traumatic osteoarthritis. Evidence today. Injury 41:986–995

4.

Liangjun J, Qiang Z, Zhijun P, Li H (2019) Revision strategy for malunited tibial plateau fracture caused by failure of initial treatment. Acta Orthop Traumatol Turc 53:432–441

5.

Alm L, Frings J, Krause M, Frosch KH (2020) Intraarticular osteotomy of malunited tibial plateau fractures: an analysis of clinical results with a mean follow-up after 4 years. Eur J Trauma Emerg Surg 46:1203–1209

6.

Wang Y, Luo C, Hu C, Sun H, Zhan Y (2017) An innovative intra-articular osteotomy in the treatment of Posterolateral tibial plateau fracture malunion. J Knee Surg 30:329–335

7.

Krause M, Preiss A, Meenen NM, Madert J, Frosch KH (2016) "Fracturoscopy" is superior to fluoroscopy in the articular reconstruction of complex tibial plateau fractures - an arthroscopy assisted fracture reduction technique. J Orthop Trauma 30:437–444

8.

Krause M, Frings J, Frosch KH (2020) The lateral femoral epicondyle osteotomy—an extended surgical approach for comminuted tibial plateau fractures. Injury 51:2993–2994

9.

Korthaus A, Ballhause TM, Kolb JP, Krause M, Frosch KH, Hartel MJ (2020) Extended approach to the lateral tibial plateau with central meniscal subluxation in fracture repair: feasibility and first clinical and radiographic results. Eur J Trauma Emerg Surg 46:1221–1226

10.

Frosch KH, Korthaus A, Thiesen D, Frings J, Krause M (2020) The concept of direct approach to lateral tibial plateau fractures and stepwise extension as needed. Eur J Trauma Emerg Surg 46:1211–1219

11.

Krause M, Frings J, Isik H, Frosch KH (2020) Comparison of extended lateral approaches to the tibial plateau: The articular exposure of lateral epicondyle osteotomy with and without popliteus tendon vs. fibula osteotomy. Injury 51:1874–1878

12.

Guttowski D, Krause M, Puschel K, Kolb JP, Hartel M, Frosch KH (2020) Improved visualization by central subluxation of the lateral meniscus in comminuted lateral tibial plateau fractures. J Knee Surg. https://doi.org/10.1055/s-0040-1709518

13.

Frosch KH, Balcarek P, Walde T, Sturmer KM (2010) A new posterolateral approach without fibula osteotomy for the treatment of tibial plateau fractures. J Orthop Trauma 24:515–520

14.

Krause M, Muller G, Frosch KH (2018) Surgical approaches to tibial plateau fractures. Unfallchirurg 121:569–582

15.

Ackermann C, Frings J, Alm L, Frosch KH (2019) Arthroscopic controlled closed reduction and Percutaneous fixation of posterolateral tibia plateau impression fractures. Arthrosc Tech 8:e867–e74

16.

Krause M, Enderle E, Akoto R, Preiss A, Frosch K‑H (2014) Arthroskopisch gestützte Frakturversorgung am Kniegelenk. Arthroskopie 27:291–298

17.

Krause M, Preiss A, Muller G, Madert J, Fehske K, Neumann MV et al (2016) Intra-articular tibial plateau fracture characteristics according to the "Ten segment classification". Injury 47:2551–2557

18.

Herbort M, Domnick C, Petersen W (2014) Arthroscopic treatment of tibial plateau fractures. Oper Orthop Traumatol 26:89–90

19.

Raschke MJ, Kittl C, Domnick C (2017) Partial proximal tibia fractures. Efort Open Rev 2:241–249

20.

Chen XZ, Liu CG, Chen Y, Wang LQ, Zhu QZ, Lin P (2015) Arthroscopy-assisted surgery for tibial plateau fractures. Arthroscopy 31:143–153

21.

Shamrock AG, Khazi Z, Gulbrandsen TR, Duchman KR, Willey MC, Karam MD et al (2020) Trends and complications of arthroscopic-assisted tibial plateau fracture fixation: a matched cohort analysis. Arthrosc Sports Med Rehabil 2:e569–e74

22.

Ohdera T, Tokunaga M, Hiroshima S, Yoshimoto E, Tokunaga J, Kobayashi A (2003) Arthroscopic management of tibial plateau fractures—comparison with open reduction method. Arch Orthop Trauma Surg 123:489–493

23.

Chang HR, Yu YY, Ju LL, Zheng ZL, Chen W, Zhang YZ (2018) Percutaneous reduction and internal fixation for monocondylar fractures of tibial plateau: a systematic review. Orthop Surg 10:77–83

24.

Le Baron M, Cermolacce M, Flecher X, Guillotin C, Bauer T, Ehlinger M et al (2019) Tibial plateau fracture management: ARIF versus ORIF—clinical and radiological comparison. Orthop Traumatol Surg Res : Otsr 105:101–106

25.

Henkelmann R, Krause M, Alm L, Glaab R, Mende M, Ull C et al (2020) Effect of fracturoscopy on the incidence of surgical site infections post tibial plateau fracture surgery. Eur J Trauma Emerg Surg 46:1249–1255

26.

Krause M, Alm L, Berninger M, Domnick C, Fehske K, Frosch KH et al (2020) Bone metabolism is a key factor for clinical outcome of tibial plateau fractures. Eur J Trauma Emerg Surg 46:1227–1237
Ethics declarations
Interessenkonflikt
L. Alm, M. Berninger, K.-H. Frosch und M. Krause geben an, dass kein Interessenkonflikt besteht.
Für diesen Beitrag wurden von den Autoren keine Studien an Menschen oder Tieren durchgeführt. Für die aufgeführten Studien gelten die jeweils dort angegebenen ethischen Richtlinien.
Additional information
Redaktion
S. Schröter, Siegen
Supplementary Information
Operationstechnik der arthroskopisch gestützten Frakturversorgung am Kniegelenk
About this article
Cite this article
Alm, L., Berninger, M., Frosch, K. et al. Arthroskopisch gestützte Frakturversorgung am Kniegelenk – ein Videobeitrag. Knie J. (2021). https://doi.org/10.1007/s43205-021-00110-2
Schlüsselwörter
Tibiaplateaufrakturen

ARIF

Neuartige Operationstechnik

Minimal invasiv

Frakturoskopie
Keywords
Tibial plateau fractures

ARIF

Novel surgical techniques

Minimal-invasive

Fracturoscopy