Zusammenfassung
Knorpelschäden des Patellofemoralgelenks führen häufig zu erheblichen Beschwerden und funktionellen Beeinträchtigungen der Betroffenen. Mit der Zeit entstehen aufgrund einer atypischen Kinematik degenerative Veränderungen, die mittel und langfristig in der Ausbildung einer patellofemoralen Arthrose münden. In den letzten Jahren konnten mehrere Studien zeigen, dass eine erfolgreiche Knorpeltherapie erreicht werden kann, wenn die begleitenden oder besser gesagt die zugrunde liegenden Pathologien mitbehandelt werden. Die Ergebnisse können so durchaus auch gleich gut oder sogar besser sein als im tibiofemoralen Kompartiment. Besondere Bedeutung bei der Entstehung chondraler oder osteochondraler Läsionen hat die akute Patellainstabilität. Aber auch direkte Anpralltraumata kommen vor. Diese akuten Verletzungen von Knorpel und Knochen sollten ebenfalls zeitnah versorgt werden. Chronische Patellainstabilitäten führen in der Regel zu chronischem Verschleiß des Knorpels. Diese entstehen zumeist auf dem Boden einer gestörten Kinematik. Aus dieser entstehen dann Scherbelastung oder Fehlbelastung. In beiden Fällen sollten in der Therapie die Begleitpathologien erkannt und mittherapiert werden, um die Entwicklung einer Arthrose abzuwenden. Die Behandlung der Knorpelschäden ist in den vergangenen Jahren um das sog. "Minced-cartilage"-Verfahren, welches bei rein knorpeligen Schäden zum Einsatz kommen sollte, erweitert worden. Aber auch die guten Ergebnisse der Knorpelzelltransplantation an der Patella oder Trochlea waren ermutigend. Die Anwendung der autologen matrixinduzierten Chondrogenese ist in der Anwendung noch nicht gut definiert, hat aber sicher ihren Platz zwischen der Mikrofrakturierung (< 2 cm2) und der Knorpelzelltransplantation (> 2,5–3 cm2), also bei 1–4 cm2.
Abstract
Cartilage damage to the patellofemoral joint often leads to considerable discomfort and functional impairment in affected individuals. Over time, due to atypical kinematics, degenerative changes occur which, in the medium and long term, lead to the development of patellofemoral osteoarthritis. In recent years, several studies have shown that successful cartilage therapy can be achieved if the accompanying or, better said, the underlying pathologies are also treated. The results can be as good as or even better than in the tibiofemoral compartment. The acute patellar instability is of particular importance in the development of chondral or osteochondral lesions. But direct impact trauma also occurs. These acute injuries to cartilage and bones should also be treated promptly. Chronic patellar instability usually leads to chronic wear and tear of the cartilage. They mostly arise on the basis of disturbed kinematics. This then results in shear stress or incorrect stress. In both cases, the accompanying pathologies should be recognized and treated as part of the therapy in order to prevent the development of osteoarthritis. The treatment of cartilage damage in recent years has been around the so-called "minced cartilage" procedure, which should be used for purely cartilaginous damage. But the good results of the cartilage cell transplantation on the patella or trochlea were also encouraging. The application of the autologous matrix-induced chondrogenesis is not yet well defined in its application, but it certainly has its place between microfracture (< 2 cm2) and cartilage cell transplantation (> 2.5–3 cm2), i.e. 1–4 cm2.
Access options
Buy single article
Instant access to the full article PDF.
US$ 39.95
Tax calculation will be finalised during checkout.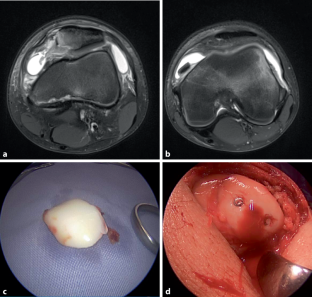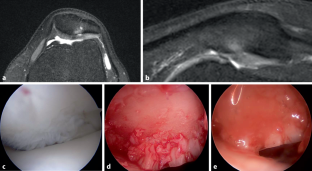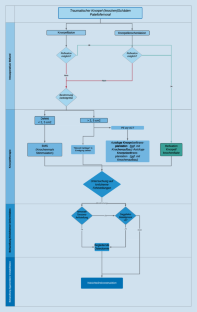 Literatur
1.

Ogura T, Bryant T, Merkely G, Minas T (2019) Autologous chondrocyte implantation for bipolar chondral lesions in the patellofemoral compartment: clinical outcomes at a mean 9 years' follow-up. Am J Sports Med 47:837–846

2.

Simmons E, Cameron JC (1992) Patella alta and recurrent dislocation of the patella. Clin Orthop Relat Res 274:265–269

3.

Dejour H, Walch G, Neyret P, Adeleine P (1990) Dysplasia of the femoral trochlea. Rev Chir Orthop Reparatrice Appar Mot 76:45–54

4.

Tscholl PM, Wanivenhaus F, Fucentese SF (2017) Conventional radiographs and magnetic resonance imaging for the analysis of trochlear dysplasia. Am J Sports Med 37:363546516685054

5.

Waidelich H‑A, Strecker W, Schneider E (1992) Computertomographische Torsionswinkel- und Längenmessung an der unteren Extremität. Röfo 157:245–251

6.

Feucht MJ et al (2020) Failure analysis in patients with patellar redislocation after primary isolated medial patellofemoral ligament reconstruction. Orthop J Sports Med 8:2325967120926178

7.

Wiberg G (2009) Roentgenographs and anatomic studies on the femoropatellar joint: with special reference to chondromalacia patellae. Acta Orthop Scand 12:319–410

8.

Grelsamer RP, Proctor CS, Bazos AN (1994) Evaluation of patellar shape in the sagittal plane. Am J Sports Med 22:61–66

9.

Izadpanah K et al (2014) Influence of knee flexion angle and weight bearing on the Tibial Tuberosity-Trochlear Groove (TTTG) distance for evaluation of patellofemoral alignment. Knee Surg Sports Traumatol Arthrosc 22:2655–2661

10.

Dietrich TJ, Betz M, Pfirrmann CWA, Koch PP, Fucentese SF (2014) End-stage extension of the knee and its influence on tibial tuberosity-trochlear groove distance (TTTG) in asymptomatic volunteers. Knee Surg Sports Traumatol Arthrosc 22:214–218

11.

Seitlinger G et al (2012) Tibial tubercle-posterior cruciate ligament distance: a new measurement to define the position of the tibial tubercle in patients with patellar dislocation. Am J Sports Med 40:1119–1125

12.

Harris JD et al (2012) Sensitivity of magnetic resonance imaging for detection of patellofemoral articular cartilage defects. Arthroscopy 28:1728–1737

13.

Kühle J et al (2013) Treatment of osteochondral fractures of the knee: a meta-analysis of available scientific evidence. International Orthopaedics (SICOT) 37:2385–2394

14.

Salzmann GM, Ossendorff R, Gilat R, Cole BJ (2020) Autologous minced cartilage implantation for treatment of chondral and osteochondral lesions in the knee joint: an overview. Cartilage. https://doi.org/10.1177/1947603520942952

15.

Bonasia DE et al (2015) The degree of chondral fragmentation affects extracellular matrix production in cartilage autograft implantation: an in vitro study. Arthroscopy 31:2335–2341

16.

Ulstein S et al (2018) A controlled comparison of microfracture, debridement, and no treatment of concomitant full-thickness cartilage lesions in anterior cruciate ligament–reconstructed knees: a nationwide prospective cohort study from Norway and Sweden of 368 patients with 5‑year follow-up. Orthop J Sports Med 6:2325967118787767

17.

Niemeyer P et al (2013) Autologous chondrocyte implantation (ACI) for cartilage defects of the knee: a guideline by the working group "Tissue Regeneration" of the German Society of Orthopaedic Surgery and Traumatology (DGOU). Z Orthop Unfall 151:38–47

18.

Salzmann GM, Sah B, Südkamp NP, Niemeyer P (2013) Clinical outcome following the first-line, single lesion microfracture at the knee joint. Arch Orthop Trauma Surg 133:303–310

19.

Niemeyer P et al (2015) Das KnorpelRegister DGOU zur Erfassung von Behandlungsergebnissen nach Knorpeloperationen: Erfahrungen nach 6 Monaten und erste epidemiologische Daten. Z Orthop Unfallchir 153:67–74

20.

Mehl J et al (2018) Degenerative isolated cartilage defects of the patellofemoral joint are associated with more severe symptoms compared to trauma-related defects: results of the German Cartilage Registry (KnorpelRegister DGOU). Knee Surg Sports Traumatol Arthrosc 27:580–589

21.

Salzmann GM, Sah B‑R, Schmal H, Niemeyer P, Sudkamp NP (2012) Microfracture for treatment of knee cartilage defects in children and adolescents. Pediatr Rep 4:e21

22.

Fossum V, Hansen AK, Wilsgaard T, Knutsen G (2019) Collagen-covered autologous chondrocyte implantation versus autologous matrix-induced chondrogenesis: a randomized trial comparing 2 methods for repair of cartilage defects of the knee. Orthop J Sports Med 7:2325967119868212

23.

Massen FK et al (2019) One-step autologous minced cartilage procedure for the treatment of knee joint chondral and osteochondral lesions: a series of 27 patients with 2‑year follow-up. Orthop J Sports Med 7:2325967119853773

24.

Ogura T, Mosier BA, Bryant T, Minas T (2017) A 20-year follow-up after first-generation autologous chondrocyte implantation. Am J Sports Med 45:2751–2761

25.

Siebold R, Karidakis G, Fernandez F (2014) Clinical outcome after medial patellofemoral ligament reconstruction and autologous chondrocyte implantation following recurrent patella dislocation. Knee Surg Sports Traumatology Arthrosc 22:2477–2483
Ethics declarations
Interessenkonflikt
K. Izadpanah, M. Feucht und D. Maier geben an, dass kein Interessenkonflikt besteht.
Für diesen Beitrag wurden von den Autoren keine Studien an Menschen oder Tieren durchgeführt. Für die aufgeführten Studien gelten die jeweils dort angegebenen ethischen Richtlinien.
Additional information
Redaktion
J. Dickschas, Bamberg
M. Feucht, Stuttgart
About this article
Cite this article
Izadpanah, K., Feucht, M. & Maier, D. Knorpelschäden im Patellofemoralgelenk: von der Refixation bis zum Knorpelersatz. Knie J. 3, 91–98 (2021). https://doi.org/10.1007/s43205-021-00107-x
Accepted:

Published:

Issue Date:
Schlüsselwörter
Diagnosestellung

Gelenkskinematik

Minced cartilage

Autologe matrixinduzierte Chondrogenese

Autologe Knorpeltransplantation
Keywords
Diagnosis

Joint kinematics

Minced cartilage

Autologous matrix-induced chondrogenesis

Autologous cartilage transplantation