Zusammenfassung
Die zufriedenstellende Rekonstruktion von komplexen Tibiaplateaufrakturen kann, insbesondere bei schlechter Knochenqualität, eine Herausforderung darstellen. Als Alternative zur offenen Reposition und internen Fixation (ORIF) können geriatrische Patienten möglicherweise von der primären Implantation einer Kniegelenkstotalendoprothese (Knie-TEP) profitieren, mit der Möglichkeit zur initialen Vollbelastung und Reduktion von Komplikationen der ORIF. In der Literatur existieren einige wenige retrospektive Fallserien mit vielversprechenden Ergebnissen, aber das allgemeine Evidenzlevel ist gering.
Wir präsentieren den Fall eines 91-jährigen Patienten mit komplexer Tibiaplateaufraktur, der erfolgreich mittels primärer Knie-TEP-Implantation behandelt werden konnte. Aufgrund von Knochenverlust und Instabilität wurde eine gekoppelte Revisions-TEP implantiert. Hierdurch konnten die Frühmobilisation des Patienten mithilfe der Physiotherapie und die zügige Entlassung in die häusliche Umgebung erreicht werden.
Abstract
Satisfactory reconstruction of complex tibial plateau fractures can be challenging, especially in patients with poor bone quality. As an alternative to open reduction and internal fixation (ORIF), geriatric patients could potentially benefit from primary total knee arthroplasty (TKA) allowing for immediate full weight bearing and minimizing ORIF-dependent complications. In the literature, there are a few retrospective case series presenting encouraging results, but the overall evidence level is low. We present the case of a 91-year-old man with a complex tibial plateau fracture who was successfully treated with primary TKA. Due to bone loss and instability a constrained revision knee prosthesis was implanted. Early mobilization of the patient assisted by physiotherapy and early discharge to his home environment could be accomplished.
Access options
Buy single article
Instant access to the full article PDF.
USD 39.95
Price includes VAT (USA)
Tax calculation will be finalised during checkout.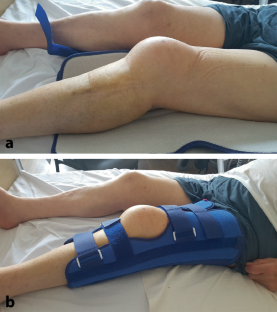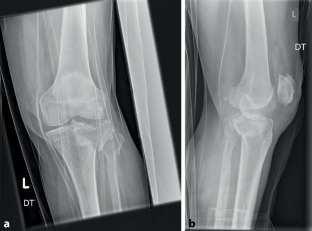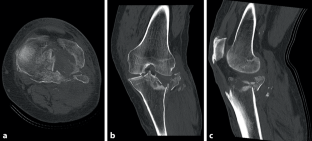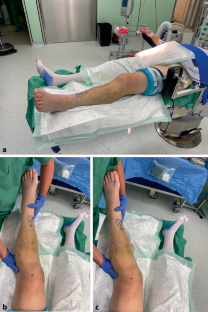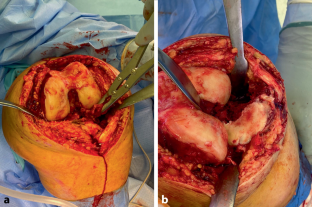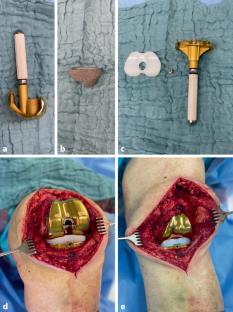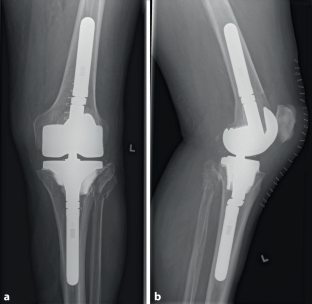 Literatur
1.

Rixen D, Mester B (2015) Tibiakopffrakturen: Stand der Versorgung. Trauma Berufskrankh. https://doi.org/10.1007/s10039-015-0048-y

2.

Krause M, Preiss A, Müller G et al (2016) Intra-articular tibial plateau fracture characteristics according to the "Ten segment classification.". Injury 47:2551–2557. https://doi.org/10.1016/j.injury.2016.09.014

3.

Elsoe R, Larsen P, Nielsen NPH et al (2015) Population-based epidemiology of tibial plateau fractures. Orthopedics 38:e780–e786. https://doi.org/10.3928/01477447-20150902-55

4.

Softness KA, Murray RS, Evans BG (2017) Total knee arthroplasty and fractures of the tibial plateau. World J Orthop 8:107. https://doi.org/10.5312/wjo.v8.i2.107

5.

Manidakis N, Dosani A, Dimitriou R et al (2010) Tibial plateau fractures: functional outcome and incidence of osteoarthritis in 125 cases. Int Orthop 34:565–570. https://doi.org/10.1007/s00264-009-0790-5

6.

Jansen H, Frey SP, Doht S et al (2013) Medium-term results after complex intra-articular fractures of the tibial plateau. J Orthop Sci 18:569–577. https://doi.org/10.1007/s00776-013-0404-3

7.

Honkonen SE (1995) Degenerative arthritis after tibial plateau fractures. J Orthop Trauma 9:273–277. https://doi.org/10.1097/00005131-199509040-00001

8.

Huang J‑F, Shen J‑J, Chen J‑J, Tong P‑J (2016) Primary total knee arthroplasty for elderly complex tibial plateau fractures. Acta Orthop Traumatol Turc 50:702–705. https://doi.org/10.1016/j.aott.2015.03.001

9.

Hankemeier S (2013) Knee arthroplasty in patients with posttraumatic arthritis. Unfallchirurg 116:427–434. https://doi.org/10.1007/s00113-013-2378-1

10.

Ali AM, El-Shafie M, Willett KM (2002) Failure of fixation of tibial plateau fractures. J Orthop Trauma 16:323–329. https://doi.org/10.1097/00005131-200205000-00006

11.

Niedhart C (2016) Osteoporose: leitliniengerechte Diagnostik und Therapie. Z Orthop Unfallchir 154:237–244. https://doi.org/10.1055/s-0041-110813

12.

Vermeire J, Scheerlinck T (2010) Early primary total knee replacement for complex proximal tibia fractures in elderly and osteoarthritic patients. Acta Orthop Belg 76:785–793

13.

Parratte S, Bonnevialle P, Pietu G et al (2011) Primary total knee arthroplasty in the management of epiphyseal fracture around the knee. Orthop Traumatol Surg Res 97:S87–S94. https://doi.org/10.1016/j.otsr.2011.06.008

14.

Haufe T, Förch S, Müller P et al (2016) The role of a primary arthroplasty in the treatment of proximal tibia fractures in orthogeriatric patients. Biomed Res Int. https://doi.org/10.1155/2016/6047876

15.

Boureau F, Benad K, Putman S et al (2015) Does primary total knee arthroplasty for acute knee joint fracture maintain autonomy in the elderly? A retrospective study of 21 cases. Orthop Traumatol Surg Res 101:947–951. https://doi.org/10.1016/j.otsr.2015.09.021

16.

Malviya A, Reed MR, Partington PF (2011) Acute primary total knee arthroplasty for peri-articular knee fractures in patients over 65 years of age. Injury 42:1368–1371. https://doi.org/10.1016/j.injury.2011.06.198
Ethics declarations
Interessenkonflikt
B. Mester, A. Streitbürger, P. Beck, M. Burggraf, T. Ohmann, C. Schoepp, M. Dudda und L. Becker geben an, dass kein Interessenkonflikt besteht.
Für diesen Beitrag wurden von den Autoren keine Studien an Menschen oder Tieren durchgeführt. Für die aufgeführten Studien gelten die jeweils dort angegebenen ethischen Richtlinien. Für Bildmaterial oder anderweitige Angaben innerhalb des Manuskripts, über die Patienten zu identifizieren sind, liegt von ihnen und/oder ihren gesetzlichen Vertretern eine schriftliche Einwilligung vor.
Additional information
Redaktion
T. Diermeier, Berlin
S. Hinterwimmer, München
Supplementary Information
Video 1: Nachweis der ausgeprägten Valgusinstabilität in der präoperativen Narkoseuntersuchung.
Video 2: Postoperative Frühmobilisation des Patienten nach drei Tagen postoperativ am Gehbock auf Stationsebene.
About this article
Cite this article
Mester, B., Streitbürger, A., Beck, P. et al. Implantation einer Kniegelenkstotalendoprothese als primäre Behandlungsoption für eine komplexe Tibiaplateaufraktur beim geriatrischen Patienten. Knie J. 3, 205–211 (2021). https://doi.org/10.1007/s43205-021-00100-4
Accepted:

Published:

Issue Date:
Schlüsselwörter
Tibiakopffraktur

Knochenverlust

Alterstraumatologie

Primäre Endoprothetik

Gekoppelte Knie-TEP
Keywords
Tibial head fracture

Bone loss

Geriatric trauma

Primary arthroplasty

Hinged total knee arthroplasty