Zusammenfassung
Hintergrund
Die Implantation einer Knietotalendoprothese (KTEP) gehört zu den häufigsten in Deutschland durchgeführten Operationen. Die prä- und postoperative Aufenthaltsdauer in den Kliniken sinkt zunehmend in den letzten Jahren – auch aufgrund des zunehmenden Kostendrucks. Parallel dazu steigen Alter und Komorbiditäten der Patienten sowie der Anspruch an das Operationsergebnis. Ein möglichst früher Beginn der Mobilisierung erscheint daher sinnvoll.
Zielsetzung
Ziel der Arbeit ist es, bestehende Literatur zum Thema Frühmobilisierung am Operationstag nach Implantation einer KTEP zu recherchieren und zusammenzufassen.
Material und Methoden
Es erfolgte eine systematische Literatursuche in MEDLINE mit den Begriffen "arthroplasty", "knee", "fast track", "enhanced recovery", "rapid recovery", "rehabilitation", "physiotherapy".
Ergebnisse und Diskussion
Im Kurzzeit-Follow-up zeigen sich im Durchschnitt positive Ergebnisse bzgl. Schmerz, Funktion, Reduktion von internistischen Komplikationen und stationärer Aufenthaltsdauer bei Mobilisierung am Operationstag nach KTEP-Implantation. Zu Langzeitergebnissen ist die Studienlage unklar. Die Art und Dauer der Mobilisierung wird in der Literatur häufig nicht vollständig und uneinheitlich dargestellt. Kritisch betrachtet werden muss die Tendenz, vor allem die Reduktion der Aufenthaltsdauer im Akutkrankenhaus als Maßstab zum Erfolg von rascher Mobilisierung und Fast-Track-Programmen zu werten. Der Versorgungswunsch kollidiert in Deutschland häufig mit der Versorgungsrealität, so dass Patienten nach Aufenthalt im Akutkrankenhaus oft eine weitere stationäre Anschlussheilbehandlung benötigen.
Abstract
Background
The knee arthroplasty is one of the most common surgeries performed in Germany. The pre- and postoperative length of stay in the hospital has been decreasing in recent years—also due to increasing cost pressure. At the same time, age and comorbidities of the patients as well as the demands on the surgical outcome are increasing. Therefore a start of mobilization on the same day of surgery seems to make sense.
Objectives
The aim of this work is to examine and summarize existing literature of same-day mobilization after total knee arthroplasty (TKA).
Materials and methods
A systematic literature research was performed in MEDLINE using the terms "arthroplasty", "knee", "fast track", "enhanced recovery", "rapid recovery", "rehabilitation", "physiotherapy".
Results and conclusions
In the short-term follow-up, there are on average positive results in terms of pain, function, reduction of general complications and length of stay due to same-day mobilization after TKA. The long-term results have not been sufficiently studied. The type and intensity of mobilization is often not fully described in the literature. The tendency to consider the reduction in length of stay as a measure of success of rapid mobilization and fast-track programs must be viewed critically. In Germany, outpatient care is often not possible due to the condition of the patient, so that specialized treatment in an inpatient rehabilitation unit is needed.
Access options
Buy single article
Instant access to the full article PDF.
US$ 39.95
Tax calculation will be finalised during checkout.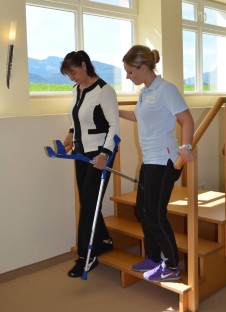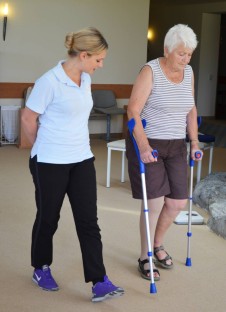 Abbreviations
ASA:

American Society of Anesthesiologists

BMI:

Body Mass Index

ER:

Enhanced Recovery

FTR:

Fast Track

HTEP:

Hüftendoprothese

KTEP:

Knietotalendoprothese

ROM:

Range of motion

RR:

Rapid Recovery
Literatur
1.

Quack V, Ippendorf AV, Betsch M, Schenker H, Nebelung S, Rath B, Tingart M, Lüring C (2015) Multidisciplinary rehabilitation and fast-track rehabilitation after knee replacement: faster, better, cheaper? A survey and systematic review of literature. Rehabilitation 54(4):245–251. https://doi.org/10.1055/s-0035-1555887

2.

Jansson MM, Harjumaa M, Puhto AP, Pikkarainen M (2019) Healthcare professionals' perceived problems in fast-track hip and knee arthroplasty: results of a qualitative interview study. J Orthop Surg Res 14(1):294. https://doi.org/10.1186/s13018-019-1334-3

3.

Harikesavan K, Chakravarty RD, Maiya AG (2019) Influence of early mobilization program on pain, self-reported and performance based functional measures following total knee replacement. J Clin Orthop Trauma 10(2):340–344

4.

Labraca NS, Castro-Sánchez AM, Matarán-Peñarrocha GA, Arroyo-Morales M, Sánchez-Joya Mdel M, Moreno-Lorenzo C (2011) Benefits of starting rehabilitation within 24 h of primary total knee arthroplasty: randomized clinical trial. Clin Rehabil 25(6):557–566. https://doi.org/10.1177/0269215510393759

5.

Guerra ML, Singh PJ, Taylor NF (2015) Early mobilization of patients who have had a  hip or knee joint replacement reduces length of stay in hospital: a systematic review. Clin Rehabil 29(9):844–854. https://doi.org/10.1177/0269215514558641

6.

den Hertog A, Gliesche K, Timm J et al (2012) Pathway-controlled fast-track rehabilitation after total knee arthroplasty: a randomized prospective clinical study evaluating the recovery pattern, drug consumption, and length of stay. Arch Orthop Trauma Surg 132(1):1153–1163

7.

Shah A, Memon M, Kay J, Wood TJ, Tushinski DM, Khanna V, McMaster Arthroplasty Collective (MAC) group (2019) Preoperative patient factors affecting length of stay following total knee arthroplasty: a systematic review and meta-analysis. J Arthroplasty 34(9):2124–2165.e1. https://doi.org/10.1016/j.arth.2019.04.048

8.

Sarpong NO, Lakra A, Jennings E, Cooper HJ, Shah RP, Geller JA (2019) Same-day physical therapy following total knee Arthroplasty leads to improved inpatient physical therapy performance and decreased inpatient Opioid consumption. J Arthroplasty. https://doi.org/10.1016/j.arth.2019.07.029

9.

Yakkanti RR, Miller AJ, Smith LS, Feher AW, Mont MA, Malkani AL (2019) Impact of early mobilization on length of stay after primary total knee arthroplasty. Ann Transl Med 7(4):69. https://doi.org/10.21037/atm.2019.02.02

10.

Chen AF, Stewart MK, Heyl AE, Klatt BA (2012) Effect of immediate postoperative physical therapy on length of stay for total joint arthroplasty patients. J Arthroplasty 27(6):851–856. https://doi.org/10.1016/j.arth.2012.01.011

11.

Bohl DD, Li J, Calkins TE, Darrith B, Edmiston TA, Nam D, Gerlinger TL, Levine BR, Valle DCJ (2019) Physical therapy on postoperative day zero following total knee arthroplasty: a randomized, controlled trial of 394 patients. J Arthroplasty 34(7S):S173–S177.e1. https://doi.org/10.1016/j.arth.2019.02.010

12.

Wu Y, Yang T, Zeng Y, Si H, Li C, Shen B (2017) Effect of different postoperative limb positions on blood loss and range of motion in total knee arthroplasty: An updated meta-analysis of randomized controlled trials. Int J Surg 37:15–23. https://doi.org/10.1016/j.ijsu.2016.11.135

13.

Pua YH, Seah FJ, Poon CL, Tan JW, Clark AR, Liaw JS, Chong HC (2018) Age- and sex-based recovery curves to track functional outcomes in older adults with total knee arthroplasty. Age Ageing 47(1):144–148. https://doi.org/10.1093/ageing/afx148

14.

Büttner M, Mayer AM, Büchler B, Betz U, Drees P, Susanne S (2019) Economic analyses of fast-track total hip and knee arthroplasty: a systematic review. Eur J Orthop Surg Traumatol. https://doi.org/10.1007/s00590-019-02540-1

15.

Berg U, BüLow E, Sundberg M, Rolfson O (2018) No increase in readmissions or adverse events after implementation of fast-track program in total hip and knee replacement at 8 Swedish hospitals: an observational before-and-after study of 14,148 total joint replacements 2011–2015. Acta Orthop 89(5):522–527. https://doi.org/10.1080/17453674.2018.1492507

16.

Wainwright TW, Kehlet H (2019) Fast-track hip and knee arthroplasty—have we reached the goal? Acta Orthop 90(1):3–5. https://doi.org/10.1080/17453674.2018.1550708

17.

Petersen W, Bierke S, Hees T, Karpinski K, Häner M (2019) Fast track concepts in total knee arthroplasty: use of tranexamic acid and local intra-articular anesthesia technique. Oper Orthop Traumatol 31(5):447–462. https://doi.org/10.1007/s00064-019-00628-9

18.

Husted H, Otte KS, Kristensen BB, Ørsnes T, Wong C, Kehlet H (2010) Low risk of thromboembolic complications after fast-track hip and knee arthroplasty. Acta Orthop 81(5):599–605. https://doi.org/10.3109/17453674.2010.525196

19.

Jung KD, Husted H, Kristensen BB (2019) Total knee and hip arthroplasty within 2 days : the Danish fast-track model. Orthopade. https://doi.org/10.1007/s00132-019-03796-5

20.

Bandholm T, Kehlet H (2012) Physiotherapy exercise after fast-track total hip and knee arthroplasty: time for reconsideration? Arch Phys Med Rehabil 93(7):1292–1294. https://doi.org/10.1016/j.apmr.2012.02.014

21.

Kehlet H, Thienpont E (2013) Fast-track knee arthroplasty—status and future challenges. Knee 20(Suppl 1):S29–S33. https://doi.org/10.1016/S0968-0160(13)70006-1

22.

Qualitätsreport 2016 des Instituts für Qualitätssicherung und Transparenz im Gesundheitswesen des GBA "Bundesauswertung zum Erfassungsjahr 2016 Knieendoprothesenversorgung", Stand 12.07.2017, Seite 58 und 62

23.

Eiff S (2011) Kürzere Akut-Verweildauern erhöhen Aufwand in der Reha. Dtsch Ärztebl 108(21):1164–1166

24.

Winther SB, Foss OA, Wik TS, Davis SP, Engdal M, Jessen V, Husby OS (2015) 1‑year follow-up of 920 hip and knee arthroplasty patients after implementing fast-track. Acta Orthop 86(1):78–85. https://doi.org/10.3109/17453674.2014.957089 (Erratum in: Acta Orthop. 2015 Feb;86(1):143–4)

25.

Schmitt-Sody M, Valle C (2016) Rehabilitation after periprosthetic fractures. Unfallchirurg 119(3):194–201. https://doi.org/10.1007/s00113-016-0146-8
Ethics declarations
Interessenkonflikt
C. Valle und M. Schmitt-Sody geben an, dass kein Interessenkonflikt besteht.
Für diesen Beitrag wurden von den Autoren keine Studien an Menschen oder Tieren durchgeführt. Für die aufgeführten Studien gelten die jeweils dort angegebenen ethischen Richtlinien. Für Bildmaterial oder anderweitige Angaben innerhalb des Manuskripts, über die Patienten zu identifizieren sind, liegt von ihnen und/oder ihren gesetzlichen Vertretern eine schriftliche Einwilligung vor.
Additional information
Redaktion
R. von Eisenhart-Rothe, München
R. Hube, München
W. Petersen, Berlin
About this article
Cite this article
Valle, C., Schmitt-Sody, M. Frühmobilisation am Operationstag nach Knietotalendoprothese – ist das sinnvoll?. Knie J. 2, 15–19 (2020). https://doi.org/10.1007/s43205-019-00031-1
Schlüsselwörter
Rehabilitation

Knieendoprothese

Fast track

Frührehabilitation

Physiotherapie
Keywords
Rehabilitation

Knee arthroplasty

Fast track

Early rehabilitation

Physiotherapy