Access options
Buy single article
Instant access to the full article PDF.
US$ 39.95
Tax calculation will be finalised during checkout.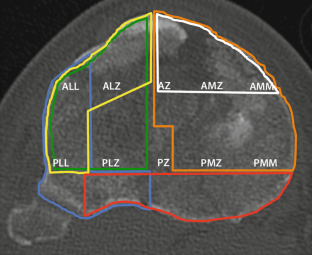 Literatur
1.

Beisemann N, Keil H, Swartman B, Schnetzke M, Franke J, Grutzner PA et al (2019) Intraoperative 3D imaging leads to substantial revision rate in management of tibial plateau fractures in 559 cases. J Orthop Surg Res 14:236

2.

Krause M, Kruger S, Muller G, Puschel K, Frosch KH (2019) How can the articular surface of the tibial plateau be best exposed? A comparison of specific surgical approaches. Arch Orthop Trauma Surg 139(10):1369–1377. https://doi.org/10.1007/s00402-019-03200-z

3.

Krause M, Muller G, Frosch KH (2019) Extended medial and extended lateral approach for tibial plateau fractures. Oper Orthop Traumatol 31:127–142

4.

Krause M, Preiss A, Meenen NM, Madert J, Frosch KH (2016) "Fracturoscopy" is superior to fluoroscopy in the articular reconstruction of complex tibial plateau fractures-an arthroscopy assisted fracture reduction technique. J Orthop Trauma 30:437–444

5.

Nie W, Gu F, Wang Z, Wu R, Yue Y, Shao A (2019) Preliminary application of three-dimension printing technology in surgical management of bicondylar tibial plateau fractures. Injury 50:476–483

6.

Millar SC, Arnold JB, Thewlis D, Fraysse F, Solomon LB (2018) A systematic literature review of tibial plateau fractures: what classifications are used and how reliable and useful are they? Injury 49:473–490

7.

Helfet DL, Haas NP, Schatzker J, Matter P, Moser R, Hanson B (2003) AO philosophy and principles of fracture management-its evolution and evaluation. J Bone Joint Surg Am 85:1156–1160

8.

Luo CF, Sun H, Zhang B, Zeng BF (2010) Three-column fixation for complex tibial plateau fractures. J Orthop Trauma 24:683–692

9.

Krause M, Preiss A, Müller G, Madert J, Fehske K, Neumann MV et al (2016) Intra-articular tibial plateau fracture characteristics according to the "ten segment classification". Injury 47:2551–2557

10.

Meulenkamp B, Martin R, Desy NM, Duffy P, Korley R, Puloski S et al (2017) Incidence, risk factors, and location of articular malreductions of the tibial plateau. J Orthop Trauma 31:146–150

11.

Meinberg EG, Agel J, Roberts CS, Karam MD, Kellam JF (2018) Fracture and dislocation classification compendium-2018. J Orthop Trauma 32(1):S1–S170

12.

Hoekstra H (2017) Are there four tibia plateau columns? Int Orthop 41(12):2631–2632. https://doi.org/10.1007/s00264-017-3602-3

13.

Krause M, Frosch KH (2017) Response to the letter-to-the-editor by Dhillon et al. "simple four column classification can dictate treatment for intra articular tibial plateau fractures much better than ten segment classification". Injury 48:2369–2370

14.

Krause M, Menzdorf L, Preiss A, Frosch KH (2018) Are there four tibial plateau columns? Yes there are, as illustrated by a postero-lateral apple-bite fracture. Response to a letter-to-the-editor. Int Orthop 42:443–446

15.

Wang Y, Luo C, Zhu Y, Zhai Q, Zhan Y, Qiu W et al (2016) Updated three-column concept in surgical treatment for tibial plateau fractures—a prospective cohort study of 287 patients. Injury 47:1488–1496

16.

Wurm S, Buhren V, Augat P (2018) Treating patella fractures with a locking patella plate—first clinical results. Injury 49(1):S51–S5

17.

Zderic I, Stoffel K, Sommer C, Hontzsch D, Gueorguiev B (2017) Biomechanical evaluation of the tension band wiring principle. A comparison between two different techniques for transverse patella fracture fixation. Injury 48:1749–1757

18.

Ellwein A, Lill H, DeyHazra RO, Smith T, Katthagen JC (2019) Outcomes after locked plating of displaced patella fractures: a prospective case series. Int Orthop. https://doi.org/10.1007/s00264-019-04337-7

19.

Wild M, Fischer K, Hilsenbeck F, Hakimi M, Betsch M (2016) Treating patella fractures with a fixed-angle patella plate—a prospective observational study. Injury 47:1737–1743

20.

Müller EC, Frosch KH (2019) Functional outcomes of revision osteosynthesis after failure of surgical treatment of patellar fractures. J Knee Surg. https://doi.org/10.1055/s-0039-1692673

21.

Moore TB, Sampathi BR, Zamorano DP, Tynan MC, Scolaro JA (2018) Fixed angle plate fixation of comminuted patellar fractures. Injury 49:1203–1207

22.

Krause M, Müller G, Frosch KH (2018) Chirurgische Zugänge bei Tibiakopffrakturen. Unfallchirurg 121:569–582
Ethics declarations
Interessenkonflikt
M. Krause, K.-H. Frosch und R. Hoffmann geben an, dass kein Interessenkonflikt besteht.
Additional information
Aus dem DKG-Komitee Frakturen
Redaktion
T. Zantop, Straubing
About this article
Cite this article
Krause, M., Frosch, KH. & Hoffmann, R. Wissenschaftlicher Jahresrückblick "Traumatologie". Knie J. 2, 57–59 (2020). https://doi.org/10.1007/s43205-019-00030-2