Abstract
The purpose of this study was to investigate the protective effects of beet root (Beta vulgaris var. rubra) in lipopolysaccharide (LPS) and alcohol induced liver damage. Beta vulgaris ethanol extract (BVEE) showed good antioxidant activity in the contents of polyphenol and flavonoid compounds, and the electron-donating ability and ABTS+ radical scavenging activity. As for anti-inflammatory effect in RAW 264.7 cells, inhibition rate of nitric oxide production was increased in dose dependent manner. In hepatotoxicity model induced by LPS and alcohol in rat, BVEE significantly decreased serum AST, ALT and γ-GTP concentrations in a dose-dependent manner. The histopathological changes after H&E staining showed that fat accumulation and inflammatory cell infiltration were decreased by BVEE. The collagen fibers around the central lobule observed by Masson's trichrome staining were also decreased by BVEE. In addition, as for the immunohistochemical staining and Transmission electron microscopy, BVEE improved morphological characteristics of damaged liver lesion. The increased mRNA expressions of NF-κB, MAPK1, MAPK3, CYP2E1, and α-SMA were significantly decreased in BVEE treated group. These results indicated that BVEE would have protective effects in hepatotoxicity by altering various indicators related to the liver damage induced by LPS or alcohol.
Access options
Buy single article
Instant access to the full article PDF.
US$ 39.95
Tax calculation will be finalised during checkout.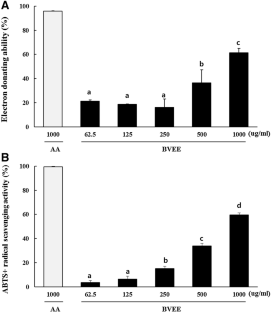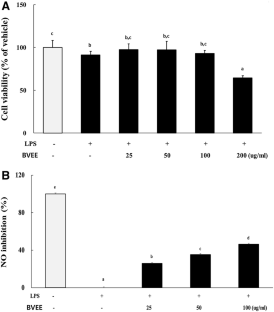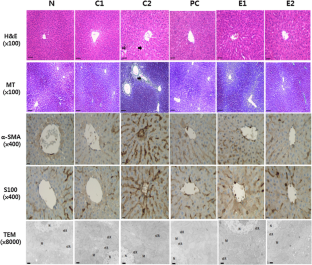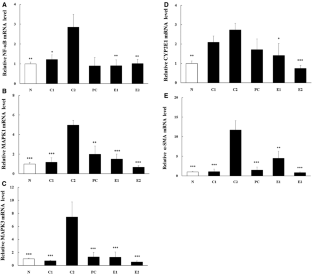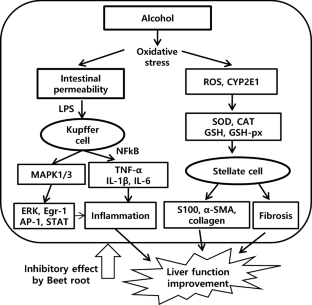 References
1.

O'shea RS, Dasarathy S, McCullough AJ (2010) Alcoholic liver disease. Hepatology 51:307–328

2.

Friedman SL (2003) Liver fibrosis from bench to bedside. J Hepatol 38:38–53

3.

Jeong WI, Park O, Gao B (2008) Abrogation of the antifibrotic effects of natural killer cells/interferon-gamma contributes to alcohol acceleration of liver fibrosis. Gastroenterology 134:248–258

4.

Lucas K, Maes M (2013) Role of the Toll Like receptor (TLR) radical cycle in chronic inflammation: possible treatments targeting the TLR4 pathway. Mol Neurobiol 48:190–204

5.

Mandrekar P, Szabo G (2009) Signalling pathways in alcohol-induced liver inflammation. J Hepatol 50:1258–1266

6.

Lee HJ (2010) Update and perspectives on alcoholic liver disease in Korea 2010. Clin Mol Hepatol 16:23–44

7.

Lichtenthaler R, Marx F (2005) Total oxidant scavenging capacities of common European fruit and vegetable juices. Food Chem 53:103–110

8.

Junyan Han J, Zhang Z, Yang S, Wang J, Yang X, Tan D (2014) Betanin attenuates paraquat-induced liver toxicity through a mitochondrial pathway. Food Chem Toxicol 70:100–106

9.

Blois MS (1958) Antioxidant determinations by the use of a stable free radical. Nature 181:1199–1200

10.

Re R, Pellegrini N, Proteggente A, Pannala A, Yang M, Rice-Evans C (1999) Antioxidant activity applying an improved ABTS radical cation decolorization assay. Free Radic Biol Med 26:1231–1237

11.

Folin O, Denis W (1912) On phosphotungstic-phosphomolybdic compounds as color regents. J Biol Chem 12:239–243

12.

Guzik TJ, Korbut R, Adamek-Guzik T (2003) Nitric oxide superoxide in inflammation and immune regulation. J Physiol Phamacol 43:469–487

13.

Yang X, Kang MC, Lis Y, Kim EA, Kang SM, Jeon YJ (2014) Anti-inflammatory activity of questinol isolated from marine-derived fungus eurotium amstelodami in lipopolysaccharide-stimulated raw 264.7 macrophages. J Korean Med Sci 8:367–373

14.

Kim EJ, Choi JY, Yu MR, Kim YM, Lee SH, Lee BH (2012) Total polyphenols, total flavonoid contents, and antioxidant activity of Korean natural and medicinal plants. J Food Sci Technol 44:337–342

15.

Stewart S, Jones D, Day CP (2001) Alcoholic liver disease: new insights into mechanisms and preventative strategies. Trends Mol Med 7:408–413

16.

Wang Q, Dai X, Yang W, Wang H, Zhao H, Yang F, Yang Y, Li J, Lv X (2015) Caffeine protects against alcohol-induced liver fibrosis by dampening the cAMP/PKA/CREB pathwayin rat hepatic stellate cells. Int Immunopharmacol 25:340–352

17.

Koo SW, Lee KW (2012) The protective effect of ginger aqueous extracts on CCl4-induced hepatic damage in mice. J Vet Clin 29:441–446

18.

Li W, Zhu C, Li Y, Wu Q, Gao R (2014) MEST attenuates CCl4-induced liver fibrosis in rats by inhibiting the wnt/β-catenin signaling pathway. Gut Liver 8:282–291

19.

Duarte Rojo A, Ruiz Margain A, Macias Rodriguez RU, Cubero FJ, Estradas Trujillo J, Munoz Fuentes RM, Torre A (2016) Clinical scenarios for the use of S100β as a marker of hepatic encephalopathy. World J Gstroenterol 22:4397–4402

20.

Li CH, Piao DM, Xu WX, Yin ZR, Jin JS, Shen ZS (2005) Morphological and serum hyaluronic acid, laminin and type IV collagen changes in dimethylnitrosamine-induced hepatic fibrosis of rats. World J Gastroenterol 11:7620–7624

21.

Miyazawa Y, Fukuda Y, Imoto M, Koyama Y, Nagura H (1988) Immunohistochemical studies on the distribution of nerve fibers in chronic liver diseases. Am J Gastroenterol 83:1108–1114

22.

Sternlieb I, Quintana N (1977) The peroxisomes of human hepatocytes. Lab Investig 36:140–149

23.

Zhao M, Howard EW, Parris AB, Guo Z, Zhao Q, Yang X (2017) Alcohol promotes migration and invasion of triple-negative breast cancer cells through activation of p38 MAPK and JNK. Mol Carcinog 56:849–862

24.

Chang X, Luo F, Jiang W, Zhu L, Gao J, He H, Wei T, Gong S, Yan T (2015) Protective activity of salidroside against ethanol-induced gastric ulcer via the MAPK/NF-κB pathway in vivo and in vitro. Int Immunopharmacol 28:604–615

25.

Xu J, Zhao Y, Aisa HA (2017) Anti-inflammatory effect of pomegranate flower in lipopolysaccharide (LPS)-stimulated RAW264.7 macrophages. Pharm Biol 55:2095–2101

26.

Barnes PJ, Karin M (1997) Nuclear factor κB-a pivotal factor in chronic inflammatory diseases. N Engl J Med 336:1066–1071

27.

Dela Pena A, Leclercq I, Field J, George J, Jones B, Farrell G (2005) NFkappaB activation, rather than TNF, mediates hepatic inflammation in a murine dietary model of steatohepatitis. Gastroenterology 129:1663–1674

28.

Majdalawieh A, Ro HS (2010) Regulation of IkappaBalpha function and NF-kappaB signaling: AEBP1 is a novel proinflammatory mediator in macrophages. Mediat Inflamm 2010:823821

29.

Ha KT, Yoon SJ, Choi DY, Kim DW, Kim JK, Kim CH (2005) Protective effect of lycium chinense fruit on carbon tetrachloride-induced hepatotoxicity. J Ethnopharmacol 96:529–535

30.

Yu ES, Choe GY, Gong GG, Lee IC (1993) Expression of alpha-smooth muscle actin in liver disease. J Korean Med Sci 8:367–373

31.

Park SL, Lee SY, Kim IS, Lim SI, Choi JS, Choi SY (2013) Hepatoprotective activity of quality certificated traditional doenjang in korea. Food Eng Prog 17:401–406
Ethics declarations
Conflict of interest
The authors have no conflict of interest to disclose.
About this article
Cite this article
Kim, BH., Jung, SH. & Jung, S. Beet root (Beta vulgaris) protects lipopolysaccharide and alcohol-induced liver damage in rat. Toxicol Res. 36, 275–282 (2020). https://doi.org/10.1007/s43188-019-00030-4
Received:

Revised:

Accepted:

Published:

Issue Date:
Keywords
Beet root

Beta vulgaris

Hepatotoxicity

Lipopolysaccharide (LPS)

Alcohol