Abstract
Extracts of Peruvian purple corn pericarp (Zea mays L.) were obtained: (1) via supercritical fluid extraction with CO2 as solvent and EtOH-H2O (70:30, v/v) as co-solvent, (2) via pressurized liquid extraction (PLE) with EtOH-H2O (70:30, v/v) and, (3) via two conventional extraction processes, stirred vessel and Soxhlet. The extraction yields and extract compositions were compared to each other. The parameters measured were the point-to-point extraction yield, the global extraction yield and composition of extracts regarding contents of total phenolics, total flavonoids, total anthocyanins and specific anthocyanins such as cyanidin-3-glucoside, peonidin-3-glucoside and pelargonidin-3-glucoside. Antioxidant activity by DPPH and in vitro antiproliferative activity were also evaluated considering seven cancer cell lines. High yields and higher contents of phenolic compounds, accompanied by a high antioxidant activity at 50 °C, were obtained for supercritical extraction at 60 °C. Antioxidant activity showed good correlation with the content of phenolic compounds, but there was no antiproliferative activity.
Access options
Buy single article
Instant access to the full article PDF.
US$ 39.95
Tax calculation will be finalised during checkout.
Subscribe to journal
Immediate online access to all issues from 2019. Subscription will auto renew annually.
US$ 79
Tax calculation will be finalised during checkout.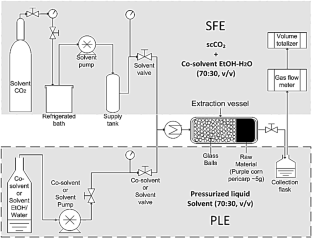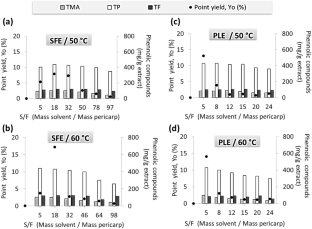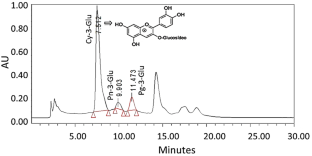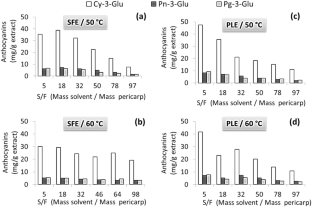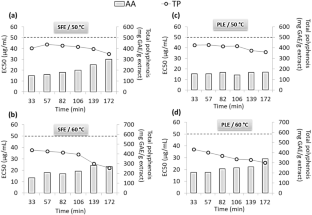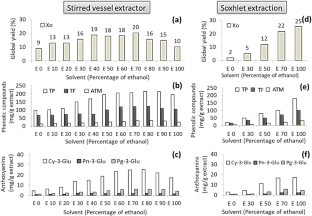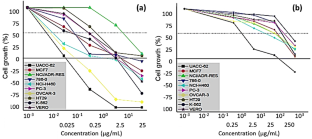 References
Almeida RN, Neto RG, Barros FMC, Cassel E, von Poser GL, Vargas RMF (2013) Supercritical extraction of Hypericum caprifoliatum using carbon dioxide and ethanol plus water as co-solvent. Chem Eng Process 70:95–102

A.O.A.C. (1997) Official methods of analysis, vol 16. Association of Official Analytical Chemists, Washington

A.O.C.S. (1998) American oil chemist's society. Official methods and recommended practices of the American oil. Chemist's society, 6th edn. AOCS Press, Champaing

Ardestani SB, Sahari MA, Barzegar M (2016) Effect of extraction and processing conditions on anthocyanins of barberry. J Food Process Preserv 40(6):1407–1420

A.S.A.E. (1997) Method of determining and expressing fineness of feed materials by sieving. American Society of Agricultural and Biological Engineers, St. Joseph

Brunner G (2005) Supercritical fluids: technology and application to food processing. J Food Eng 67(1–2):21–33

Canals R, Llaudy MC, Valls J, Canals J, Zamora F (2005) Influence of ethanol concentration on the extraction of color and phenolic compounds from the skin and seeds of tempranillo grapes at different stages of ripening. J Agric Food Chem 53(10):4019–4025

Casas L, Mantell C, Rodriguez M, Lopez E, De La Ossa EM (2009) Industrial design of multifunctional supercritical extraction plant for agro-food raw materials. In: Icheap-9: 9th international conference on chemical and process engineering, Pts 1–3 17:1585–1590. ISSN 1974-9791

Castañeda-Ovando A, Pacheco-Hernández MDL, Páez-Hernández ME, Rodríguez JA, Galán-Vidal CA (2009) Chemical studies of anthocyanins: a review. Food Chem 113(4):859–871

Cavalcanti RN, Veggi PC, Meireles MAA (2011) Supercritical fluid extraction with a modifier of antioxidant compounds from jabuticaba (Myrciaria cauliflora) by-products: economic viability. In: 11th international congress on engineering and food (ICEF11), vol 1, pp 1672–1678

Corzzini SCS, Barros HDFQ, Grimaldi R, Cabral FA (2017) Extraction of edible avocado oil using supercritical CO2 and a CO2/ethanol mixture as solvents. J Food Eng 194:40–45

da Porto C, Decorti D, Natolino A (2014a) Water and ethanol as co-solvent in supercritical fluid extraction of proanthocyanidins from grape marc: a comparison and a proposal. J Supercrit Fluids 87:1–8

da Porto C, Natolino A, Decorti D (2014b) Extraction of proanthocyanidins from grape marc by supercritical fluid extraction using CO2 as solvent and ethanol-water mixture as co-solvent. J Supercrit Fluids 87:59–64

Espada-Bellido E, Ferreiro-Gonzalez M, Barbero GF, Carrera C, Palma M, Barroso CG (2018) Alternative extraction method of bioactive compounds from mulberry (Morus nigra L.) pulp using pressurized-liquid extraction. Food Anal Methods 11(9):2384–2395

Farias-Campomanes AM, Rostagno MA, Meireles MAA (2013) Production of polyphenol extracts from grape bagasse using supercritical fluids: yield, extract composition and economic evaluation. J Supercrit Fluids 77:70–78

Fukamachi K, Imada T, Ohshima Y, Xu J, Tsuda H (2008) Purple corn color suppresses Ras protein level and inhibits 7,12-dimethylbenz[a]anthracene-induced mammary carcinogenesis in the rat. Cancer Sci 99(9):1841–1846

Garmus TT, Paviani LC, Queiroga CL, Cabral FA (2015) Extraction of phenolic compounds from pepper-rosmarin (Lippia sidoides Cham.) leaves by sequential extraction in fixed bed extractor using supercritical CO2, ethanol and water as solvents. J Supercrit Fluids 99:68–75

Holbeck S (2004) Update on NCI in vitro drug screen utilities. Eur J Cancer 40:785–793

Jia Z, Tang MC, Wu JM (1999) The determination of flavonoid contents in mulberry and their scavenging effects on superoxide radicals. Food Chem 64(4):555–559

Jing P, Noriega V, Schwartz SJ, Giusti MM (2007) Effects of growing conditions on purple corncob (Zea mays L.) anthocyanins. J Agric Food Chem 55(21):8625–8629

Jing P, Bomser JA, Schwartzt SJ, He J, Magnuson BA, Giusti MM (2008) Structure-function relationships of anthocyanins from various anthocyanin-rich extracts on the inhibition of colon cancer cell growth. J Agric Food Chem 56(20):9391–9398

Lao F, Giusti MM (2018) Extraction of purple corn (Zea mays L.) cob pigments and phenolic compounds using food-friendly solvents. J Cereal Sci 80:87–93

Lao F, Sigurdson GT, Giusti MM (2017) Health benefits of purple corn (Zea mays L.) phenolic compounds. Compr Rev Food Sci Food Saf 16(2):234–246

Li QS, Zhang ZT, Zhong CL, Liu YC, Zhou QR (2003) Solubility of solid solutes in supercritical carbon dioxide with and without cosolvents. Fluid Ph Equilib 207(1–2):183–192

Lim S, Xu JT, Kim J, Chen TY, Su XY, Standard J, Carey E, Griffin J, Herndon B, Katz B, Tomich J, Wang WQ (2013) Role of anthocyanin-enriched purple-fleshed sweet potato p40 in colorectal cancer prevention. Mol Nutr Food Res 57(11):1908–1917

Long N, Suzuki S, Sato S, Naiki-Ito A, Sakatani K, Shirai T, Takahashi S (2013) Purple corn color inhibition of prostate carcinogenesis by targeting cell growth pathways. Cancer Sci 104(3):298–303

Lopez-Martinez LX, Oliart-Ros RM, Valerio-Alfaro G, Lee CH, Parkin KL, Garcia HS (2009) Antioxidant activity, phenolic compounds and anthocyanins content of eighteen strains of Mexican maize. Lwt-Food Sci Technol 42(6):1187–1192

Lourith N, Kanlayavattanakul M (2013) Antioxidant activity and stability of natural colour recovered from Roselle juice production. Agro Food Ind Hi-Tech 24(5):40–42

Madiwale GP, Reddivari L, Holm DG, Vanamala J (2011) Storage elevates phenolic content and antioxidant activity but suppresses antiproliferative and pro-apoptotic properties of colored-flesh potatoes against human colon cancer cell lines. J Agric Food Chem 59(15):8155–8166

Magni G, Marinelli A, Riccio D, Lecca D, Tonelli C, Abbracchio MP, Petroni K, Ceruti S (2018) Purple corn extract as anti-allodynic treatment for trigeminal pain: role of microglia. Front Cell Neurosci 12:378

Martinez-Correa HA, Magalhaes PM, Queiroga CL, Peixoto CA, Oliveira AL, Cabral FA (2011) Extracts from pitanga (Eugenia uniflora L.) leaves: influence of extraction process on antioxidant properties and yield of phenolic compounds. J Supercrit Fluids 55(3):998–1006

Meng JF, Fang YL, Qin MY, Zhuang XF, Zhang ZW (2012) Varietal differences among the phenolic profiles and antioxidant properties of four cultivars of spine grape (Vitis davidii Foex) in Chongyi County (China). Food Chem 134(4):2049–2056

Mensor LL, Menezes FS, Leitao GG, Reis AS, Dos Santos TC, Coube CS, Leitao SG (2001) Screening of Brazilian plant extracts for antioxidant activity by the use of DPPH free radical method. Phytother Res 15(2):127–130

Monks A, Scudiero D, Skehan P, Shoemaker R, Paull K, Vistica D, Hose C, Langley J, Cronise P, Vaigro-Wolf A, Gray-Goodrich M, Campbell H, Boyd M (1991) Feasibility of a high-flux anticancer drug screen using a diverse panel of cultured human tumor cell lines. J Natl Cancer Inst 83(11):757–766

Monroy YM, Rodrigues RAF, Sartoratto A, Cabral FA (2016a) Extraction of bioactive compounds from cob and pericarp of purple corn (Zea mays L.) by sequential extraction in fixed bed extractor using supercritical CO2, ethanol, and water as solvents. J Supercrit Fluids 107:250–259

Monroy YM, Rodrigues RAF, Sartoratto A, Cabral FA (2016b) Optimization of the extraction of phenolic compounds from purple corn cob (Zea mays L.) by sequential extraction using supercritical carbon dioxide, ethanol and water as solvents. J Supercrit Fluids. ISSN 0896-8446

Monroy YM, Rodrigues RAF, Sartoratto A, Cabral FA (2016c) Influence of ethanol, water, and their mixtures as co-solvents of the supercritical carbon dioxide in the extraction of phenolics from purple corn cob (Zea mays L.). J Supercrit Fluids 118:11–18

Monroy YM, Rodrigues RAF, Rodrigues MVN, Sant'ana AS, Silva BS, Cabral FA (2017) Brazilian green propolis extracts obtained by conventional processes and by processes at high pressure with supercritical carbon dioxide, ethanol and water. J Supercrit Fluids 130:189–197

Murga R, Ruiz R, Beltran S, Cabezas JL (2000) Extraction of natural complex phenols and tannins from grape seeds by using supercritical mixtures of carbon dioxide and alcohol. J Agric Food Chem 48(8):3408–3412

Navas MJ, Jimenez-Moreno AM, Bueno JM, Saez-Plaza P, Asuero AG (2012) Analysis and antioxidant capacity of anthocyanin pigments. Part IV: extraction of anthocyanins. Crit Rev Anal Chem 42(4):313–342

Othman NA, Shamsudin R, Othman Z (2017) Antioxidant capacity of banana cultivar 'Nipah' (Musa acuminate balbisiana) extracted with different solvents. In: Iii international conference on agricultural and food engineering, vol 1152, pp 19–25. ISSN 0567-7572

Park HS, Lee HJ, Shin MH, Lee KW, Lee H, Kim YS, Kim KO, Kim KH (2007) Effects of cosolvents on the decaffeination of green tea by supercritical carbon dioxide. Food Chem 105(3):1011–1017

Paucar-Menacho LM, Martinez-Villaluenga C, Duenas M, Frias J, Penas E (2017) Optimization of germination time and temperature to maximize the content of bioactive compounds and the antioxidant activity of purple corn (Zea mays L.) by response surface methodology. Lwt-Food Sci Technol 73:236–244

Pedreschi R, Cisneros-Zevallos L (2006) Antimutagenic and antioxidant properties of phenolic fractions from Andean purple corn (Zea mays L.). J Agric Food Chem 54(13):4557–4567

Qu WJ, Breksa AP, Pan ZL, Ma HL, Mchugh TH (2012) Storage stability of sterilized liquid extracts from pomegranate peel. J Food Sci 77(7):C765–C772

Rahman MS, Perera CO, Chen D, Driscoll RH, Potluri PL (1996) Density, shrinkage and porosity of calamari mantle meat during air drying in a cabinet dryer as a function of water content. J Food Eng 30:135–145

Ramos-Escudero F, Munoz AM, Alvarado-Ortiz C, Alvarado A, Yanez JA (2012) Purple corn (Zea mays L.) phenolic compounds profile and its assessment as an agent against oxidative stress in isolated mouse organs. J Med Food 15(2):206–215

Reategui JLP, Machado APDF, Barbero GF, Rezende CA, Martinez J (2014) Extraction of antioxidant compounds from blackberry (Rubus sp.) bagasse using supercritical CO2 assisted by ultrasound. J Supercrit Fluids 94:223–233

Reynertson KA, Wallace AM, Adachi S, Gil RR, Yang H, Basile MJ, D'armiento J, Weinstein IB, Kennelly EJ (2006) Bioactive Depsides and Anthocyanins from Jaboticaba (Myrciaria cauliflora). J Nat Prod 69(8):1228–1230

Rodrigues LM, Dos Santos SS, Bergamasco RC, Madrona GS (2018) Jaboticaba byproduct encapsulation by lyophilization: pH and food application stability. J Food Process Eng 41(1):e12639

Rugina D, Sconta Z, Leopold L, Pintea A, Bunea A, Socaciu C (2012) Antioxidant activities of chokeberry extracts and the cytotoxic action of their anthocyanin fraction on hela human cervical tumor cells. J Med Food 15(8):700–706

Santos DT, Veggi PC, Meireles MAA (2012) Optimization and economic evaluation of pressurized liquid extraction of phenolic compounds from jabuticaba skins. J Food Eng 108(3):444–452

Serra AT, Seabra IJ, Braga MEM, Bronze MR, de Sousa HC, Duarte CMM (2010) Processing cherries (Prunus avium) using supercritical fluid technology. Part 1: recovery of extract fractions rich in bioactive compounds. J Supercrit Fluids 55(1):184–191

Singleton VL, Orthofer R, Lamuela-Raventos RM (1999) Analysis of total phenols and other oxidation substrates and antioxidants by means of Folin-Ciocalteu reagent. Oxid Antioxid Pt A 299:152–178

Skehan P, Storeng R, Scudiero D (1990) New colorimetric cytotoxicity assay for anticancer-drug screening. J Natl Cancer Inst 82(13):1107–1118

Solana M, Boschiero I, Dall'acqua S, Bertucco AA (2015) Comparison between supercritical fluid and pressurized liquid extraction methods for obtaining phenolic compounds from Asparagus officinalis L. J Supercrit Fluids 100:201–208

Stojiljkovic D, Arsic I, Tadic V (2016) Extracts of wild apple fruit (Malus sylvestris (L.) Mill., Rosaceae) as a source of antioxidant substances for use in production of nutraceuticals and cosmeceuticals. Ind Crops Prod 80:165–176

Suggit M, Bibby MC (2005) 50 years of preclinical anticancer drug screening: empirical to target-driven approaches. Clin Cancer Res 11:971–981

Uquiche E, del Valle JM, Ortiz J (2004) Supercritical carbon dioxide extraction of red pepper (Capsicum annuum L.) oleoresin. J Food Eng 65:55–66

Vatai T, Skerget M, Knez Z (2009) Extraction of phenolic compounds from elder berry and different grape marc varieties using organic solvents and/or supercritical carbon dioxide. J Food Eng 90(2):246–254

Wang LS, Stoner GD (2008) Anthocyanins and their role in cancer prevention. Cancer Lett 269(2):281–290

Wang BH, Li QS, Zhang ZT, Yang JM, Liu YC (2006) A new model for predicting solute solubility in supercritical fluids based on the Wilson equation. Korean J Chem Eng 23(1):131–137

Yang ZD, Zhai WW (2010) Identification and antioxidant activity of anthocyanins extracted from the seed and cob of purple corn (Zea mays L.). Innov Food Sci Emerg Technol 11(1):169–176

Zarena AS, Sachindra NM, Sankar KU (2012) Optimisation of ethanol modified supercritical carbon dioxide on the extract yield and antioxidant activity from Garcinia mangostana L. Food Chem 130(1):203–208

Zhu M, Shi ZS, Li FH (2014) Correlation between anthocyanins, total phenolics content and antioxidant activity of purple corn (Zea mays L.). Mater Sci Civ Eng Arch Sci Mech Eng Manuf Technol 651–653:220–226
Acknowledgements
The authors thank CAPES (Finance code 001), FAPESP (Grant No. 12/51317-1; for the financial support and Espaço da Escrita – Coordenadoria Geral da Universidade – UNICAMP – for the language services provided.
Additional information
Publisher's Note
Springer Nature remains neutral with regard to jurisdictional claims in published maps and institutional affiliations.
About this article
Cite this article
Monroy, Y.M., Rodrigues, R.A.F., Sartoratto, A. et al. Purple corn (Zea mays L.) pericarp hydroalcoholic extracts obtained by conventional processes at atmospheric pressure and by processes at high pressure. Braz. J. Chem. Eng. 37, 237–248 (2020). https://doi.org/10.1007/s43153-020-00009-x
Received:

Revised:

Accepted:

Published:

Issue Date:
Keywords
Purple corn pericarp

Supercritical extraction

Phenolic compounds

Anthocyanins

Antioxidant activity

Antiproliferative activity