Abstract
The objective of this study was to conduct a systematic review and meta-analysis of all randomized controlled trials (RCTs) that evaluated isosorbide mononitrate (ISMN) versus dinoprostone, a prostaglandin E2 (PGE2) analogue, in promoting cervical ripening during labor induction. We searched five major databases from inception till 02 May 2021. We assessed the risk of bias of included studies. We meta-analyzed various endpoints (n=12) and pooled the endpoints as mean difference (MD) or risk ratio (RR) with 95% confidence interval (CI). Overall, 4 RCTs met the inclusion criteria, comprising 818 patients; equally 409 patients were allocated to ISMN and PGE2 groups. Overall, the RCTs had a low risk of bias. The mean change in Bishop score at 24 h was significantly lower in disfavor of the ISMN group. The mean time from drug administration to delivery was significantly longer in disfavor of the ISMN group. The rate of oxytocin need was significantly higher in disfavor of the ISMN group. The rate of vaginal delivery at 24 h was significantly lower in disfavor of the ISMN group. The rates of headache and palpitations were significantly higher in disfavor of the ISMN group. The rate of abnormal fetal heart rate was significantly lower in favor of the ISMN group. There was no significant difference between both groups with regard to rates of cesarean delivery, postpartum hemorrhage, uterine hyperstimulation, and NICU admission. Compared with PGE2, ISMN appeared less effective for cervical ripening prior to labor induction and correlated with higher drug-related maternal toxicities.
Access options
Buy single article
Instant access to the full article PDF.
USD 39.95
Price excludes VAT (USA)
Tax calculation will be finalised during checkout.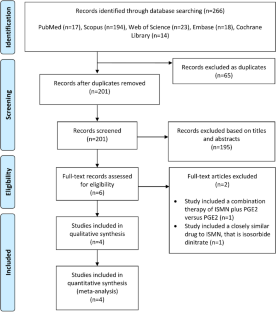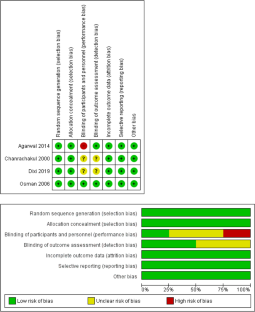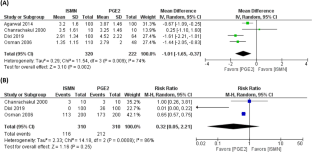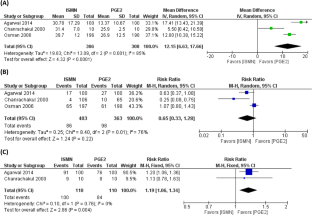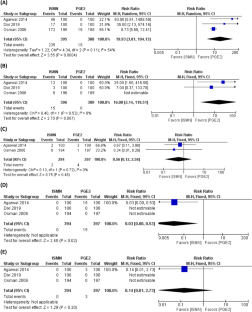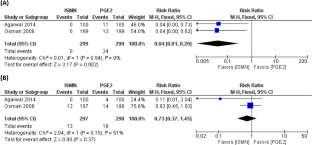 Data Availability
All data are available within the manuscript.
Code Availability
Review Manager Software version 5.4.0. for Windows.
References
Dixi MS, Somalwar SA, Tathe GR. Effectiveness of isosorbide mononitrate vs prostaglandin E2 gel for cervical ripening: a study. Journal of South Asian Federation of Obstetrics and Gynaecology. 2019;11:289.

Mozurkewich EL, Chilimigras JL, Berman DR, Perni UC, Romero VC, King VJ, et al. Methods of induction of labour: a systematic review. BMC Pregnancy Childbirth. 2011;11:84.

Keirse MJ. Prostaglandins in preinduction cervical ripening. Meta-analysis of worldwide clinical experience. J Reprod Med. 1993;38:89–100.

Bakker R, Pierce S, Myers D. The role of prostaglandins E1 and E2, dinoprostone, and misoprostol in cervical ripening and the induction of labor: a mechanistic approach. Arch Gynecol Obstet. 2017;296:167–79.

Pierce S, Bakker R, Myers DA, Edwards RK. Clinical insights for cervical ripening and labor induction using prostaglandins. AJP Rep 2018; p. e307-e14.

Chwalisz K, Shao-Qing S, Garfield RE, Beier HM. Cervical ripening in guinea-pigs after a local application of nitric oxide. Hum Reprod. 1997;12:2093–101.

Aalberts M, van Dissel-Emiliani FM, van Tol HT, Taverne MA, Breeveld-Dwarkasing VN. High iNOS mRNA and protein levels during early third trimester suggest a role for NO in prelabor cervical ripening in the bovine. Mol Reprod Dev. 2007;74:378–85.

Buhimschi I, Ali M, Jain V, Chwalisz K, Garfield RE. Differential regulation of nitric oxide in the rat uterus and cervix during pregnancy and labour. Hum Reprod. 1996;11:1755–66.

Tschugguel W, Schneeberger C, Lass H, Stonek F, Zaghlula MB, Czerwenka K, et al. Human cervical ripening is associated with an increase in cervical inducible nitric oxide synthase expression. Biol Reprod. 1999;60:1367–72.

Ledingham MA, Thomson AJ, Young A, Macara LM, Greer IA, Norman JE. Changes in the expression of nitric oxide synthase in the human uterine cervix during pregnancy and parturition. Mol Hum Reprod. 2000;6:1041–8.

Lees C, Campbell S, Jauniaux E, Brown R, Ramsay B, Gibb D, et al. Arrest of preterm labour and prolongation of gestation with glyceryl trinitrate, a nitric oxide donor. Lancet. 1994;343:1325–6.

Promsonthi P, Preechapornprasert A, Chanrachakul B. Nitric oxide donors for cervical ripening in first-trimester surgical abortion. Cochrane Database Syst Rev. 2015: Cd007444.

Ghosh A, Lattey KR, Kelly AJ. Nitric oxide donors for cervical ripening and induction of labour. Cochrane Database Syst Rev. 2016;12:Cd006901.

Agarwal K, Batra A, Aggarwal A. Randomized comparison of isosorbide mononitrate and PGE2 gel for cervical ripening at term including high risk pregnancy. Int J Reprod Med. 2014;2014:147274.

Chanrachakul B, Herabutya Y, Punyavachira P. Potential efficacy of nitric oxide for cervical ripening in pregnancy at term. Int J Gynaecol Obstet. 2000;71:217–9.

Osman I, MacKenzie F, Norrie J, Murray HM, Greer IA, Norman JE. The "PRIM" study: a randomized comparison of prostaglandin E2 gel with the nitric oxide donor isosorbide mononitrate for cervical ripening before the induction of labor at term. Am J Obstet Gynecol. 2006;194:1012–21.

Moher D, Liberati A, Tetzlaff J, Altman DG. Preferred reporting items for systematic reviews and meta-analyses: the PRISMA statement. PLoS Med. 2009;6:e1000097.

Higgins J GS, editors. Cochrane Handbook for Systematic Reviews of Interventions Version 5.1.0 [Internet]. [updated March 2011]. The Cochrane Collaboration, www.handbook.cochrane.org AAf.

Higgins JP, Altman DG, Gøtzsche PC, Jüni P, Moher D, Oxman AD, et al. The Cochrane Collaboration's tool for assessing risk of bias in randomised trials. Bmj. 2011;343:d5928.

Higgins JP, Thompson SG, Deeks JJ, Altman DG. Measuring inconsistency in meta-analyses Bmj. 2003;327:557–60.

Egger M, Davey Smith G, Schneider M, Minder C. Bias in meta-analysis detected by a simple, graphical test. BMJ. 1997;315:629–34.

Robbins RA, Grisham MB. Nitric oxide. Int J Biochem Cell Biol. 1997;29:857–60.

Fung HL. Do nitrates differ? Br J Clin Pharmacol. 1992;34(Suppl 1):5s–9s.

Sharma Y, Kumar S, Mittal S, Misra R, Dadhwal V. Evaluation of glyceryl trinitrate, misoprostol, and prostaglandin E2 gel for preinduction cervical ripening in term pregnancy. J Obstet Gynaecol Res. 2005;31:210–5.

Chanrachakul B, Herabutya Y, Punyavachira P. Randomized comparison of glyceryl trinitrate and prostaglandin E2 for cervical ripening at term. Obstet Gynecol. 2000;96:549–53.

Romero-Gutiérrez G, Bernal González OE. Ponce-Ponce de León AL [Comparison of isosorbide dinitrate and dinoprostone for induction of labor in term pregnancy]. Ginecol Obstet Mex. 2011;79:285–91.

Wölfler MM, Facchinetti F, Venturini P, Huber A, Helmer H, Husslein P, et al. Induction of labor at term using isosorbide mononitrate simultaneously with dinoprostone compared to dinoprostone treatment alone: a randomized, controlled trial. Am J Obstet Gynecol. 2006;195:1617–22.

Maul H, Longo M, Saade GR, Garfield RE. Nitric oxide and its role during pregnancy: from ovulation to delivery. Curr Pharm Des. 2003;9:359–80.

Vogel JP, Osoti AO, Kelly AJ, Livio S, Norman JE, Alfirevic Z. Pharmacological and mechanical interventions for labour induction in outpatient settings. Cochrane Database Syst Rev. 2017;9:Cd007701.
Ethics declarations
Ethics Approval
Not required as this research does not involve direct patient or animal contact.
Consent to Participate
Not applicable.
Consent for Publication
Not applicable.
Conflict of Interest
The authors declare no competing interests.
About this article
Cite this article
Abu-Zaid, A., Khadawardi, K., Al-Matary, A. et al. Isosorbide Mononitrate Versus Dinoprostone for Cervical Ripening During Labor Induction: a Systematic Review and Meta-analysis of Randomized Controlled Trials. Reprod. Sci. 30, 380–389 (2023). https://doi.org/10.1007/s43032-022-00909-y
Received:

Accepted:

Published:

Issue Date:

DOI: https://doi.org/10.1007/s43032-022-00909-y
Keywords