Abstract
The purpose of this study is to evaluate the effects of different post-thawed culture periods on the clinical outcomes. 9381 frozen embryo transfer (FET) cycles were divided into three groups according to female age: < 35, 35–39, and > 39 years, and two groups depending on post-thawed culture period before transfer: short culture (2–3 h) group (S) and long culture (18–20 h) group (L). According to the increment number of post-thawed embryos, the L group divided into three groups: ≤ 2, one ≤ 2 and the other > 2, and > 2 groups. Pregnancy outcomes included the implantation rate (IR), clinical pregnancy rate (CPR), multiple pregnancy rate (MPR), live birth rate (LBR), and neonatal characteristics. Long post-thawed culture caused a significant increase in the IR, CPR, MPR, and LBR (p = 0.000, 0.004, 0.037, and 0.001; CI = 1.06–1.194, 1.042–1.237, 1.008–1.254, and 1.054–1.245, respectively), and blastomere increment number also had a significant effect on IR, CPR, MPR, and LBR (p = 0.000, 0.000, 0.000, and 0.000, respectively). No significant differences were present in neonatal characteristics between the two post-thawed culture groups. Singleton group had a higher average gestational age and birthweight as well as a lower cesarean section rate, preterm labor rate, and low birthweight rate than twins group. Long post-thawed culture was associated with higher IR, CPR, MPR, and LBR, and transferring a well-developed embryo after long post-thawed culture might be a viable embryo transfer strategy to decrease MPR while maintaining CPR and LBR.
Access options
Buy single article
Instant access to the full article PDF.
USD 39.95
Price includes VAT (USA)
Tax calculation will be finalised during checkout.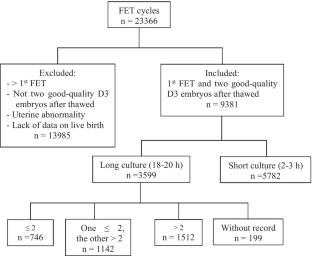 Availability of Data and Material
References
1.

Kolibianakis EM, Venetis CA, Tarlatzis BC. Cryopreservation of human embryos by vitrification or slow freezing: which one is better? Curr Opin Obstet Gynecol. 2009;21:270–4.

2.

Rienzi L, Gracia C, Maggiulli R, LaBarbera AR, Kaser DJ, et al. Oocyte, embryo and blastocyst cryopreservation in ART: systematic review and meta-analysis comparing slow-freezing versus vitrification to produce evidence for the development of global guidance. Hum Reprod Update. 2017;23:139–55.

3.

Shi Y, Sun Y, Hao C, Zhang H, Wei D, et al. Transfer of fresh versus frozen embryos in ovulatory women. N Engl J Med. 2018;378:126–36.

4.

Evans J, Hannan NJ, Edgell TA, Vollenhoven BJ, Lutjen PJ, et al. Fresh versus frozen embryo transfer: backing clinical decisions with scientific and clinical evidence. Hum Reprod Update. 2014;20:808–21.

5.

Roque M, Haahr T, Geber S, Esteves SC, Humaidan P. Fresh versus elective frozen embryo transfer in IVF/ICSI cycles: a systematic review and meta-analysis of reproductive outcomes. Hum Reprod Update. 2019;25:2–14.

6.

Wong KM, Van WM, Mol F, Repping S, Mastenbroek S. Fresh versus frozen embryo transfers in assisted reproduction. Cochrane Database Syst Rev. 2017;3:1–30.

7.

Bourdon M, Maignien C, Pocate CK, Plu Bureau G, Marcellin L, et al. The freeze-all strategy after IVF: which indications? Reprod Biomed Online. 2020;42:529–45.

8.

Veleva Z, Orava M, Nuojua HS, Tapanainen JS, Martikainen H. Factors affecting the outcome of frozen-thawed embryo transfer. Hum Reprod. 2013;28:2425–31.

9.

Salumets A, Suikkari AM, Mäkinen S, Karro H, Roos A, et al. Frozen embryo transfers: implications of clinical and embryological factors on the pregnancy outcome. Hum Reprod. 2006;21:2368–74.

10.

Kong X, Yang S, Gong F, Lu C, Zhang S, et al. The relationship between cell number, division behavior and developmental potential of cleavage stage human embryos: a time-lapse study. PLoS ONE. 2016;11:1–9.

11.

Van LL, Van WM, Van VF, Bossuyt P, Repping S. Selection of embryos for transfer in IVF: ranking embryos based on their implantation potential using morphological scoring. Reprod Biomed Online. 2014;29:222–30.

12.

Li B, Huang J, Li L, He X, Wang M, et al. Improving the clinical outcomes by extended culture of day 3 embryos with low blastomere number to blastocyst stage following frozen-thawed embryo transfer. Arch Gynecol Obstet. 2020;303:573–80.

13.

Zhao P, Li M, Lian Y, Zheng X, Liu P, Qiao J. The clinical outcomes of day 3 4-cell embryos after extended in vitro culture. J Assist Reprod Genet. 2015;32:55–60.

14.

Rato ML, Gouveia-Oliveira A, Plancha CE. Influence of post-thaw culture on the developmental potential of human frozen embryos. J Assist Reprod Genet. 2012;29:789–95.

15.

Guo L, Luo C, Quan S, Chen L, Li H, Guo Y, et al. The outcomes of different post-thawed culture period in frozen-thawed embryo transfer cycle. J Assist Reprod Genet. 2013;30:1589–94.

16.

The Istanbul consensus workshop on embryo assessment: proceedings of an expert meeting. Hum Reprod. 2011;26:1270-83

17.

Li YH, Yu P, Li N, Cai XX, Zhang LG. Impact of thawing D3 embryos in advance on clinical outcome in patient of different ages. J Reprod Med. 2020;3:358–62.

18.

Zhang S, Lu C, Lin G, Gong F, Lu G. The number of blastomeres in post-thawing embryos affects the rates of pregnancy and delivery in freeze-embryo-transfer cycles. J Assist Reprod Genet. 2009;26:569–73.

19.

Milachich T, Shterev A. Are there optimal numbers of oocytes, spermatozoa and embryos in assisted reproduction? JBRA Assist Reprod. 2016;20:142–9.

20.

Wei D, Liu JY, Sun Y, Shi Y, Zhang B, et al. Frozen versus fresh single blastocyst transfer in ovulatory women: a multicentre, randomised controlled trial. Lancet. 2019;393:1310–8.

21.

Zhu Q, Lin J, Gao H, Wang N, Wang B, et al. The association between embryo quality, number of transferred embryos and live birth rate after vitrified cleavage-stage embryos and blastocyst transfer. Front Physiol. 2020;11:1–7.

22.

Hui D, Han X, Wang X, Ren W, Lei X, et al. Morula transfer achieves better clinical outcomes than post-thawed cleavage embryos after overnight culture in frozen embryo transfer (FET) cycles. J Assist Reprod Genet. 2020;37:945–52.

23.

Kang SM, Lee SW, Jeong HJ, Yoon SH, Koh MW, et al. Clinical outcomes of elective single morula embryo transfer versus elective single blastocyst embryo transfer in IVF-ET. J Assist Reprod Genet. 2012;29:423–8.

24.

Li RS, Hwu YM, Lee RK, Li SH, Lin MH. Day 4 good morula embryo transfer provided compatible live birth rate with day 5 blastocyst embryo in fresh IVF/ET cycles. Taiwan J Obstet Gynecol. 2018;57:52–7.

25.

Pantos K, Makrakis E, Chronopoulou M, Biba M, Perdikaris A, et al. Day 4 versus day 3 embryo transfer: a prospective study of clinical outcomes. Fertil Steril. 2008;89:573–7.

26.

Haas J, Meriano J, Bassil R, Barzilay E, Casper RF. Prolonged culture of blastocysts after thawing as a tool for improving prediction of success. J Assist Reprod Genet. 2018;35:2195–9.
Acknowledgements
The authors would like to thank all participants and staff at IVF Center, Mali Hospital, Haikou, China and the Hospital of Shenzhen Immigration Inspection, Shenzhen, China.
Ethics declarations
Ethics Approval
Ethical approval was granted by the Ethics Committee of Mali Hospital on March 8, 2020 (NO. 01/MH/2020).
Consent to Participate
Not applicable.
Consent for Publication
Not applicable.
Conflict of Interest
The authors declare no competing interests.
Additional information
Yuhu Li and Xuexiang Cai are co-first authors.
About this article
Cite this article
Li, Y., Cai, X., Li, N. et al. The Effects of Different Post-thawed Culture Periods on Clinical Outcomes in Frozen Embryo Transfer Cycle. Reprod. Sci. (2021). https://doi.org/10.1007/s43032-021-00760-7
Received:

Accepted:

Published:
Keywords
Post-thawed culture period

Blastomere increment number

Neonatal characteristics

Live birth rate