Abstract
Our previous study evaluated the in vitro and in vivo antioxidant activities of sulfated polysaccharides from a Celluclast-assisted extract of Hizikia fusiforme (HFPS). The results indicate that HFPS possesses potent antioxidant activity and suggest the potential use of HFPS to combat photoaging. In this study, we investigated the ultraviolet (UV) protective effect of HFPS in vitro in keratinocytes (HaCaT cells) and in vivo in zebrafish. The results indicate that HFPS significantly reduced the level of intracellular reactive oxygen species (ROS) and improved the viability of UVB-irradiated HaCaT cells. In addition, HFPS remarkably decreased apoptosis formation in UVB-irradiated HaCaT cells in a dose-dependent manner. The in vivo test results also demonstrate that HFPS significantly reduced intracellular ROS levels, cell death, NO production, and lipid peroxidation levels in UVB-irradiated zebrafish in a dose-dependent manner. These results suggest that HFPS possesses strong in vitro and in vivo UV-protective effects, making it a potential ingredient in the cosmeceutical industry.
Access options
Buy single article
Instant access to the full article PDF.
USD 39.95
Price excludes VAT (USA)
Tax calculation will be finalised during checkout.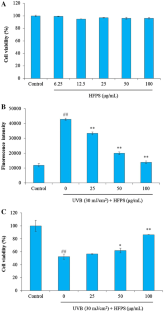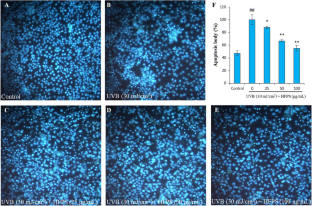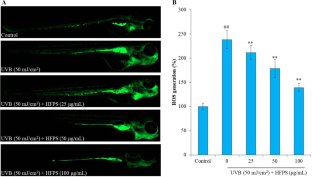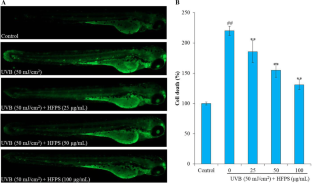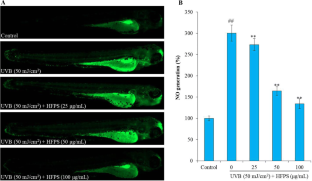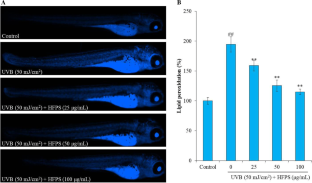 References
Ariede MB, Candido TM, Jacome ALM, Velasco MVR, De Carvalho JCM, Baby AR (2017) Cosmetic attributes of algae—a review. Algal Res 25:483–487

Cha S-H, Ko S-C, Kim D, Jeon Y-J (2011) Screening of marine algae for potential tyrosinase inhibitor: those inhibitors reduced tyrosinase activity and melanin synthesis in zebrafish. J Dermatol 38:354–363

Cha S-H, Ko C-I, Kim D, Jeon Y-J (2012) Protective effects of phlorotannins against ultraviolet B radiation in zebrafish (Danio rerio). Vet Dermatol 23:51–62

Dobashi K, Nishino T, Fujihara M, Nagumo T (1989) Isolation and preliminary characterization of fucose-containing sulfated polysaccharides with blood-anticoagulant activity from the brown seaweed Hizikia fusiforme. Carbohydr Res 194:315–320

Heo S-J, Jeon Y-J (2009) Protective effect of fucoxanthin isolated from Sargassum siliquastrum on UV-B induced cell damage. J Photochem Photobiol B Biol 95:101–107

Jeong SC, Jeong YT, Lee SM, Kim JH (2015) Immune-modulating activities of polysaccharides extracted from brown algae Hizikia fusiforme. Biosci Biotechnol Biochem 79:1362–1365

Ji D, You L, Ren Y, Wen L, Zheng G, Li C (2017) Protective effect of polysaccharides from Sargassum fusiforme against UVB-induced oxidative stress in HaCaT human keratinocytes. J Funct Foods 36:332–340

Kim Y-I, Oh W-S, Song PH, Yun S, Kwon Y-S, Lee YJ, Ku S-K, Song C-H, Oh T-H (2018) Anti-photoaging effects of low molecular-weight fucoidan on ultraviolet B-irradiated mice. Mar Drugs 16:286

Ko S-C, Cha S-H, Heo S-J, Lee S-H, Kang S-M, Jeon Y-J (2011) Protective effect of Ecklonia cava on UVB-induced oxidative stress: in vitro and in vivo zebrafish model. J Appl Phycol 23:697–708

Li B, Wei X-J, Sun J-L, Xu S-Y (2006) Structural investigation of a fucoidan containing a fucose-free core from the brown seaweed, Hizikia fusiforme. Carbohydr Res 341:1135–1146

Park HM, Moon E, Kim A-J, Kim MH, Lee S, Lee JB, Park YK, Jung H-S, Kim Y-B, Kim SY (2010) Extract of Punica granatum inhibits skin photoaging induced by UVB irradiation. Int J Dermatol 49:276–282

Ruocco N, Costantini S, Guariniello S, Costantini M (2016) Polysaccharides from the marine environment with pharmacological, cosmeceutical and nutraceutical potential. Molecules 21:551

Wang P, Zhao X, Lv Y, Liu Y, Lang Y, Wu J, Liu X, Li M, Yu G (2012) Analysis of structural heterogeneity of fucoidan from Hizikia fusiforme by ES-CID-MS/MS. Carbohydr Polym 90:602–607

Wang L, Ryu B, Kim W-S, Kim GH, Jeon Y-J (2017) Protective effect of gallic acid derivatives from the freshwater green alga Spirogyra sp. against ultraviolet B-induced apoptosis through reactive oxygen species clearance in human keratinocytes and zebrafish. Algae 32:379–388

Wang L, Lee W, Oh JY, Cui YR, Ryu B, Jeon Y-J (2018a) Protective effect of sulfated polysaccharides from Celluclast-assisted extract of Hizikia fusiforme against ultraviolet B-induced skin damage by regulating NF-κB, AP-1, and MAPKs signaling pathways in vitro in human dermal fibroblasts. Mar Drugs 16:239

Wang L, Oh JY, Kim HS, Lee W, Cui Y, Lee HG, Kim Y-T, Ko JY, Jeon Y-J (2018b) Protective effect of polysaccharides from Celluclast-assisted extract of Hizikia fusiforme against hydrogen peroxide-induced oxidative stress in vitro in Vero cells and in vivo in zebrafish. Int J Biol Macromol 112:483–489

Wang L, Park Y-J, Jeon Y-J, Ryu B (2018c) Bioactivities of the edible brown seaweed, Undaria pinnatifida: a review. Aquaculture 495:873–880

Wijesekara I, Pangestuti R, Kim S-K (2011) Biological activities and potential health benefits of sulfated polysaccharides derived from marine algae. Carbohydr Polym 84:14–21

Wijesinghe WAJP, Jeon YJ, Ramasamy P, Wahid MEA, Vairappan CS (2013) Anticancer activity and mediation of apoptosis in human HL-60 leukaemia cells by edible sea cucumber (Holothuria edulis) extract. Food Chem 139:326–331

Zaid MA, Afaq F, Syed DN, Dreher M, Mukhtar H (2007) Inhibition of UVB-mediated oxidative stress and markers of photoaging in immortalized HaCaT keratinocytes by pomegranate polyphenol extract POMx. Photochem Photobiol 83:882–888
Acknowledgements
This research was supported by Basic Science Research Program through the National Research Foundation of Korea (NRF) funded by the Ministry of Education (2019R1A6A1A03033553).
Ethics declarations
Conflict of interest
The authors declare that they have no conflict of interest.
Ethics statements
We declare that all applicable international, national, and/or institutional guidelines for sampling, care, and experimental use of organisms for the study have been followed and all necessary approvals have been obtained.
About this article
Cite this article
Wang, L., Oh, J.Y., Yang, HW. et al. Protective effect of sulfated polysaccharides from a Celluclast-assisted extract of Hizikia fusiforme against ultraviolet B-induced photoaging in vitro in human keratinocytes and in vivo in zebrafish. Mar Life Sci Technol 1, 104–111 (2019). https://doi.org/10.1007/s42995-019-00006-1
Received:

Accepted:

Published:

Issue Date:

DOI: https://doi.org/10.1007/s42995-019-00006-1
Keywords
Hizikia fusiforme

Sulfated polysaccharides

Ultraviolet B