Abstract
In litter-bearing mammals, the prenatal and postnatal environments are crucial for developing social behaviors, which help individuals survive and reproduce. Here, we hypothesized that the social behavior of adult water vole [Arvicola amphibius (Linnaeus, 1758)] males is determined by natural variations in early rearing conditions (maternal body mass, litter size, and litter sex ratio at birth), which affect the growth of offspring and degree of competition for limited maternal resources among littermates. We conducted a correlational study on laboratory-born males to test this hypothesis and identify the key parameters of the family environment that affect the development of behavioral phenotypes. Social behavior was evaluated after reaching sexual maturity during dyadic encounters in a neutral arena. The frequency of amicable contacts, threats, and direct aggression was registered. Pretest body mass and serum testosterone level were determined as potential drivers of aggressiveness. Adult body mass was not correlated with social behavior or serum testosterone level but serum testosterone level was inversely correlated with threat frequency. In our linear mixed model, the frequency of direct aggressive interactions was positively correlated with the size of litter into which the males were born and weaned. We propose that the long-lasting effect of litter size on male social behavior can be explained by the association between maternal fecundity and competition for maternal resources among littermates. At 1, 2, and 3 weeks of age, litter size at birth was negatively correlated with body mass, and this association became stronger with increasing age, suggesting the presence of a trade-off between offspring number and quality.
Access options
Buy single article
Instant access to the full article PDF.
USD 39.95
Price includes VAT (USA)
Tax calculation will be finalised during checkout.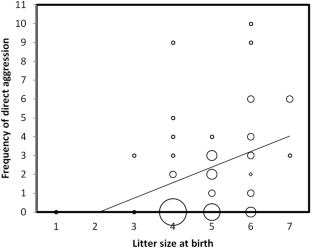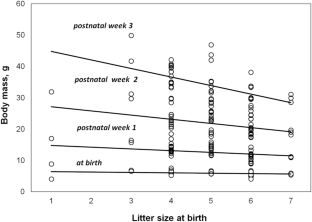 Availability of data and material (data transparency)
The datasets analyzed during the current study are available from the corresponding author on reasonable request.
References
Andersen IL, Nævdal E, Bøe KE (2011) Maternal investment, sibling competition, and offspring survival with increasing litter size and parity in pigs (Sus scrofa). Behav Ecol Sociobiol 65:1159–1167. https://doi.org/10.1007/s00265-010-1128-4

Babicky A, Ostadalova I, Parizek J, Kolar J, Bibr B (1973) Onset and duration of the physiological weaning period for infant rats reared in nests of different sizes. Physiol Bohemoslov 22:449–456 (PMID: 4273231)

Barnard CJ, Behnke JM, Gage AR, Brown H, Smithurst PR (1998) Maternal effects on the development of social rank and immunity trade-offs in male laboratory mice (Mus musculus). Proc R Soc Lond B 265:2087–2093. https://doi.org/10.1098/rspb.1998.0544

Benus R, Henkelmann C (1998) Litter composition influences the development of aggression and behavioral strategy in male Mus domesticus. Behavior 135:1229–1249. https://doi.org/10.1163/156853998792913438

Bragin AV, Nazarova GG, Potapov MA, Evsikov VI (2004) Parental behavior and female odor preferences indicate polygyny in water vole (Arvicola terrestris L.) from West Siberia. Adv Ethol 38:48

Caldji C, Tannenbaum B, Sharma S, Francis D, Plotsky PM, Meaney MJ (1998) Maternal care during infancy regulates the development of neural systems mediating the expression of fearfulness in the rat. PNAS USA 95(9):5335–5340. https://doi.org/10.1073/pnas.95.9.5335

Cameron GN (1973) Effect of litter size on postnatal growth and survival. J Mammal 54:489–493

Cameron NM (2011) Maternal programming of reproductive function and behavior in the female rat. Front Evol Neurosci 3:10. https://doi.org/10.3389/fnevo.2011.00010

Champagne FA, Francis DD, Mar A, Meaney MJ (2003) Variations in maternal care in the rat as a mediating influence for the effects of environment on development. Physiol Behav 79:359–371

Chard T (1987) An introduction to radioimmunoassay and related techniques, 3rd edn. Elsevier, Amsterdam

Chitty D (1967) The natural selection of self-regulatory behavior in animal populations. Proc Ecol Soc Aust 2:51–78

Clark MM, vom Saal FS, JrBG G (1992) Intrauterine position and testosterone levels of adult male gerbils are correlated. Physiol Behav 51:957–960. https://doi.org/10.1016/0031-9384(92)90077-f

Clausen TN, Larsen PF (2015) Partial weaning at six weeks of age reduces biting among mink kits (Neovison vison). Open J Anim Sci 5:71–76. https://doi.org/10.4236/ojas.2015.52009

Coutellier L (2012) Rodent models of early environment effects on offspring development and susceptibility to neurological diseases in adulthood. Transl Neurosci 3(3):258–262. https://doi.org/10.2478/s13380-012-0034-9

Curley JP, Jordan ER, Swaney WT, Izraelit A, Kammel S, Champagne FA (2009) The meaning of weaning: influence of the weaning period on behavioral development in mice. Dev Neurosci 31:318–331. https://doi.org/10.1159/000216543

Curtis JT (2010) Female prairie vole mate-choice is affected by the males' birth litter composition. Physiol Behav 101:93–100. https://doi.org/10.1016/j.physbeh.2010.04.020

Deitchman R, Lavine A (1977) Litter size: a latent social behavior effect exhibited by Charles River rats. Psychol Rep 40:255–260

D'Eath RB, Lawrence AB (2004) Early life predictors of the development of aggressive behaviour in the domestic pig. Anim Behav 67:501–509

Dimitsantos E, Escorihuela RM, Fuentes S, Armario A, Nadal R (2007) Litter size affects emotionality in adult male rats. Physiol Behav 92:708–716. https://doi.org/10.1016/j.physbeh.2007.05.066

Dupont P, Pradel R, Lardy S, Allaine D, Cohas A (2015) Litter sex composition influences dominance status of Alpine marmots (Marmota marmota). Oecologia 179:753–763. https://doi.org/10.1007/s00442-015-3375-6

Evsikov VI, Moshkin MP (1994) Dynamics and homeostasis of natural animal populations. Sibss J Ecol 1:331–346

Evsikov VI, Nazarova GG, Potapov MA (1997) Genetic-ecological monitoring of a cyclic population of water voles Arvicola terrestris L. in the South of Western Siberia. Russ J Genet 33:1133–1143

Evsikov VI, Nazarova GG, Potapov MA, Rogov VG, Gerlinskaya LA (2000) Ecological factors determine differential reproduction in mammals. Biodiversity and dynamics of ecosystems in North Eurasia. Novosibirsk, IC&G. 1:21–23

Evsikov VI, Gerlinskaya LA, Moshkin MP, Muzyka VYu, Nazarova GG, Ovchinnikova LE, Potapov MA, Rogov VG (2001) Genetics-physiological basis of populations homeostasis. In: Panteleev PA (ed) Water vole. Nauka, Moscow, pp 386–412

Evsikov VI, Potapov MA, Nazarova GG, Potapova OF (2006) Stabilizing function of sexual selection in relation to male aggressiveness in rodents. Dokl Biol Sci 411:510–511. https://doi.org/10.1134/s0012496606060251

Evsikov VI, Nazarova GG, Muzyka VYu (2008) Body condition and reproductive characteristics of female water voles (Arvicola terrestris L.). Russ J Ecol 39:414–417. https://doi.org/10.1134/S1067413608060052

Evsikov VI, Muzyka VYu, Nazarova GG, Potapova OF, Potapov MA (2017) Effect of hydrological conditions on reproduction rate and population structure of the European water vole, Arvicola amphibius. Russ J Ecol 48:290–293. https://doi.org/10.1134/S1067413617030055

Falconer DS (1960) Genetics of litter size. J Cell Comp Physiol 56:153–167

Geniole SN, Bird BM, McVittie JS, Purcell RB, Archer J, Carré JM (2019) Is testosterone linked to human aggression? A meta-analytic examination of the relationship between baseline, dynamic, and manipulated testosterone on human aggression. Horm Behav 123:104644

Gibson AB, Garratt M, Brooks RC (2015) Experimental evidence that litter size imposes an oxidative challenge to offspring. J Exp Biol 218:3911–3918. https://doi.org/10.1242/jeb.116327

Gittleman JZ, Thompson SD (1988) Energy allocation in mammalian reproduction. Amer Zool 28:863–875

Gleason ED, Fuxjager MJ, Oyegbile TO, Marler CA (2009) Testosterone release and social context: when it occurs and why. Front Neuroendocrinol 30:460–469. https://doi.org/10.1016/j.yfrne.2009.04.009

Gromov VS, Voznessenskaya VV (2013) Care of young, aggressiveness, and secretion of testosterone in male rodents: a correlation analysis. Biol Bull 40:463–470 (PMID: 25510112)

Guerra RF, Nunes CR (2001) Effects of litter size on maternal care, body weight and infant development in golden hamsters (Mesocricetus auratus). Behav Process 55:127–142. https://doi.org/10.1016/S0376-6357(01)00174-7

Hudson R, Trillmich F (2008) Sibling competition and cooperation in mammals: challenges, developments, and prospects. Behav Ecol Sociobiol 62:299–307. https://doi.org/10.1007/s00265-007-0417-z

Hudson R, Bautista A, Reyes-Meza V, Montor JM, Rödel HG (2011) The effect of siblings on early development: a potential contributor to personality differences in mammals. Dev Psychobiol 53:564–574. https://doi.org/10.1002/dev.20535

Johnsen K, Devineau O, Andreassen HP (2019) Phase- and season-dependent changes in social behaviour in cyclic vole populations. BMC Ecol 19:5. https://doi.org/10.1186/s12898-019-0222-3

Kenagy GJ, Stevenson RD, Masman D (1989) Energy requirements for lactation and postnatal growth in captive golden-mantled ground squirrels. Physiol Zool 62:470–487

König B, Markl H (1987) Maternal care in house mice I. The weaning strategy as a means for parental manipulation of offspring quality. Behav Ecol Sociobiol 20:1–9

König B, Riester J, Markl H (1988) Maternal care in house mice (Mus musculus): II. The energy cost of lactation as a function of litter size. J Zool (lond) 216:195–210. https://doi.org/10.1111/j.1469-7998.1988.tb02425.x

Krebs CJ (1970) Microtus population biology: behavioral changes associated with the population cycle in M. ochrogaster and M. pennsylvanicus. Ecology 51:34–52. https://doi.org/10.2307/1933598

Krebs CJ, Halpin ZT, Smith JNM (1977) Aggression, testosterone, and the spring decline in populations of the vole Microtus townsendii. Can J Zool 55:430–437 (PMID: 319884)

Kudryavtseva NN, Smagin DA, Kovalenko IL, Vishnivetskaya GB (2014) Repeated positive fighting experience in male inbred mice. Nat Protoc 9:2705–2717. https://doi.org/10.1038/nprot.2014.156

Lee NS, Goodwin NL, Freitas KE, Beery AK (2019) Affiliation, aggression, and selectivity of peer relationships in meadow and prairie voles. Front Behav Neurosci 13:52. https://doi.org/10.3389/fnbeh.2019.00052

Lyubaya TE, Nazarova GG (2011) Relationship between exploratory activities of water vole (Arvicola terrestris) offspring during weaning and characteristics of maternal environment. In: Theriofauna of Russia and adjacent territories. International Meeting (IX Congress Theriological Society at RAS). Moscow, Association of scientific editions KMK, p 288

MacLeod J, Sinal CJ, Perrot-Sinal TS (2007) Evidence for non-genomic transmission of ecological information via maternal behavior in female rats. Genes Brain Behav 6:19–29. https://doi.org/10.1111/j.1601-183X.2006.00214.x

Martin P, Bateson P (1993) Measuring Behavior. Cambridge University Press, Cambridge. ssshttps://doi.org/10.1017/CBO9781139168342

McGuire B, Bemis WE (2007) Litter size influences maternal but not paternal care in three species of voles, as measured by nest attendance. J Mammal 88(6):1420–1426. https://doi.org/10.1644/06-MAMM-A-451R.1

Mendl M, Paul ES (1990) Parental care, sibling relationships and the development of aggressive behaviour in two lines of wild house mice. Behaviour 116:11–40. https://doi.org/10.1163/156853990X00347

Mendl M, Paul ES (1991) Litter composition affects parental care, offspring growth and the development of aggressive behaviour in wild house mice. Behaviour 116:90–108

Millar JS (1975) Tactics of energy partitioning in breeding Peromyscus. Can J Zool 53:967–976

Millar JS (1977) Adaptive features of mammalian reproduction. Evol 31:370–386

Millar JS (1983) Negative maternal effects in Peromyscus maniculatus. J Mammol 64:540–543

Moshkin MP, Plyusnin YuM, Gerlinskaya LA, Marchenko OV, Evsikov VI (1984) Endocrine function of gonads and the aggressiveness of male water voles Arvicola terrestris during a decrease in a natural population. Ekologiya (moscow) 4:5158

Muzyka VYu, Nazarova GG, Potapov MA, Potapova OF, Evsikov VI (2010) The effect of habitat hydrology on intraspecific competition, settlement structure, and reproduction in the water vole (Arvicola terrestris). Contemp Probl Ecol 3:606–610. https://doi.org/10.1134/S1995425510050176

Myers P, Master LL (1983) Reproduction by Peromyscus maniculatus: size and compromise. J Mammal 64:1–18

Namikas J, Wehmer F (1978) Gender composition of the litter affects behavior of male mice. Behav Biol 23:219–224. https://doi.org/10.1016/s0091-6773(78)91830-8

Nazarova GG, Evsikov VI (2008) Effect of mother's physical condition during pregnancy and lactation on postnatal growth and reproductive success of offspring in water vole Arvicola terrestris. Russ J Dev Biol 39:100–107. https://doi.org/10.1134/S1062360408020069

Nazarova GG, Evsikov VI (2012) The evolutionary ecology of animal fertility: the fitness of progeny is determined by their prenatal development (According to the example of the European water vole, Arvicola terrestris L. Rus J Genet App Res 2:23–28. https://doi.org/10.1134/S2079059712010121

Nazarova GG, Potapov MA, Evsikov VI (2007) The estrus incidence and mating in the water voles (Arvicola terrestris) related to reproductive experience, to the female physical state, and male-female behavior. Zool Zh 86:1507–1512

Pan P, Fleming AS, Lawson D, Jenkins JM, McGowan PO (2014) Within- and between-litter maternal care alter behavior and gene regulation in female offspring. Behav Neurosci 128:736–748. https://doi.org/10.1037/bne0000014

Pianka ER (1976) Natural selection of optimal reproductive tactics. Am Zool 16:775–784. https://doi.org/10.1093/icb/16.4.775

Priestnall R (1972) Effects of litter size on the behavior of lactating female mice (Mus musculus). Anim Behav 20:386–394. https://doi.org/10.1016/S0003-3472(72)80063-0

Ricceri L, Moles A, Crawley J (2007) Behavioral phenotyping of mouse models of neurodevelopmental disorders: relevant social behavior patterns across the life span. Behav Brain Res 176:40–52. https://doi.org/10.1016/j.bbr.2006.08.024

Rödel HG, Bautista A, Roder M, Gilbert C, Hudson R (2017) Early development and the emergence of individual differences in behavior among littermates of wild rabbit pups. Physiol Behav 173:101–109. https://doi.org/10.1016/j.physbeh.2017.01.044

Ryan V, Wehmer F (1975) Effect of postnatal litter size on adult aggression in the laboratory mouse. Dev Psychobiol 8:363–370. https://doi.org/10.1002/dev.420080410

Ryan BC, Vandenbergh JG (2002) Intrauterine position effects. Neurosci Biobehav Rev 26:665–678. https://doi.org/10.1016/s0149-7634(02)00038-6

Seitz PF (1954) The effects of infantile experiences upon adult behavior in animal subjects. I. Effects of litter size during infancy upon adult behavior in the rat. Am J Psychiatry 110(12):916–927. https://doi.org/10.1176/ajp.110.12.916

Shibata F, Kawamichi T (2009) Female-biased sex allocation of offspring by an Apodemus mouse in an unstable environment. Behav Ecol Sociobiol 63:1307–1317. https://doi.org/10.1007/s00265-009-0772-z

Sikes RS (1998) Unit pricing: economics and the evolution of litter size. Evol Ecol 12:179–190. https://doi.org/10.1023/A:1006531728971

Smith FE, Fretwell SE (1974) The optimal balance between size and number of offspring. Am Nat 108:499–506. https://doi.org/10.1086/282929

Stamps J, Groothuis TGG (2010) The development of animal personality: relevance, concepts and perspectives. Biol Rev 85:301–325. https://doi.org/10.1111/j.1469-185X.2009.00103.x

Stoddart DM (1970) Individual range, dispersion and dispersal in a population of water voles (Arvicola terrestris L.). J Anim Ecol 39:403–425. https://doi.org/10.2307/2979

Szenczi P, Banszegi O, Groo Z, Altbäcker V (2013) Anogenital distance and condition as predictors of litter sex ratio in two mouse species: a study of the house mouse (Mus musculus) and mound-building mouse (Mus spicilegus). PLoS ONE 8:e74066. https://doi.org/10.1371/journal.pone.0074066

Thiels E, Alberts JR (1986) Milk availability modulates weaning in the Norway rat (Rattus norvegicus). J Comp Psych 99:447–456. https://doi.org/10.1037/0735-7036.99.4.447

Trainor BC, Marler CA (2001) Testosterone, paternal behavior, and aggression in monogamous California mouse (Peromyscus californicus). Horm Behav 40:32–42. https://doi.org/10.1006/hbeh.2001.1652

Trillmich F, Hudson R (2011) The emergence of personality in animals: the need for a developmental approach. Dev Psychobiol 53:505–509. https://doi.org/10.1002/dev.20573

Weaver ICG, Cervoni N, Champagne FA, D'Alessio AC, Sharma S, Seckl JR, Dymov S, Szyf M, Meaney MJ (2004) Epigenetic programming by maternal behavior. Nat Neurosci 7:847–854. https://doi.org/10.1038/nn1276

Weiner J (1987) Limits to energy budget and tactics in energy investment during reproduction in the Djungarian hamster (Phodopus sungorus Pallas 1770). Symp Zool Soc Lond 57:167–187. https://doi.org/10.1007/BF00379282

Zhang X-Y, Zhang Q, Wang D-H (2011) Litter size variation in hypothalamic gene expression determines adult metabolic phenotype in brandt's voles (Lasiopodomys brandtii). PLoS ONE 6:e19913. https://doi.org/10.1371/journal.pone.0019913
Acknowledgements
We thank Maria Orlova for the excellent care of water voles. The authors would like to thank Frank E. Zachos, Heiko G Rödel and an anonymous reviewer for valuable comments and suggestions, which helped us to improve the quality of the article.
Funding
This study was supported by the Federal Fundamental Scientific Research Programme for 2013–2020 (VI.51.1.8 № AAAA-A16-116121410118–7).
Ethics declarations
Conflict of interest
The authors declare that there is no conflict of interest.
Ethics approval
All experiments were performed following the Russian national instructions for the care and use of laboratory animals (GOST 33216–2014, which corresponds to the ETS N 123 "European Convention for the protection of Vertebrate animals used for experimental and other scientific purposes", NEQ).
Consent for publication
All the authors have agreed to the contents of the manuscript in its submitted form.
Additional information
Publisher's Note
Springer Nature remains neutral with regard to jurisdictional claims in published maps and institutional affiliations.
Handling editor: Heiko G. Rödel.
About this article
Cite this article
Nazarova, G.G., Ulshina, A.S., Starchenko, K.I. et al. Influence of rearing environment on the development of social behavior in male water voles (Arvicola amphibius). Mamm Biol 101, 545–553 (2021). https://doi.org/10.1007/s42991-021-00170-x
Received:

Accepted:

Published:

Issue Date:
Keywords
Litter size

Pre-weaning growth

Trade-off

Testosterone

Male aggression