Abstract
Geographic isolation is among the most important factors initiating speciation in mammals. The narrow-headed vole Lasiopodomys gregalis is a widely distributed species in steppe habitats of South Siberia that are highly fragmented by mountain ranges. There are three major mostly allopatric mitochondrial lineages of L. gregalis described throughout the distribution range that most plausibly split in the Middle Pleistocene. This study applies the analysis of five microsatellite loci and species distribution modelling to understand the patterns of isolation and migration between L. gregalis populations in South Siberia and in particular in Tuva basin where all three lineages occur simultaneously. Microsatellite analysis supported the population differentiation revealed previously, with three clusters corresponding to mitochondrial lineages and indicated that gene flow between them is strongly limited. There were only traces of hybridisation in the population near the contact zone of lineages B and C. SDM analysis predicted only a small number of potential contact zones between L. gregalis lineages and barriers corresponding to landscape heterogeneity. We presume that the forested mountain ranges act as the main insurmountable barriers to gene flow between major genetic lineages of L. gregalis.
Access options
Buy single article
Instant access to the full article PDF.
US$ 39.95
Tax calculation will be finalised during checkout.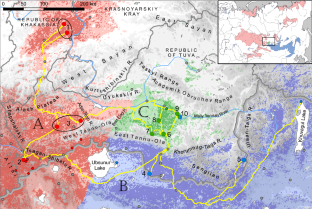 References
Baca M, Popović D, Lemanik A, Baca K, Horáček I, Nadachowski A (2019) Highly divergent lineage of narrow-headed vole from the Late Pleistocene Europe. Sci Rep 9:17799. https://doi.org/10.1038/s41598-019-53937-1

Bezerra AMR, Castiglia R, Pereira LG, Moreirae JC, Bonvicino CR (2020) Molecular systematics of the genus Necromys (Rodentia: Cricetidae: Sigmodontinae) reveals two cryptic and syntopic species in western Cerrado of Brazil. Zool Anz 285:147–158. https://doi.org/10.1016/j.jcz.2020.02.007

Borodin AV (1996) Quaternary small mammal faunas from the west Siberian plain. Acta Zool Cracov 39(1):75–81

Bulatova NS, Pavlova SV, Romanenko SA, Serdyukova NA, Golenishchev FN, Malygin VM, Lavrenchenko LA (2013) Molecular cytogenetic markers of cryptic species and hybrids of the common vole superspecies complex Microtus arvalis s. l. Tsitologiia 55:268–270 (in Russian with English summary)

Conrad O, Bechtel B, Bock M, Dietrich H, Fischer E, Gerlitz L, Wehberg J, Wichmann V, Böhner J (2015) System for automated geoscientific analyses (SAGA) v.2.1.4. Geosci Model Dev 8(2):2271–2312. https://doi.org/10.5194/gmdd-8-2271-2015

Cook JA, Runck AM, Conroy CJ (2004) Historical biogeography at the crossroads of the northern continents: molecular phylogenetics of red-backed voles (Rodentia: Arvicolinae). Mol Phyl Evol 30(3):767–777. https://doi.org/10.1016/S1055-7903(03)00248-3

Dubrovsky NG, Ondar SO (2007) Orographic scheme of the territory of Tuva as a factor determining the local climate. Fund Res 12:144–146 (in Russian)

Dupal TA (2000) Geographical variation and subspecies systematics of narrow-headed vole Microtus (Stenocranius) gregalis (Rodentia, Cricetidae). Zoologicheskiy Zhurnal 79:851–858 (in Russian with English summary)

Dupal TA, Abramov SA (2010) Intrapopulation morphological variability of narrow-headed vole (Microtus gregalis, Rodentia, Arvicolidae). Zoologicheskiy Zhurnal 89:850–861 (in Russian with English summary)

Earl DA, VonHoldt BM (2012) Structure Harvester: a website and program for visualizing STRUCTURE output and implementing the Evanno method. Cons Genet Res 4:359–361. https://doi.org/10.1007/s12686-011-9548-7

Evanno G, Regnaut S, Goudet J (2005) Detecting the number of clusters of individuals using the software STRUCTURE: a simulation study. Mol Ecol 14(8):2611–2620. https://doi.org/10.1111/j.1365-294X.2005.02553.x

Excoffier L, Laval G, Schneider S (2005) Arlequin ver. 3.0: an integrated software package for population genetics data analysis. Evol Bioinform Online 1:47–50

Galkina LI (1980) The history of faunistic complexes of rodents of the South of West Siberia. In: Belyshev BF, Ravkin YS (eds) Problems of zoogeography and the history of fauna. Nauka, Novosibirsk, pp 221–245 (in Russian)

Golenishchev FN, Petrovskaya NA (2002) Geographic variation of narrow-headed vole Microtus (Stenocranius) gregalis Pall., 1779. Theriol Issledovania 1:17–34

Grunert J, Lehmkuhl F, Walther M (2000) Paleoclimatic evolution of the Uvs Nuur basin and adjacent areas (Western Mongolia). Quat Int 65–66:171–192. https://doi.org/10.1016/S1040-6182(99)00043-9

Hedin M, Starrett J, Hayashi C (2013) Crossing the uncrossable: novel trans-valley biogeographic patterns revealed in the genetic history of low-dispersal mygalomorph spiders (Antrodiaetidae, Antrodiaetus) from California. Mol Ecol 22(2):508–526. https://doi.org/10.1111/mec.12130

Hijmans RJ, Cameron SE, Parra JL, Jones PG, Jarvis A (2005) Very high resolution interpolated climate surfaces for global land areas. Int J Climatol 25(15):1965–1978. https://doi.org/10.1002/joc.1276

Hulva P, Černá Bolfíková B, Woznicová V, Jindřichová M, Benešová M, Mysłajek RW, Nowak S, Szewczyk M, Niedźwiecka N, Figura M, Hájková A, Sándor AD, Zyka V, Romportl D, Kutal M, Finďo S, Antal V (2018) Wolves at the crossroad: fission–fusion range biogeography in the Western Carpathians and Central Europe. Divers Distrib 24(2):179–192. https://doi.org/10.1111/ddi.12676

Jakobsson M, Rosenberg NA (2007) CLUMPP: a cluster matching and permutation program for dealing with label switching and multimodality in analysis of population structure. Bioinformatics 23:1801–1806. https://doi.org/10.1093/bioinformatics/btm233

Jombart T (2008) adegenet: a R package for the multivariate analysis of genetic markers. Bioinformatics 24(11):1403–1405. https://doi.org/10.1093/bioinformatics/btn129

Kalinowski ST (2005) hp-rare 1.0: a computer program for performing rarefaction on measures of allelic richness. Mol Ecol Notes 5:187–189. https://doi.org/10.1111/j.1471-8286.2004.00845.x

Karney CF (2013) Algorithms for geodesics. J Geod 87(1):43–55. https://doi.org/10.1007/s00190-012-0578-z

Lissovsky AA, Obolenskaya EV, Petrova TV (2013) Morphological and genetic variation of narrow-headed voles Lasiopodomys gregalis from South-East Transbaikalia. Russian J Theriol 12(2):83–90. https://doi.org/10.15298/rusjtheriol.12.2.04

Makunina NI, Maltseva TV, Parshutina LP (2007) The mountain forest-steppe of Tuva. Vegetation of Russia. St. Petersburg 10:61–88. https://doi.org/10.31111/vegrus/2007.10.61 (in Russian with English summary)

Manni F, Guerard E, Heyer E (2004) Geographic patterns of (genetic, morphologic, linguistic) variation: how barriers can be detected by "Monmonier's algorithm". Hum Biol 76:173–190

Meirmans PG (2020) Genodive version 3.0: Easy-to-use software for the analysis of genetic data of diploids and polyploids. Mol Ecol Resour 20:1126–1131. https://doi.org/10.1111/1755-0998.13145

Miller SA, Dykes DD, Polesky HF (1988) A simple salting out procedure for extracting DNA from human nucleated cells. Nucleic Acids Res 16:1215. https://doi.org/10.1093/nar/16.3.1215

Muscarella R, Galante PJ, Soley-Guardia M, Boria RA, Kass JM, Uriarte M, Anderson RP (2014) ENMeval: an R package for conducting spatially independent evaluations and estimating optimal model complexity for Maxent ecological niche models. Methods Ecol Evol 5:1198–1205. https://doi.org/10.1111/2041-210X.12261

Musser GG, Carleton MD (2005) Superfamily Muroidea. In: Wilson DE, Reeder DM (eds) Mammal species of the world, 3rd edn. Johns Hopkins University Press, Baltimore, pp 894–1531

Obruchev SV (1953) The eastern part of the sayan-tuva highland in the quaternary period. Izv All-Union Geogr Society 85(5):533–547 (in Russian)

Ochur-ool AO, Kirpotin SN, Ondar SO (2016) Landscape structure Khemchiksky basin (Western Tuva). Advances in Modern Natural Science 11:171–175 (in Russian with English summary)

Paupério J, Herman JS, Melo-Ferreira J, Jaarola M, Alves PC, Searle JB (2012) Cryptic speciation in the field vole: a multilocus approach confirms three highly divergent lineages in Eurasia. Mol Ecol 21(24):6015–6032. https://doi.org/10.1111/mec.12024

Peakall R, Smouse PE (2012) GenAlEx 6.5: genetic analysis in Excel. Population genetic software for teaching and research–an update. Bioinformatics 28(19):2537–2539. https://doi.org/10.1093/bioinformatics/bts460

Petrova TV (2017) Narrow-headed vole Lasiopodomys (Stenocranius) gregalis (Pallas, 1779): taxonomic structure, position in the system and evolution (PhD thesis). Retrieved from https://www.zin.ru/boards/00222303/materials/PetrovaTV_diss.pdf. Accessed 15 May 2020 (in Russian)

Petrova TV, Zakharov ES, Samiya R, Abramson NI (2015) Phylogeography of the narrow-headed vole Lasiopodomys (Stenocranius) gregalis (Cricetidae, Rodentia) inferred from mitochondrial cytochrome b sequences: an echo of Pleistocene prosperity. J Zool Syst Evol Res 53:97–108. https://doi.org/10.1111/jzs.12082

Petrova TV, Tesakov AS, Kowalskaya YM, Abramson NI (2016) Cryptic speciation in the narrow-headed vole, Lasiopodomys (Stenocranius) gregalis, (Rodentia: Cricetidae). Zool Scr 45:618–629. https://doi.org/10.1111/zsc.12176

Petrova TV, Chash U-MG, Putintsev NI (2020). Tuva is the center of genetic diversity of the narrow-headed vole L. gregalis. Materials of XV Ubsunur International Symposium 'Ecosystems of Central Asia: research, conservation, rational use'. Kyzyl, July 5–8, 2020. 179–185

Phillips SJ, Dudík M, Schapire RE (2019) Maxent software for modeling species niches and distributions (version 3.4.1). http://biodiversityinformatics.amnh.org/open_source/maxent/. Accessed 20 September 2018

Pritchard JK, Stephens M, Donnelly P (2000) Inference of population structure using multilocus genotype data. Genetics 155:945–959

R Core Team (2019) R: a language and environment for statistical computing. R Foundation for Statistical Computing, Vienna, Austria. https://www.R-project.org/. Accessed 01 September 2019

Ramasamy RK, Ramasamy S, Bindroo BB, Naik VG (2014) STRUCTURE PLOT: a program for drawing elegant STRUCTURE bar plots in user friendly interface. Springerplus 3:431. https://doi.org/10.1186/2193-1801-3-431

Rivera PC, González-Ittig RE, Barcia AR, Trimarchi LI, Levis S, Calderón GE, Gardenal CN (2018) Molecular phylogenetics and environmental niche modeling reveal a cryptic species in the Oligoryzomys flavescens complex (Rodentia, Cricetidae). J Mammal 99(2):363–376. https://doi.org/10.1093/jmammal/gyx186

Rocha RG, Duda R, Flores T, Rossi R, Sampaio I, Mendes-Oliveira AC, Leite YLR, Costa LP (2018) Cryptic diversity in the Oecomys roberti complex: revalidation of Oecomys tapajinus (Rodentia, Cricetidae). J Mammal 99(1):174–186. https://doi.org/10.1093/jmammal/gyx149

Rosauer DF, Catullo RA, VanDerWal J, Moussalli A, Moritz C (2015) Lineage range estimation method reveals fine-scale endemism linked to Pleistocene stability in Australian rainforest herpetofauna. PLoS ONE 10(5):e0126274. https://doi.org/10.1371/journal.pone.0126274

Rosenberg NA, Burke T, Elo K, Feldman MW, Freidlin PJ, Groenen MA, Hillel J, Mäki-Tanila A, Tixier-Boichard M, Vignal A, Wimmers K, Weigend S (2001) Empirical evaluation of genetic clustering methods using multilocus genotypes from 20 chicken breeds. Genetics 159(2):699–713

Rudá M, Ziak D, Gauffre B, Zima J, Martínková N (2009) Comprehensive cross-amplification of microsatellite multiplex sets across the rodent genus Microtus. Mol Ecol Resour 9(3):974–978. https://doi.org/10.1111/j.1755-0998.2009.02521.x

Schweizer M, Excoffier L, Heckel G (2007) Fine-scale genetic structure and dispersal in the common vole (Microtus arvalis). Mol Ecol 16:2463–2473. https://doi.org/10.1111/j.1365-294X.2007.03284.x

Shreter AI (1957) Vegetation map of the Tuva region. In: Shreter AI (ed) Natural conditions of the Tuva autonomous region. Publishing house of the USSR Academy of Sciences, Moscow, pp 190–191 (in Russian)

Spector S (2002) Biogeographic crossroads as priority areas for biodiversity conservation. Conserv Biol 16(6):1480–1487. https://doi.org/10.1046/j.1523-1739.2002.00573.x

Stojak J, Wójcik JM, Ruczyńska I, Searle JB, McDevitt AD (2016) Contrasting and congruent patterns of genetic structuring in two Microtus vole species using museum specimens. Mamm Res 61:141–152. https://doi.org/10.1007/s13364-015-0260-y

Storfer A, Murphy MA, Evans JS, Goldberg CS, Robinson S, Spear SF, Dezzani R, Delmelle E, Vierling L, Waits LP (2007) Putting the 'landscape' in landscape genetics. Heredity 98:128–142

Vähä JP, Primmer CR (2006) Efficiency of model-based Bayesian methods for detecting hybrid individuals under different hybridization scenarios and with different numbers of loci. Mol Ecol 15(1):63–72. https://doi.org/10.1111/j.1365-294X.2005.02773.x

Van Oosterhout C, Hutchinson WF, Wills DP, Shipley P (2004) MICRO-CHECKER: software for identifying and correcting genotyping errors in microsatellite data. Mol Ecol Notes 4:535–538. https://doi.org/10.1111/j.1471-8286.2004.00684.x

Yudin BS, Galkina LI, Potapkina AF (1979) Mammals of Altai-Sayan mountain country. Nauka, Novosibirsk (in Russian)
Acknowledgements
We are grateful to A.V. Abramov, V.V. Platonov and L.L. Voyta (ZIN RAS, St-Petersburg); A.V. Surov, I.G. Meschersky and N.Y. Feoktistova (IPEE RAS, Moscow); and N.I. Putintsev (State nature reserve 'Ubsunurskaya kotlovina', Kyzyl) for providing us with tissue samples used in this study and A.N. Kuksin (State nature reserve 'Ubsunurskaya kotlovina', Kyzyl) for his help in organizing field work. We also thank S.V. Kruskop and V.S. Lebedev (ZMMU MSU, Moscow) for their help in working with the collection. We thank the Core Facility Centre for Molecular and Cell Technologies (St.Petersburg State University, Saint Petersburg, Russia) for implementing the capillary electrophoresis of microsatellite PCR products. We thank S.Y. Bodrov and O.V. Bondareva for their productive discussion, anonymous reviewers for their helpful and critical comments and P. Tomlin for correcting the final version of the manuscript. This study was conducted under the research theme N AAAA-A19-119020790106-0 and financially supported by the Russian Foundation for Basic Research, project 18-34-20118 mol_a_ved (for TVP and EAG). Investigation of spatial relationships of lineages was supported by the Russian Science Foundation (grant number 18-14-00093) (for AAL). The language was edited by Proof reading service https://www.proof-reading-service.com/en/.
Ethics declarations
Conflict of interest
On behalf of all authors, the corresponding author states that there is no conflict of interest.
Additional information
Publisher's Note
Springer Nature remains neutral with regard to jurisdictional claims in published maps and institutional affiliations.
Handling editor: Allan McDevitt.
Supplementary Information
Below is the link to the electronic supplementary material.
About this article
Cite this article
Petrova, T.V., Genelt-Yanovskiy, E.A., Lissovsky, A.A. et al. Signatures of genetic isolation of the three lineages of the narrow-headed vole Lasiopodomys gregalis (Cricetidae, Rodentia) in a mosaic steppe landscape of South Siberia. Mamm Biol (2021). https://doi.org/10.1007/s42991-020-00099-7
Received:

Accepted:

Published:
Keywords
Microsatellites

Landscape genetics

Ecological niche modelling

Isolation by resistance

Narrow-headed vole

Lasiopodomys gregalis