Abstract
The Indian grey wolf, Canis lupus pallipes Sykes, 1831, is a small, cryptic subspecies and the only wolf living in arid plains and deserts of the Indian subcontinent. Since 1950, it has been considered extinct beyond 88° east longitude. Herein, we report an instance from Bangladesh after 70 years. A solitary male of C. l. pallipes was killed in retaliation in June 2019 as livestock predation events erupted and lasted for a month after a severe cyclone had swept coastal Bangladesh. The specimen was about 119 cm from nose to tail tip with a skull length of 26.23 cm. Two molecular markers, mt d-loop control region and 16S rRNA, and 54 cranial parameters consolidated the identity. Bayesian inference and maximum-likelihood analyses indicated its intraspecies position. The locality of conflict, 450 km eastward of the easternmost population of C. l. pallipes, is adjacent to the Sundarbans in the Ganges estuary that presents formidable tidal rivers as dispersal barriers. In 2017, another wolf was sighted from the Indian Sundarbans vicinity. The present incident and the sighting of 2017 remarkably appeared from the farthest corners of a 10,000 km2 strong mangrove network that is rimmed by dense human settlements. The records surmise about the most challenging wolf dispersal route ever recorded. Additionally, the south-central coasts of Bangladesh, once home to wolves, bear old planted mangroves with open dunes but never surveyed for mammals. These facts necessitate a systematic camera-trapping in the coastal mangroves of Bangladesh exclusively intended for wolves.
Access options
Buy single article
Instant access to the full article PDF.
USD 39.95
Price includes VAT (USA)
Tax calculation will be finalised during checkout.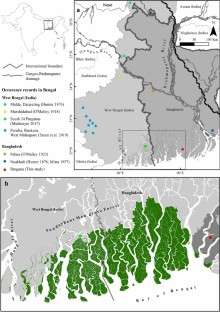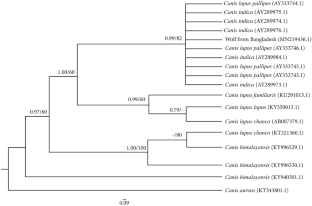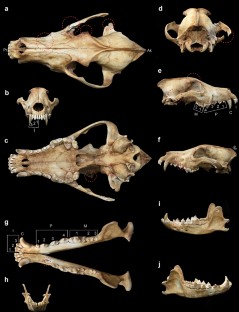 References
Aggarwal RK, Kivisild T, Ramadevi J, Singh L (2007) Mitochondrial DNA coding region sequences support the phylogenetic distinction of two Indian wolf species. J Zool Syst Evol Res 45(2):163–172

Akash M, Zakir T (2020) Other than tiger: Appraising mammalian carnivore studies in Bangladesh. J Threat Taxa submitted

Alvares F, Bogdanowicz W, Campbell LAD, Hatlauf J, Godinho, R, Jhala YV, Werhahn G (2019) Old World Canis spp. With taxonomic ambiguity: Workshop conclusions and recommendations. CIBIO, Canid Biology & Conservation. https://www.canidsorg/Old_world_canis_taxonomy_workshop.pdf

Aranishi F, Okimoto T (2006) A simple and reliable method for DNA extraction from bivalve mantle. J Appl Genet 47(3):251–254

Aziz MA, Smith O, Barlow A, Tollington S, Islam MA, Groombridge JJ (2018) Do rivers influence fine-scale population genetic structure of tigers in the Sundarbans? Conserv Genet 19(5):1137–1151

Boitani L (2018) Canis lupus (errata version published in 2019). The IUCN Red List of Threatened Species 2018: e.T3746A144226239. https://doi.org/10.2305/IUCN.UK.20182.RLTS.T3746A119623865.en. Accessed 22 April 2020

Boitani L, Phillips M, Jhala Y (2018) Canis lupus. The IUCN Red List of Threatened Species 2018: e.T3746A119623865. https://doi.org/10.2305/IUCN.UK.2018-2.RLTS.T3746A119623865.en. Accessed 22 April 2020

Ciucci P, Reggioni W, Maiorano L, Boitani L (2009) Long-distance dispersal of a rescued wolf from the northern Apennines to the western Alps. J Wildl Manage 73(8):1300–1306

Clutton-Brock J, Kitchener AC, Lynch JM (1994) Changes in the skull morphology of the Arctic wolf, Canis lupus arctos, during the twentieth century. J Zool Lond 233(1):19–36

Denzau GN, Denzau H (2010) Examining certain aspects of human-tiger conflict in the Sundarbans forest. Bangladesh Tigerpapers 37(3):1–11

Denzau H, Denzau GN, Gerngross P (2015) Sundarbans Atlas Bangladesh Forest Compartment Maps and Gazetteer. Society for Environment and Human Development (SEHD), Dhaka

Dey S, Sagar V, Dey S, Choudhary SK (2010) Sight record of the Indian Wolf Canis lupus pallipes in the river Gandak floodplains. J Bombay Nat Hist Soc 107(1):51–53

Drummond AJ, Suchard MA, Xie D, Rambaut A (2012) Bayesian phylogenetics with BEAUti and the BEAST 1.7. Mol Biol Evol 29:1969–1973

Edgar RC (2004) MUSCLE: multiple sequence alignment with high accuracy and high throughput. Nucleic Acids Res 32(5):1792–1797

Gernhard T (2008) The conditioned reconstructed process. J Theor Biol 253:769–778

Görner M, Hackethal H (1987) Säugetiere Europas (in German). Neumann Verlag, Leipzig, Radebeul

Hafner DJ, Hafner JC, Hafner MS (1984) Skin-Plus-Skeleton preparation as the standard mammalian museum specimen. Curator Musuem J 27(2):141–145

Huang X, Madan A (1999) CAP3: a DNA sequence assembly program. Genome Res 9:868–877

Hunter L, Barrett P (2018) A field guide to the carnivores of the world. Bloomsbury Publishing, London

Hunter WW (1876a) A Statistical Account of Bengal, Vol. 6, Chittagong Hill Tracts, Chittagong, Noakhali, Tipperah and Hill Tipperah. Trübner & Co., London

Hunter WW (1876b) A Statistical Account of Bengal, Vol. 7, Districts of Maldah, Rangpur, and Dinajpur. Trübner & Co., London

Hunter WW (1876c) A Statistical Account of Bengal, Vol. 10, Districts of Darjiling and Jalpaiguri, and State of Kuch Behar. Trübner & Co., London

Islam MM, Chowdhury RM, Zaman AM, Rahman MS, Islam MN, Rudra AK, Azad MS (2020) Spatiotemporal mapping mangroves of Tengragiri wildlife sanctuary under Barguna district of Bangladesh using freely available satellite imagery. Model Earth Syst Environ 6:917–927

Islam MT (2014) Vegetation changes of Sundarbans based on Landsat Imagery analysis between 1975 and 2006. Landsc Environ 8(1):1–9

IUCN Bangladesh (2015) Red List of Bangladesh, vol. 2, Mammals. IUCN, International Union for Conservation of Nature, Bangladesh Country Office, Dhaka

Janssens L, Verhaert L, Berkowic D, Adriaens D (2016) A standardized framework for examination of oral lesions in wolf skulls (Carnivora: Canidae: Canis lupus). J Mammal 97(4):1111–1124

Jdeidi T, Masseti M, Nader I, de Smet K, Cuzin F (2010) Canis lupus. The IUCN Red List of Threatened Species 2010: e.T3746A10048228. https://doi.org/10.2305/IUCN.UK.20182.RLTS.T3746A119623865.en. Accessed 22 April 2020

Jhala YV (2003) Status, ecology and conservation of the Indian Wolf Canis lupus pallipes Sykes. J Bombay Nat Hist Soc 100:293–307

Joint Typhoon Warning Centre (2019) Tropical Cyclone 01B (Fani) Warning 027. Naval Meteorology and Oceanography Command. https://bit.ly/2yABwZj. Accessed 1 July 2019

Joly K, Gurarie E, Sorum MS, Kaczensky P, Cameron MD, Jakes AF, Borg BL, Nandintsetseg D, Hopcraft JG, Buuveibaatar B, Jones PF (2019) Longest terrestrial migrations and movements around the world. Sci Rep 9(1):1–10

Khan MAR (2015) Wildlife of Bangladesh: Checklist and Guide. Chayabithi, Dhaka

Khan MMH (2018) Photographic Guide to the Wildlife of Bangladesh. Arannayk Foundation, Dhaka

Khan MMH, Chivers D (2007) Habitat preferences of tigers Panthera tigris in the Sundarbans East Wildlife Sanctuary, Bangladesh, and management recommendations. Oryx 41(4):463–468

Khosravi R, Kaboli M, Imani J, Nourani E (2014) Morphometric variations of the skull in the Gray Wolf (Canis lupus) in Iran. Mam Res 57(4):361–369

Krizan J (2005) Nunavut wolf morphology and diet study, final wildlife report. Department of Environment, government of Nunavut, Canada

Kumar S, Stecher G, Li M, Knyaz C, Tamura K (2018) MEGA X: molecular evolutionary genetics analysis across computing platforms. Mol Biol Evol 35(6):1547–1549. https://doi.org/10.1093/molbev/msy096

Madeira F, Park YM, Lee J, Buso N, Gur T, Madhusoodanan N, Basutkar P, Tivey AR, Potter SC, Finn RD, Lopez R (2019) The EMBL-EBI search and sequence analysis tools APIs in 2019. Nucleic Acids Res 47(W1):636–641

Mech LD, Boitani L (eds) (2010/2004) Wolves: behavior, ecology, and conservation. University of Chicago Press, Chicago

Menon V (2014) Indian mammals: a field guide. Hachette India, Gurgaon

Mitra, S.N. (1957) Banglar shikar prani (in Bengali). West Bengal Govt. Press, India

Montana L, Caniglia R, Galaverni M, Fabbri E, Ahmed A, Bolfíková BČ, Czarnomska SD, Galov A, Godinho R, Hindrikson M, Hulva P et al (2017) Combining phylogenetic and demographic inferences to assess the origin of the genetic diversity in an isolated wolf population. PLoS ONE 12(5):e0176560. https://doi.org/10.1371/journal.pone.0176560

Morgulis A, Coulouris G, Raytselis Y, Madden TL, Agarwala R, Schäffer AA (2008) Database indexing for production MegaBLAST searches. Bioinformatics 24(16):1757–1764

Mukherjee K (2017) Buzz over wolf sighting in Sunderbans. Times of India. https://timesofindia.indiatimes.com/articleshow/58231391.cms?utm_source=contentofinterest&utm_medium=text&utm_campaign=cppst. Accessed 10 December 2019

O'malley LSS (1914) Bengal District Gazetteers, Murshidbad. The Bengal Secretariat Book Depot., Kolkata

O'malley LSS (1923) Bengal District Gazetteers, Pabna. The Bengal Secretariat Book Depot., Kolkata

Owczarzy R, Tataurov AV, Wu Y, Manthey JA, McQuisten KA, Almabrazi HG, Pedersen KF, Lin Y, Garretson J, McEntaggart NO, Sailor CA (2008) IDT SciTools: a suite for analysis and design of nucleic acid oligomers. Nucleic acids res 36(suppl 2):163–169

Palumbi SR, Martin AP, Romano SL, McMillan WO, Stice L, Grabowski G (1991) The simple fool's guide to PCR. Department of Zoology. University of Hawaii, Honolulu

Prater SH (1971) The book of Indian mammal, 3rd edn. Bombay Natural History Society, Mumbai

Rambaut A, Drummond A (2018) Figtree version 1.4.4. Institute of Evolutionary Biology. University of Edinburgh, Edinburgh

Rambaut A, Drummond AJ, Xie D, Baele G, Suchard MA (2018) Posterior summarization in Bayesian phylogenetics using Tracer 1.7. Syst Boil 67(5):901–904. https://doi.org/10.1093/sysbio/syy032

Rowley B (2015) Protocols for cleaning and articulating large mammal skeleton. California Polytechnic State University. https://digitalcommons.calpoly.edu/symposium/vol2/iss1/3/. Accessed 12 November 2019

Saren PC, Basu D, Mukherjee T (2019) Status Survey of Indian Grey Wolf (Canis lupus pallipes) in West Bengal and some part of Jharkhand. Rec Zool Surv India 119(2):103–110

Scurrah F (2012) Gray wolves (Canis lupus) movement patterns in Manitoba: implications for wolf management plans. PhD Dissertation, University of Manitoba

Sharma DK, Maldonado JE, Jhala YV, Fleischer RC (2004) Ancient wolf lineages in India. Proc R Soc Lond B (suppl) 271:S1–S4. https://doi.org/10.1098/rsbl.2003.0071

Sharma LK, Mukherjee T, Saren PC, Chandra K (2019) Identifying suitable habitat and corridors for Indian Grey Wolf (Canis lupus pallipes) in Chotta Nagpur Plateau and Lower Gangetic Planes: a species with differential management needs. PLoS ONE 14(4):e0215019. https://doi.org/10.1371/journal.pone.0215019

Shrotryia S, Lyngdoh S, Habib B (2012) Wolves in Trans-Himalayas: 165 years of taxonomic confusion. Curr Sci 103(8):885–887

Simson FB (1886) Letters on sports in eastern Bengal. R. H. Porter, London

Sinding MH, Gopalakrishan S, Vieira FG, Castruita JA, Raundrup K, Jørgensen MP, Meldgaard M, Petersen B, Sicheritz-Ponten T, Mikkelsen JB, Marquard-Petersen U (2018) Population genomics of grey wolves and wolf-like canids in North America. PLoS Genet 14(11):e1007745. https://doi.org/10.1371/journal.pgen.1007745

Strakova A, Leathlobhair MN, Wang GD, Yin TT, Airikkala-Otter I, Allen JL, Allum KM, Bansse-Issa L, Bisson JL, Domracheva AC, De Castro KF et al (2016) Mitochondrial genetic diversity, selection and recombination in a canine transmissible cancer. Elife 5:e14552. https://doi.org/10.7554/eLife.14552

Tamura K, Nei M (1993) Estimation of the number of nucleotide substitutions in the control region of mitochondrial DNA in humans and chimpanzees. Mol Biol Evol 10(3):512–526

Tsuda K, Kikkawa Y, Yonekawa H, Tanabe Y (1997) Extensive interbreeding occurred among multiple matriarchal ancestors during the domestication of dogs: evidence from inter-and intraspecies polymorphisms in the D-loop region of mitochondrial DNA between dogs and wolves. Genes Genet Syst 72(4):229–238

vonHoldt BM, Cahill JA, Fan Z, Gronau I, Robinson J, Pollinger JP, Shapiro B, Wall J, Wayne RK (2016) Whole-genome sequence analysis shows that two endemic species of North American wolf are admixtures of the coyote and gray wolf. Sci Adv 2(7):e1501714. https://doi.org/10.1126/sciadv.1501714

Werhahn G, Liu Y, Meng Y, Cheng C, Lu Z, Atzeni L, Deng Z, Kun S, Shao X, Lu Q, Joshi J (2020) Himalayan wolf distribution and admixture based on multiple genetic markers. J Biogeogr 47(6):1272–1285. https://doi.org/10.1111/jbi.13824

Werhahn G, Senn H, Kaden J, Joshi J, Bhattarai S, Kusi N, Sillero-Zubiri C, Macdonald DW (2017) Phylogenetic evidence for the ancient Himalayan wolf: towards a clarification of its taxonomic status based on genetic sampling from western Nepal. R Soc Open Sci 4(6):170186. https://doi.org/10.1098/rsos.170186

Wozencraft WC (2005) Order carnivora. In: Wilson DE, Reeder DMv (eds). Mammal species of the world: a taxonomic and geographic reference. Johns Hopkins University Press, Baltimore, pp 532–628

Ye J, Coulouris G, Zaretskaya I, Cutcutache I, Rozen S, Madden TL (2012) Primer-BLAST: a tool to design target-specific primers for polymerase chain reaction. BMC Bioinform 13(1):134–145

Yumnam B, Negi T, Maldonado JE, Fleischer RC, Jhala YV (2015) Phylogeography of the golden jackal (Canis aureus) in India. PLoS ONE 10(9):e0138497. https://doi.org/10.1371/journal.pone.0138497
Acknowledgements
We thank the Bangladesh Forest Department as they preserved the specimen with care, and provided permission and cooperation for carrying out the research. We are thankful to Dr Yadvendradev Jhala, Dr Jan F Kamler, and Dr William Duckworth for their comments on the identification. For administrative support, we are grateful to Dr M Anwarul Islam and Kabir Mahmood, the district commissioner of Barguna. We also owe our thanks to Hairaj Majhi for providing the necessary information.
Funding
The research was a self-funding endeavor.
Ethics declarations
Conflict of interest
The authors declare no competing interest.
Ethical approval
The collection of tissue samples and examination of the skull was carried out under the permission of the Bangladesh Forest Department. The skeletal remains, after examination, stay under the custody of the Amtali Range Office, an outpost of the Bangladesh Forest Department.
Additional information
Publisher's Note
Springer Nature remains neutral with regard to jurisdictional claims in published maps and institutional affiliations.
Handling editor: Laura Iacolina.
Electronic supplementary material
Below is the link to the electronic supplementary material.
About this article
Cite this article
Akash, M., Chowdhury, U., Khaleque, FTZ. et al. On the reappearance of the Indian grey wolf in Bangladesh after 70 years: what do we know?. Mamm Biol 101, 163–171 (2021). https://doi.org/10.1007/s42991-020-00064-4
Received:

Accepted:

Published:

Issue Date:
Keywords
Wolf

Canis lupus pallipes

Sundarbans

Bangladesh