Abstract
Purpose
The objective of this study was to investigate the effect of 4 weeks of strength training with beta-alanine supplementation on anaerobic power and carnosine level in boxer players.
Methods
Eighteen male boxer players participated in this study, randomly divided into two homogeneous groups (strength training + beta-alanine and strength training + placebo groups). The study design was double-blind, parallel, and placebo-controlled. An anaerobic Wingate test was performed by athletes before and after the intervention period (4 weeks). Participants received 0.3 g/kg of body mass of the supplement (maltodextrin or beta-alanine) per day during the intervention. Participants were also evaluated for anaerobic power, serum level of carnosine, and blood lactate before and after 4 weeks.
Results
Average power in both groups was significantly increased compared with pre-intervention, but fatigue index was significantly decreased only after beta-alanine supplementation; however, there were no significant differences with either average power or fatigue index between the beta-alanine and placebo groups. There was no significant difference in the interaction between the groups and time, as well as no significant difference between groups for lactic acid. Carnosine level in both groups was significantly increased compared with pre-intervention. When changes in serum carnosine for the two groups were examined, statistical analysis showed a significant difference between the beta-alanine and placebo groups.
Conclusion
Four weeks of strength training accompanied by beta-alanine supplementation had a likely beneficial effect on boxer players' anaerobic performance and carnosine level.
Access options
Buy single article
Instant access to the full article PDF.
USD 39.95
Price excludes VAT (USA)
Tax calculation will be finalised during checkout.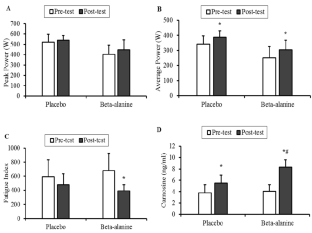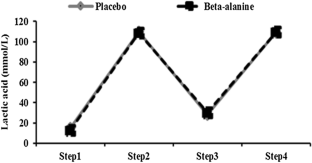 Data Availability
The datasets analyzed during this study are available from the corresponding author on reasonable request.
References
Allen DG, Lamb GD, Westerblad H. Skeletal muscle fatigue: cellular mechanisms. Physiol Rev. 2008;88(1):287–332.

Aoi W, Naito Y, Yoshikawa T. Exercise and functional foods. Nutr J. 2006;5(1):15.

Artioli GG, Gualano B, Smith A, Stout J, Lancha AH Jr. Role of beta-alanine supplementation on muscle carnosine and exercise performance. Med Sci Sports Exerc. 2010;42(6):1162–73.

Baguet A, Reyngoudt H, Pottier A, Everaert I, Callens S, Achten E, Derave W. Carnosine loading and washout in human skeletal muscles. J Appl Physiol. 2009;106(3):837–42.

Baguet A, Koppo K, Pottier A, Derave W. β-Alanine supplementation reduces acidosis but not oxygen uptake response during high-intensity cycling exercise. Eur J Appl Physiol. 2010;108(3):495–503.

Bar-Or O. The Wingate anaerobic test an update on methodology, reliability and validity. Sports Med. 1987;4(6):381–94.

Batrukova MA, Rubtsov AM. Histidine-containing dipeptides as endogenous regulators of the activity of sarcoplasmic reticulum Ca-release channels. Biochimica et Biophysica Acta (BBA) Biomembranes. 1997;1324(1):142–50.

Bellinger PM, Minahan CL. The effect of β-alanine supplementation on cycling time trials of different length. Eur J Sport Sci. 2016;16(7):829–36.

Bex T, Chung W, Baguet A, Stegen S, Stautemas J, Achten E, Derave W. Muscle carnosine loading by beta-alanine supplementation is more pronounced in trained vs. untrained muscles. J Appl Physiol. 2014;116(2):204–9.

Carpentier A, Olbrechts N, Vieillevoye S, Poortmans JR. β-Alanine supplementation slightly enhances repeated plyometric performance after high-intensity training in humans. Amino Acids. 2015;47(7):1479–83.

Caruso J, Charles J, Unruh K, Giebel R, Learmonth L, Potter W. Ergogenic effects of β-alanine and carnosine: proposed future research to quantify their efficacy. Nutrients. 2012;4(7):585–601.

Chaabène H, Tabben M, Mkaouer B, Franchini E, Negra Y, Hammami M, Amara S, Chaabène RB, Hachana Y. Amateur boxing: physical and physiological attributes. Sports Med. 2015;45(3):337–52.

Culbertson JY, Kreider RB, Greenwood M, Cooke M. Effects of beta-alanine on muscle carnosine and exercise performance: a review of the current literature. Nutrients. 2010;2(1):75–98.

de Salles PV, Roschel H, De Jesus F, Sale C, Harris RC, Solis MY, Benatti FB, Gualano B, Lancha AH Jr, Artioli GG. The ergogenic effect of beta-alanine combined with sodium bicarbonate on high-intensity swimming performance. Appl Physiol Nutr Metab. 2013;38(5):525–32.

de Salles PV, Saunders B, Sale C, Harris RC, Solis MY, Roschel H, Gualano B, Artioli GG, Lancha AH Jr. Influence of training status on high-intensity intermittent performance in response to β-alanine supplementation. Amino Acids. 2014;46(5):1207–15.

Derave W, Everaert I, Beeckman S, Baguet A. Muscle carnosine metabolism and β-alanine supplementation in relation to exercise and training. Sports Med. 2010;40(3):247–63.

Donovan T, Ballam T, Morton JP, Close GL. β-alanine improves punch force and frequency in amateur boxers during a simulated contest. Int J Sport Nutr Exerc Metab. 2012;22(5):331–7.

Everaert I, De Naeyer H, Taes Y, Derave W. Gene expression of carnosine-related enzymes and transporters in skeletal muscle. Eur J Appl Physiol. 2013;113(5):1169–79.

Ghosh A, Goswami A, Ahuja A. Heart rate and blood lactate response in amateur competitive boxing. Indian J Med Res. 1995;102:179–83.

Guidetti L, Musulin A, Baldari C. Physiological factors in middleweight boxing performance. J Sports Med Phys Fit. 2002;42(3):309–14.

Hannah R, Stannard RL, Minshull C, Artioli GG, Harris RC, Sale C. β-Alanine supplementation enhances human skeletal muscle relaxation speed but not force production capacity. J Appl Physiol. 2015;118(5):604–12.

Harris RC, Tallon M, Dunnett M, Boobis L, Coakley J, Kim HJ, Fallowfield JL, Hill C, Sale C, Wise JA. The absorption of orally supplied β-alanine and its effect on muscle carnosine synthesis in human vastus lateralis. Amino Acids. 2006;30(3):279–89.

Hobson RM, Saunders B, Ball G, Harris R, Sale C. Effects of β-alanine supplementation on exercise performance: a meta-analysis. Amino Acids. 2012;43(1):25–37.

Hoffman J, Ratamess N, Kang J, Mangine G, Faigenbaum A, Stout J. Effect of creatine and ß-alanine supplementation on performance and endocrine responses in strength/power athletes. Int J Sport Nutr Exerc Metab. 2006;16(4):430–46.

Howe ST, Bellinger PM, Driller MW, Shing CM, Fell JW. The effect of beta-alanine supplementation on isokinetic force and cycling performance in highly trained cyclists. Int J Sport Nutr Exerc Metab. 2013;23(6):562–70.

Kendrick IP, Harris RC, Kim HJ, Kim CK, Dang VH, Lam TQ, Bui TT, Smith M, Wise JA. The effects of 10 weeks of resistance training combined with β-alanine supplementation on whole body strength, force production, muscular endurance and body composition. Amino Acids. 2008;34(4):547–54.

Kresta JY, Oliver JM, Jagim AR, Fluckey J, Riechman S, Kelly K, Meininger C, Mertens-Talcott SU, Rasmussen C, Kreider RB. Effects of 28 days of beta-alanine and creatine supplementation on muscle carnosine, body composition and exercise performance in recreationally active females. J Int Soc Sports Nutr. 2014;11(1):55.

Mannion AF, Jakeman PM, Willan P. Skeletal muscle buffer value, fibre type distribution and high intensity exercise performance in man. Exp Physiol Transl Integrat. 1995;80(1):89–101.

Pedersen TH, Nielsen OB, Lamb GD, Stephenson DG. Intracellular acidosis enhances the excitability of working muscle. Science. 2004;305(5687):1144–7.

Perim P, Marticorena FM, Ribeiro F, Barreto G, Gobbi N, Kerksick CM, Dolan E, Saunders B. Can the skeletal muscle carnosine response to beta-alanine supplementation be optimised? Front Nutr. 2019;6:135.

Quesnele JJ, Laframboise MA, Wong JJ, Kim P, Wells GD. The effects of beta-alanine supplementation on performance: a systematic review of the literature. Int J Sport Nutr Exerc Metab. 2014;24(1):14–27.

Sale C, Saunders B, Harris RC. Effect of beta-alanine supplementation on muscle carnosine concentrations and exercise performance. Amino Acids. 2010;39(2):321–33.

Sale C, Hill CA, Ponte J, Harris RC. β-alanine supplementation improves isometric endurance of the knee extensor muscles. J Int Soc Sports Nutr. 2012;9(1):26.

Saunders B, de Salles PV, De Oliveira LF, da Eira SV, Da Silva RP, Riani L, Franchi M, de Souza GL, Harris RC, Roschel H. Twenty-four weeks of β-alanine supplementation on carnosine content, related genes, and exercise. Med Sci Sports Exerc. 2017;49(5):896–906.

Sousa M, Fernandes MJ, Carvalho P, Soares J, Moreira P, Teixeira VH. Nutritional supplements use in high-performance athletes is related with lower nutritional inadequacy from food. J Sport Health Sci. 2016;5(3):368–74.

Spriet L, Lindinger M, McKelvie R, Heigenhauser G, Jones N. Muscle glycogenolysis and H+ concentration during maximal intermittent cycling. J Appl Physiol. 1989;66(1):8–13.

Stellingwerff T, Decombaz J, Harris RC, Boesch C. Optimizing human in vivo dosing and delivery of β-alanine supplements for muscle carnosine synthesis. Amino Acids. 2012;43(1):57–65.

Stellingwerff T, Anwander H, Egger A, Buehler T, Kreis R, Decombaz J, Boesch C. Effect of two β-alanine dosing protocols on muscle carnosine synthesis and washout. Amino Acids. 2012;42(6):2461–72.

Stout J, Cramer J, Zoeller R, Torok D, Costa P, Hoffman J, Harris R, O'kroy J. Effects of β-alanine supplementation on the onset of neuromuscular fatigue and ventilatory threshold in women. Amino Acids. 2007;32(3):381–6.

Trexler ET, Smith-Ryan AE, Stout JR, Hoffman JR, Wilborn CD, Sale C, Kreider RB, Jäger R, Earnest CP, Bannock L. International society of sports nutrition position stand: Beta-Alanine. J Int Soc Sports Nutr. 2015;12(1):1–14.

Çakmakçı O, Selçuk MŞ, Çakmakçı E. The effect of resistance band training on the maximum force and anaerobic power of boxers. 2017. Eur J Phys Educat Sport Sci. https://doi.org/10.5281/zenodo.846978.

Mitchell H, Willams L, Reter B. Classification of sports medicine and science in spots and exercise. Am Coll Sports Med Am Coll Cardiol. 1999;56–85

Borg G. Subjective effort in relation to physical performance and working capacity. In: Pick HL, Leibowitz HW, Singer JE, Steinschneider A, Stevenson HW, editors. Psychology: From research to practice. Boston: Springer; 1978. p. 333–61.

Özkan A, Köklü Y, Ersöz G. Anaerobik performans ve ölçüm yöntemleri. Ankara: Gazi Kitapevi; 2010. p. 119–27.
Ethics declarations
Conflict of Interest
The authors declare that they have no conflicts of interest.
Ethical Approval
The study was approved by the Ethics Committee of Ferdowsi University of Mashhad (Approval number: IR.MUM.FUM.REC.1397.022).
Informed Consent
All participants gave their informed consent prior to information collection.
About this article
Cite this article
Alabsi, K., Rashidlamir, A. & Dokht, E.H. The Effect of 4 Weeks of Strength Training and Beta-Alanine Supplementation on Anaerobic Power and Carnosine Level in Boxer Players. J. of SCI. IN SPORT AND EXERCISE 5, 62–69 (2023). https://doi.org/10.1007/s42978-021-00151-z
Received:

Accepted:

Published:

Issue Date:

DOI: https://doi.org/10.1007/s42978-021-00151-z
Keywords